« Wednesday Overnight Open Thread (2/6/19)
|
Main
|
Mid-Morning Open Thread »
February 07, 2019
The Morning Report - 2/7/19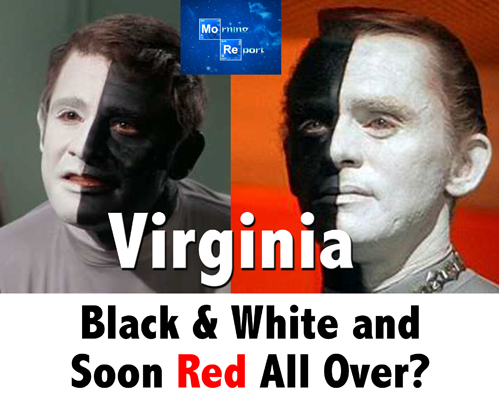 Good morning kids. Thursday and the big story continues to be the Coonman CoonMEN and Poonman scandals that are now knocking down Virginia's top elected officials in a manner not seen since a recessive gene, with the assistance of a Bolshevik firing squad, wiped out the Romanovs. And now with the revelations that yet another top Virginia Democrat knew about the sexual assault allegations against lieutenant governor Fairfax a year ago and kept his mouth shut, the state could very will flip to GOP control if - big IF - all of these momzers were forced out. Ace posted a link late yesterday to Ken Cuccinelli describing the actual order of succession, which seemingly is less arcane than that of the Plantagenets and Tudors. Best. Year. Ever, indeed.
And while all of this is going on, America's number one purveyor of gin-you-wine cow pattie pemmican, Elizabeth "Fauxca-Has-Been" Warren might finally be forced out of public life with any 2020 presidential aspirations (unlikely as they already were) totally dashed with the revelations that she lied on her application for the Texas bar in 1986. And after completely admitting to the lies about her heritage that she shoved in everyone's face for over a decade, as if to attempt to preemptively save her scalp, so to speak, she is hinting that more of these revelations may yet be made public. One commenter speculated, rather astutely, that along with the bringing to the forefront of Kamala-Toe Harris predilection for Willie Brown's brown willie, the dirt being dug up on Warren may be the work of Hillary Clinton as a mad scheme to wipe out as many Democrat contenders as she can so she can then magically ride in on her white bollard to save the day. My take is that it's probably the work of the bigwigs in the DNC since a growing field of candidates whose only chance to outshine each other is to publicly pimp infanticide, collectivization of the population and every other revolting and insane communist wet dream that will definitely not, as they say, play well in Peoria.
And while all of this is certainly too delicious for words, Warren aside, let's not forget how we got here. The support of the mainstream of the Democrat Party for state-sanctioned infanticide, which has now been made completely legal in the state of New York. A day of mourning protest is planned in Albany on February 23rd, but mobbed-up thug Andrew "Cui-Bono" Cuomo is going to the mattresses to defend the law by spewing up the fact that he was an altar boy in church. You, and everyone who voted for and cheered this abomination should be horsewhipped. Nationally, the House GOP is going to bring up a Born Alive bill as a means to put the Democrat-controlled House on record as to that party's sanctioned pagan bloodlust. And as the President implored America to protect the sanctity of life, Ilhan "Brother-Fucker" Omar called his wanting to halt late-term and post-natal abortion "policing women's bodies." So, is that towel on your head a fashion statement and do you still have a fun-button? Lest we forget, the only issue Barack Obama did not vote "present" on in the Illinois legislature was a definite "no" on a proposed born alive bill. Lastly, the Coonman kerfuffle is revelatory about what his fellow travelers in the Democrat KKK really were all about. Hint: genocide.
Lastly in the Democrat Scandal Sheet category, Ben Sasse of all people is pushing to examine how the DoJ handled (or covered up) the investigation into close Clinton Family ally and confidante, pedophile Jeffrey Epstein. Good luck with that, really and sarcastically.
Now to the border where we have several links on a bicameral effort to actually get border security funded before the next government shutdown occurs, or failing that, the President pulls the trigger and declares a national emergency to go around Congress and fund the damn wall. Supposedly construction has already begun, as is outlined in one of the links. The lead story is kind of upsetting in that the President seems to be backtracking on a campaign promise and now supposedly wants to increase legal immigration, to which I resoundingly say "no." The last thing we need is more people and what we do need is at least a 20-year moratorium so those that are here can assimilate. Not that that is likely either given the nature of our education system and media, but I digress. Big mistake if this is true, Mr. President. Unassimilated masses of people are every bit as dangerous to our nation in the long term as criminals and terrorists coming in unchecked. Lastly, in the cunning stunt department, this New Mexico governor Michelle Lujan Grisham did some idiotic gag in a vain attempt to be Super Dave Osborn or something by crashing through a prop wall. That said, she did threaten to pull troops away from her part of the border to which the President should tell her to STFU and STFD while he just nationalizes the New Mexico guard.
Civil War 2.0: Well, looky here; it turns out that this outed "Antifa" terrorist was somehow involved in the unconstitutional CFPB politburo vis a vis the payday loan regulatory shakedown. Also we have Jemelle Hill's deleted Tweet clearly alluding to a call to assassinate the President preserved, and lastly Victor Davis Hanson on the new old religious persecution of Catholics and Jews coming from the Democrat-Left.
To politics we go were first up, as the next government shutdown looms, lest we forget that the bulk of people working in DC really are non-essential in every sense of the word and have no impact on your life, with the possible exception of having less to show for your paycheck every week. Elsewhere, two big alarm bells with the Democrats pushing another electoral college abolition scam and Chip Roy warning us about some sort of voting "reform" scam bill straight out of the swamp, crater-faced Tulsi "Spelled Backwards" Gabbard loves her some Syrian tyrant action, several links on how President Trump won the socialism question during the SOTU speech including a warning from the people of Venezuela, two essays on the utter moral degeneracy of the Democrat-Left and Conrad Black on the President taking a wrecking ball to the Democrat Party. Inshalla.
First Amendment, Fake News Fakery and Censorship: Former NY Times star editor Jill Abramson earned her chops the old fashioned way - by doing what Jonah Goldberg does, "fact checkers" do anything but, and Daniel Greenfield jumps on the Learn to Code bandwagon. Heh. And it's in the Islam category but the mayor of Dearbornistan is censoring an article on anti-Semitism he deems a "distraction." From what, the clit-clipping and head-chopping? It's about Henry Ford's raging Joo-hate.
Guns: Shooting victim Steve Scalise is being barred from giving pro-gun testimony and New Jersey's attempt to prevent the sharing of firearms blueprints is being taken to court.
Foreign Desk: The Venezuelan foreign minister doesn't realize he has a date with a Caracas lamppost, Ted Cruz lays out a "noninterventionist hawk" foreign policy, Trump taps America First David Malpas to head the World Bank, Francis the Talking Pope returns from the UAE spewing some tripe about Christianity, Islam and "common values," Chi-Coms threaten religious freedom and yes, it is way past time to have that discussion about NATO. Also, the US is going to purchase Iron Dome tech from the Weather-Controllers and Qatar needs to get nuked.
Domestic Affairs: No money for a wall but almost $2 million to study sleep habits of residents near the border, Heather MacDonald is not a fan of how the President treated the criminal justice system during the SOTU speech, the DEA agent who nailed El Chapo thinks Mr. Spicoli should be behind bars, the President totally left out debt and deficits in his speech, and "Progressives" and your money.
Healthcare: Presidential candidate "Beavis" Buttigieg thinks Obamacare is the quintessential free market, capitalist solution (must be suffering from acute semen poisoning).
Red-Greens: Democrats hold first Climate Change hearings in 6 years and it goes about how you'd expect, holes in Antarctic glaciers about as real as Skittle-shitting unicorns, and this Maoist Luddite Naomi Klein blows a gasket over Trump's oil and gas policy. She is dangerous and needs to be kept in check.
Feminazism: Judicial nominee Neomi Rao is right about women getting blind drunk around men.
Hither and Yon: Fans of Men In Black want the Stalin airbrush used on Liam Neeson and lastly an exhibition of J.R.R. Tolkien's art conveniently omits any references to his Christian faith.
Anyway, links from around the world, across the nation and up your street. Have a better one and remain blessed.
NOTE: The opinions expressed in some links may or may not reflect my own. I include them because of their relevance to the discussion of a particular issue.
COONMEN & POONMAN VIRGINIA DEMOCRAT IMPLOSION

posted by at
07:48 AM
|
Access Comments