« EMT 02/10/19
|
Main
|
Fight The Power! Cast Off The Shackles Of The Gun Lobby! »
February 10, 2019
Sunday Morning Book Thread 02-10-2019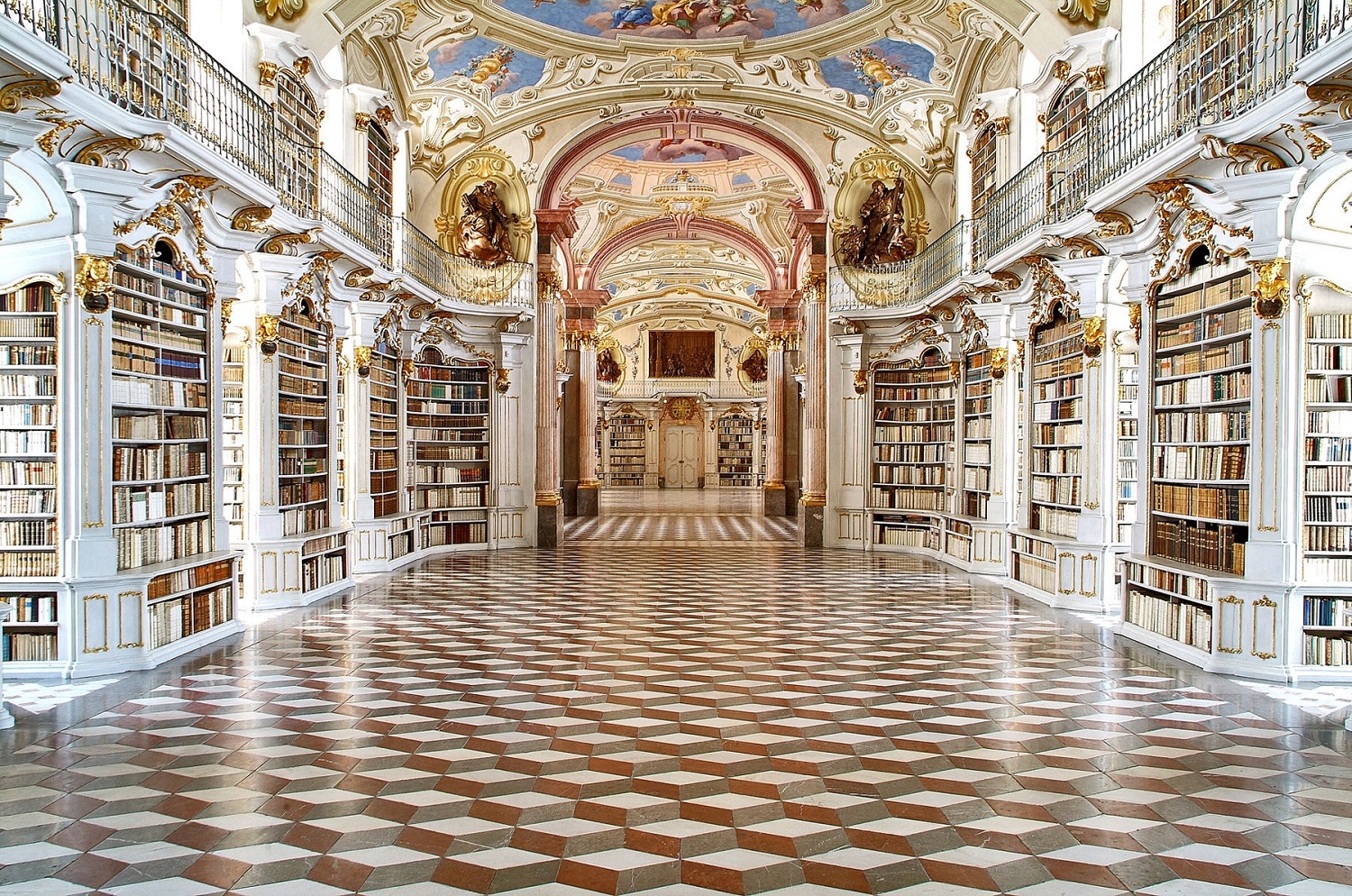 Stift Admont Monastery Library, Austria
Good morning to all you 'rons, 'ettes, lurkers, and lurkettes, wine moms, frat bros,
and everybody who's holding your beer. Welcome once again to the stately, prestigious, internationally acclaimed and high-class Sunday Morning Book Thread, a weekly compendium of reviews, observations, and a continuing conversation on books, reading, and publishing by escaped oafs who follow words with their fingers and whose lips move as they read. Unlike other AoSHQ comment threads, the Sunday Morning Book Thread is so hoity-toity, pants are required. Even if it's these pants, which look like the designer was trying to do some sort of stained-glass thing, but couldn't quite get the hang of it.

It Pays To Increase Your Word Power®
CHIRONOMY is the art of gesticulating effectively in conversation or performance.
Usage: I have a beautiful, custom-built chironometer. The Italians make the best ones, of course.

Upcoming Big Screen Adaptations
Interesting article on books being adapted for film or TV that are coming out in 2019. These caught my eye:
The Turning
Based on the book The Turn of the Screw by Henry James
A governess attempts to protect two strange, oddly silent children as malevolent forces draw nearer in this modern update of the classic tale. The movie stars Mackenzie Davis, Finn Wolfhard, and Barbara Marten.
Sounds deliciously creepy.
Greyhound
Based on the book The Good Shepherd by C.S. Forester
A convoy (consisting of 37 merchant ships) ploughs through icy, submarine-infested seas during the most critical days of World War II. Its fate rests in the hands of Commander George Krause, an untested veteran. The movie stars Tom Hanks, Elisabeth Shue, and Karl Glusman.
War dramas always good around here. Hanks is a progressive tool, but I like the recent movies he's been in. Plus, this one sounds interesting enough that I think I'm going to have to read the book first.
The Call of the Wild
Based on the book The Call of the Wild by Jack London
At the dawn of the Klondike Gold Rush, when capable sled dogs are in high demand, half St. Bernard Buck is wrenched away from his home and forced to survive in the harsh conditions of the Yukon. The movie stars Harrison Ford and Dan Stevens.
Waiting to see if they'll ruin another classic by adding a grrl power or gay character.
The Irishman
Based on the book I Heard You Paint Houses: Frank "The Irishman" Sheeran & Closing the Case on Jimmy Hoffa by Charles Brandt
Mob hitman Frank "The Irishman" Sheeran tells his side of the story, looking back on his involvement with organized crime and the disappearance of Jimmy Hoffa. The movie stars Robert De Niro, Al Pacino, and Joe Pesci (also Harvey Keitel).
Well, playing mobsters won't be much of a stretch for any of those guys. Plus, I haven't seen Pesci in anything for years. Also, I had heard that Jimmy Hoffa was buried in one of the end zones of Meadowlands Stadium, so we'll see what they say about that.
Good Omens
Based on the book Good Omens: The Nice and Accurate Prophecies of Agnes Nutter, Witch by Terry Pratchett and Neil Gaiman
It's the end of the world, and someone has misplaced the Antichrist. As the armies of Good and Evil prep for war, a fussy angel and a fast-living demon team up to stop the apocalypse. The series stars David Tennant, Michael Sheen, and Jon Hamm.
Because Pratchett.
Catch-22
Based on the book Catch 22 by Joseph Heller
In the closing months of World War II, bombardier Yossarian desperately tries to get himself excused from perilous missions. But there's a catch... The series stars Christopher Abbott, Kyle Chandler, George Clooney, and Hugh Laurie.
This is going to be an Amazon mini-series. I'm very curious what they're going to be able to do with it. Interesting casting choices.

Odds and Ends
A few weeks ago, I posted a library pic of the Royal Portuguese Cabinet of Reading in Brazil. Geoff sends this link to one of those 360-degree viewer things where you can look up, down, and all around in a panoramic view of the cabinet. It's pretty neat.
Lawrence Person sent me a link to details of some of his recent acquisitions. Some great pics of autographed books.
___________
From last week:
20 Yesterday I saw Larry Corriera's advice to the Twitter mob.

https://preview.tinyurl.com/y8opem8s

(plenty of NSFW language)

There's also a link to a different article about the kerfuffle. It's ironic that a Chinese immigrant should find herself in the middle of a genuine Communist struggle session here in America, but that's what happened.

Posted by: rickl at February 03, 2019 09:09 AM (sdi6R)
The more I read about this, the less sympathy I felt for Amelie Wen Zhao. Particularly her complaint about being subjected to unpleasant remarks, which she blames on "Trump's America" -- as if such a thing never could have happened earlier. Also, she whines about not having a voice because she's a non-citizen when such a handicap can be easily remedied -- by actually becoming a citizen. Even though I'm not a fan of these Twitter mobs, Zhao is no martyr and we need to recognize this for what it is: just another instance of the progressives eating one of their own. Under different circumstances, Zhao might very well be part of a mob devouring some other author.
It's kind of like lobsters:
36 I read the lobster book. Lobsters are mobsters. They have rather violent relations with other lobsters, romance not excepted. Even the weakling lobsters are bullies if they can get away with it, sometimes they gang up on the badass lobster. It's a lobster-eat-lobster world and yet there's something comical about them. Fishermen call them bugs.

Posted by: JuJuBee at February 03, 2019 09:17 AM (8YazN)
The lobster book JuJuBee is referring to is The Secret Life of Lobsters: How Fishermen and Scientists Are Unraveling the Mysteries of Our Favorite Crustacean by Trevor Carson:
In this intimate portrait of an island lobstering community and an eccentric band of renegade biologists, journalist Trevor Corson escorts the reader onto the slippery decks of fishing boats, through danger-filled scuba dives, and deep into the churning currents of the Gulf of Maine to learn about the secret undersea lives of lobsters.
In one of his lectures, Jordan Peterson says that the nervous system of a lobster runs on serotonin, similar to our own. [Cathy Newman: "So what you're saying is that we would taste good sautéed in butter and garlic."]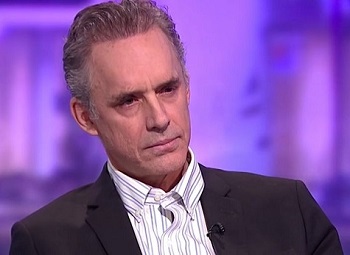 Moron Recommendations
30 This week I read Thomas Perry's latest, The Burglar, about an unlikely burglar who stumbles on a (multiple) murder scene and then becomes the target of the killers. As usual, Perry loads this one with lots of interesting tidbits about burglary, scouting targets, alarms and fencing the goods. Recommended.

Posted by: SandyCheeks at February 03, 2019 09:14 AM (tGSHk)
This sounds like good info for enterpreneurial morons who wish to make a name for themselves.
A book critic for the L.A. Times called Perry the "master of nail-biting success" for his debut novel, The Butcher's Boy:
Murder has always been easy for the Butcher's Boy—it's what he was raised to do. But when he kills the senior senator from Colorado and arrives in Las Vegas to pick up his fee, he learns that he has become a liability to his shadowy employers. His actions attract the attention of police specialists who watch the world of organized crime, but though everyone knows that something big is going on, only Elizabeth Waring, a bright young analyst in the Justice Department, works her way closer to the truth, and to the frightening man behind it.
___________
For all you budding #LearnToCode types out there, take a look at Donald E. Knuth's four volume The Art of Computer Programming in order to embrace properly your bold new future. I can't say honestly that these books helped me nearly as much as having to program upgraded and expanded functionality for a data gathering system interfaced to a spectrometer.

Posted by: PDP-8e: the coding place to be at February 03, 2019 09:39 AM (pNxlR)
Uh, no.
I can't imagine a BuzzFeed opinion writer specializing in gender studies and intersectional Eskimo scrimshaw being able to understand much of anything in any of the four volumes of The Art of Computer Programming, not even those with Ph.D.'s in romantic comedies. So I must assume this advice is offered tongue-in-cheek. Spoilers: TAOCP contains a crap ton of math. A better Knuth book for non-specialists is probably his lecture collection Things a Computer Scientist Rarely Talks About:
In this series of six spirited, informal lectures, Knuth explores the relationships between his vocation and his faith, revealing the unique perspective that his work with computing has lent to his understanding of God.

His starting point is the 3:16 project, an application of mathematical "random sampling" to the books of the Bible. The first lectures tell the story of the project's conception and execution, exploring its many dimensions of language translation, aesthetics, and theological history. Along the way, Knuth explains the many insights he gained from such interdisciplinary work. These theological musings culminate in a surprising final lecture tackling the ideas of infinity, free will, and some of the other big questions that lie at the juncture of theology and computation.
I didn't know until I started poking around that Knuth is a Christian. Although I'd guess that his understanding of God, the Bible, and other theological topics is a lot more liberal than mine, it sounds like he takes his faith seriously. He's one of those guys I don't mind listening to even when I don't agree with him.

___________
Moronette 'votermom' is putting together a list of moron authors over on the Goodreads site which is intended to be accessible to non-members. Here is the list she has compiled so far. Let her know if there's an author she's missing.
http://www.bookhorde.org/p/aoshq-authors.html
___________
Don't forget the AoSHQ reading group on Goodreads. It's meant to support horde writers and to talk about the great books that come up on the book thread. It's called AoSHQ Moron Horde and the link to it is here: https://www.goodreads.com/group/show/175335-aoshq-moron-horde.
___________
So that's all for this week. As always, book thread tips, suggestions, bribes, insults, threats, ugly pants pics and moron library submissions may be sent to OregonMuse, Proprietor, AoSHQ Book Thread, at the book thread e-mail address: aoshqbookthread, followed by the 'at' sign, and then 'G' mail, and then dot cee oh emm.
What have you all been reading this week? Hopefully something good, because, as you all know, life is too short to be reading lousy books.


posted by OregonMuse at
09:00 AM
|
Access Comments