« Monday Overnight Open Thread (2/4/19)
|
Main
|
Mid-Morning Open Thread »
February 05, 2019
The Morning Report - 2/5/19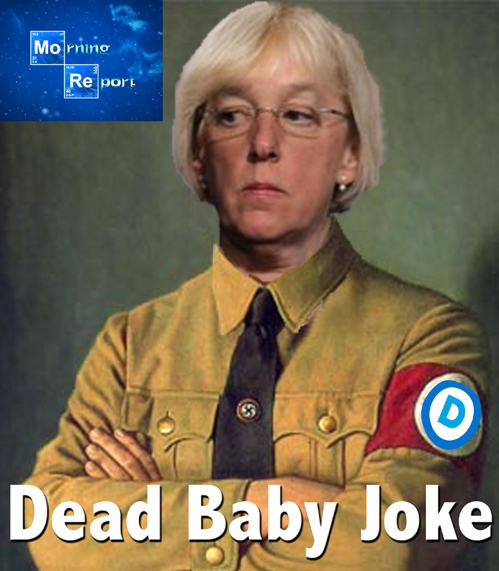 Good morning kids. Tuesday and for your dining and dancing pleasure, we have the continued self-immolation of the Democrat-Left-Media Complex illustrated by a range of topics that coalesce around an overarching theme of the internecine struggle for control of that party between its old guard Trotskyites and the new Shining Path Maoists. I mentioned this a few times in the comments over the past few days and given all their horrendous self-inflicted wounds, it's kind of hard to remember that the Dems actually won back the House last November and have been in control of it for a little over a month, at least on paper. Yes, I do realize that Palsi Pelosi is in charge and at best, the President's legislative agenda is dead in the water until January 2021 (please G-d he wins and the House flips back), and at worst the impeachment follies will ramp up. But that said, it is not insignificant that Trump's approval numbers are still above 40% (probably higher since polls are notoriously Leftist-leaning), Palsi's, the Dems and their controllers in the Media are in the shitter, and that the optics of the migrant invasion caravans, the so-called government shutdown, the persecution of the Covington kids and others, the in-your-face Joo-hatred from the freshman rising stars, Trump's roaring economy and now the Democrat bloodlust to kill infants post-birth whose poster boy is Governor Ralph "Moonwalker" Lawn Jockey, with a side order of #MeToo madness from his Lieutenant Governor Shebe Asken Forette.
And then you have the flea circus that is the Democrat presidential field going full tilt boogie on the Socialism while indy candidate Howard Schultz pulls the rug out from under them by defending capitalism and the American Dream, which has evidently caused Sherrod Brown-Note to triangulate by poo-pooing Medicare For All and now favoring the long-abandoned blue dog Dems over the progressives. And tonight, we will have the President delivering the State of the Union from the open sewer that is the Democrat-controlled House of Representatives and the abject horror show of freaks, geeks and miscreants that that party will whore out for the TV cameras.
One of my favorite movies of all time, The Hospital, features a scene in which a diverse group of community representatives are meeting with the administrators to protest a section of slum housing the hospital wants to convert into a drug rehab facility. Before long, the Sharpton's, Steinem's and Gutierrez's are more at each other's throats than the harried white guy in charge of the hospital. Boy, did Paddy Chayefsky PBUH ever predict what we are witnessing today with these differing grievance groups or what. All I can say is pass the popcorn and pudding cups.
In any case, Les Nooseman is so far not indicating that he is going anywhere and Justin Fairfax is lashing out at Boss Bootblack Mengele for trying to smear him with the sexual assault allegations that he is trying to tap-dance around, and not doing a very convincing job of. And that said, while all of this is going on Daniel Greenfield reminds us that Cuck Schemer, "Mickey" O'Rourke, Joey Bidet and Bernardo Sandersnista either have top aides or are themselves implicated in creepy sexual misdeeds with female staffers which the Media (piss be upon it) conveniently whitewashes or totally embargoes.
And speaking of baby killing, doofus-looking deviant Patty Murray effectively killed a Ben Sasse bill that would protect children who survive the abortion murder process. It was brought up for unanimous consent but the shambling, bespectacled Moe-Howard-looking sack of lipids objected. They should bring it up for a floor vote, in any case, and I hope they do. And a follow on essay just underscores the fact that the embrace of infanticide is the hallmark of g-dless paganism. QED.
To the border we go, where the Mexican government is now bussing nearly 2,000 caravan invaders right up to the border at an area of Texas where it is know that there is essentially nothing to stop their entering. Deploy troops immediately and an immediate moratorium or 90% tax on all remittances. This shit has got to stop. Also, the Feds announce one 8,500 cases of anchor baby birth tourism, the gang of Joo-hating Dem newbies want ICE and the BP defunded while at least one Democrat sez a border wall can work, and ICE nabs some illegal alien rap guy for overstaying his visa. Cue the sad trombone.
Civil War 2.0: The progressive non-profit won't confirm whether or not they fired the Antifa terrorist working for them Joseph Alcoff, Richard Fernandez on the MAGA hat boogeyman, and the hypocrisy of libs not calling out the hate from their side.
Politics: For tonight's SOTU, the President's guests include the kid bullied because his name is Trump and the Pittsburgh synagogue shooting survivors, NYC Dem Dov Hikind blasts Ocasio-TacoRosado for the Joo-hatred, the bug-eyed bucktoothed Bolshevik has invited the thug who accosted Fake Flake during the Kavanaugh shit-show, more popcorn will be needed as Jerrold Nadler and Carolyn Maloney might support giving Israel sovereignty over the Golan Heights, Awan concubine Debbie Wasserman-Test warns that she'll sue PDT if he declares a national emergency, Sherrod Brown-Note thinks he can win the Dem nomination by pretending to be a so-called moderate, and two fine essays on the madness of Democrat political philosophy.
First Amendment and Fake News Fakery: Washington state baker is sorry, not sorry for baking a "Build That Wall" iced cookie, two links on the pressing need for coding lessons in the dying media, and Robert Spencer goes after a hack at the Miami Herald.
Mueller Inquisition and "Muh Colluzhnikovs!": the New York Southern District hacks are going to go after the Trump inauguration committee to fabricate more phony charges, and more indications that FusionGPS the FBI and others were trying to fabricate collusion conspiracies via that Trump Tower meeting that didn't happen.
Guns: Virginia school district sues the state's AG (probably the next governor, now) over allowing teachers to be armed.
Foreign Desk: After Trump stated keeping troops in Iraq as a counter to the Iranians across the border, the Iraqi ingrates show their ingratitude, NorKs want sanctions lifted ahead of the next summit, Congress votes to keep US troops in harms way in Afghanistan and a warning about the Chi-Com EMP threat.
Domestic Desk: Ruth Bader-Meinhoff supposedly emerges and sees her shadow, Dems are now ready to Bork Kavanaugh replacement Neomi Rao, Joe's Man-Chin may support PDT's new pick at the Interior Department (I understand he's an oil man, heh), a negative look at William Barr, why fat lezbos are fat and other wastes of your money, and City Journal looks at why faith-based foster-family agencies should be allowed to place kids according to their principles.
The Economy: Two links on the same subject about the out of control debt and the concomitant public employee pension crises.
Health: More on LA's rat-borne typhus outbreak.
Red-Greens: Along with desertions in the Dem ranks over Israel, Democrats strip eradication of fossil fuels from Ocasio-TacoRosado's Green New Deal and a look at just what the hell is in the aforementioned.
FemiNazism: Future coding student at the National Laughingstock tries shaming Bezos into paternal leave and equal pay. Childcare? Paging Herr Doktor Schvartzpunim...
Hither and Yon: Liam Neeson feels guilty because he wanted to kill a black guy after a close friend was raped (guilty because he was black?), Christian Toto breaks down the Super Bowl halftime flop, the travails and failings of the Catholic clergy and yes, time to end Black History Month.
Anyway, links from around the world, across the nation and up your street. Have a better one and remain blessed.
DEMOCRAT-LEFTIST SCANDALS, CRIMES, CHUTZ-POCRISY, MESHUGAS

posted by at
07:49 AM
|
Access Comments