« Sunday Overnight Open Thread (2/3/19)
|
Main
|
Mid-Morning Open Thread »
February 04, 2019
The Morning Report - 2/4/19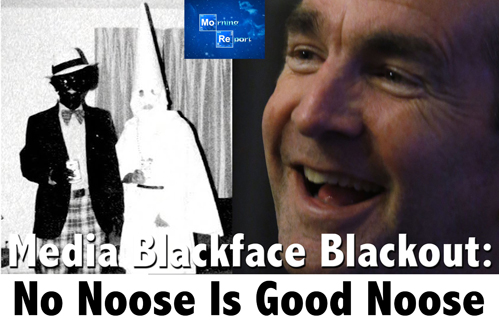 Good morning kids. Start of a new week so let's get right to it. The big story which broke late Friday afternoon - which the Dem-controlled Agitprop Media had to be dragged kicking and screaming to acknowledge - was the sudden surfacing of a photograph of Virginia Governor Les Nooseman, aka "Coonman," aka Ralph Northam, appearing in blackface in his medical school yearbook. At first, the keen disciple of Josef Mengele admitted it was him, then retracted his admission saying he couldn't remember if it was him, then reportedly was going to resign before digging his heels in and refusing to resign. Naturally, the Democrat-Media Complex was quick to lay the blame for this squarely at the feet of President Trump. That said, the calls are coming in from all quarters of the Democrat party both in Virginia and national for the good herr doktor to resign, but as of this morning I have not seen anything yet to indicate that he is inclined to do so. Good!
As delicious as it is to see this deviant squirm over this, and rightly so since it is the Democrats who are inarguably the party of slavery, Jim Crow, the KKK, racism and divide-and-conquer balkanization/racialism (the 50-year grand illusion of their tarring (heh) and feathering us with their sins notwithstanding), commenters here have lamented that politically poisonous as this is to Northam and the Dems, it tends to distract from the infanticide that this turd with a stethoscope had so cavalierly supported not 24 hours before the blackface photo surfaced. With the State of the Union speech set for tomorrow night, the President has an opportunity to utterly hammer the Democrats. Along with what I expect will be an indictment of that party as criminally irresponsible and complicit in the shedding of American blood with its avowed policy of open borders, the willingness to snuff out life both in the womb and at birth vis a vis the just-passed law in New York and the one that has been tabled for now in Virginia is something that, coming from Trump in his plain, straight-talking manner will be impossible for the Media to spin.
And this leads to the political question of why now? I think they know that despite all the propaganda, abortion is not popular with a majority of Americans. But to have the governor of Virginia come out and publicly endorse a policy of virtual post-natal infanticide is political poison, not just for him but for every single Democrat 2020 presidential candidate to have to defend. As powerful still as the propagandists are, there is just no way to spin this especially in the age of Trump. And with a roaring economy, socialism imploding in Venezuela, the Mueller inquisition a gigantic nothing-burger with him as the victim, the persecution of clean-cut Catholic school kids, the open in-your-face Dem Party Joo-hatred and now that party openly reveling in baby-killing, he has definitely got them by the "mish" and come tomorrow night, he's going to squeeze it tight. He better.
Speaking of abortion, the author of the Virginia bill, Kathy Tran had to cancel a town hall due to protesters lining up to blast her, as speculated by me could abortion be a poison pill for Dems in 2020, as well as several good essays on the issue from both the political and broader cultural aspects.
Civl War 2.0: The attorney for MAGA hat Covington kid Nick Sandmann has released a list of 54 names of prominent people and organizations he intends to sue.
Politics: Along with the aforementioned Koonman Klown Kronicles, the President asked a cromulent question about Ed Gillespie's campaign being unable to find something so out in the open as that yearbook photo. An aide for Cuck Schemer has been implicated in a potential misconduct scandal but since the news broke late Friday, you'd be hard pressed to have heard about it or find it mentioned elsewhere. And not only did millions of government employees not perish but the the government actually managed to add 1,000 more bureaucrats despite the shutdown... with this one neat trick!
As GOP Rep Lee Zeldin continues to fire away at incest aficionado Ilhan Omar for her Joo-hatred, Alexandria Ocasio-TacoRosado has nothing but high praise for neo-Oswald Moseley Jeremy Corbyn, Sherrod Brown-Note's chances for 2020 just went from microscopic to naught, Tulsi Gabbard has thrown her lei into the ring, speaking of Kamala-Toe, a look at Willie Brown's links to the Castro regime, and lastly three good pieces on the Fauxca-HasBeen/Democrat war on wealth.
Moving to Amnesty and Immigration, freshman GOP Rep. Chip Roy makes a powerful case for securing the border and blasting Palsi Pelosi as the President has decided to deploy another 4,000 or so US troops in anticipation of the next wave of migrant invasion caravans, while the Democrats plan for border security is to release all nabbed child traffickers and let them loose in the US.
First Amendment and Fake News Fakery: with so many journalists now forced to learn to code, the WaPo blew a few million on an idiotic Super Bowl advert, CBS rejected a pro American ad exhorting people to stand for the Anthem, lawyers for the Covington teens release a brutal video takedown of Chief Taunto and the media's propaganda against the kids, how the media ignores extremist, criminal Democrats, and Levin with a rousing defense of the President vis a vis the lies of the Mueller inquisition.
Foreign Desk: Trump weighs all the options in dealing with the Venezuela crisis, the Krauts and the Euro-Peons are "aghast" at our withdrawal from the ABM treaty that Russia serially abrogated, a look at the Russkies after 5 years of crisis in Ukraine, Trump has had it with "endless wars" in Afghanistan and elsewhere, the Chi-Com menace, the UN boycotts Israeli wine to celebrate Holocaust Remembrance Day, and an interesting piece on the potential dissolution of Canada.
Dee-Fence!: A look at the President's feud with our intel community, and the growing cybersecurity threat that we are not prepared to defend against
Crime Blotter: Philly union boss is indicted for embezzlement (I'm shocked!) and a rather disturbing story about sick criminality within the homosexual community.
Domestic News: Fresh off his nixing of Common Core, Governor Ron Desantis ramps up a deregulation effort for Florida, two more great metrics of the roaring Trump economy and one where AT&T sends jobs elsewhere and will the rich fund their own demise?
Health: Los Angeles has a flea-born typhus problem, Frisco has more addicts than students, and speaking of vermin a new book reveals the thinking behind Chief Justice Erring Crockovich's Obamacare sham ruling.
Education: Michigan Dems hate black children, and Hampshire College might have to shutter due to evaporating enrollment. Aww...
Red-Greens: Green energy madness implicated in California's wildfires, and as the Global Warming hoax is exposed more and more the fraudsters have nothing left than to attack the debunkers.
FemiNazism: When feminists abandon girls and Daniel Greenfield on the ADL's #MeToo problems.
Hither and Yon: Anti-Trumpers go nuts as Tom Brady leads Pats to 6th Super Bowl championship, Super Bowl ads go heavy on the Leftist agitprop, Christian Toto on Adam Carolla and the blackface backlash, Victor Davis Hanson on California's insane highways, another look at Rosenberg nuke spy Morton Sobel, the 60th anniversary of the day the music died and David Harsanyi on the fall of the Berlin Wall and communism/socialism and the mad race by the Left to resurrect it.
Anyway, links from around the world, across the nation and up your street. Have a better one and remain blessed.
DEMOCRAT-LEFTIST SCANDALS, CRIMES, CHUTZ-POCRISY, MESHUGAS

posted by at
07:29 AM
|
Access Comments