« Chess Thread 02-02-2019
|
Main
|
Saturday Overnight Open Thread (2/2/19) »
February 02, 2019
Saturday Evening Movie Thread 02-02-2019 [Hosted By: TheJamesMadison]
Expertise

Let's imagine that it's 1959 and you are an expert in Roman naval combat. You've had a long day of experting, and you decide to knock off early to catch the new Charlton Heston flick, Ben-Hur. You've never read the book nor seen the original silent version. In fact, you know almost nothing about the film and just go because it happens to be playing at your local one-screen theater. You're enjoying yourself until Judah Ben Hur gets on the galley ship, then everything goes off the rails. You become consumed by the problems with the film's portrayal of naval combat of the era. The officers wouldn't wear armor on board, especially if they were just sailing with no intention of fighting. Rome had destroyed the last of its major opponents on the water by this time and there wouldn't be a battle this large. Romans didn't use slaves on galleys!
You've been taken completely out of the movie and can never get back in. You grumble left and right until you go back home and start to complain to your wife. "Well, I saw it last week, and I thought it was good," she naively says.
"Good? They got the particulars of Roman naval combat completely wrong! How could it possibly be good?" you scream at the very top of your lungs, very reasonably.
The above presents what I believe to be an interesting question between artist and audience. When dealing with anything that touches the real world, how much responsibility does the artist have to get everything right? How much responsibility does the audience have to let reality go?
He Is the Law
I discovered a YouTube channel a little while back. It's run by a lawyer who watches legal based movies and television and then gives the products grades on "legal realism". I actually first noticed it because of his video about an episode of It's Always Sunny in Philadelphia, but since this is a movie thread, I'll focus mainly on another.
First, I'll start with that It's Always Sunny episode, though. It centers on a courtroom and is just full of hijinks. Even from a non-legal mind, it's obvious that none of what goes on in the episode has much to do with how the legal system actually works. It's a piece of absurdist comedy. However, it's deviations from how the process functions really got to this guy, and he couldn't get past that element to enjoy the episode at all (at least based on his reactions in the episode). Every other second he stopped everything to shake his head, sigh, or expound on what's wrong.
Bringing this back to movies, he has a pair of videos about Liar Liar, the Jim Carrey movie from the mid-90s. The lawyer was pleasantly surprised by how the movie kept certain details here and there, the overall feel of the court, but was held back by the thinness of the movie's legal conclusion. He gave it a B+ for legal realism, and he was able to enjoy the film as a whole, which was nice.
So, on the one hand, we have a piece of absurdist theater that makes no attempt to be realistic, and on the other a pretty good studio comedy that hews pretty closely to realism. The expert simply could not enjoy the first, but he could enjoy the second.
Does that make the first bad?

The Young Hotshot Closer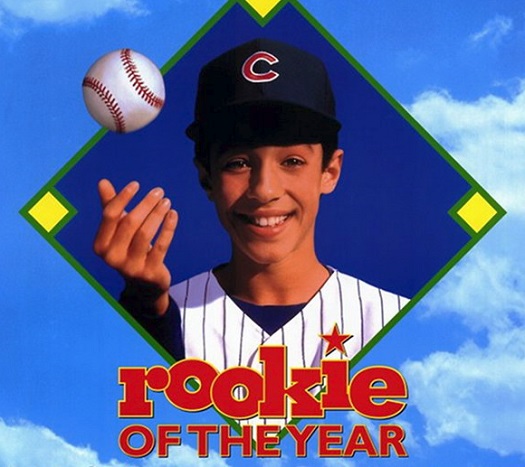 Thinking on this topic, I dredged up memories of Rookie of the Year, a mid-90s children's movie about a 12-year old boy who breaks his arm, it heals funny, and he is suddenly playing for the Chicago Cubs as their closer in the final 6 weeks of the season. It was a staple of my youth, having watching it many times with my father on our copy which we recorded off of TBS.
I recently rediscovered the film and I have thoughts.
So, let me set the stage a little bit. The opening of the movie (which uses a score by Bill Conti which is just great) shows opening day at Wrigley where we are introduced to John Candy, the Cubs' radio announcer. He's not hot on the team's chances this year. He's the proven right when the very first pitch sends a ball over the fence for a home run. We then don't see any professional baseball until the end of August when our main character, Henry Rowengartner, comes out of his cast from his broken arm and goes to a Cubs game in celebration. John Candy's voice is there to announce that the Cubs still suck, though. It is here that Henry gets his hands on a visiting team homerun ball and throws it from the bleachers in center field to home plate. He's then signed by the Cubs to be their closer.
Skipping past his initial troubles, once Henry gets his grounding in the majors, the Cubs go on a roll, closing the gap until they're tied for first place in the National League East. Which means that the addition of a single player, a closer, led to the team sucking to the team fighting for a spot in the National League championship in about six weeks. That's just…unrealistic.
Now, I'm not an expert in baseball, but I watch enough to know that if people think you're out with 6 weeks left, you're most likely out. 6 week represents about 35 games. If you've got 35 games left but not mathematically eliminated yet, you're no more than 17 games back, but since there was no talk of the team being mathematically eliminated with Henry's first or second game, let's assume they're a bit further along than that, 13 games back. In order for the Cubs to close that gap, they not only need to win a whole bunch, whoever's at top needs to lose a whole bunch. That generally doesn't happen, but it's certainly possible.
Then we get to slightly more specific pieces. A new closer turns a terrible team good? That seems, well, odd. If the addition of a closer were to get a team from losing to winning, then the team as a whole must have been keeping games close overall and losing them in the late innings. Closers don't produce runs, they prevent them, so if a closer is what turns a team around, then they must be winning games through at least 7 innings and then losing them completely at the end. That isn't the situation implied by John Candy's commentary, or anyone else's talk of the team. In fact, the chief problem that we see as an audience is with an old starting pitcher played by Gary Busey who can't produce anymore.
Literally none of this setup makes a lick of real sense.
But, I kind of love the movie. How close is hews to the reality of baseball isn't really the point. Instead, it's purely a fantasy trip for boys who want to play in the majors and suckers for some good old fashioned movie magic. Just don't get me started on how Henry outruns a professional base runner to second base.

Fort Sumter
One final example.
I live in Charleston, SC, and I can see Fort Sumter driving to work literally every day of the week. It's at the mouth of Charleston Harbor and kind of distant from the main bridge (the Ravenel Bridge ) that connects the peninsula of Charleston itself with the community of Mount Pleasant to the north. The bridge is pretty far away from the fort and the bridge looks like this from the fort: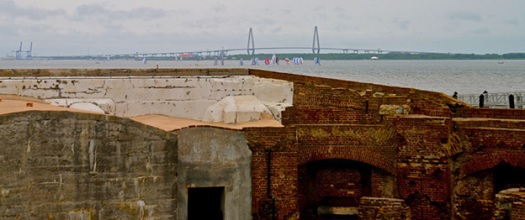 That's pretty far away.
Here's how it looks at the end of G.I. Joe Retaliation:

Not only has the bridge moved about a mile east, but it also connects directly to the fort now. That would make my morning commute more interesting for sure.
I looked back at some contemporary local reactions to this scene, and some people were surprisingly mad about it. "That's not how Charleston Harbor looks!" "I'm so disappointed!"
But, because G.I. Joe Retaliation is generally just a stupid movie, I've never held the change in geography against it. In fact, I find this bit to be the most entertaining part of the whole movie. It's kind of hilarious. Most people who see the movie don't know the geography of Charleston Harbor in the least, so the inaccuracy sails right by them. Should the filmmakers have found a way to get people to an island other than a bridge that doesn't actually exist? Well, it exists in the movie, so that's actually good enough for me.

Intentions
Using Rookie of the Year and G.I. Joe Retaliation seems unfair. Neither are particularly serious movies, so the fact that they depart from reality rather shockingly in some ways shouldn't surprise, but I know that there are people out there who refuse to get past these things and think less of the films because of them.
If you don't know baseball, you won't understand the climax. If you do, you'll find it preposterous. -Quentin Curtis, review of Rookie of the Year
You know what? He's right. The ending of Rookie of the Year is preposterous (but so is the central conceit of the movie). The way Henry achieves his final three outs is beyond absurd. Have a look:
Why is it there at all? Because the story requires that Henry win on his own without his magical arm. Him being gifted with a magically amazing throwing arm isn't terribly satisfying, and him succeeding essentially because of magic isn't terribly compelling. By taking it away from him, and him finding a way to still win, we're more willing to cheer for him. Yes, how he gets the second and third outs are outrageous (the first kind of works). Henry shouldn't be able to outrun a major league runner, and a floater would get crushed to the bleachers in real life, but the movie isn't a real portrait of how baseball works. It's wish-fulfillment fantasy.
My point being, especially in Rookie of the Year, the absurdity is the point of the story. It's pure fantasy, and to hold its lack of adherence to the reality of baseball seems unfair. Its ambitions are simply too low to do that. Within its box of its chosen genre, it works. Whether you buy into the genre is another matter and more of a matter of taste, but I do think that in its small box, the movie works charmingly.
If that sort of stuff happened in Moneyball, though, it would feel completely out of place and would undermine the overall thrust of the story.
But what about something like Ben-Hur? It's a serious movie that gets historical details of the period wrong. Should we hold that against the movie because we know that it's filled with inaccuracies? Or, should we acknowledge that, while there are departures from literal reality, we should accept the premises of the film itself?
Are movies extensions of the real world? Or are they little worlds unto themselves?
What do you think?

Movies of Today
Opening in Theaters:
Serenity
The Kid Who Would Be King
Next in my Netflix Queue:
Top Hat
Movies I Saw This Fortnight:
Prisoners (Netflix Rating 5/5 | Quality Rating 4/4) Poster blurb: "Very solid thriller and drama that digs deep into its characters." [Netflix DVD]
Saboteur (Netflix Rating 4/5 | Quality Rating 3/4) "Far from Hitchcock's strongest film, but it holds together pretty well." [Netflix DVD]
Man of Iron (Netflix Rating 4/5 | Quality Rating 3/4) "Perhaps a bit distant, but still a compelling view of Poland under a crumbling Soviet rule (although they only suspected it at the time)." ["Library"]
Zero Hour! (Netflix Rating 3/5 | Quality Rating 2/4) "Passable. It could use some absurdist humor, though." ["Library"]
O (Netflix Rating 5/5 | Quality Rating 3.5/4) "Very good retelling of Othello transplanted to Charleston and high school basketball." [HULU]
Hell or High Water (Netflix Rating 5/5 | Quality Rating 4/4) "Kind of great with great characters and a wonderfully quiet, but searing, ending." [Netflix Instant]
Crisis (Netflix Rating 2/5 | Quality Rating 1.5/4) "There are glimpses of Bergman's nascent talent, but the movie as a whole just simply doesn't work." [Personal Collection]
Ben-Hur: A Tale of the Christ (Netflix Rating 5/5 | Quality Rating 3.5/4) "Quite competent adaptation with two of the most reckless and exciting action scenes I've ever seen." [Personal Collection]
Smiles of a Summer Night (Netflix Rating 4/5 | Quality Rating 3/4) [Rewatch] "Bergman's true introduction to the world is a fun comedy with surprising dark undertones." [Personal Collection]

Contact
Email any suggestions or questions to thejamesmadison.aos at symbol gmail dot com.
Follow me on Twitter.
I've also archived all the old posts here, by request. I'll add new posts a week after they originally post at the HQ.

posted by OregonMuse at
07:35 PM
|
Access Comments