« Obergefell Is At It Again, With A Particularly Nonsensical Argument
|
Main
|
Super Bowl Thread »
February 03, 2019
Food Thread: Themed Food? No Thanks, I'll Pass...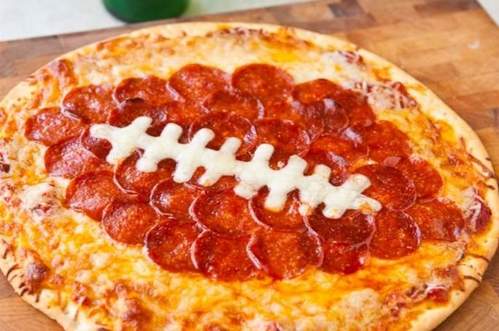 That actually looks pretty awful. I get a sense that the crust is tough and dense, and the toppings are mostly volume without any sense of proportion. If I want a big mouthful of pepperoni I'll just buy a piece and gnaw on it, which I have done...happily...on many occasions. And if I want to eat hard-crusted and dense bread I...well...I won't. So why eat a pizza like that? Just make your own. It will undoubtedly be better than that monstrosity up top.
Pizza making at home can be daunting for some, especially making the dough and stretching it without ending up with a huge mess at the bottom of your oven when you transfer it to the pizza stone or steel or whatever you have handy. Go ahead...ask me how I know!
But there are plenty of great pizzas that do not require much skill at all. One of my favorites is Detroit-style pizza, which is really easy to make and doesn't require anything special in the way of ingredients or technique. here's a good start, from King Arthur Flour (I took the original "serious eats" link down because commenter "Miklos' pointed out that J. Kenji López-Alt not only has an asshole name, but he is a rabid NeverTrumper). I wouldn't bother with the sauce unless you are feeling energetic. Just use chopped tomatoes and some seasoning. And I have replaced the pepperoni with Italian sausage (both sweet and spicy) to great acclaim here at Chez Dildo. Oh, and slapping on some ricotta doesn't hurt either.
Get the idea? It's a nice starting point for pretty much whatever you feel like eating with that great crispy, olive-oil-soaked crust that is the whole point of a Detroit pizza.
[What? Why yes, I was going to write about Super Bowl foods, but I realized about 30 seconds after I started that I was going to make pizza with bacon and eggs (Pizza Carbonara for you purists), and that's more fun than 36 iterations of guacamole.]
******
My biscuits are pretty good (ignoring that one Thanksgiving catastrophe). Not as good as some I have had in the South, and they don't come close to the perfect ones I had in Savannah recently, but they are absolutely in the running for a biscuit I would serve to a Southern grandmother. And then I would hustle her into the kitchen and have her show me how to make them...because I am no fool.
So forgive me if I think that this article is a bit of arrogance clothed in self-deprecation. And clickbait.
Why Most of America Is Terrible at Making Biscuits

I asked my mom to email me the recipe, and it was three ingredients (self-rising flour, shortening, and buttermilk), mashed together with a fork. I'm not an accomplished baker, but I cook frequently, and this was the kind of recipe that had long been used by people without a lot of money, advanced kitchen tools, or fancy ingredients. Confident that I could pull it off, I marched right out and bought the ingredients. The result: biscuits that were just as terrible as all the other ones in New York. Not to be dramatic, but my failure destabilized my identity a little bit. What kind of southerner can't make biscuits?
Well, I guess the answer to your question is: Ones who desert the South, Move to New York City and write for The Atlantic.
******
It's not a cat video, but it's close.
Two-year-old makes lasagna,
and I'll bet it wasn't bad. It's certainly adorable. Besides, lasagna is a pretty simple dish and hard to screw up, and damn...the kid looks like he is having a huge amount of fun.
******
I was told early and often that sucking on a toothpick was a recipe for medical disaster. They are almost invisible to X-ray, so it is difficult to figure out where it went when you swallow it or even worse...inhale it. So here is the Food Thread
TM
health tip of the week....
Careful with that toothpick, Eugene
******
One of my favorite combinations is two kinds of meat. I have mentioned (I think in the comments) chicken breasts stuffed with cheese and ham, and of course the Horde favorite; bacon wrapped bacon. This sounds pretty good, and in spite of arugula's pomposity index of 878 on a scale of 0-1,000, it is a nice ingredient: peppery and with a good texture.
Pork Medallions with Tomatoes, Prosciutto & Arugula
One thing about the recipe is sort of irritating though; specifying a particular brand of...anything...makes me think that the recipe was written by the marketing department, not some chef. I will go out of my way NOT to use the called-for product whenever I see that in a recipe.
DON'T TELL ME WHAT TO DO!

******
Most of us don't have access to wild fowl on anything close to a regular basis, but this method (which is standard) works perfectly for any fats you can harvest from commercial fowl. I do something like it whenever I buy duck, which is why I usually have some duck fat available for particularly scrumptious fried potatoes or soups or anything that requires a flavorful fat.
How to Render Duck or Goose Fat
One thing missing from this recipe is what to do with the bits of skin and stray pieces of meat once you have rendered most of the fat from them. The Yiddish term is "gribenes," which is simply the cracklings and some fried onion, served on bread. or out of the pan, or scooped out of the pan when your great aunt isn't looking.
******
Food and cooking tips, triple-cream cheeses, young wild pigs, Venison Steak and Eggs (Swiped from Garrett), thick and fluffy pita and good tomatoes that aren't square, pale pink and covered with Mestizo E.coli:
cbd dot aoshq at gmail dot com
. Any advocacy of French Toast with syrup will result in disciplinary action up to and including being
nuked from orbit.
&topic=world_news">

posted by CBD at
04:00 PM
|
Access Comments