« Wednesday Overnight Open Thread (1/30/19)
|
Main
|
Mid-Morning Open Thread »
January 31, 2019
The Morning Report - 1/31/19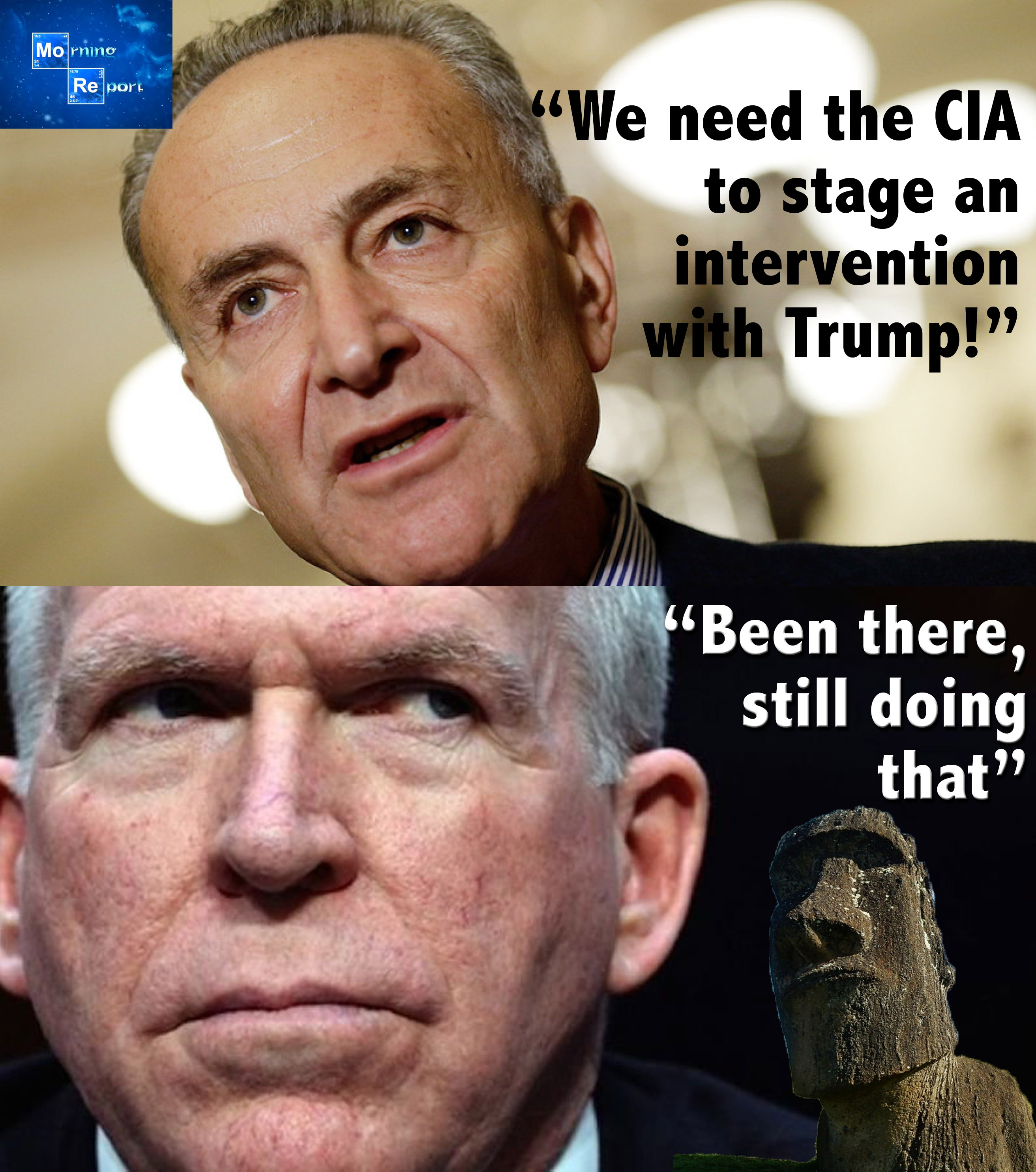 Good morning kids. Well, January came in like a barium enema and is going out like an ipecac geyser, politically and culturally speaking. Yes, it's wicked cold out there so, of course, beware of black ice. Or is that racist now like photos of coal miners (stay tuned for that one). Anyway, stay safe and warm if you are affected by the record low temps, but enough of the preamble ramble and lez-be-on our way.
First up, something that nearly snuck by us while we were distracted with miscellaneous trivia like state-sanctioned infanticide and the persecution of normal (in every sense of that word) citizenry, was malicious elements within the Trump administration eagerly selling us out by seeking approval from the likes of Chi-Com stooge Dianne Feinstein and Kamala "downtown Brown" Harris for judicial nominees to the 9th Circus. It was hard to distinguish the normally unflappable Rush Limbaugh from Mark "ol' Yeller" Levin as the former blew a gasket on the air over this, and justifiably so:
...It is pretty safe to say Trump may not know this is going on !He's a got a new White House counsel, and this White House counsel has been working with Kamala Harris and Feinstein, two senators from California, to choose nominees that Trump would choose to be on the Ninth Circuit that meet their approval! What the hell! We run the Senate. We have 53 senators! The reason Trump ran - in addition to not doing amnesty and shutting down the border, building a wall and all that - was the courts! What in the name of Sam Hill is going on when somebody has to - -?

Feinstein!

Feinstein is the one that when Amy Coney Barrett was up for nomination- - She is on the short list for the next Supreme Court opening whenever that is and wherever it is. She was engaged in confirmation hearings for her current slot on the court that she currently sits on, and Dianne Feinstein's looking at her and says (paraphrased), "The dogma is thick with you," meaning, "You're really a big Catholic." Feinstein's not Catholic. "The dogma is thick with you." So we've got a little bit of an indication how Feinstein is gonna approach Amy Coney Barrett if she's nominated for the Supreme Court.

Well, why in the name of Sam Hill is somebody in the Trump administration negotiating with the people that lost in the Senate elections? Now, occasionally this happens. It does happen, but it's a throwback to years gone by when there was at least the pretense of bipartisanship, cooperation, comity, and all that. But not during these hyperpartisan days where there's no overlap of anything in common. You start negotiating with Feinstein and Kamala Harris and then senators from New York are gonna be the next ones that call you and demand to negotiate...
There are some who criticize the President for having hired Deep Staters and DC lifers for all sorts of key positions who, in turn, staff up with fellow travelers. But as a total DC outsider, he took a logical, if not erroneous approach to choosing the people who, unlike him, know the town and know the job. He didn't realize that he was dealing with people who loathe him, everything he stands for and what he was going to do, which was to denude them of their power and influence to the extent that he could and, as is a founding principle, give it back to the people. Oh well, it is what it is. And it's illustrative of one aspect of why big, centralized, all-powerful government is lethal to the republic.
Now, back to the magic show. As, from what I understand, at least three more migrant invasion caravans, one of them about 12,000 strong, are forming up and ready to march towards the border, Kevin "Charlie" McCarthy took to the well of the House to read off the names of 50 American lives snuffed out by illegal alien criminals and actually got a standing ovation from all present. I guess the optics would have been suboptimal had the Dems staid sitting on their hands. He cast the blame squarely on the Dems for the shutdown and their lack of seriousness on securing the border. Fine as far as it goes but I do not trust him one bit. Also, the largest fentanyl seizure yesterday at the border was lethal enough to kill tens of millions, Palsi Pelosi's version of border security is stealing even more of your money to give to foreigners, and David Catron is upbeat on why Trump will ultimately triumph.
Dispatches From Civil War 2.0: On the heels of yesterday's exposure of a big "Antifa" terrorist in DC, incendiary devices were discovered at the Eugene, OR police headquarters presumably to retaliate against cops ventilating an "Antifa" terrorist the day before. Also, poll numbers overwhelmingly reject the Democrat-Left's war on Christianity and a look at the ruling class and the undeclared civil war.
First up in politics is the Democrat-Left Police Blotter where Alexandria Ocasio-TacoRosado is caught in an open lie about her Israel-bashing, House Dems reject a GOP bill cutting off raises to bureaucrats accused of sexual harassment. Of course, Tony Cardenas who is accused of drugging and abusing a 21-year-old coed, chaired the vote. Also a look at the Wisconsin "John Doe" prosecutorial abuse of power that will likely go unpunished, Obama's teleprompter will be speaking at Boeing for free (yeah, right), and a Palsi Pelosi PAC sent $250,000 to one of Nazi collaborator George "the animal" Soros' front groups.
Elsewhere, Daniel Greenfield with a reminder that three possible Dem prexy contenders are all mayors of some of the worst shit-holes in the nation, Sherrod Brown-note, who aside from 2 years as a college lecturer, never did an honest day's work in his life, went to an Ohio factory to blather on about "the dignity of work." The coffee-cake visaged dolt also stuck his foot down his throat by bashing Trump with the bromide of ripping babies from their parents at the border... on the same day his party in Virginia voted to rip their heads off if they dared peek out from momma's mons veneris. Totally repulsive jerk, that one.
Speaking of projectile colitis, Cuck Schemer publicly suggested that the CIA should essentially take out Trump. Did you see my head do a triple take on that one? First, to openly call for a coup, second he knows full well that the CIA, DoJ, FBI, Clinton and Obama have been attempting one since July of 2015 and that ironically Trump offhandedly joking about Putin finding Hillary's lost e-mails was every bit as offhanded a remark as Schemer's (although I really think, tone and delivery aside, he really wants the CIA to off the President) was what launched the phony Mullah Mueller Inquisition in the first place. I think Cuck is now at the top of my who-do-you-want-to-slap-in-the-face-the-most list.
Also, Ocasio-TacoRosado attacks Howard Schultz for being a privileged billionaire not knowing he grew up dirt poor in Brooklyn, unlike her, Palsi Pelosi parties hearty pre-Grammy with her hand out, two good pieces on the folly of Medicare for All, a look at Willie Brown's influence beyond Kamala-Toe, Mark Levin warns us to be wary of Cocaine Mitch, House Dems forced to backtrack on putting G-d back in the oath of office, beware of son-in-laws bearing grifts, and Victor Davis Hanson with an upbeat analysis of Trump so far.
First Amendment and Fake News Fakery: Google founder Sergey Brin's foundation is all about the dark money, the Republicans' acceptance of Dem-Left narrative is cringeworthy, the mob and the Covington Kids and other victims, and sage advice whenever the Left opens its let-them-eat-cakehole.
Mullah Mueller Inquisition and Coup: Lindsay Graham wants to get to the bottom (no pun) of the Gestapo raid on Roger Stone, Conrad Black on the ramifications of same, Nellie Ohr spied on the Trump clan for FusionGPS and others, and the Russky babe admits she said Trump colluded with Putin to get out of jail.
Foreign Desk: GOP senators want us to put the screws to Maduro, if you think you can't stem migrant invasions, go ask the Italians, the State Department totally dropped the ball on preventing Ireland from doing the BDS thing (no cancer cure for you, potato-eaters!), and G-d forbid the likes of Ocasio-TacoRosado ever gets to the White House. Again. Meanwhile, the DNI is warning about Chi-Com stealth infiltration to overthrow our culture (been there, done that since the 1920s), and Trump is so in bed with Putin that he convinced him to conduct nuclear attack drills on our aircraft carriers.
We-All-Slam-For-I-Slam: Sanity as anti-terrorism laws will at long last cut off the Palestinians from our money, Asia Bibi's 10-year nightmare in Pakistan is over at last, and one of Sherrod Brown's forgotten constituents gets indicted for planning a terror attack on a synagogue.
Domestic News: Along with Limbaugh, a couple of good links on de-fanging the Judiciary while the Democrats and unions pull out all the stops to short circuit the Janus ruling.
Abortion: In the aftermath of Virginia and New York, this Kathy Tran slag submits a bill to protect caterpillars on the same day they voted to kill infants at the point of birth, the co-sponsor of the bill pinky-swears she didn't know what was in the bill (lying or stupid is not a win-win toots; oh, yeah - Democrat), and lastly, I am no fan of Ben Sasse but he is 100% dead right with what he said regarding this madness.
Education/Brainwashing: New Jersey teacher really puts the "special" into "ed," 60% of students are too stupid to even know what the poll they voted on really says, and an essay against the teaching of the Bible in schools.
Hither and Yon: Christian Toto asks, after the Oscars and the Super Bowl, what's left for the Left to destroy, as Loretta Lynn would sing "I was born a Jazz Singer's daughter," and the World Council of Churches has its protocols on the Zionists. Feh.
Anyway, links from around the world, across the nation and up your street. Have a better one and remain blessed.
BORDER WALL, MIGRANT INVASION, AMNESTY, IMMIGRATION, BORDER SECURITY

posted by at
07:45 AM
|
Access Comments