« Governor Coonman Press Conference Thread
|
Main
|
Chess Thread 02-02-2019 »
February 02, 2019
Ace of Spades Pet Thread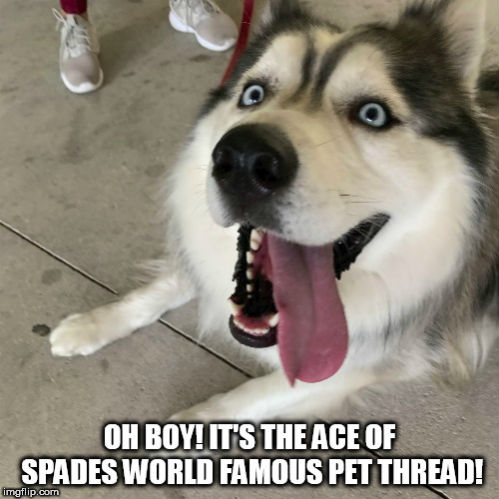 (Thank you Hank Curmudgeon)
***

Welcome to the almost world famous AoS Pet Thread. Although we have a friend who thinks differently. It's time to take a break. Sit back, relax and enjoy the world of pets.
***
A Little of This. A Little of That.

Law enforcement says final goodbyes.
***
H/T Doc Rochester
***

I have a special spot in my heart for hamsters. My first pet was a hamster. Here a Japanese artist has a soft spot in his heart for his hamster. H/T Hank Curmudgeon
***

Is your cat a little chunky? Try this treadmill.
***
Meet The PetMorons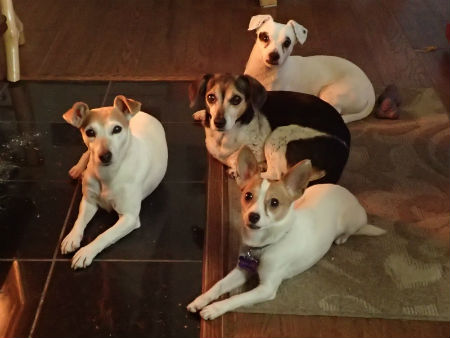 Hello once again from the GreatWhiteNorth

Last summer we added Maggie to the hoard, a Jack Russel / Papillon mix. Like our other dogs Candi, Molly & Sally, she's also a rescue, this time from Rat Terrier Rescue Canada. Maggie is 6 pounds of pure feistiness offset by a generous portion of adorability. When we brought her home she received a warm welcome from the other 3 which she immediately took as a sign of weakness. Besides bossing the others around, she enjoys visiting her wrath upon the broom, vacuum cleaner, oven door, dishwasher door and various pots & pans. After such episodes the cuteness gene kicks in as she rolls on her back looking for a belly rub.

Candi (the other one with the brown head) & Sally (the mostly beagle) are quite reserved. Not so for Molly (the one with the face of a meerkat). Molly can be sneaky:

Thanks once again for the time you put into this. Always an enjoyable read.

Brian
Hopefully those critters have nice warm Sorrel boots!!! Thanks for the submission Brian. What a great story about your pets. They sure lucked out with you on their side.
***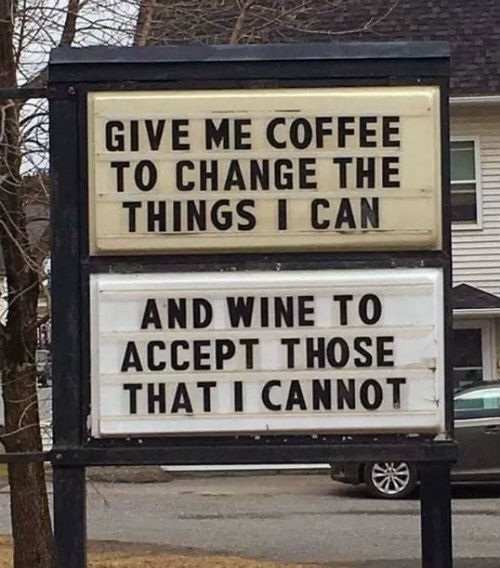 Here's a shot of my pooches first foray in the snow. Lucy, the black German Shepherd on the left is trying to catch a snowball, Odin, the blue eyed boy on the right is doing what he does best; derping. In the back behind Lucy is Pandora doing what she does best, hanging back and waiting to see if any food drops on the ground. - Nathan
Derping? LOL, those dogs have great expressions! A very nice photo there. Thanks for sharing with us today.
***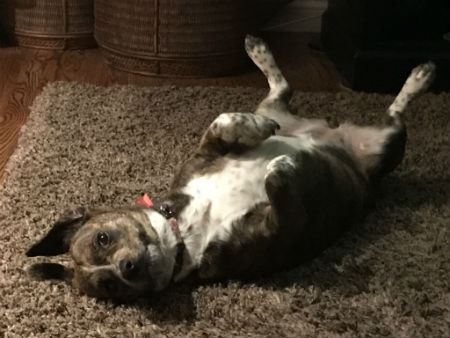 Meet Rio, a bizarre lab, corgi, pitbull(?) beagle mix. We adopted this brindle princess ("brin-cess") as a pup in August 2016 during the Rio Summer Olympics.

She was added to our family after a scary time of illness with our daughter. As a celebration of my successful kidney donation to our daughter, we thought it'd be good to add a dog to our lives. As luck would have it Rio was bad born the day of the transplant surgeries. We can't help but see God's hand in adding Rio to our family. I've never been a dog person and did so reluctantly, now I can't imagine not having a dog - complete loyalty and unconditional love.

It's a joy to see the bond Rio and my daughter have. Seeing your kids love and care for something is one of those expected parenting blessings.

Rio has too long of a torso, too short of legs, but the best ears ever. She demands belly rubs of everyone she meets, and loves hard boiled eggs - go figure...

Keep up the good work.

Long time lurker...Nathan
What a wonderful story you have shared with us. We hope that your daughter has recovered. And it appears Rio has quite the life in your household. It's easy to keep up the good work with supporters like you.
***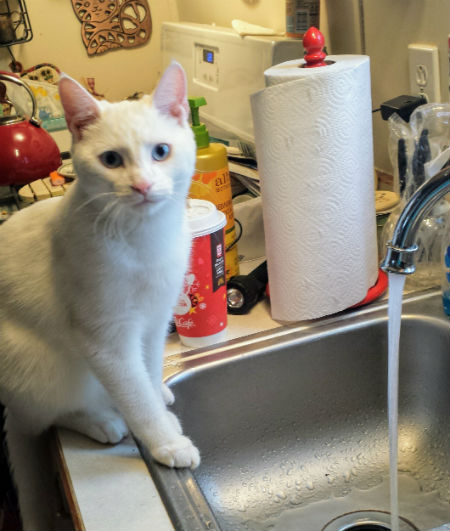 Bing Crosby M*, 4 years, the goofball, who prefers to drink running water at the sink.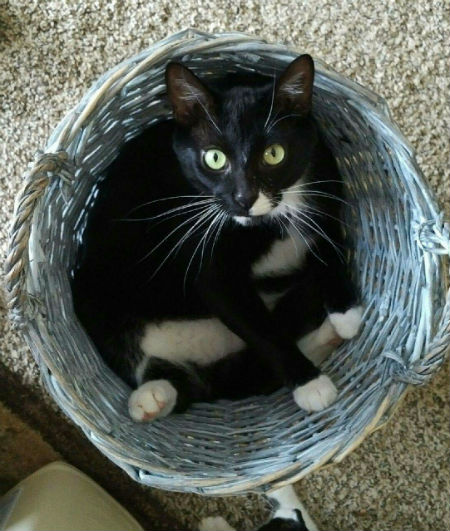 Al Jolson M*, 5ish years, short-haired tux, the rowdiest one.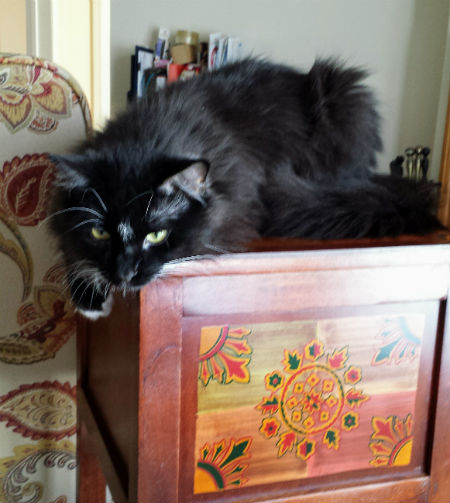 Sy Oliver M*, 6ish years, long-haired tux, the most sedate one.
I tried to send my pictures before, but apparently the 3 pics overwhelmed my email, so I'm trying to send them one at a time.

I am a reader since the Blogspot days, rare commenter as iamfelix. I love all things Ace of Spades HQ, long may it reign. These are my three cats. For a long time, I've named my cats after jazz singers or musicians (because it amuses me). They are all rescues, happy, healthy pains in the neck. Thank you so much for the Pet Thread. iamfelix
Thank you for all your years of being a Moron. Appreciate the photos. They all look like they have great personalities. Beautiful cats you have there.
***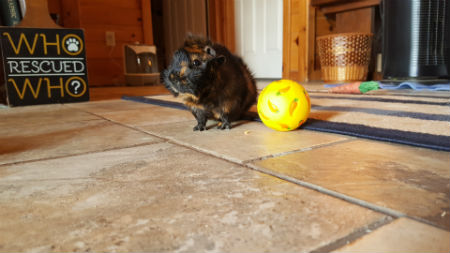 Here he is, MisHum...in all his guinea glory.

Wilbur is now seven months old and a typical teenager. His appetite is
boundless, for both food and mischief, with electrical cords being
preferred and the occasional piece of woodwork for variety. The chewing
has abated since I put him in a cage for time out after I caught him
working on the printer cord. Having been a free-range piggy for three
months he was not happy to find himself behind bars again. He was so
unhappy I thought he might hurt himself trying to get out. I made him
serve fifteen minutes, then turned him loose and that seems to have
gotten his attention. He may even have gotten zapped by one of the
cords. He now seems content with a child's wooden block to chew on.

I took him out on the back deck during a warm spell a couple of weeks
ago. It's a raised deck...five feet above the ground. He headed
straight for the edge and started doing that hula critters do when
they're getting ready to launch. And launch he did, just as I yelled,
"Wilbur, no!" I watched him fall, mentally planning a third pig grave.
But he landed on a pile of leaves, bounced once and took off around the
garage, ricocheting off the downspouts on all four corners. I finally
corralled him by the A/C unit and hauled his furry butt back inside.
Another lesson learned.

Guinea pigs develop a strong personality when they're allowed to be
free-range. The caged piggies seem pretty meek and timid. Wilbur is his
own pig and he will let you know in no uncertain terms.

WHEEK, WHEEK, WHEEK! YURP, YURP, YURP!

Hugs,

creeper

Who knew that guinea pigs had more than one life? Sounds like Wilbur keeps you on your toes!!! We can see the love you have for this young guy in your submission today. Thanks Creeper.
***

What wonderful stories and photos today. Thank you all for taking the time to share with us.
Do you have a story to share? Do you have a pet who wants to be a PetMoron? We are always on the look out for these. You can reach us at petmorons at gmail dot com.
Have a great week!!!!

posted by Misanthropic Humanitarian at
03:00 PM
|
Access Comments