« Mid-Afternoon Conservative ID Lesson And Open Thread...
|
Main
|
Gun Thread: Training at Home [Weasel] »
January 27, 2019
Food Thread: Vermilion: Lipstick Shade Or great Fish...You Be The Judge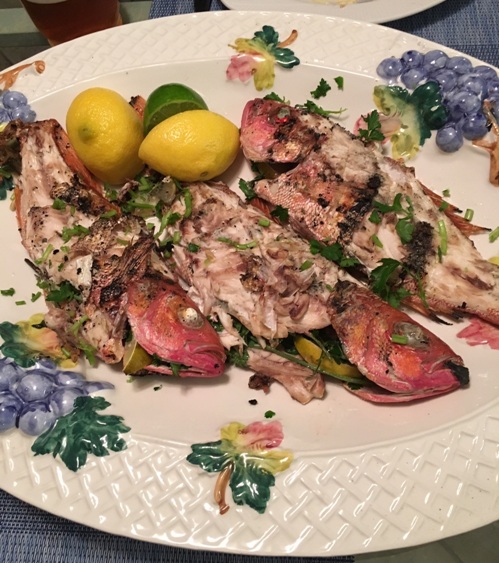 That's "Vermilion Snapper," which I had never heard of until last weekend. It's clearly a local variety of the Red Snapper that we get in the Northeast. It was fantastic! Whether that is because it is a better variety, or because it was marvelously fresh...I have no idea, and I don't care. Salt, pepper, some lemon and parsley in the cavity, and then grilled over medium heat. Yes, it looks like a mess, but I am ridiculously pleased with myself because I did not make a spectacular, ruinous catastrophe of it, which is my usual result when grilling fish. Yes, I am a retard when it comes to cooking fish over coals or gas. Give me a land-based protein and I am your man, but anything from the sea is going to end up falling between the grates or stuck to them with a tenacious, charred grip.
I almost always saute fish because it is so much easier to control the temperature, but whole fish just begs for the grill. We got this from a wonderful place in Deerfield Beach Fl called Pop's Fish Market. Maybe I was overly impressed because they had all sorts of stuff that I don't see around here, but everything looked wonderfully fresh. We also got some local shrimp that were as good as any I have ever eaten.
Anyone local who knows this place?
******
My favorite bartender of all time (and now a friend) used to make wonderful and interesting concoctions that stretched my understanding of cocktails. He also loved to embarrass me with silly drinks, complete with umbrellas, and goofy faces made from fruit, and chocolate martinis, but most of them were good, because he knew what he was doing. And I didn't care what they looked like, as long as they tasted good.
Besides, half the fun of drinking in a bar is the people around you (friends and strangers) and the conversations and so on. It isn't just the booze. I have a casual friend who drinks Coors Lite. Why? Because he enjoys spending time at the bar with his wife and friends, and doesn't particularly care about booze. And why not? It is virtue signalling of the highest (lowest?) order to judge someone on his choice of alcohol. In jest it is marvelous, and we do it all the time in this thread and its comments, but this article doesn't seem to be lighthearted.
Bartender Confessions: They're Secretly Judging You if You Order These Drinks
In the early 2000s, I tended bar at a brewpub. While standing behind the row of taps connected to delicious house-brewed beer, it never ceased to amaze me that some customers would step up and order a light beer. Did I judge them? Yes. I judged them for their ignorance of beer and poor decision-making skills.

Look, if you want to drink a "beer" that tastes like the water squeezed out of cooked rice, that's your right as an American. However, why in the world would you come to a bar that specializes in flavorful beer with a robust ABV and order what amounts to a beer brewed for children? Ordering it in a bar filled with adult beer earns you scorn.
Scorn? Screw you. I order what I damned well please, and if it is a Mojito or an Old Fashioned or a light beer amongst a sea of overhopped microbrews, who gives a shit? Serve the damned drink and keep your pompous opinions and unearned arrogance to yourself.
******
Well well! This looks promising. Good potato salad is a grand and glorious thing, but so many of them are just gloppy mayonnaise dressing on boiled potatoes. This one sounds interesting, although I would cut back on the mayo a bit. One cup seems like a lot.
Big Daddy's Grilled Blue Cheese-and-Bacon Potato Salad
I also love the red onions, which seem to go so very well with potatoes. I'll bet they would be even better grilled!
[Hat Tip: artisanal'ette]
******
I used to enjoy food festivals, but I haven't been to one in years, because I always feel like I need to eat everything available, and I would fall into a food coma after about 20 minutes. This one sounds like fun, although it just sounds like an excuse to go to Italy.
Book Your Trip Now to the Pizza Olympics
We have a pizzeria in my little town that was started by a true master, born in Italy and trained in Naples. He has since moved on to another pizza place in NYC that was recently voted the best pizza in NYC by New York Magazine, which means nothing at all. But I have eaten there, and it is spectacularly good.
I wonder how much better the pizza will be at this festival?

******
Long-time lurkers! I love it. Challenging Gordon Ramsey, and it looks like they comported themselves quite well!
What a perfect example of saying, "Fuck it! Let's try something new!"

******
Just a thought...some cheeses melt better than others, and they melt differently too. So a dish that works great with, say, Fontina, might not work with Mozzarella or Swiss. I made a fun stuffed chicken breast with Fontina and ham that worked really well, but I am confident that Swiss would not have been as good.
Yes, this is the kind of stuff that keeps me awake at night.

******
Food and cooking tips, triple-cream cheeses, young wild pigs, Venison Steak and Eggs (Swiped from Garrett), thick and fluffy pita and good tomatoes that aren't square, pale pink and covered with Mestizo E.coli:
cbd dot aoshq at gmail dot com
. Any advocacy of French Toast with syrup will result in disciplinary action up to and including being
nuked from orbit.
&topic=world_news">

posted by CBD at
04:40 PM
|
Access Comments