« Saturday Morning Coffee Break
|
Main
|
Saturday Gardening Thread: January 26 [KT] »
January 26, 2019
Can't let go of those drumbeats [KT]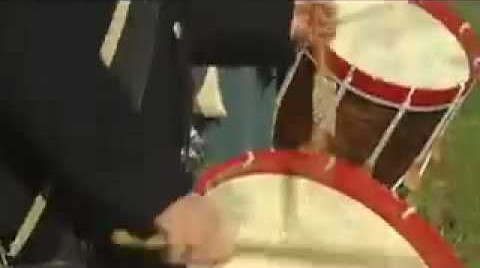 Drum calls - March
A lot of people have been criticizing the Covington boys for not understanding that Nathan Phillips was praying for them from the moment he came among them beating on his drum, followed by a camera crew and a guy telling them that whites should all go back to Europe. Such irresponsible ignorance of Native American culture!
But why isn't Nathan Phillips expected to have some understanding of the larger culture in which he lives? He is a veteran. Were the drums he must have encountered while in the military always prayer drums? And has he made any effort to understand the cultures of people whose ancestors came to America?
See, In my tribe (the Irish) you "defuse a situation" by extending your open hand in friendship (got no weapon) and calling out a friendly greeting (ain't British).

Beating a drum calls the tribe to war. Beating a drum all up in a kid's face calls the tribe to war-war.
I think most people are familiar with war drums from other cultures. Including Native American cultures. Mr. Phillips is described elsewhere as singing a particular Native American protest song with his drum earlier that day. So he reportedly doesn't just sing prayers with his drum. We have to pretend that we don't notice all that, though.
See, this is balanced journalism. First @SavannahGuthrie asked the kid who didn't do anything if he thought he should apologize, and now she's asking the fraud who lied to her whether the kid who didn't do anything should apologize.
On the other hand, maybe there is something President Trump could learn from the peaceful, prayerful drumming of Nathan Phillips. The President responded to complaints about increasingly rare formal White House press briefings by saying, "The reason Sarah Sanders does not go to the 'podium' much anymore is that the press covers her so rudely & inaccurately, in particular certain members of the press. I told her not to bother, the word gets out anyway! . . "
Suggestion: have Sanders answer all future questions by walking up to reporters and banging a drum in their faces. Apparently that's soothing and you are required to show polite respect to people who do it.
Ways the Media Beats the Drum
Our own J.J. Sefton linked a piece entitled Beating the Drum in one of his excellent Morning Reports this week. Seth Barron wrote in City Journal:
The story of a group of white parochial school kids wearing MAGA hats heaping racist abuse on a dignified Native American Vietnam veteran sparked an inferno of indignation across mass and social media. The incident was depicted as an iconic example of toxic white smugness, as well as a recapitulation of the history of European conquest of the American continent from its earlier inhabitants. Respected journalists and public figures responded to the images of a "smirking" teenager with calls for violence against him, his classmates, and their parents. Even after the story was debunked, many commenters kept their outrage burning, and pointed to photos taken years before, involving none of the participants in the recent event, as evidence that the school-- Covington Catholic High School, in Park Hills, Kentucky--is infected by a virulent racism that can be cured only by closing it, razing it, and sowing salt in the ground.
Yes!
Other examples of the media's tendency toward obsession are provided. Have we forgotten this one already?
Poorly sourced, slanted reporting has become the new standard among prestige media. Three weeks ago, a little girl, black, was shot and killed in a Houston parking lot; initial reports that the shooter was white turned a local police item into national news. The New York Times ran stories on the case for days, exploring the implications of targeted, race-based murder in an age of intolerance. When it emerged that the child was killed by two black gang members gunning for their enemies, coverage of the story ceased.
"Coverage of the story ceased".
Coverage ceased because they are in the story business, not the news business. And they have decided on the meaning of each story before writing it. The story of blacks shooting a black child was not "the story" in the eyes of the New York Times. Even though blacks killing blacks is a much bigger problem in the USA than "targeted, race-based murder" by whites.
I would like to quote more, but read Barron's conclusions, which I think are right on target, A sample:
. . . Over the last year, we've seen a spate of cellphone videos capturing petty disputes amplified across social media and reported in the national media--as long as the footage depicts a white person complaining to or about a black person doing something relatively minor. Whether the incidents in question have anything to do with race is unimportant. Pushing the narrative that Trump has ignited a firestorm of white racism across the country requires a continual flow of stories making that point, regardless of accuracy or context. . .
After the incident at the Lincoln Memorial, when additional video went out to the world, that was an obvious cue to the Washington Post and other mass media outlets to expand the focus of their inquiry to include the problem of racist black nationalists.
When film producer Jack Morrissey posted a tweet about putting "MAGA kids" through a Wood chipper, that was an opportunity for NBC and other mass media outlets to think outside the drumhead and consider investigating past bigotry against conservatives and libertarians in Hollywood.
Instead, we get repetitions of the current Drumbeat Parade. They just get louder and more extreme:
Orange Man bad
MAGA hat bad
Traditional white boys and men bad
Catholics bad
Religious schools bad
What would you say are the current Top 10 in the Media Drumbeat Hit Parade?
Andrew Klavan, in noting that the High Priests of the Left are going after Christianity, quoted C.S. Lewis:
Suppose one reads a story of filthy atrocities in the paper. Then suppose that something turns up suggesting that the story might not be quite true, or not quite so bad as it was made out. Is one's first feeling, 'Thank God, even they aren't quite so bad as that,' or is it a feeling of disappointment, and even a determination to cling to the first story for the sheer pleasure of thinking your enemies are as bad as possible? If it is the second then it is, I am afraid, the first step in a process which, if followed to the end, will make us into devils. You see, one is beginning to wish that black was a little blacker. If we give that wish its head, later on we shall wish to see grey as black, and then to see white itself as black. Finally we shall insist on seeing everything -- God and our friends and ourselves included -- as bad, and not be able to stop doing it: we shall be fixed for ever in a universe of pure hatred.
In the past week or so, some journalists (and others) have come up with really dubious ways to nurture their desires to condemn. What is the most ludicrous example you have run across?
Personal preparation for heading off a drumbeat against you
Neo discusses a post by William Jacobson on an ambush technique used by leftists who want to provoke you and/or create or shape a story. It would be a little hard to do it justice here, but follow the links and read about it.
Remember that Nathan Phillips and his group got to frame the narrative that produced such rage against the Covington boys -- before the activists knew that another video existed. "And if that longer video hadn't existed, Phillips would have succeeded in the technique that Professor Jacobson has described, because no one would have believed the students against the word of this righteous Native American elderly guy."
Main action item: if you are ever in a position where you may encounter hostile leftists, have video running before you encounter them. Because otherwise, the videos will start when they start screaming.
Neo also discusses the politics of aggressive standing. Nick Sandmann was asked about this on NBC. Neo doesn't think there is any action he could have taken once targeted by Nathan Phillips and his activist group that would have headed off criticism. What do you think?
Meanwhile, Claire Lehmann (of Quillette) gave an interview on pushing the boundaries of discourse. Something the drumbeat lovers are not really enthusiastic about.
My interview on CNN. Immediately after I granted that the IDW was a 'tribe' I qualified my comment by stating that it's a tribe that coalesces around free speech, due process & scientific methods, not immutable characteristics, but that point was cut (?!?)
Emphasis mine. As I recall, Glenn Reynolds suggests from time to time that people should insist on doing their own recording when interviewed by media.
From the edit described above and other editorial work, I think we can identify the tribe to which Amanpour & Co. belong. The edit above is a relatively mild example of supporting a leftist drumbeat. I've seen worse directed against Quillette. Still, editing someone's thought midstream without an indication that an edit took place is not ethical.
Maybe they want to cast her in an unfavorable light partly because she writes things like this:
Lots of talk about the contraction of digital publishing lately, but no-one appears to have made the most obvious point: in a competitive environment one must be original to stand out.
Have some evidence ready if the people who beat the drums misrepresent you, too.

NOTE: This is the Thread before the Gardening Thread.
Serving your mid-day open thread needs
Hope you have a great weekend. Maybe you would enjoy listening to some different drummers.

posted by Open Blogger at
11:17 AM
|
Access Comments