« Monday Overnight Open Thread (1/21/19)
|
Main
|
Mid-Morning Open Thread »
January 22, 2019
The Morning Report - 1/22/19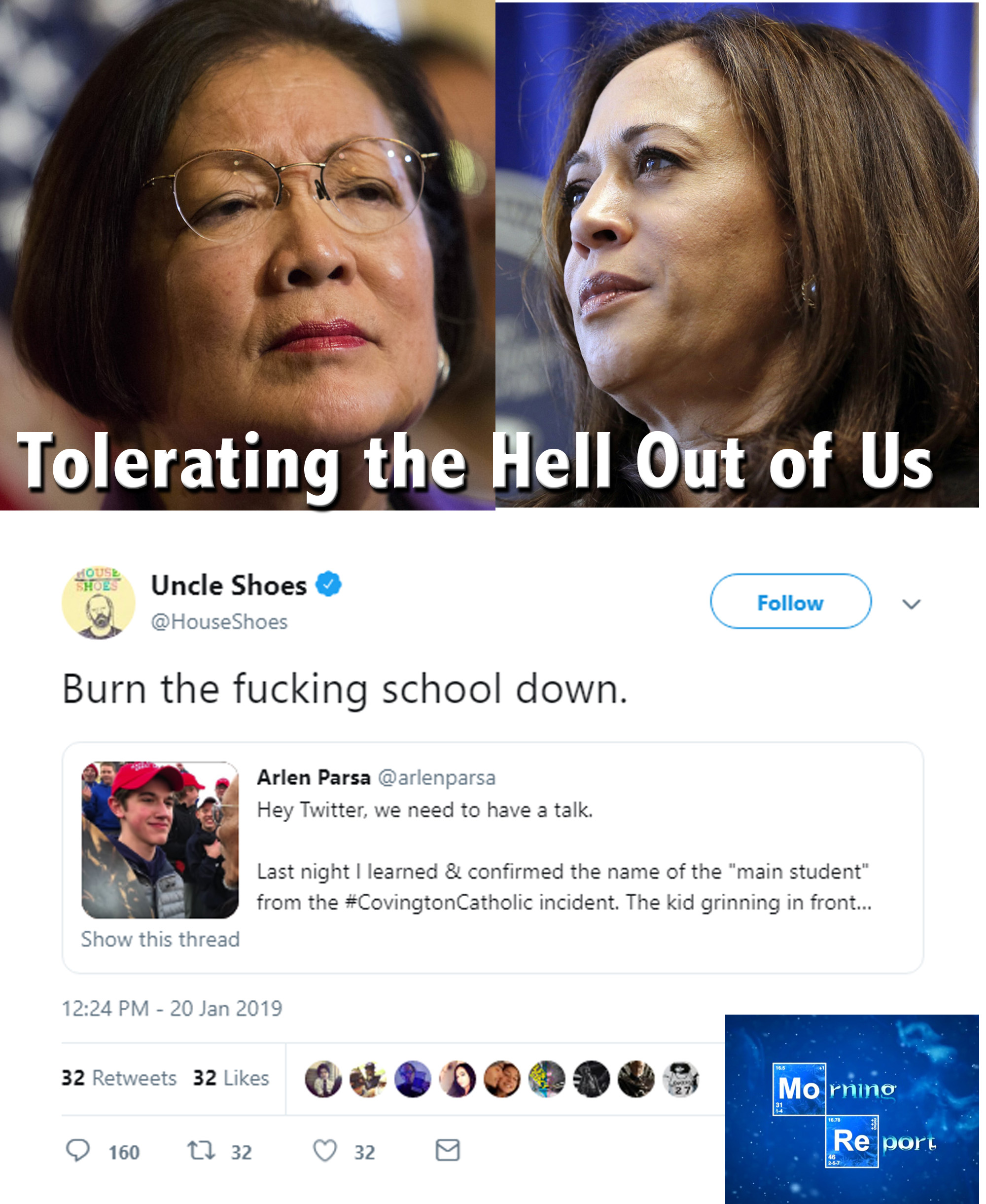 Good morning kids. The big story today is not necessarily the Leftist assault on Judeo-Christianity, which is just one of myriad fronts in the overall war to destroy and conquer America as founded. Yes, the attempted destruction of the kids from Covington, Kentucky does dominate the links but you have to ask yourself the question why. It's because the Democrat-Left-Media complex has lost both the narrative as well as the substance undergirding a whole host of issues like immigration, border security and the border wall as well as the orchestrated plot to overthrow the President via Mueller and Company with the latest BuzzFeed Michael Cohen lie-cum-scoop and more crucially, the soon-to-be released final report that will show nothing.
My heart goes out to these kids and their families who, to me, epitomize everything that is good and right about the America that I grew up in or at least that I had imagined it tried to be. And that stands in absolute stark contrast to those on the other side. They're either sick or evil or some combination of the two. As for the former, I also admire their courage in standing up to a machine that has demonstrated time and again in recent years that it has no compunction in saying things that can ruin people's lives or even result in physical harm. I don't want to take anything away from their courage and moral fiber but I think it's not an overstatement to give credit to the presence of President Trump. Whenever he is attacked, it is we who are really being attacked. He has taken the most insane and vile assaults against him and his family and, unlike other putative "leaders" on our side, has rammed it back down their throats.
Along with his tangible accomplishments, mostly single-handed since January of 2017, this President's rhetorical defense of America and American values at home and abroad though intangible/unquantifiable may very well turn out to be his most significant. There is no doubt we are in for far more and worse from the insurrectionists in the next two to six years (please G-d the latter). But the more they go off the rails, the more they expose themselves. And that is because of the man now occupying the Oval Office.
Back to the persecution of the Covington kids, the President is standing shoulder to shoulder with them and calling out the Media, Roger Vadum at Frontpage Mag dissects the hoax, William Jacobson at Legal Insurrection highlights the left's smear formula, one of the student's staunchly defends himself and his family, and in the related pogrom against American Catholics, Maizie Hirohito smears Ben Sasse after the latter ripped her to shreds for going after the Knights of Columbus along with possible Democrat front-runner Kamala-Toe "Brown's Sugar" Harris.
The Fake News Fakery section comes next as most of the links relate to this story. First, as this myth crumbles like a wet taco, the media is rushing to fabricate another scandal that purports to show students from the same school dressing in black face at a basketball game. I'll give you one guess as to the veracity of the story. Rush Limbaugh teed off on the Cuckservative Media for joining in the smear campaign agains the Covington kids, a propagandist who wished for the deaths of the kids got shit-canned and Julie Kelly at American Greatness has had it with NRO and the other Con-job-servative schmucks with laptops. Not to get lost in the sauce, and unrelated, is Daniel Greenfield's alarming essay on the new axis of evil: big media and big data.
Over to Amnesty, just one item but it's an alarm bell about what the GOP is doing vis a vis redefining Amnesty downward (or upward) and as to the shutdown, as if to underscore my above diatribe, yes it is the Democrats that own this shit-show lock, stock and barrel.
To politics where, in the Democrat police blotter, Palsi Pelosi scammed the USAF out of $200,000 to fly her bo-toxic ass and that of her spawn and entourage all over creation for no good reason, and the same Democrats who slimed Brett Kavanaugh with phony sex assault allegations have no problem going to Puerto Rico with probable Democrat pervert Tony Cardenas. Elsewhere, Hakeem "Booker-Wannabe" Jeffries calls President Trump "the grand wizard of 1600 Pennsylvania Avenue." Meh, Robert Byrd was a grand cyclops and Democrat, eh Hakeem? The real Spartacus and Bernardo Sandersnista in early primary state South Carolina to gin up racialism, Mike Pompeo is rumored to be sizing up a run for a Senate seat in 2020, Kamala sticks her toe into the Democrat field and goes all in on insane identity politics, fresh out of ideas and Joo-Hate, Alexandria Ocasio-TacoRosado now goes back to basing the free market. and Jeffrey Lord with a good essay about PDT and MLK.
Mueller Inquisition: Lloyd Billingsley fantasizes about what a Mueller investigation into the real Russian agent might look like. Guess who.
Foreign Desk: The IDF strikes Iranian targets in Syria with bombs and Iranian stooges in Tehran with Twitter, the President credits tariffs for putting the economic brakes on the Chi-Coms, the new chairman of the Senate Foreign Relations Committee Jim Risch (who?) will have China in sharp focus, more secret NorK missile sites are detected ahead of summit number 2, Hard Brexit is the best way forward, Germany bans an Iranian airline, another essay on why we need to get out of Afghanistan, and Angelo Codevilla throws cold water on the politicization of missile defense.
We-All-Slam-For-I-Slam: The Women's March is making Joo-Hate part of its platform in response to criticism as well as anti-BDS Senate legislation, which they claim is anti-first amendment. Also, the kids in Covington think they got it bad but look at this horrendous tale from, where else, England.
Domestic News: an interesting take on marriage, children and Social Security, a judicial nominee is under fire for what she wrote about sexual assault whilst an undergrad and Wyoming mulls pulling the plug on capital punishment.
Economy: What Seattle doesn't want its suburbs will gladly have; no, not homeless drug addicts but $250 million from Microsoft to develop low-income housing.
Healthcare: Grim milestone: Planned Parenthood butchered 332,757 unborn kids in utero, the President warns Palsi Pelosi that pro-abortion legislation will be aborted with the veto pen, and Ben Shapiro gets taken to task for his pro surrogacy stance.
Education: The Left's war on Catholic education as illustrated by the attacks on Karen Pence, the Covington kids and the Knights of Columbus.
Red-Greens: Ocasio-TacoRosado sez we've only got 12 years left before global warming kills us. Is this the same 12 years that Al Gore gave us in 2006 or a new one? Lastly, Powerline with its own context on the scam.
Hither and Yon: Christian Toto slaps Judd Apatow for not being inclusive enough, Michelle Malkin on Gillette's disaster, Rabbi Fischer with his take on the Leftist culture war failure of the past week or so, the Left vs logic and lastly this is all not going to end well.
Anyway, links from around the world, across the nation and up your street. Have a better one and remain blessed.

posted by at
07:50 AM
|
Access Comments