« Saturday Gardening Thread: Winter Travels [KT]
|
Main
|
Chess Thread 01-19-2019 »
January 19, 2019
Ace of Spades Pet Thread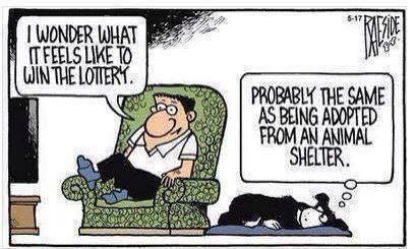 (H/T ALH)
Welcome to the almost world famous AoS Pet Thread. Down, stay and relax. Enjoy the world of pets.
***
A Little of This. A Little of That.
Squirrels and their memory.H/T Hank Curmudgeon
Beautiful cat photos H/T Hank Curmudgeon
***

Did Fido or Morris make a New Year's resolution? How to help your pet lose weight.
***

Is this the angriest looking cat?
***
From our friend and Open Blogger KT

More scientific than it looks.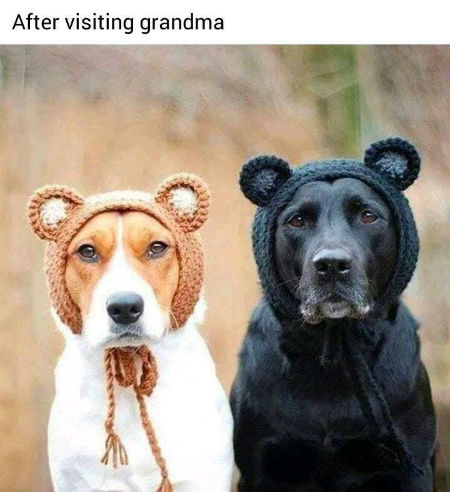 Photo from The Fabulous Fiftes: After a visit to Grandma's

Hilarious. Thanks KT
***

Bluebell submitted this video. When I first got it the captions were present. Not sure what happened on You Tube but it's a pretty funny video even without captions.
***
Meet The PetMorons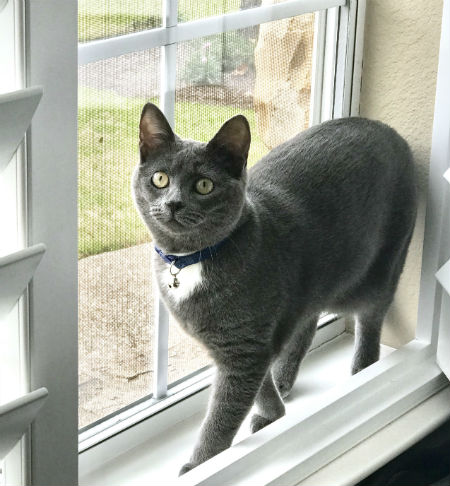 Here is a picture of Bleu, now at 8 months. She has picked my husband as her favorite servant with my daughter as a second. She doesn't like to be picked up but will jump onto my husband. Her favorite plaything are twist ties, the thin, sturdier ones that come with electronic things. - Lin-duh
So you are the hard nosed one in your household after all? It appears she runs the roost at 8 months of age. We appreciate the submission.
***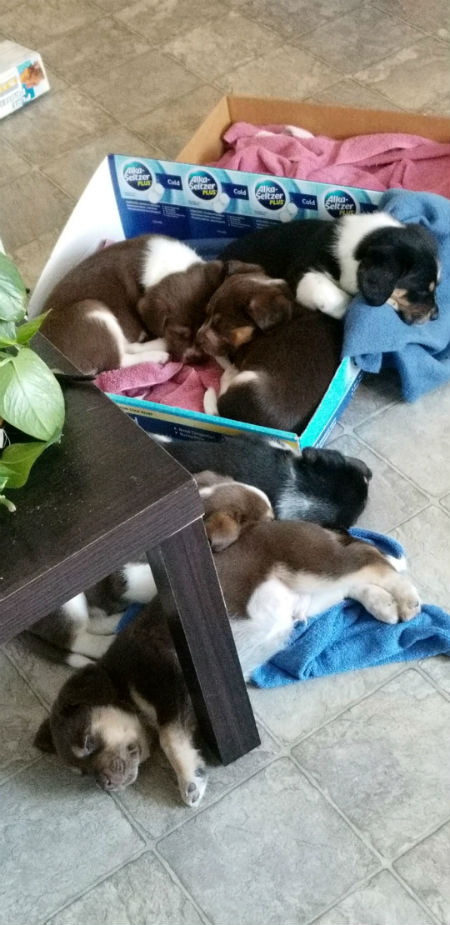 Hello Pet Thread.

Here's a picture of our Iowa daughter's puppies. She and her dog Blue went to Missouri to help her son settle into a new house. Unfortunately, her dog and her son's dog accidentally were allowed to "get together." Her son's dog is named Red (for "Go Big Red!) So several weeks later, Red and Blue had six little "purples!" Blue is half Labrador and half Blue Heeler, and Red is full Miniature Australian Shepherd. In the picture, puppies Brownie, Luna and Sally are under the bench, and Blackie, Princess and Violet are in the box. The purples are almost 6 weeks old now, so they'll be looking for homes soon; but we get a kick out of their story. - Mrs. S.O.B.
Cute looking puppies. I bet they have some unique personalities with sporting breed and herding breed characteristics. Thanks for sharing.
***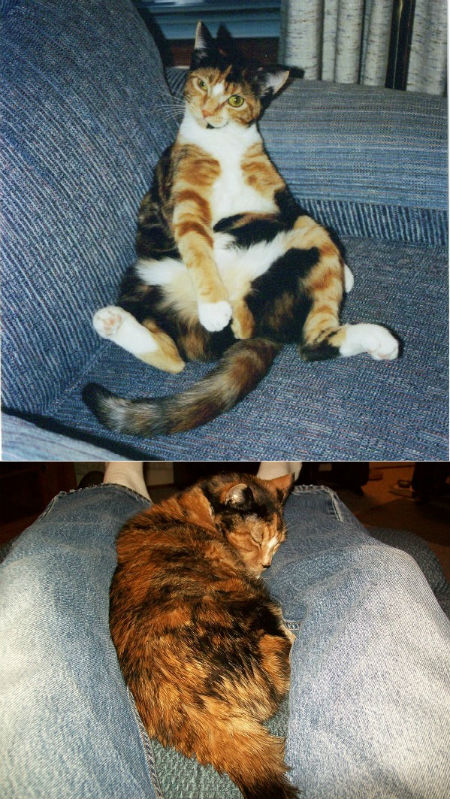 Hi Miss Hum,

This isn't my cat, it's my mom's almost 18 yrs old cat Tess. In the top half of the photo she was about a year old and hadn't yet learned to sit like a lady, and in the bottom half she's doing what she does for about 22 hours a day, sleeping. Until about 3 years ago she was very anti-social. That changed when one of her brothers, who was a thug, had to be put down. Then one night she came out into the living room and jumped up on the sofa with me to become a lap cat. She has one really bad habit, every morning around 5:30-6 am (sometimes earlier) she squalls like she's in heat. But she's not, she only wants breakfast and a glass of water. Jake Holenhead
I think there are more pets who get up early compared to sleeping in. Tess sounds like a real sweetie. We appreciate the photos and story.
***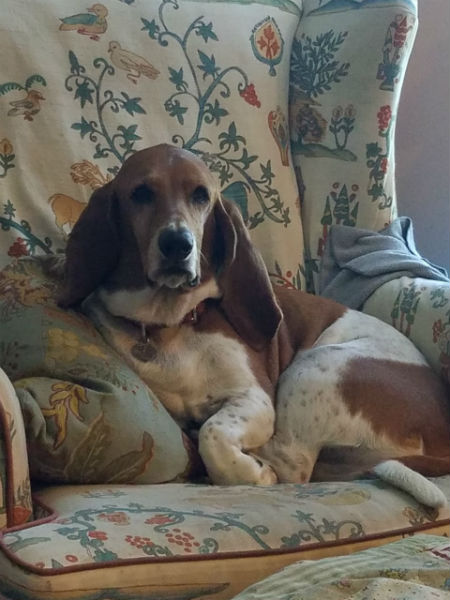 This is Miss Chloe, a rescue who came to live with us on Christmas. Nobody ever informed her that she is a basset hound, and is instead convinced that she is a beagle. Makes for an interesting life! - Andrew

Ahhh the old Self-Identification Trans-breed Syndrome. Looks like she hit the lottery at your home. Adorable story. Thanks.
***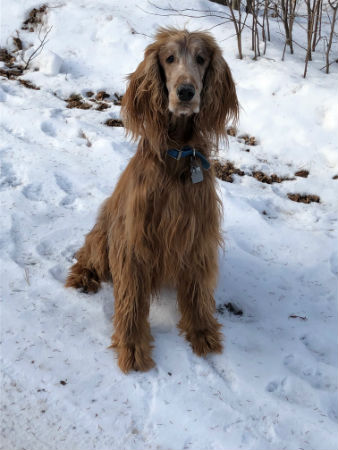 My wife and I said goodbye to Derry, this past Tuesday. He had turned 12 in September. He was my wife's constant companion and shadow. The photo was taken right around Christmas 2018 out on a walk. - Misanthropic Humanitarian
***
Thank you to all who submitted photos, cartoons, videos. You make the Pet Thread a hit.
Do you have something animal or pet related you would like to submit? You can reach us at petmorons at gmail dot com.
Have a great week!!!

posted by Misanthropic Humanitarian at
03:00 PM
|
Access Comments