« Ah...A Bit Of Sanity To Help Put Out The Hair Fires: China Is Losing The Trade War
|
Main
|
Gun Thread: Innocent or Guilty - Conclusion [Weasel] »
January 20, 2019
Food Thread: Pittsburgh Isn't Just A City In Pennsylvania: Steak And All Its Glorious Variations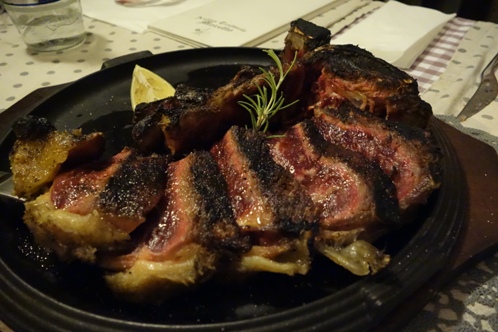 Oh, Rare is Rare and Well-done is Well-done, and never the twain shall meet, Till Earth and Sky stand presently at God's great Judgment Seat; But there is neither Rare nor Well-done, Border, nor Breed, nor Birth, When two strong men stand face to face, though they come from the ends of the earth!
Well...maybe, but my money is still on a big argument about the temperature of the steak.
For the purposes of this discussion and, for that matter my social circle, I shall discard the concept of "well-done," because it doesn't belong in polite company, and is sort of gross. Now, I speak only of beef steak. I'll eat well-done lamb until the...um...cows come home. And I have no idea why! Weird...I'll eat every temperature of lamb (and most of pork, although medium is of course the breakfast of champions), but cook my beefsteak a tad past medium rare and you and I will have words. Angry words. Mean and nasty and cutting words.
But the steak up top is even better than rare. Some call it "Pittsburgh," some call it "Black and Blue," but I call it delicious. It's that wonderful combination of marvelous bloody rare beef with crispy -- practically burnt -- fat and gristle. It's usually the purview of steakhouses and people with gas-turbine powered grills, but it can be done at home. It's just tougher in the winter, when the ambient temperature really hurts the top-end heat inside the grill. My gas grill loses about 75 degrees between high summer and the depths of winter. I nailed it a few nights ago, but I cannot figure out what the hell I did differently. In fact, it was damned cold outside and I wasn't paying much attention at all. So if you came here for advice on how to replicate that gem up top (click on it...it's almost perfect), you came to the wrong place.
I will however critique it, and while it looks delicious, it isn't quite perfect. there is too much overcooked meat between the blue and the black, and that tells me the grill wasn't hot enough, which should tell you how hot* the grill should be.
Oh, did you notice "fat and gristle?" Good. Because that is an integral part of any great steak. Crispy, practically liquid fat is one of the joys of eating, and a piece of gristle, coated with that fat and softened and crisped by the heat is an unsung glory of the carnivorous arts.
*Hot. Very hot. 700+ degrees. Thus the desire for a gas-turbine grill.
******
Commenter "lone ranger" sent me this link, and as is almost always the case with
Garden & Gun,
it's a fun article that's worth a read.
Everyone Agrees: Here's the Key to the Perfect Bloody Mary
Because we at G&G couldn't agree, we asked readers for their secrets to make a perfect Bloody Mary. Hundreds of Facebook and Instagram comments later, we've found the unequivocal no-doubt-about-it truth on how to make a flawless drink.
There is a recipe in there that calls for "tomato water," and that looks interesting. Sometimes the drink is just too damned thick!
This is one of those drinks that I will rarely make for myself. My default is to add more booze, and strangely, that doesn't work with this drink. But add-ons are something else entirely. I had one in Charleston with, among other things, a large boiled shrimp hanging on the edge of the glass, accompanied by some sort of okra thing that was actually edible, and it was great!

******
This is pretty amusing, and the guy eventually makes a gorgeous classic omelet. But part of me thinks that the French fascination with a colorless and perfectly-shaped omelet is a little weird. If you are careful, the eggs don't get tough and you can still get a bit of lovely browning. I sometimes use brown butter in the pan, just for an extra pop of flavor and for that incredible caramelly color.
[Hat Tip: Golfman]

******
From commenter "Bildo," Who has obviously correctly diagnosed the issue!
I used to make oriental chicken wings back in the late '70s and early '80s by cutting up wire coat hangers to make hooks I could use to hang them under the top oven rack, covered in barbecue sauce and cooked really low and slow.

They'd come out so tender you could eat them bones and all. Yeah, the bones softened up when I cooked them like this.

I suspect that I've self-medicated away the part of my brain that has to do with oriental chicken wings time and temperature.

I would appreciate it if you or any of the Horde can help with this recipe.

I have never heard of anything like this, but trust the inscrutable oriental mind to dream up a dish in which even the bones are consumed.
I am intrigued, so help out Bildo and his compromised cerebellum! Anyone have any idea how to do this?

******
These kinds of lists are almost always silly, with a far-too-large dose of what's popular on the internet, but there are a few gems in this version. They are batting .500 in Vermont, although how they missed "The hostaery" in Ludlow is beyond me. I go miles out of my way to eat breakfast there! And "Bette's Oceanview Diner" in Berkeley really is fantastic. New York has some safe choices, but let's face it, breakfast is personal. For instance, if the coffee isn't excellent, then strike it off my list. For others, the fluffiness of the pancakes or how many different kinds of salt they have for the French Toast is the most important thing.
Anyway, poke around it and report back to the rest of The Horde how badly they screwed up your state...
The Best Breakfast in Every State

******
Uierboord: Cow udder is enjoying a resurgence as a sandwich filler in Rotterdam.
Remind me never to go to Rotterdam.
Ketchup Chips: This Canadian favorite is relatively unknown elsewhere.
And thank God for that!
Dancing Shrimp: Thai street vendors serve this spicy seafood while it's still moving.
Yeah...no. The only thing I will eat while it is still alive is oysters and clams. I think.
******
Food and cooking tips, triple-cream cheeses, young wild pigs, Venison Steak and Eggs (Swiped from Garrett), thick and fluffy pita and good tomatoes that aren't square, pale pink and covered with Mestizo E.coli:
cbd dot aoshq at gmail dot com
. Any advocacy of French Toast with syrup will result in disciplinary action up to and including being
nuked from orbit.
&topic=world_news">

posted by CBD at
05:15 PM
|
Access Comments