« MSNPC's Stephanie Ruhle: Trump's Got Kompromat on Lindsey Graham Because He's a Huge Homo
|
Main
|
Think Progress Cucked-Out, Tucked-Under Soyboy: The Chicago Woman Who Shot The Gun-Wielding Robber Who Held Her Up at Gunpoint Should Have Just Let Him Rob Her (and Maybe, Who Knows, Rape Her Too If That Is What His Young Heart Desired) »
January 15, 2019
Gillette: The Best a Cuck Can Get
The Gillette attack on men, in order to appeal to women who don't buy their overpriced face-razors and soyboys who either don't have facial hair or let it grow out into ironic parody beards, is backfiring, because of course it is. Get woke, go broke.
Gillette is being attacked and trolled mercilessly in the comments to its video, and commenters are saying that Gillette is deleting comments as quickly as they're put up.
Because they're deleting comments, I can't guarantee that the below comment, and Gillette's gratitude for it, is/was real, or if it was spoofed.
But there were a lot of cuck comments that I saw (before they were deleted).
So it's possible that Gillette favorited this reply until someone explained to them that this is in fact an insult.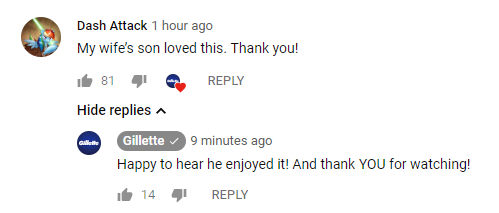 Here's another screencap, with more replies: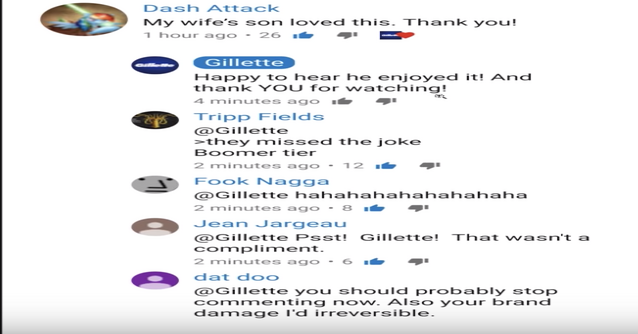 Another comment I saw said something like: "I loved this campaign, but you've lost one customer -- my wife's boyfriend was offended by the ad and said he'll never buy Gillette again."
One thing that keeps getting posted in the comments a lot is a list of Procter & Gamble's other products in desperate need of economic punishment, which include Joy, Mr. Clean, Swiffer, Brawn, Dawn, Fabreze, Gain, Panteen, Head & Shoulders, Always, Tampax, Bounty, Tide and a bunch of other easily, easily boycotted products, easily substituted with another company's almost-exactly-the-same products.
Another claim that keeps coming up: Procter & Gamble's alleged use of underage workers and abusive work conditions in its overseas plants. I don't know if that charge is fair or not, but I'm also not sure if it's fair to claim that men are all abusers and rapists.
I certainly wouldn't recommend that you troll and downvote this video -- as conservatives, we must support and promote Corporate Interests as if they are the living embodiment of God Almighty Ximself (some cucks tell me so, at least) -- but if you do, please report your troll comments so that I can pass them on to The Bulwark so that they may scold you for not being True Corporate Cuckservatives.

posted by Ace of Spades at
07:08 PM
|
Access Comments