« The Good, The Bad, and the ONT
|
Main
|
Mid-Morning Open Thread »
January 11, 2019
The Morning Report - 1/11/19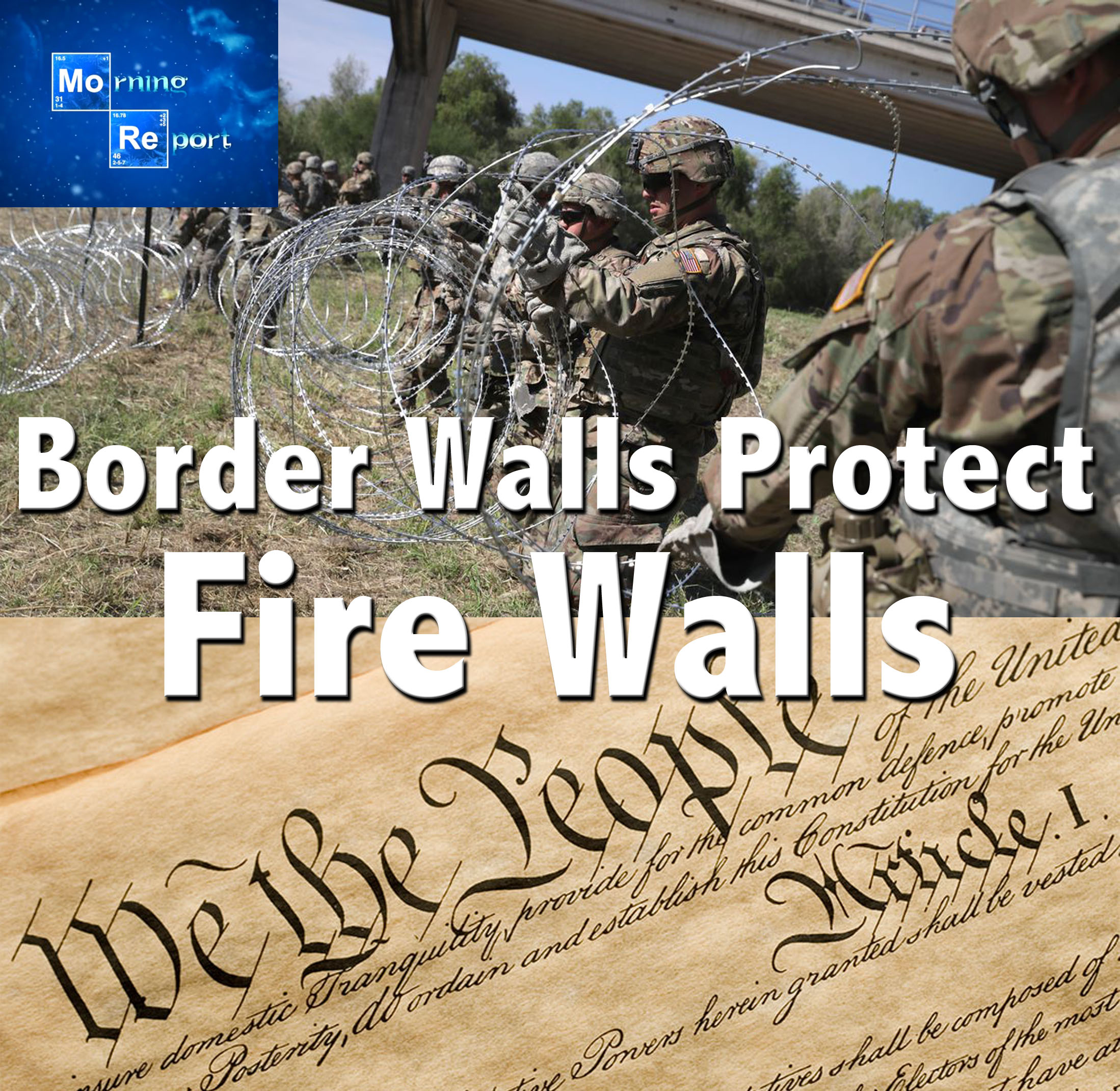 Good morning kids. The weekend is here at last and President Trump's 100% justified, legal and determined stand against the Democrat-Left-Media Complex's refusal to secure our borders and ensure our safety for short term political gain and long term political domination (and other evil ideological goals), with the concomitant political theater of the government "shutdown" continues. The media's horrible performances from everyone from failed manicurist Anna Navarro to failed man Jm J Acosta and most disastrously from that hostage video of Cuck Schemer and Nancy Palsi serve not as cogent counterargument to the President but as an underscore in double red lines with exclamation points as to how horribly, dangerously wrong they are. I think this past week has made me come to the realization that it's not necessarily that Trump is so brilliant (and that said, I think he does play at a level that is at lest two or three steps ahead of the Dems) it's just that the Dems are so obvious in their strategy and tactics that almost anyone can minimally beat them at their own game, and if you're someone like Trump, totally own them. The key to it is actually getting into the metaphorical sewer with them and holding their heads under the effluent spigot. We have never had anyone do it before. And Trump does it with ease, not because he's malicious or mean; for all his tough, no-nonsense businessman image, I get the strong sense that he's probably one of the nicest, most decent guys out there. Just look at how he treats our military and law enforcement people as an example. And for all the handwringing about Trump being a crude gavone from Queens, that is exactly what America needs at this time to beat these bastards. But I digress.
With the Dems insisting that there will be no funding for any wall or border enforcement, while Palsi clatters her dentures and burps up infrastructure spending on roads in order to help the invaders enter our country as smoothly as possible, the President has all but exhausted every legislative effort and has announced his willingness, if not reluctance, to invoke a national emergency to secure the funding required to build the wall. Naturally, the Left is set to fly in Judge Buch M. Danno from Molokai to override the Constitution and legal Executive Branch authority along with placing want ads in the Village Voice (or some still extant rag) for thugs, goons, miscreants and other assorted criminals to riot at considerably less than $15 an hour.
I suppose one can make a strong warning against this considering the next Democrat president - GOD FORBID - will abuse it to literally suspend the Constitution to seize guns, the internet and whatever else that isn't nailed down, but since the age of Obama, we have crossed the Rubicon a long time ago. And with the Democrat Partly all but shedding its chrysalis of phony loyal opposition-hood and metamorphosing into the tyrannical anti-Americans they always have been, we are in for a bumpy ride over the next few years. Yet again, I digress. Circling back to Judge Tiny Bubbles, considering all the transgressions against the legitimate exercising of Executive Branch authority over the past two years and the administrations reliance on the very branch that committed the transgression in the first place to rectify the situation, I would cheer loudly if, after the President announced his intention to invoke a national crisis to circumvent normal legislative/budgetary procedures to secure our border and the more-than-likely instantaneous response from "5-0," the administration released the following communique:
Having exercised his legal and Constitutionally mandated executive authority by invoking the National Emergencies Act of 1976, the President does not recognize the clearly unconstitutional and egregious power grab by the Judiciary in ordering a halt to the aforementioned and his executive order to secure our border and construct a border wall. Therefore, the President and his administration declare any stay by the Judiciary to be null and void.
...and go sit on a sideways pineapple. In all seriousness, this also paradoxically both redresses the insanity that goes back to Marbury vs Madison as well as sets a dangerous precedent for any future Democrat president (GOD FORBID). But, that party, sadly aided and abetted by a weak, feckless, complicit and since the early 60s big government New Deal GOP-e, in its never-ending quest to overthrow the nation as founded, is responsible for tearing at the fabric of the rule of a just and stable law and has brought us to this point of having to do things that I never imagined possible. I guess we have to destroy the Constitution in order to save it, right? (*pukes*). Anyway, lots of excellent links including the good Roger Simon and of course Daniel Greenfield who rightly claims that immigration is indeed our number one threat to national security.
To politics we go, where in the subset of Democrat scandals which will receive little to zero attention or explained away by the MFM, the Alabama election shenanigans is now revealing that along with Obama operatives, Fusion-GPS might have had a hand in sabotaging Roy Moore's campaign, more revelations of the Bernardo Sandersnista '16 campaigns sexual harassment scandal, and champion of the common man Ocasio-TacoRosado had her campaign fined for workers comp violations. She's from the block... Block Island.
Elsewhere, the Senate passes a bill to pay the DC bureaucrats but only after the shutdown ends, Steve Daines introduces a bill to prevent lawmakers from getting paid during the shutdown (good political move), Ol' Yeller is loving him some Trump, you big dummy!, Andrew Cui-Bono Cuomo makes a groan-worthy #MeToo statement, several pieces highlighting the internecine war within the Democrat Party including one feel-good analysis by the great Conrad Black, Kamala-Toe looks like she's going to announce as a Draft "Mickey" O'Rourke movement is forming, suddenly Alabamians are not so hot on Doug Jones, and several links on the Democrat Party's now open official anti-Israel anti-Semitism.
First Amendment and Fake News Fakery: Rabbi Fischer guts Jm J Acosta and Lloyd Billingsley does the same to George Will.
Mueller Inquisition: Good piece slamming the Deep State DoJ for covering up and spoliation evidence. This shit on its own destroys societies and nations and yet totally lost in the sauce.
Guns and Butter: GOP introduces legislation to expand second amendment rights while the Democrats do the opposite.
International: Chi-Coms deploy missiles in response to US Navy cruising in the South China Sea, Secretary of State Pompeo destroys Obama's obsequiousness in a great Cairo speech, Iran turning into Venezuela, the Turks are going after the Kurds but downplaying the US Syria withdrawal as a reason, and Germany's response to I keeeeeel you is "tell me where it hurts."
We-All-Slam-For-I-Slam: Toronto synagogue sez "dhimmi all the lights now, baby," and a military judge orders the Navy SEAL being railroaded to remain in the slammer until the trial. Feh.
Domestic Policy and Bureaucracy: first California came for the straws and I said nothing, DoJ in bed with big gambling (not Trump), Louisiana's Edwards wants more of your money, and the top 5 states that need Uncle Sugar's sugar.
Crime and Punishment: a possible crack in the JonBenet Ramsey murder mystery and suicides among cops is up thanks to Obama/Holder/Lynch and Ferguson.
Healthcare: As the NIH continues giving money for research with butchered baby bits, they will give free healthcare... to illegal aliens.
FemiNazi News: "Januhairy" is busting out all over, mostly from armpits and panties, the Netherlands is persecuting the Church for being normal, and how to fight back against the mass emasculation.
From hither and yon, Whoopi Rape-Rape is ready to leave America (let me know when she does), a look at Peter Jackson's fantastic World War One film and finally a truly must-read about racism and what the Democrat-SJW Cultural Revolutionaries have wrought.
Anyway, links from around the world, across the nation and up your street. Have a better one and remain blessed.


BORDER WALL, MIGRANT INVASION, AMNESTY, IMMIGRATION, BORDER SECURITY


posted by at
08:07 AM
|
Access Comments