« Saturday Gardening Thread: Winter Dreaming [KT]
|
Main
|
Chess Thread 01-12-2019 »
January 12, 2019
Ace of Spades Pet Thread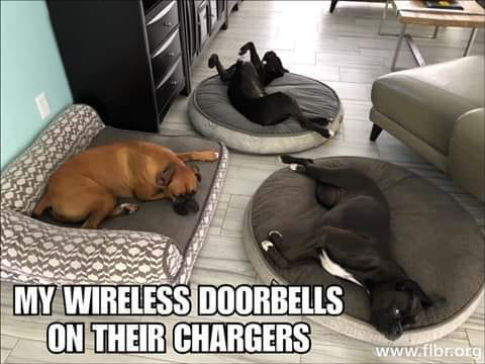 ***

Good afternoon and welcome to the almost world famous AoS Pet Thread. Make yourself cozy and enjoy the world of animals for a couple of hours.

***
A Little Bit of This. A Little Bit of That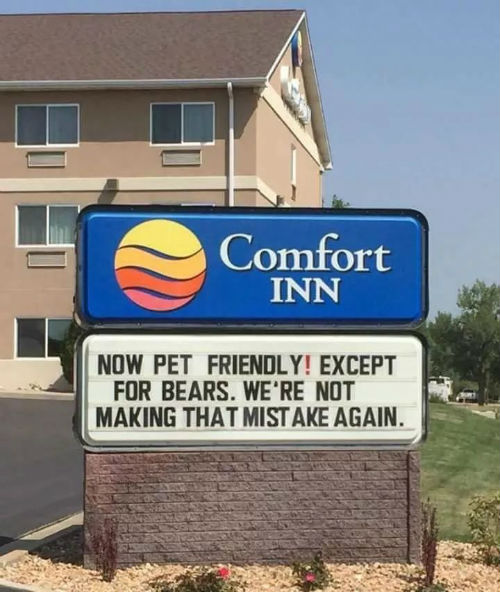 H/T This may be an oldie, but it came to me recently, and I thought it belongs in the Pet Thread. - Dave
Thanks Dave, I had never seen this before.
***
Regular contributor and all around good Moron Hank Curmudgeon has sent in the following this week.

How many lives does this little kitteh have left?

Thank you Hank for all of the links. All of them are really good.
***
Some really good news folks: The prodigal cat, Seth, has returned.
A couple of weeks ago Seth the cat was missing and California Girl asked for our thoughts, prayers and well wishes for Seth's return. He has returned.
The prodigal cat has returned! Seth found his way back home, and I'm extremely thankful to everyone for their prayers, well wishes, and thoughtful advice. Here's a photo of my rascally marmalade cat. I got him from the shelter when he was just a wee kitty. So glad he's going to be around a while longer. -California Girl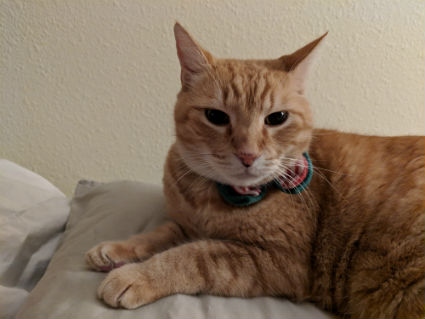 ***
***

Letter of The Law vs. The Spirit of The Law, doggeh style. H/T Hank Curmudgeon
***
Meet The PetMorons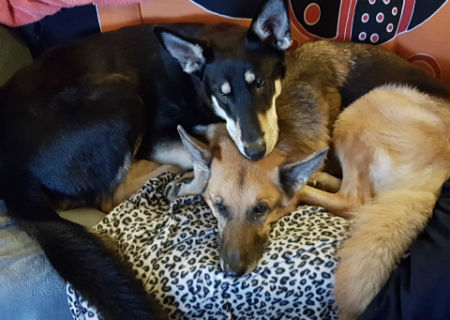 Hello again Pet Morons Thread!

On 27 May last I sent you a pic of our GSD pup Max.

Just to give you an update. Max is growing and loves his "Big Sister" Nena (after the German singer - 99 Balloons).

Just to share with you how crazy about Nena he is.

Happy New Year to all our Pet Lovers!

Ivan
What an adorable photo. Looks like someone has a couple of nice puppies!! Thanks for submitting the photo Ivan.
***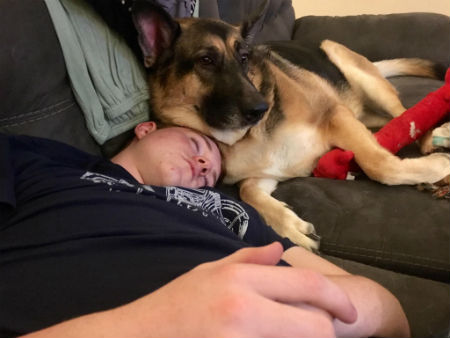 One of my nieces posted this with the caption:

The grandparents put him to work today and he's pooped! Being a lumberjack is hard work!
⛏

franksalterego

Looks like a fantastic friendship there Frank. We appreciate you sharing this touching photo with us.
***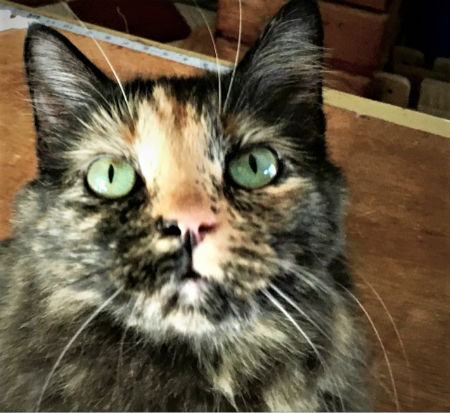 Stormy's portrait at 1 year attached.

This tiny, month-old female bobtail calico kitten showed up (courtesy of cat lady neighbor Cyndi) at our house in December 2017. Cyndi adopted out 8 others as well. Yeah, formula feedings and all.

Always game for anything, good natured and full of life, Stormy was always on the puny side...until this fall. She found the chow hall, and probably the cat buffet at Cyndi's house too.

As we began to notice Stormy's increased girth, and the octave lower "thump' when she jumps up on the pet counter in the workshop, she acquired a new callsign...
"Storm 17 - Heavy" - with the secondary caveat - "Caution Wake Turbulence".

If you know any aviation dope - you get it.
Great thread. Great Blog. BZ!
SundogJax
I don't know much about aviation, but I'm guessing Caution Wake Turbulence is a nice way of saying she has a fat butt. Cute cat. Thanks for the story!
***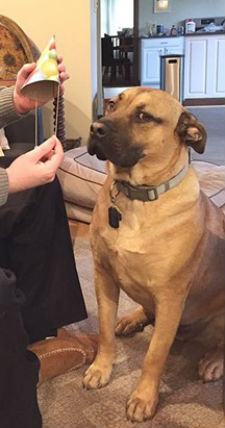 Long time reader seldom comment (I'm at @robpublican but hardly use it much anymore). This is my beautiful dog Sherman. We got him in 2015 and through thick and thin - and a lot of thin these past few years with several miscarriages - he has been an utter blessing from God. He has been a lovely dog and despite his 105lbs (+/- 5 lbs depending) he is nothing but a sweet and gentle giant.

He truly is a gift. He was in the shelter for 5-6 weeks before we found him We think so many passed because he was so big (and strong - was named tank by the shelter). The one and only time my career choice (military historian) paid off was when my wife asked me for any good names for tanks and Sherman was the first that came to mind. He is everything anyone thinks of when you say gentle giant. Great with kids, great with strangers, and always looking to meet a new person (by which he means "Welcome, you may now scratch my behind"). His only dislikes are water (Rain is a sign God is disappointed in him) and as evidenced in the photos he's not a fan of hats; even while trying to celebrate his birthday,

I would love to take credit for any of his good qualities, but he came to us like that. We think/suspect he was in a great home but just ran away because he was so muscular and got loose. We think that because he is so sweet and well mannered. Even down to the fact he hardly ever barks (!) which is a lovely feature in a dog if you ever wondered! The only downside, as we saw the first night we got him, is that when you expect him to bark to go out to pee well...he doesn't. We've learned to interpret body language and he's a happier boy for it.

He loves couches and squeeker toys and thinks squirrels and little lizards were placed on earth for him to chase. Sadly he also loved the snow but we now have moved down south.

I know that I, like so many others, love our dogs like family and we want to love them to the best of our ability as long as we can. I've taken to praying for him daily as he is such a gift from the Lord, especially in our trying times of late, and thought I might share what I took from, I believe, the book of common prayer. Other morons might want to incorporate it into their own daily devotions.

"O God, every animal, in every forest, field, and home belongs to you and is under your loving care. May your blessing be upon [name] and in your steadfast kindness keep him/her safe from all harm. Heal him from any illness and bless him with a rich and long life. I pray that you would show your eternal love and mercy in the companionship and friendship that he provides"

Best,
@Robpublican

Hey Robpublican, thanks for submitting Sherman's photo and story. I love the facial expression on the big guy. It certainly sounds like he is a very fortunate dog and the same can be said for his family.
***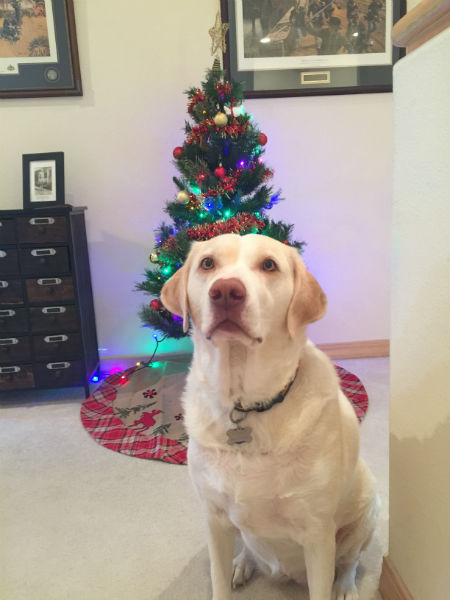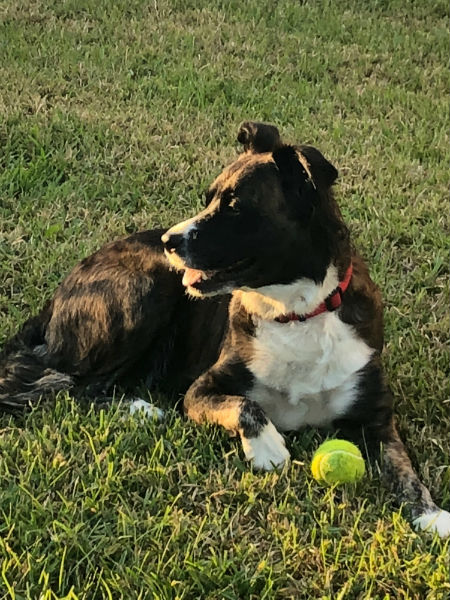 These are my pet morons.

Lucy the Lab is my Craigslist find. Apparently she was owned by a sportsman who bred her multiple times and then was through with her. Their loss is my win! She's the most gentle, docile girl you'd ever want to meet. I got her when she was 4 (ish) two years ago.

Bitsy I've had since she was a pup. I found her under a trailer at the sellers farm. She was advertised as an American Bulldog but I'm sure the GSD I saw on the property is the dad. - August
I would agree with you that Bitsy has some mixed heritage :) Lucy looks like a sweetheart. It appears you have a great household.
***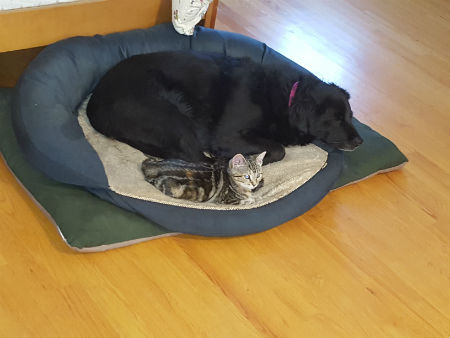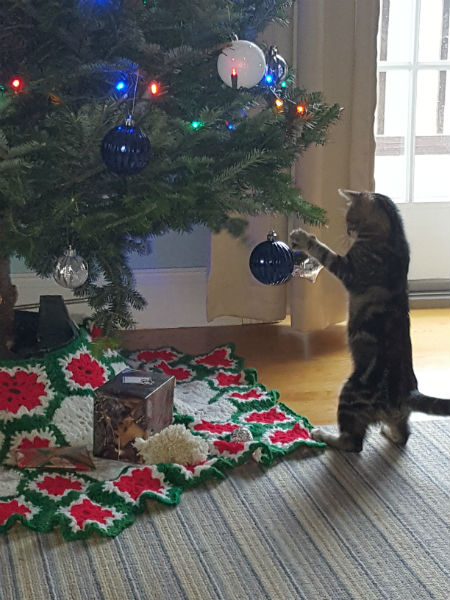 Misanthropic Humanitarian,

Been following AOS for years and will find me on the morning threads most weekdays. Love all the work and thought provoking posts the Cobs put together. Well done!


Been 2 years since we shared a picture of the fur babies in house OCiS. In that time, we lost our Russian Blue mix cat and gained a tiger/calico mix kitten. Our poor dog Fenway, a flat coat retriever mix, is still warming up to the new addition. The kitten is much friendlier towards the dog than our last cat which the dog still is having flashbacks from. Houdini (cat) is pictured here in one of her calmer moments looking for a warm place to take a nap -much to the chagrin of the dog.


The second picture is Houdini discovering the Christmas Tree and ornaments. Not knowing what this bundle of energy would do with Christmas decorations, we left our nice decorations boxed up and hung only shatter proof ones. Wise move as you can see from this picture. - ourcountryisscrewed

OCis, thanks for the compliments. Greatly appreciated. Wonderful photos. Looks like your kitteh had a fun Christmas.
***
A fantastic collection of pets this week. What else is new. Thank you for making this thread work folks.
Do you have something you wish to submit? You can reach us at petmorons at gmail dot com.
Have a great week!!!

H/T Photo above the fold from a couple of Morons. Misplaced the names but Thanks!

posted by Misanthropic Humanitarian at
03:00 PM
|
Access Comments