« EMT 01/13/19
|
Main
|
General Mattis: Honorable Maverick Or Swampy Corporatist... »
January 13, 2019
Sunday Morning Book Thread 01-13-2019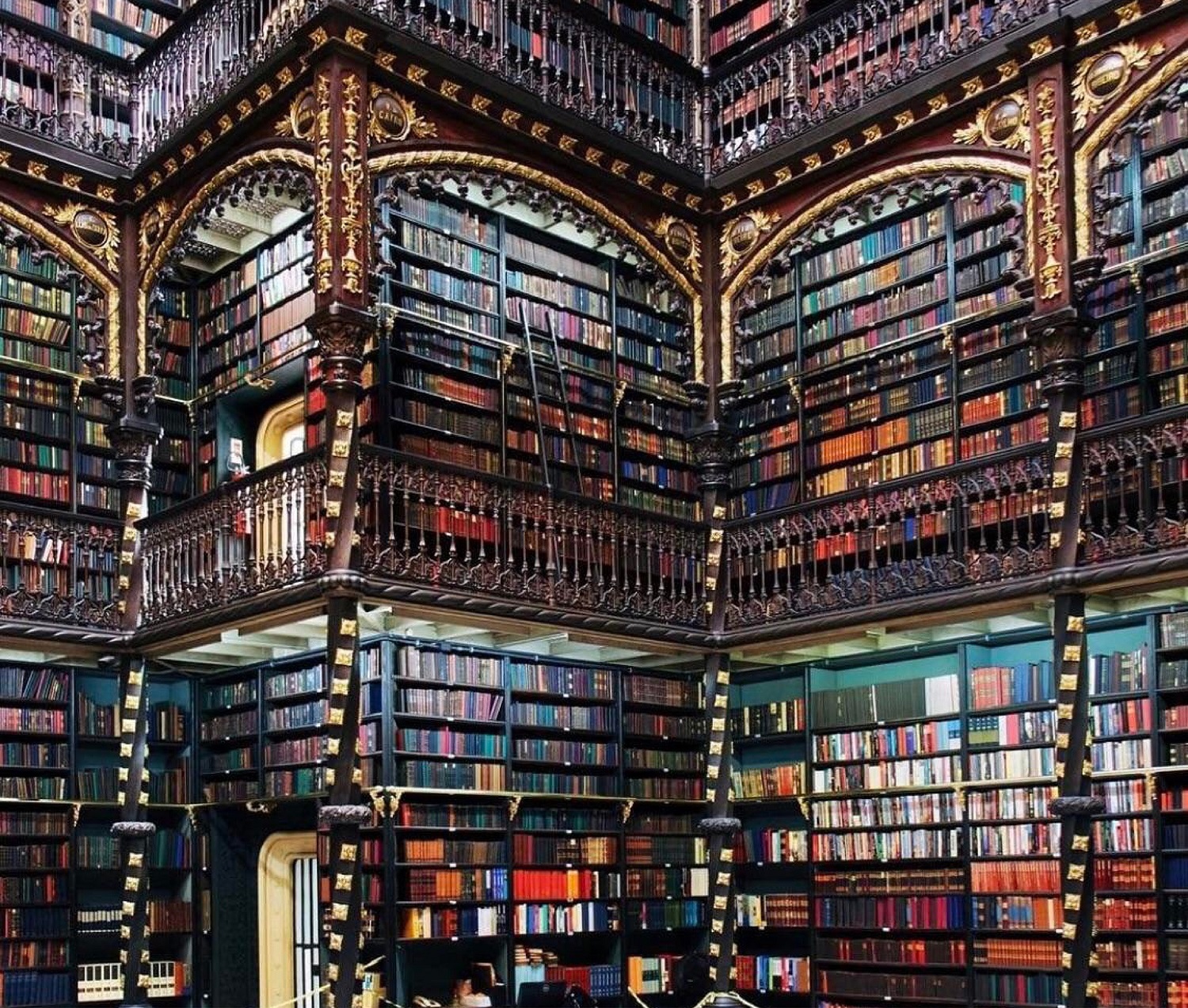 Royal Portugese Cabinet of Reading, Rio De Janeiro, Brazil

Good morning to all you 'rons, 'ettes, lurkers, and lurkettes, wine moms, frat bros, and everybody who's holding your beer. Welcome once again to the stately, prestigious, internationally acclaimed and high-class Sunday Morning Book Thread, a weekly compendium of reviews, observations, and a continuing conversation on books, reading, and publishing by escaped oafs who follow words with their fingers and whose lips move as they read. Unlike other AoSHQ comment threads, the Sunday Morning Book Thread is so hoity-toity, pants are required. Even if it's these pants, which look like about what you'd get if you had a zoot suit designed by gay rastafarian pastry chefs.

Pic Note
The Royal Portuguese Cabinet of Reading opened its doors in 1887. The building in Neo-Manueline style is a combination of Gothic-Renaissance style. The famed Reading Room extends across three stories with black and white marble floor, rows and rows of bookcases, lavish arches and an iron skylight. When it opened, this gorgeously ornate room housed 350,000 volumes becoming the largest collection of Portuguese works outside of Portugal. The collection included rare manuscripts, unique works of literature as well as painting and other cultural pieces. Over the years the collection has increased with more books lining the library's bookshelves. According to Time magazine, this is the fourth most beautiful library in the world and a mandatory visit for booklovers in the area.
You need to click on it to really see how magnificent it is.

It Pays To Increase Your Word Power®
347 Word of the day: "Agnotology" (study of culturally induced ignorance or doubt). Posted by: xnycpeasant at January 04, 2019 11:57 AM (koNhm)
Usage: Universities could save themselves a lot of money if they took all of the "Studies" departments (Women, Gay, Gender, Intersectional, etc.) and combined them all into one big Department of Agnotology.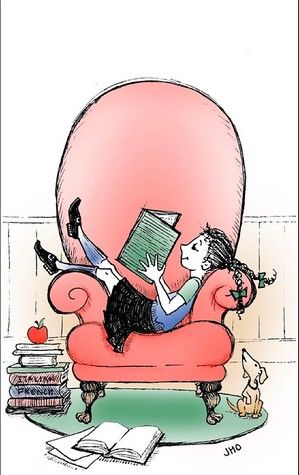 In the Public Domain
Back in 1998, DisneyCorp succeeded in getting the copyright laws changed so that "corporate creations" (i.e. Mickey Mouse) can be restricted for 120(!) years. Personally, I think this is ridiculously unreasonable, but I'm not a corporate lawyer working for the Mouse, so what do I know? However, there was an amendment to the act so that works published between 1923 and 1977 can enter the public domain 95 years after their creation. This means that 2019 will be a significant year:
Basically, 2019 marks the first time a huge quantity of books published in 1923—including works by Virginia Woolf, Agatha Christie, and Robert Frost—have become legally downloadable since digital books became a thing. It's a big deal—the Internet Archive had a party in San Francisco to celebrate. Next year, works from 1924 will enter the public domain, and so-on.
There's more information at the linked article, including a sample of book titles that will enter the public domain, and sites where they can (presumably) be downloaded:
Readprint.com
The Literature Network (mostly major authors)
Librivox (audio books)
Authorama
Happy downloading.

Adaptations
Louisa May Alcott's novel Little Women has been filmed a number of times, and the quality varies. But Mrs. Muse and I have just finished watching a 3-part BBC adaptation, originally aired in 2017, that we think is the best one. I was skeptical at first because (a) BBC and (b) 2017 so we thought it was going to be larded up with all sorts of PC/diversity/feminist/intersectional crap. To our surprise, it wasn't. Aunt March wasn't a lesbian, Jo wasn't trying to smash the patriarchy, and Professor Bhaer wasn't a bi-curious soy boy. and I don't know how faithful it was to the book, because I haven't read it, but they played it as a straight period piece. Also, the dialog was really good. Meaning, it actually sounded like I imagine 19th century speech would sound, and I didn't hear any modern anachronisms.
All in all, it was a joy to watch. It's currently on Amazon Prime, but you have to pay extra for it. I was able to acquire it by other ( *cough*bittorrent*cough* ) means.
I discovered that there is a new, 7-part adaptation of William Makepeace Thackeray's novel, Vanity Fair. We're about half way through it, and it also appears that it's being played straight. It's available on Amazon Prime, but you don't have to pay extra for it.
Mrs. Muse and I recommend both.

Moron Recommendations
20 'Morning, Morons. This week I finally finished Being Mortal by Atul Gawande. Highly recommended and eminently readable. I was rotating with other things that were due ahead of it or else I would've finished it faster.

Having had a father who passed away within the last 18 months (with his last few days in hospice) and a mother who broke her second hip (along with a shoulder in the summer, a wrist a few years back, and an incident with a wringer washer!) I noticed this book in my Book Bub selections.

Gawande is a surgeon who has learned about aging, nursing homes, assisted living, brilliant adaptations of the former, and finally, hospice care, and the differences among them. You'd be surprised. Many of the positive changes in care facilities were brought to fruition by the children of those requiring them.

It's hard to say enough about this book, especially the fact that it was written by the humble son of a doctor who had a tumor in his spinal column that was rendering him quadriplegic. The true definition of hospice was gleaned by the doctor-author as was the fact that ALL OF US, at any age or condition, need to have some serious conversations while we still can.

Posted by: SandyCheeks at January 06, 2019 09:10 AM (tGSHk)
I think many of us are at an age where providing good care for aging parents is becoming more and more of a concern. And if not, you will be, all too soon. So this book looks like it might be helpful. Other than that, there's not much I can add to SandyCheeks' review. Being Mortal is available on Kindle. Also hardcover and paperback.

___________
22 Read 'No Highway' by Nevil Shute. A good book about a scientist at Britain's Royal Aircraft Establishment at Farnborough who is convinced a new airliner's tail will fall off in flight from metal fatigue. Considered a crackpot, or a boffin, he has a difficult time convincing the establishment he's correct. The movie 'No Highway in the Sky' with Jimmy Stewart is a faithful adaptation of the book...

Published in 1948 some of his inspiration for it might have been his time spent at Vickers Ltd.

Posted by: Jake Holenhead at January 06, 2019 09:11 AM (5jAa5)
I've never read anything by Nevil Shute. My only experience with him is the film adaptation of On the Beach, which was one of the most thoroughly depressing movies I have ever seen. But he's written a metric crap ton of books, lots available on Kindle, some suprisingly inexpensive, and some less so. Unfortunately, No Highway is in the latter category, but the plot does sound interesting:
Theodore Honey is a shy, inconspicuous engineer whose eccentric interests are frowned upon in aviation circles. When a passenger plane crashes in Newfoundland under unexplained circumstances, Honey is determined to prove his unorthodox theory about what went wrong to his superiors, before more lives are lost. But while flying to the crash scene to investigate, Honey discovers to his horror that he is on board one of the defective planes and that he and his fellow passengers, including a friendly young stewardess and an aging movie actress, are in imminent peril.
Who knew someone could write a novel about an engineer solving engineering problems?
___________
48 I mentioned it in last week's book thread; sorry if I'm repeating myself, but I can't recommend highly enough "Lost in Shangri-La". It's a true story about a plane crash in Dutch New Guinea towards the end of WWII. The surviving victims end up encountering a stone-age tribe of natives that have had (essentially) zero contact with outsiders. (The plane was overflying the valley where these natives lived, to get a glimpse of them.) The ensuing rescue is amazing.

Posted by: Brave Sir Robin at January 06, 2019 09:36 AM (ty7RM)
Lost in Shangri-La (Enhanced Edition): A True Story of Survival, Adventure, and the Most Incredible Rescue Mission of World War II is available on Kindle for only $7.99.
___________

Books By Morons
The Secret Cold War Series, by moron author (and Army Security Agency veteran) R.G. Ainslee, continues with The Caspian Intercept, a fast-paced adventure filled with Cold War intrigue in Revolutionary Iran.
1979: Iran in chaos. When an Iranian technician reveals the existence of an unknown intercept tape, Amadeo Ruiz and Jack Richards of the Raven-One Team are sent back to Tehran. But things are about to get worse, radicals take over the American embassy. A powerful enemy reemerges and seeks to stop the team in their tracks. Raven-One team operative Ruiz is forced to navigate through the chaos and barely escapes capture. Follow him as he flees through northern Iran with an enigmatic Italian woman. Who does she really work for? The Caspian Intercept combines historical events, intrigue, and high adventure during the first days of the embassy hostage crisis.
The Caspian Intercept: A Raven-One Team Thriller is now available exclusively on Amazon.com in both Kindle and paperback editions.
The book trailer may be viewed at YouTube.com.
More information may be found at rgainslee.com.

___________

If you like, you can follow me on Twitter, where I make the occasional snarky comment.
___________
Don't forget the AoSHQ reading group on Goodreads. It's meant to support horde writers and to talk about the great books that come up on the book thread. It's called AoSHQ Moron Horde and the link to it is here: https://www.goodreads.com/group/show/175335-aoshq-moron-horde.
___________
So that's all for this week. As always, book thread tips, suggestions, bribes, insults, threats, ugly pants pics and moron library submissions may be sent to OregonMuse, Proprietor, AoSHQ Book Thread, at the book thread e-mail address: aoshqbookthread, followed by the 'at' sign, and then 'G' mail, and then dot cee oh emm.
What have you all been reading this week? Hopefully something good, because, as you all know, life is too short to be reading lousy books.

posted by OregonMuse at
09:00 AM
|
Access Comments