« EMT 01/06/19
|
Main
|
I'm From The Government, And I'm Here To Help; Put Down That Second Slice Or I Will Fine You! »
January 06, 2019
Sunday Morning Book Thread 01-06-2019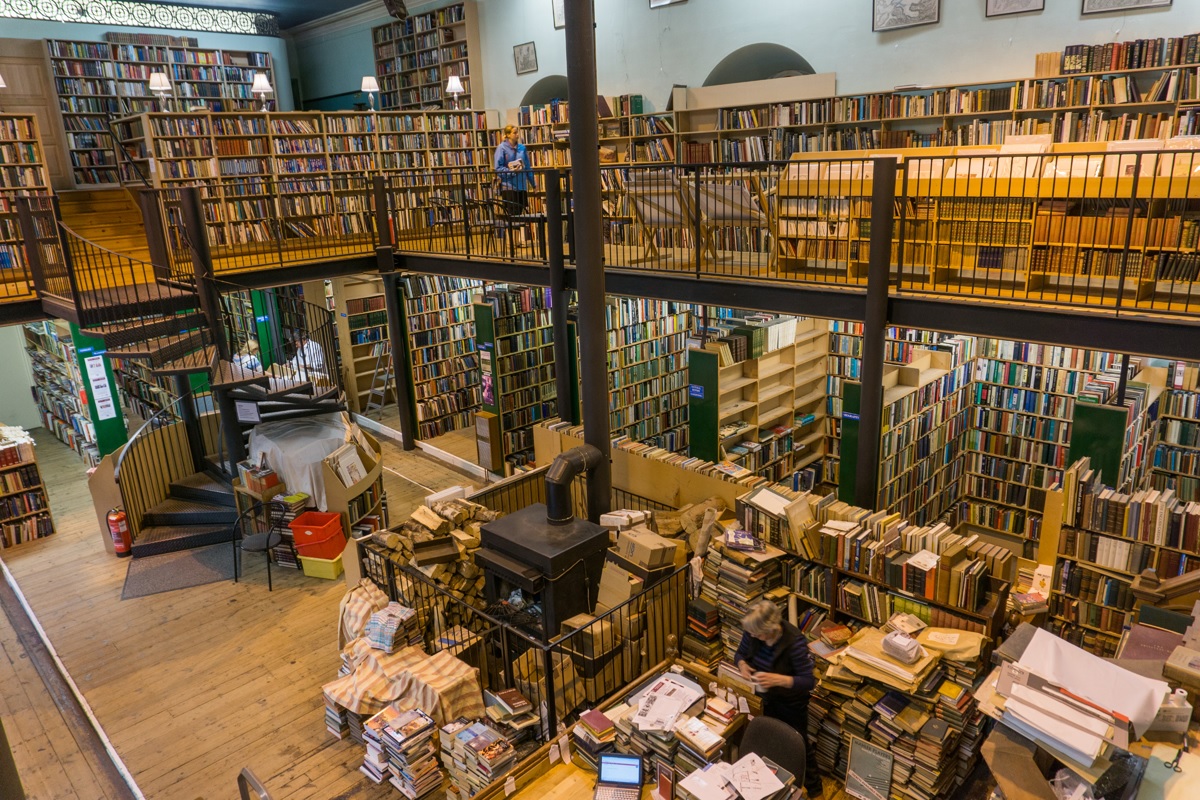 Leakey's Used Bookshop, Inverness, Scotland

Good morning to all you 'rons, 'ettes, lurkers, and lurkettes, wine moms, frat bros, and everybody who's holding your beer. Welcome once again to the stately, prestigious, internationally acclaimed and high-class Sunday Morning Book Thread, a weekly compendium of reviews, observations, and a continuing conversation on books, reading, and publishing by escaped oafs who follow words with their fingers and whose lips move as they read. Unlike other AoSHQ comment threads, the Sunday Morning Book Thread is so hoity-toity, pants are required. Even if it's these pants, which look thoroughly manly and not gay at all, no, not in the slightest.

Pic Note
Traveling to the British Isles? Then check out this used book store:
Bookshops in old churches seem to be becoming a real 'thing' and how wonderful considering reading is religion for many of us. Leakey's Bookshop and Cafe in Inverness certainly doesn't disappoint, thought to be the largest bookshop in Scotland they feature rare and old prints, classic volumes, old maps and much more and has been run by Charles Leakey since 1979.
I like that funky old wood stove near the cashier station. I wonder, though, if it's capable of cranking out enough BTUs to heat the entire building.


It Pays To Increase Your Word Power®

However, I suspect if you Google or Bing for images of great racks, you'll get something very different.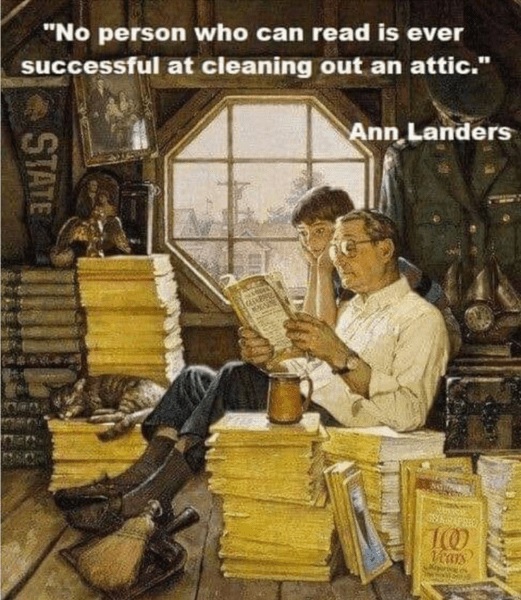 Correcting History
Check this out:
In the years leading up to the First World War, the United Kingdom was subjected to a ferocious campaign of bombing and arson. Those conducting this terrorist offensive were members of [REDACTED]; better known as [REDACTED]. The targets for their attacks ranged from St Paul's Cathedral and the Bank of England in London to theatres and churches in Ireland. The violence, which included several attempted assassinations, culminated in June 1914 with an explosion in Westminster Abbey.
So, who do you think carried out these terrorist attacks?
a) Surly Irish drunks settling old scores
b) German saboteurs getting their licks in early
c) bitter, angry feminists
The answer is, of course, (c) and those conducting this terrorist offensive were members of the Women's Social and Political Union, better known as the suffragettes. We usually think of the suffragette movement as a series of peaceful, non-violent protests, but the reality is different. This is according to the book The Suffragette Bombers: Britain's Forgotten Terrorists, whose author, Simon Webb,
...explores the way in which the suffragette bombers have been airbrushed from history, leaving us with a distorted view of the struggle for female suffrage. Not only were the suffragettes far more aggressive than is generally known, but there exists the very real and surprising possibility that their militant activities actually delayed, rather than hastened, the granting of the parliamentary vote to British women.
And I would be remiss if I did not mention that there was another side to all of this, as documented in the book No Votes for Women: The New York State Anti-Suffrage Movement by Susan Goodier, which discussed
...the complicated history of the suffrage movement in New York State by delving into the stories of women who opposed the expansion of voting rights to women. Susan Goodier finds that conservative women who fought against suffrage encouraged women to retain their distinctive feminine identities as protectors of their homes and families, a role they felt was threatened by the imposition of masculine political responsibilities. She details the victories and defeats on both sides of the movement from its start in the 1890s to its end in the 1930s, acknowledging the powerful activism of this often overlooked and misunderstood political force in the history of women's equality.

Calls For Submission
Moron author Mastiff is soliciting short stories for a couple of 'themed' anthologies he is putting together:
We are soliciting short stories by new and established authors in the [fantasy | science-fiction] genre, between 3,500 and 7,000 words in length. (Shorter or longer works will be considered in cases of exceptional merit.) The goal is to select at least ten entries for publication* in a short-story anthology.
The first one will be a science fiction anthology, with "asteroids" as the theme. This means
Your story must include as a significant plot element an asteroid. The asteroid need not actually be present in the story, so long as people are reacting to it or living lives that have been influenced by it. The form your story takes—1950's-style space miners, modern tech oligarchs sending robots to mine the asteroid belt, an interstellar ship made out of a hollow asteroid, a mass-casualty event caused by an astroid strike (Heinleinesque or otherwise), a discussion of how previous economic structures are upended by asteroid exploitation, etc.—is totally up to you.
The second is for a fantasy anthology, themed as "family":
Your story must include as a significant plot element a family tie between a character and someone else. Whether this is interpreted positively or negatively (a single-father mage raising his son, vicious struggles for the throne between sisters who hate each other, blood-curdling ancestral magic, the struggles of being a sword-swinging mom who breastfeeds, etc.) is entirely up to you.
Here are the links for the submission guidelines and other pertinent information for these two anthologies:
(h/t 'Long-time Commenter, First-time Reader')

Moron Recommendations
77 So it's time to take on another sprawling historic account of dubious accuracy: The Histories by Herodotus. I'm already in book two about Egypt. Even though it's a collection of tall tales and accounts of dubious accuracy, it, or the translation, is written vividly and entertainingly. Plus I'm also reading Travels With Herodotus by Ryszard Kapuscinsky who is kind of like a modern day Herodotus who writes travel books off the beaten path like some of the far flung places in Russia after the fall of the Soviet Union that no media places gives a tinker's damn about. So they dovetail together in nice way.

Posted by: Captain Hate at December 30, 2018 09:33 AM (y7DUB)
Herodotus' The Histories is available on Kindle for 99 cents:
Widely referred to as the "Father of History", Greek Historian Herodotus lived during the 5th century BC and "The Histories" is generally accepted as the first work of historical literature in Western Civilization. Departing from the ancient Homeric tradition of treating historical subjects as epically romantic figures, Herodotus instead approached his subjects with a systematic method of investigation. "The Histories" of Herodotus describe the important wars of the fifth century BC. This work conveys the careful research and deliberate documentation of martial battles between the Greek city-states and the Persian Empire. The reasons for his efforts, as explained by Herodotus, were to preserve the memory and glory of human achievements and deeds, as well as to record why the Greco-Persian Wars took place.
So it sounds like there's some valuable information here, you've just got to discard the obviously bogus stuff. Which is what you do with history, TV "news" shows and "news"papers, anyway.
The main book CH mentioned is Travels with Herodotus:
In the 1950s, Ryszard Kapuscinski finished university in Poland and became a foreign correspondent, hoping to go abroad – perhaps to Czechoslovakia. Instead, he was sent to India – the first stop on a decades-long tour of the world that took Kapuscinski from Iran to El Salvador, from Angola to Armenia. Revisiting his memories of traveling the globe with a copy of Herodotus' Histories in tow, Kapuscinski describes his awakening to the intricacies and idiosyncrasies of new environments, and how the words of the Greek historiographer helped shape his own view of an increasingly globalized world. Written with supreme eloquence and a constant eye to the global undercurrents that have shaped the last half-century, Travels with Herodotus is an exceptional chronicle of one man's journey across continents.
Herodotus may have been the first, but not the last, to travel around and report back what he found out about the strange lands he visited.

___________
97 I'm always on the lookout for more info about Tolkien and his writing. Came across one I didn't expect: "The Proverbs of Middle-Earth" by David Rowe. He describes how Tolkien used proverbs as a means to illustrate various peoples/characters of Middle-Earth and their cultures. He shows how Tolkien increased the sense of a reader accepting the fiction as real by including such matter. Sounds nerdy but Rowe's writing is informative and pleasant.

Posted by: JTB at December 30, 2018 09:52 AM (bmdz3)
There are all kinds of proverbs in Tolkien's books:
'Not all those who wander are lost,' 'Faithless is he that says farewell when the road darkens,' and 'Never laugh at live dragons' are all poetic, wise, and convincingly real-sounding, but they are also a lens, through which more can be seen. These proverbs belong to entirely invented wisdom traditions and reflect the culture, the philosophical worldview, and the history of those who use them.
It's attention to detail like this that make Middle-Earth so rich and fascinating.
The Proverbs of Middle-earth is a book that
...investigates the degree to which the 'soul' of each of these fictional civilizations can be understood through the lens of their proverbs. What is revealed enriches the reader's experience of and delight in Middle-earth, as well as illuminating the astounding depth and detail of creativity behind it.
Enjoyable for only $2.99 on Kindle.

___________
Digital distraction a problem? Lurkette Stirfrylaura e-mailed me a link to her review of #DoNotDisturb: How I Ghosted My Cell Phone to Take Back My Life by Jedediah Bila
In this timely, entertaining and inspiring book, Jedediah Bila chronicles her chaotic, confusing, and all-consuming love-hate relationship with - her cell phone. Stepping back from...the embarrassing and catastrophic consequences of Ménage-a-Tech relationships, social media's Perception Deception, and the One-Potato-Chip-Problem of trying to resist Silicon Valley's hypnotic, slot-machine software designed to lure you in. Bila reveals how she navigated away from an unhealthy, oversaturated diet of tech junk food to striking just the right balance with technology...
Another book along these lines is Disconnected: How To Reconnect Our Digitally Distracted Kids by Tom Kersting, who is a psychotherapist and school counselor.
Lastly, there's How to Get Your Screen-Loving Kids to Read Books for Pleasure by Kaye Newton, who
...spent over a year researching expert advice about promoting reading. She then tested it on her three screen-loving children. Get practical tips on finding books that hook kids, leveraging screen time to increase reading, and making the required reading for school enjoyable.
Because reading improves kids' abilities to concentrate, empathize, and do well in school. When our children were growing up, we noticed that kids' TV programs don't require the audience to pay attention for more than about 20-30 seconds at a time before abruptly switching to another topic (we thought Bill Nye's science program was the worst offender here). We wanted our our kids to be able to listen to a 30 minute sermon at church without having to be constantly entertained. We really had to limit the TV. I dumped on Bill Nye earlier, but Sesasme Street was just as bad. And these are supposedly the "good" children's TV programs. So now that my kids are older, I see them mostly diddling with their phones, so I don't know how much what we tried to teach them actually took.

___________
Don't forget the AoSHQ reading group on Goodreads. It's meant to support horde writers and to talk about the great books that come up on the book thread. It's called AoSHQ Moron Horde and the link to it is here: https://www.goodreads.com/group/show/175335-aoshq-moron-horde.
___________
So that's all for this week. As always, book thread tips, suggestions, bribes, insults, threats, ugly pants pics and moron library submissions may be sent to OregonMuse, Proprietor, AoSHQ Book Thread, at the book thread e-mail address: aoshqbookthread, followed by the 'at' sign, and then 'G' mail, and then dot cee oh emm.
What have you all been reading this week? Hopefully something good, because, as you all know, life is too short to be reading lousy books.

posted by OregonMuse at
09:00 AM
|
Access Comments