« Study: Drinking Coffee and Alcohol and Being Kinda Fat is Super-Good For You
|
Main
|
Saturday Morning Coffee Break »
December 28, 2018
Happy New Year ONT
Well, it's not for a few days yet, but I won't be here then, so Happy New Year! Is everyone ready for New Year's Eve?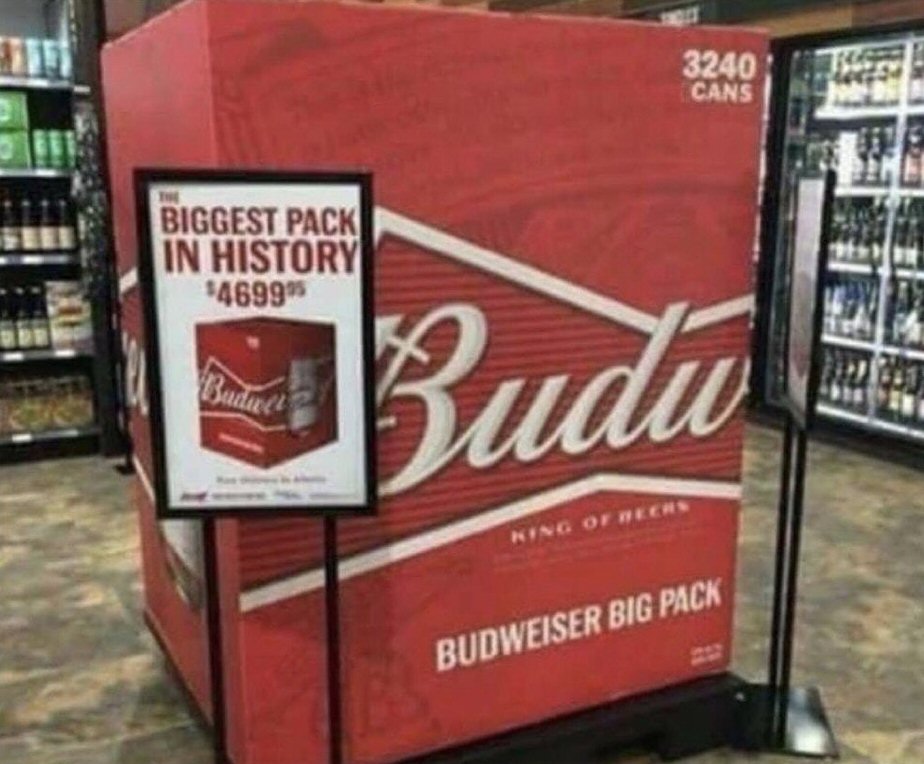 It's not a very good price though. It'd be more economical just to grab 135 cases.

Moron Love

Well, we've been around long enough that there are now couples who met and fell in love here, Miley and Publius being the latest example. Now, I know Miley is only 29, but I don't think she wants any more kids. Still, there's got to be some Moron parents out there...
Found 'em.
Christmas Wrap Up

How my holiday home became a harrowing house of horrors Trouble in the land of canoeheads.
Seasonal UPS Workers Had Almost Entire Paychecks Handed Over To Union Must be a mistake. Unions exist for the working man, there's no way they'd screw them like this.
Good News That The MSM Might Have Accidentally "Missed"

Trump Overhauled The Way We Prevent Wildfires
USGS Identifies Largest Continuous Oil and Gas Resource Potential Ever Assessed
Hmm. Odd, that.

Ink
Who wants to bet she has another tattoo across her shoulder blades that says "My name is Traci"? Upside down.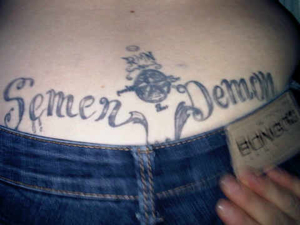 Politics In The News
Censoring Conservatives: Young America's Foundation Sues University of Florida
Why (Most) Right-Wing Intellectuals Hate Trump
Dan Hannan: Falling IQ scores may explain why politics has turned so nasty
I admire Dan a lot, but I think he misses most of the boat here. The main reason that politics is so nasty is because one side profits politically from making it so and keeping it so. It's as simple as that. The right isn't going to get anywhere until we openly acknowledge that there is no longer a loyal opposition, but instead a faction that seeks the destruction of the existing structure so that they can replace it with another. It isn't political opposition, it's an insurgency. This isn't that hard.

Oldie but a Goodie
Nanny State Insanity

Revealed: the new calorie limits on every common food

So, in order to "combat obesity", Britain is setting limits for the number of calories allowed in any single meal sold. This makes total sense if you're an idiot who just landed from planet Mouthbreather. Anyone who wants more calories can just...order another meal. Shocking.
Of course this kind of lunacy isn't new. Back * mumble mumble * years ago, when I was in college, the campus bar in the student union sold draft beer. One night, a student go plastered, staggered out to his car, and passed out in the back seat. Seeing as how it was in the middle of winter, he almost froze to death. The university's solution? They stopped selling beer....in pitchers. You could still order all of the cups of beer that you wanted, it was just harder to transport it back to your table. So now instead of one person going up to grab the next round, 2 went. But in some administrator's mind this meant the problem was "solved".

Technology Makes Our Lives Better!

Google's Earth: how the tech giant is helping the state spy on us
As the title at the link says, it's a long read, but a disturbing one.
Rent Free
Serious question: Does this look sane? Forget the politics for a second, pretend the customer is wearing an Obama/Biden shirt. Is there anyone here who would say anything other than "That guy's nuts"? I honestly believe that if he'd had a gun handy, he would have at least tried to shoot the customer.

I've Never Done This Before In A Post

But I wanted to ask the Horde for their prayers for a friend of mine's step son (close enough, he's engaged to the boy's mother, for all intents and purposes he's "dad" ). Little Lincoln was recently diagnosed with High Risk Neuroblastoma. When I found out, I asked my wife "What's the prognosis?". She said in an utterly neutral voice "They just had a half birthday party for him". He's 2 ½, and if y'all could pray that he makes 3 (and beyond), I'd really appreciate it. Also, if you've got a couple of bucks rattling around that you were wondering what to do with, there's a Go Fund Me here. He's a sweet little kid, every bit will help.

Tonight's ONT brought to you by Lawnborghini:
The Yahoo Group drives a Mowserati.

posted by WeirdDave at
08:24 PM
|
Access Comments