« ONT? You Must Be Joking
|
Main
|
Mid-Morning Open Thread »
December 28, 2018
The Morning Report - 12/28/18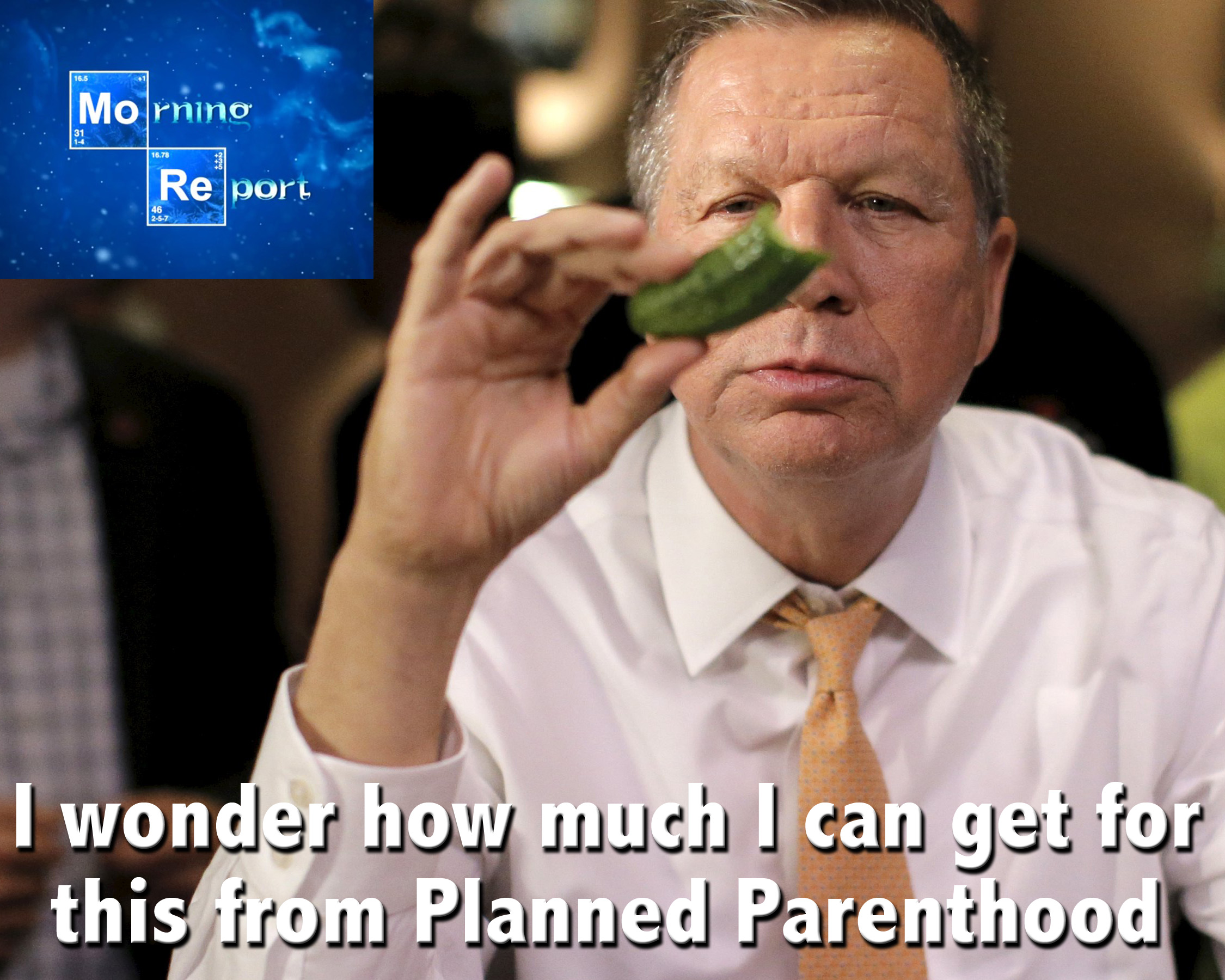 Good morning kids. Last weekend of 2018 is here so let's get with it. Before getting to anything else, I want to address the loathsome pillock that goes by the name of John Kasich and his equally detestable underlings in the Ohio state legislature. First, this floating fog bank of halitosis who takes every occasion to strut and preen his moral superiority as a member of the Coup Cucks Clan Conservative Inc. Con Artists vetoed legislation that would have banned abortions on infants in utero that have a detectable heartbeat. But not to be outdone by the son-of-a-postage stamp, the Ohio GOP failed to override the veto by just a single vote. It was right to blast the likes of Chief Justice Errant Crockovich and Associate Justice Kavanaugh (I hold out hope that this was a one-off for him) in losing the multi-state lawsuit over Planned Parenthood funding, but it's our state and local jurisdictions that must do the heavy lifting in breaking up Big Eugenics. Tragically, Ohio has failed us big time.
Now on to the lead story which continues to be the "shutdown" showdown over the funding for the border wall and border security. On that score, Mark Meadows is dropping hints that maybe Trump and the GOP should settle for $2.5 billion. But that presupposes that the Dems are willing to compromise at all as they have stated in no uncertain terms that not one red cent will go for the wall. That said, does a compromise on this - if the Dems in fact agree to one - hurt the President or the Dems more politically? Not that I want him to budge an inch on this but I'd wager it would seriously damage the Dems much more than PDT. And that said, the longer the government remains "shutdown" without any real pain suffered by the American people (which the Dem-Media-Complex insists is real and massive), the more it is to Trump's advantage. Besides, how shuttered can the government be when the Treasury collected close to $21.7 billion in taxes on the first day of the shutdown alone? QED.
The latest big phony agitprop concerns the death of an illegal alien toddler that the Dem-Media Complex insists is the fault of the Border Patrol, but was in fact the fault of the parents, both for using him as a prop and later in the father denying medical care to his own child. That said, the mother has admitted that they used their son as a means to get into the US believing that the border was wide open and that they'd be waved in because they had a child in tow. Meanwhile the Democrats in the House are ordering DHS to preserve "evidence" in the kid's death. Funny, I thought the DHS was part of the Executive Branch. Good thing we have Judge Buch M. Danno presiding from the Kamehameha bench to get my mind right. And of course Nancy Palsi is burping up spark-of-humanity, child-of-G-d drivel even as we have a previously deported illegal alien child molester nabbed again in Texas and an illegal alien who ran over and killed a cop during a traffic stop still on the loose. Lastly, a look at the absolute disaster that is the visa waiver program. Build the damn wall, deport illegals, punish those who employ them and make America America again.
To politics we go where we have identical tweets from Cuck Schemer and Nancy Palsi blasting the President over his criticism of the Federal Reserve. The tweets are word for word and not re-Tweets of one from the other. So, who's writing the script? Elsewhere Sheila Jackass-Lee and four other Horse's Asses of the Apocalypse have introduced legislation stating that Mexico must pay for any border wall and not taxpayer dollars. Um, the House already approved the CR with the $5.7 billion, genius. Elsewhere, the Dems will be pushing hard for Medicare for All and other economy/freedom/nation-killing insanity, NBC news has walked back its Trump-Troop-Christmas hit piece, speaking of brain-dead in O-Hi-o we have a look at Sherrod Brown-note's 2020 prospects, USA Today poll reveals little enthusiasm for virtually the entire 2020 Dem field, tiny tyrant Mike "Roscopic" Doomberg is thinking big thoughts for 2020, and despite losing the House there might be some good news in the new year for conservatives.
First Amendment and Fake News Fakery: PDT tells CNN to FOAD about MAGA autographed hats for the GIs, Facebook's secret censorship manual gets exposed, McClatchy gets busted for pimping debunked rumors of an alleged Michael Cohen Prague trip, and Erdogan makes Google delete a map depicting what Kurdistan could look like.
Lots of stuff happening across the globe including, a new bombshell report confirms that Khashoggi was indeed a foreign, enemy agent working to destabilize the Saudi government (this is a surprise?), Iran threatens Trump and US troops to leave Iraq or else (what?), a couple of links about the Syria decision being a good move, the EU slams Macron for giving in to the Yellow Vests, a German company will now not sell rocket parts to the Farsis, Indonesian tsunami death toll tops 400 with perhaps more deadly waves to come, Theresa May may not be down and out at all, the continuing death throes of Venezuela, Sweden charges 3 with terror plotting and ISIS supporting, hooray for "Pallywood," US looks to bolster a presence up in the Arctic and rules of thumb to consider before we invade another country.
On the domestic front, it's the Judiciary that has shut down our government, Dick Durbin - who still refuses to answer questions about what he knew about James Hodgkinson - has the solution for Chicago's societal ills: billions more in taxes! City Journal looks at NYC's horrible decision to decriminalize crime, Andrew "Cui-Bono" Cuomo is a tyrant and a crook, victory on the US energy front, and the Fed messing with interest rates is a recipe for disaster.
In healthcare, the IRS can't recoup $1 billion in Obamacare subsidies, and the administration is seeking a dismissal in the multi-city lawsuit trying to overturn Trump's torpedoing of the individual mandate.
Education: U-Cincinnati pays out to a male student it persecuted with phony allegations.
FemiNazism: Mizzou sez tall guys asking out short girls is akin to rape, or something, Canada has the proof that video games cause toxic neo-liberal (say what?) masculinity, and another look at the #MeToo insanity.
Red-Greens: When asked if they would seek banning private jets the New York Times goes silent and Dr. Judith Curry's latest study completely debunks the we're-all-gonna-die climate disaster scenario.
From hither and yon, fatherhood and football, Christian Toto on comic Nimesh Patel's observations about conservatives versus college students and lastly, we salute Richard Overton, America's oldest citizen and World War Two veteran who has passed away at age 112. RIP.
Anyway, links from around the world, across the nation and up your street. Have a better one and remain blessed.


BORDER WALL, MIGRANT INVASION, AMNESTY, IMMIGRATION, BORDER SECURITY


posted by at
06:38 AM
|
Access Comments