« Wednesday Overnight Open Thread Day After Christmas Edition (12/26/18 )
|
Main
|
Mid-Morning Open Thread »
December 27, 2018
The Morning Report - 12/27/18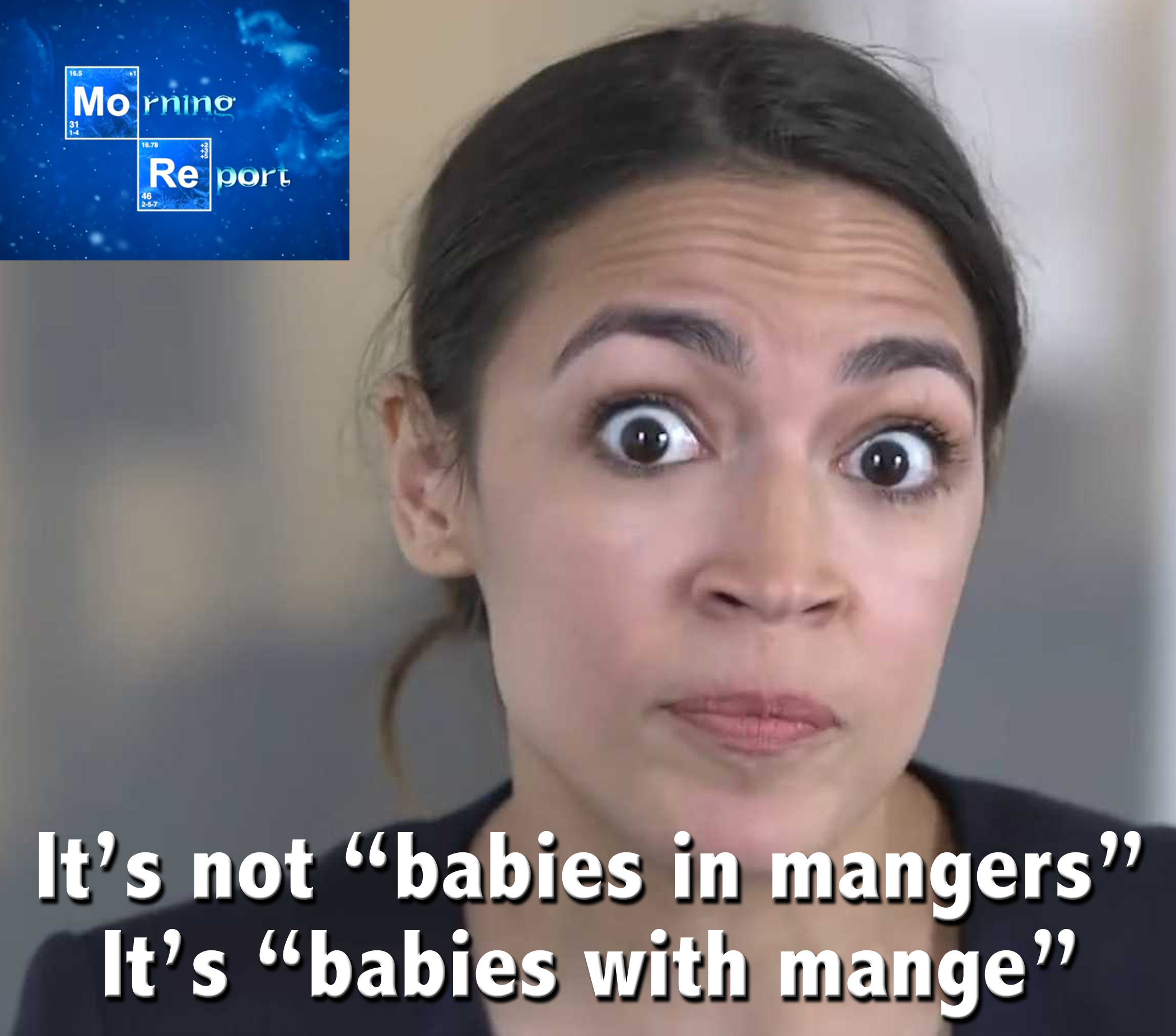 Good morning kids. Thursday and as we wander through the interstitial nether world between Christmas and New Year's we still have things to deal with so here we go. Lawmakers are returning to DC from the holiday break with the government still "shut down" (nudge-nudge wink-wink [if it were shut down, why are they coming back, and with pay?]) and no deal in site for the next temporary spending bill. We haven't had an actual budget since before Obama and that is beyond reprehensible and irresponsible, but I digress.
The sticking point remains the measly(!!) $5.7 billion for a border wall and border security that the President refuses to budge on. In fact, the first link is about his having a groundbreaking ceremony next month, and that has just got to make the Democrat-Left-Media complex go nuts. They'll claim it proves he's insane but their reaction proves the exact opposite. In fact, the longer the shutdown continues with absolutely zero negative affects on the average American citizen, the more he both solidifies his support from the base but the more he exposes the whole "we're-all-gonna-die-without-government!" myth that the Left has been using to beat up the GOP with since time immemorial. There's quite a good essay on this at the end of the Politics section so look for that. Hang tough, Mr. President. This is not only the make-or-break issue for your presidency but you're holding a spade royal flush winning hand.
Elsewhere in this category, along with the fine editorials about why the wall and enforcement are needed, we have the tactical stories that underscore the point; ICE and DHS officials are screaming for help amid a tidal wave of plague-infected third-worlders that they are dealing with, the migrant boy who died in US custody was a result of parental neglect and not the fault of ICE, yet another child of G-d with the spark of humanity stands accused of brutally raping a coed, Moonbeam Brown pardons a slew of illegal alien criminals to prevent their deportation (which begs the question does that mean they're citizens since being here illegally is a crime and if they're pardoned they can't be touched?!), and the title of the last link says it all.
To politics where surprise surprise; an Obama henchman was behind the sabotaged Alabama special election, a look at the political ramifications of the shutdown for Trump, the paste-eating girl-groping ex-veep is upset at his formerly clean and articulate boss for overlooking him, Claire McAssKill has words of "wisdom" for Loopy Ocasio-Fiasco, Virginia Democrats have a sure-fire winning issue to pimp so to speak, and lastly, I've coined the perfect campaign slogan for Michelle Obama:
Michelle 2020: Let the Wookie Win!
In First Amendment and Fake News Fakery, a Huff-Po hack attacks Susan Collins for espousing due process, Brit Hume dings Soledad O'Prison, fresh off highlighting the wonderful humanitarianism of Hezbollah, the New York Times is hot on the heels of the President's... heels, and a look at how the media foments violence with its agitprop.
In Mueller witch hunt news, this mystery subpoena from the lanky Ivy League apple-robber is causing quite a stink behind closed doors at the Supreme Court and Victor Davis Hanson with his usual brilliance on how the witch hunt is stirring up more trouble than it was allegedly charged with finding.
On the international scene, Caroline Glick is more or less on board with the Syria withdrawal but has trepidations vis a vis Erdogan, a Pro-Iran militia in Iraq belches up some warning, Venezuela is so bad even Cubans are going "whoa," the German Supreme Court upholds Mohammedan child marriage, the IDF destroys a fifth Hezbollah terror tunnel (the entrance is at the corner of 8th Avenue and West 41st Street), Trump, China and trade wars, can America liberate the west again (the other west, not California), the ACLU is a dangerous foreign entity, and Putin is crowing about his latest Estes rocket.
Domestically, a good example of the second amendment in practice, Mother Jones is not cheering for Ruth Bader-Meinhoff, no cheering for a new Columbus soccer stadium, father who faked his death 47 years ago leaves his kids on the hook for $100,000 with Social Security, a look at that incident here in NYC where bums surrounded and attacked a cop, on the heels of the greatest single day performance on Wall Street we have great news on holiday sales receipts, Pennsylvania wants money back from companies it gave money to that failed to meet job creation promises and an analyst says outsourcing is what caused GM to cut jobs, not Trump's tariffs.
In healthcare, New Jersey is infectious - literally, and a look at the recent Texas Obamacare ruling in context to ambiguity, severability and the like. The Education department has anything but with stories about a teacher doing the Carlos Danger with a student, a teacher raped by a student could get $3 million in compensation and UMass is in a tizzy over language (what else?).
Over in the Red-Green area, the Japs are going whaling again and IBD exposes the utter disaster of what this Democrat-Left "Green New Deal" could unleash.
From hither and yon, the Chicago Women's March has been called on account of weather... controllers, Christian Toto on the glories of celebrity virtue-signaling, Loopy Ocasio-Fiasco gives Reverend Ike Comey a run for his money, a couple of links on religion and The Bible as positives in our lives (you'd never know it by watching today's media), archaeologists dig up actual reference to Pontius Pilate and Walter Williams rails against "equality."
Anyway, links from around the world, across the nation and up your street. Have a better one and remain blessed.


BORDER WALL, MIGRANT INVASION, AMNESTY, IMMIGRATION, BORDER SECURITY


posted by at
08:00 AM
|
Access Comments