« Democrats Created Fake "Russian Bots" to Help Doug Jones Win the Alabama Special Election Against Roy Moore
|
Main
|
The Morning Report - 12/27/18 »
December 26, 2018
Wednesday Overnight Open Thread Day After Christmas Edition (12/26/18 )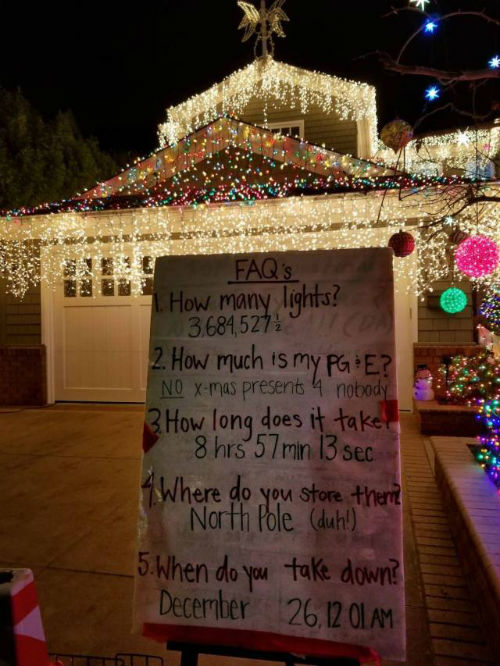 ***
The Quotes of The Day
Quote I

(Syria)It is only our circus and our monkeys if we stay long enough. Time to go. If we need to come back and break more things and kill more people for a few months, then fine - we'll do it. CDR Salamander

Quote II

"It was structured along the lines of a furniture-renting place. From the animal side of it, how do you, under law, consider it property just like a couch? Attorney Alan Borden
***

Dollar stores. God send or tools of the greedy capitalists?

It has become an increasingly common story: A dollar store opens up in an economically depressed area with scarce healthy and affordable food options, sometimes with the help of local tax incentives. It advertises hard-to-beat low prices but it offers little in terms of fresh produce and nutritious items—further trapping residents in a cycle of poverty and ill-health.

A recent research brief by the Institute of Local Self Reliance (ILSR), a nonprofit supporting local economies, sheds light on the massive growth of this budget enterprise. Since 2001, outlets of Dollar General and Dollar Tree (which bought Family Dollar in 2015) have grown from 20,000 to 30,000 in number. Though these "small-box" retailers carry only a limited stock of prepared foods, they're now feeding more people than grocery chains like Whole Foods, which has around 400-plus outlets in the country. In fact, the number of dollar-store outlets nationwide exceeds that of Walmart and McDonalds put together—and they're still growing at a breakneck pace. That, ILSR says, is bad news.

"While dollar stores sometimes fill a need in cash-strapped communities, growing evidence suggests these stores are not merely a byproduct of economic distress," the authors of the brief write. "They're a cause of it.

My experience with Dollar stores? I don't go grocery shopping there. But they do have items that aren't found in any other stores in our town. I rather like our Dollar General. Isn't that what capitalism is? Providing a product/service which the people want?
***

Say "Good-bye" to a storied program at the University of Nevada-Reno. Historic rifle team to be disbanded.

One of the most successful Division I rifle programs in the country will be no more after next Fall. The University of Nevada's athletics department announced last week that they will end the Wolf Pack Rifle Team at the conclusion of the 2018-19 season, replacing it with a cross-country team.

University President Marc Johnson said the moves "best represent Wolf Pack athletics in the current intercollegiate athletics landscape and our future within the NCAA and the Mountain West Conference," stressing the school will continue to fully support the rifle program through the current season.
***

Truth or Bull Shit? Tesla drivers picked on in North Carolina?

In what appears to be an act of protest against Tesla, a bunch of pickup truck drivers used their trucks to block access to a Supercharger station and reportedly yelled profanities about Tesla until they were removed from the premises.

The incident happened in Hickory, North Carolina last weekend.

A Tesla owner and Reddit user Leicina stopped to charge at the local Supercharger station located next to a Sheetz, but all the stalls were blocked by 3 large pickup trucks
***

Sorry Bub Robert Cenedella, maybe you're not that good. Sounds like a conspiracy.

The art business is notoriously hard to break into and extremely difficult to make a name in. Some artists get depressed and blame themselves. Others curse critics. The painter Robert Cenedella, subject of a 2016 film called Art Bastard, which characterizes him as an "outsider" and the "anti-Andy Warhol," thinks there's something much bigger at play.

Cenedella believes there's a conspiracy among major museums, galleries, collectors, and auction houses to keep demand and prices high for a chosen few contemporary artists, and in February he filed a class action lawsuit claiming a violation of antitrust law. The artist targeted five prominent New York museums that have rejected his work—the Metropolitan, Guggenheim, Museum of Modern art, New Museum, and Whitney—arguing that they are part of a cabal to eliminate competition in the art market. On Dec. 19, a New York federal court rejected Cenedella's claim but left the door open for more litigation.
***
The ONT Musical Interlude
&
***
Happy Hour is just that Happy Hour not the Grinch Who Stole Christmas and won Genius Award Winner.

GREEN BAY, Wis. — Investigators say a 61-year-old Wisconsin man was arrested for tearing down a neighbor's Christmas decorations while drunk and naked.

The Green Bay Gazette reports that Gregory Brannigan faces misdemeanor charges of disorderly conduct and resisting an officer.

A criminal complaint shows Brannigan's neighbor called police Wednesday after to report that he was naked, kicking her door and tearing down her decorations. The neighbor told police Brannigan appeared intoxicated.
***

But you were there to save them. Tonight's Feel Good Story of The Day.
***
Tonight's ONT has been brought to you by Christmas Sweaters.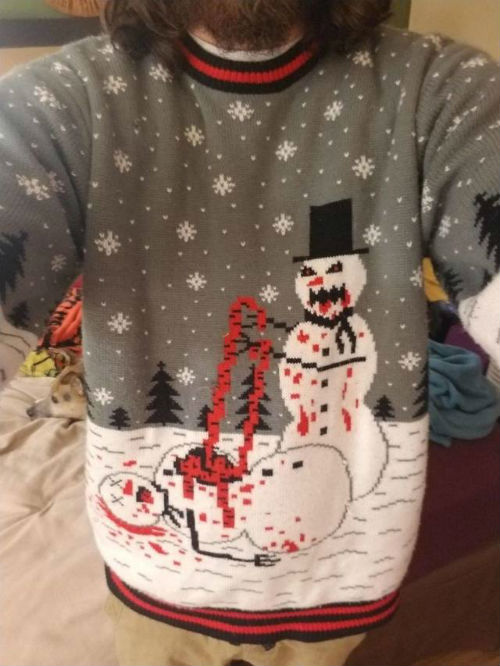 Notice: Posted with permission by the Ace Media Empire and AceCorp, LLC. Back away slowly and get your hands off the damn fruitcake.
&
&topic=world_news">

posted by Misanthropic Humanitarian at
10:01 PM
|
Access Comments