« EMT 12/23/18
|
Main
|
Maybe Kashoggi Wasn't The Saintly Journalist That The NeverTrumpers Would Like Us To Believe »
December 23, 2018
Sunday Morning Book Thread 12-23-2018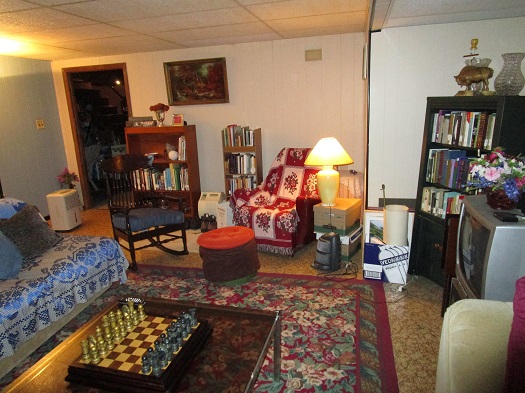 Home Library of Lurker 'Roc Scssrs'

Good morning to all you 'rons, 'ettes, lurkers, and lurkettes, wine moms, frat bros, and everybody who's holding your beer. Welcome once again to the stately, prestigious, internationally acclaimed and high-class Sunday Morning Book Thread, a weekly compendium of reviews, observations, and a continuing conversation on books, reading, and publishing by escaped oafs who follow words with their fingers and whose lips move as they read. Unlike other AoSHQ comment threads, the Sunday Morning Book Thread is so hoity-toity, pants are required. Even if it's these pants, which come to think of it, don't really qualify as pants. Because they're assless.

Pic Note
I like the comfy cozy look of this library. Roc Scssrs writes:
I recently retired and have been organizing (somewhat) the basement library. I think I've set myself up pretty well with a wintertime reading nook. The wood stove is in the room beyond, which is my wife's floral design studio, so I put the electric by Rocker #1 for added warmth. Rocker #2 was salvaged from the trash. I'm looking forward to utilizing both.
There's too much froofy stuff to call this a full-on mancave, but I wouldn't mind hanging out there. Click on it to see a larger version.

It Pays To Increase Your Word Power®
DOWNDRINS is an old English dialect word for an afternoon drinking session.
Usage: After getting schlonged by Donald Trump for the second time in 2020, Hillary retired to Downdrins Abbey (on the outskirts of Whiskey-On-Rye) where she spent the rest of her days.


Merry Christmas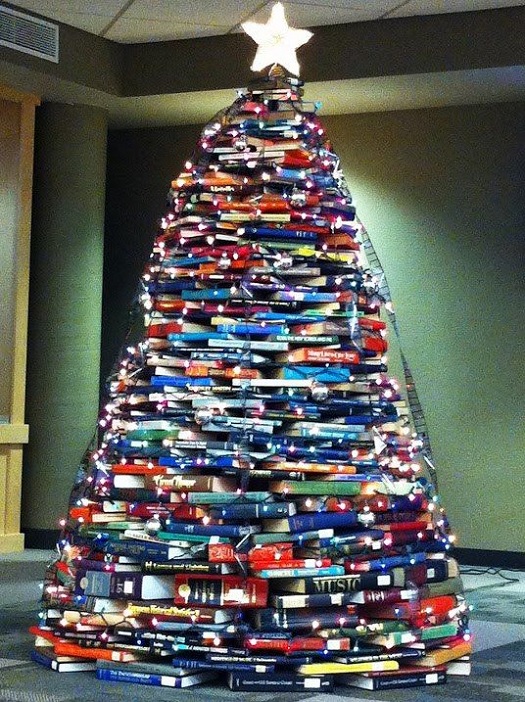 Coddling:
Here is the book he is talking about,
The Coddling of the American Mind: How Good Intentions and Bad Ideas Are Setting Up a Generation for Failure
by Greg Lukianoff and Jonathan Haidt:
Something has been going wrong on many college campuses in the last few years. Speakers are shouted down. Students and professors say they are walking on eggshells and are afraid to speak honestly...How did this happen?

First Amendment expert Greg Lukianoff and social psychologist Jonathan Haidt show how the new problems on campus have their origins in three terrible ideas that have become increasingly woven into American childhood and education: What doesn't kill you makes you weaker; always trust your feelings; and life is a battle between good people and evil people. These three Great Untruths contradict basic psychological principles about well-being and ancient wisdom from many cultures. Embracing these untruths—and the resulting culture of safetyism—interferes with young people's social, emotional, and intellectual development. It makes it harder for them to become autonomous adults who are able to navigate the bumpy road of life.
Lukianoff and Haidt are generally pretty good, but I'm not completely sold on the "good intentions" bit. I think that somewhere, and you may have to peel off a number of layers to see it, there are some bad intentions from evil people who are deliberately trying to f things up.

Moron Recommendation
I finished Bad Blood by John Carreyrou this week. It chronicles the rise and fall of Elizabeth Holmes and her house of cards regarding the Silicon Valley darling Theranos. Wow! What a read.

I knew the basics of this story but I had no idea of all of the (supposed) best and brightest who were involved; Mattis, Henry Kissinger, Larry Ellison, George Shultz, and Walgreens along with a host of others. Equally involved are the scum of the universe; Perkins Coe, the CIA, David Boies (name some familiar?) and on and on.

Fraud, suicide, legal harassment writ large, greed, and billions of dollars invested in something that never was. All under the direction of a mentally ill, pretty woman who spun a good tale. Astounding the number of folks that should have known better but could not be reasoned with.

This book has it all.

Posted by: Tonypete at December 16, 2018 09:08 AM (9rIkM)
The book is Bad Blood: Secrets and Lies in a Silicon Valley Startup by John Carryrou, the reporter who first blew the whistle on Theranos,
So how did Elizabeth Holmes pull off this scam?
Elizabeth Holmes leveraged her family's high profile connections to draw in early investors and supporters, who were not very inquisitive on details, nor very skeptical in nature. Drawing on the good name and reputation of these early supporters, she was able to build an impressive roster of other supporters with stellar reputations in tech and venture capital circles. From there, it was just a matter of stage managing the house of cards she was building.
according to the Theranos wikipedia page, the company was (finally) shut down in September 2018. Holmes and some other top executives are under indictment for fraud.

___________
70 I came across a book published last summer: "A Hobbit A Wardrobe and a Great War" by Joseph Loconte. At first I thought it would be another 'Tolkien and Lewis were in WW I and it influenced their writing'. In fact, Loconte provides the background of cultural and social changes that contributed to WW I and the disillusionment in religion and faith and established norms afterward. This was the world Tolkien and Lewis experienced growing up and as young men and their reaction to it as they wrote.

The book provides a lot of context of which I was only slightly aware. I found his arguments convincing. I will be re-reading Abolition of Man, Mere Christianity, and probably Surprised By Joy with a better understanding and more appreciation. It also explains why Tolkien can create phrases like "the long defeat" in LOTR and not despair.

I don't know if the author intended this, but much of what he describes from a century and more ago is replicated today and the consequences may be worse.

Posted by: JTB at November 08, 2015 09:54 AM (FvdPb
I'm reprinting this comment first published in a book thread from 3 years ago(!) because this book, A Hobbit, a Wardrobe, and a Great War: How J.R.R. Tolkien and C.S. Lewis Rediscovered Faith, Friendship, and Heroism in the Cataclysm of 1914-1918, was recommended to me by a friend of mine at church last week. He said he liked the book because he learned about all sorts of stuff, not just specifically about Lewis and Tolkien. He specifically mentioned eugenics as an example and how the overwhelming majority of the cognoscenti class were all in favor of it.
The Kindle edition is a reasonable $6.99. So onto my stack it goes.

___________
77 Ordered Zone 23. Was very impressed by an article on Paris Riots by this author.

Posted by: Puddin Head at December 16, 2018 09:41 AM (+fNrM)
Zone 23 by C.J. Hopkins is
...a darkly comic dystopian satire about being human, all-too-human, featuring two of the most endearing Anti-Social anti-heroes that ever rebelled against the forces of Normality. Set in the post-catastrophic future, in a peaceful, prosperous, corporate-controlled society where all dissent and non-conformity has been pathologized, and the human race is being genetically corrected in order to establish everlasting peace on Earth, Zone 23 is a hilarious, heartbreaking affirmation of the anarchic human spirit, and a defiant departure from the norms of both the genre sci-fi and literary novel.
The Kindle version is only $2.99.

___________
69 Just started "Saps, Blackjacks and Slungshots: A History of Forgotten Weapons"
By Robert Escobar

Timely and inspiring. There's antifa skulls that need cracking.

Posted by: Larsen E. Whipsnade at October 28, 2018 09:37 AM (bML9A)
When I read 'Slungshot', I thought it was a typo, but no, that's the actual title: Saps, Blackjacks and Slungshots: A History of Forgotten Weapons by Robert Escobar.
These unique fighting tools were feared for centuries and embraced equally by the law and the lawless like nothing else had been or would be until firearms became commonly available. They are best remembered, when at all, for being favored by real life muggers and fictional private detectives. They were however also used by police, soldiers, sailors, spies, cowboys and duelists in various times and countries. Following their trail takes the reader from New York City's infamous Bowery to the San Francisco Gold Rush, Paris's Moulin Rouge to Georgian era London and beyond. Encountered along the way is a cast of characters from the noble (Abraham Lincoln) to the ignoble (Al Capone), the literary (Shakespeare) to the musical (Frank Sinatra). For centuries they were an essential part of any tough guy's arsenal, the last vestige of this portrayed in classic noir films and books.
Sinatra, huh? It doesn't take much to imagine the Chairman smacking some punk around with a sap. Or maybe brass knuckles.
$7.99 on Kindle.
___________

Books By Morons
The first three Luna City books are all .99 cents in December only, so if you want some gentle escapism into the doings of a perfect little South Texas town - you are welcome. And if you have read and enjoyed the series, can I plead for some reviews? Amazon grants greater visibility to authors with more reviews, and at this point I need all that I can get.

Posted by: Sgt. Mom at December 16, 2018 09:23 AM (xnmPy)
The foibles of the eccentric folk of Luna City is a continuing series. This small Texas town is characterized by wacky goings-on such as:
...the high school football team is called the Mighty Fighting Moths … and their yearly Homecoming game is under some strange and irregular curse.

Where the last two members of a Sixties hippy nudist commune still still keep the faith with peace, love, and organic vegetables at the Age of Aquarius Campground and Goat Farm …

And a historic marker on Town Square marks the spot where a local bootlegger was nearly hung in 1926 for (among a long list of offenses against the laws of God and Man) impersonating a nun.
Here is the link to the first three
1. The Chronicles of Luna City
2. The Second Chronicle of Luna City
3. Luna City 3.1
99 cents each until the end of the month.

___________
Don't forget the AoSHQ reading group on Goodreads. It's meant to support horde writers and to talk about the great books that come up on the book thread. It's called AoSHQ Moron Horde and the link to it is here: https://www.goodreads.com/group/show/175335-aoshq-moron-horde.
___________
So that's all for this week. As always, book thread tips, suggestions, bribes, insults, threats, ugly pants pics and moron library submissions may be sent to OregonMuse, Proprietor, AoSHQ Book Thread, at the book thread e-mail address: aoshqbookthread, followed by the 'at' sign, and then 'G' mail, and then dot cee oh emm.
What have you all been reading this week? Hopefully something good, because, as you all know, life is too short to be reading lousy books.

posted by OregonMuse at
09:00 AM
|
Access Comments