« Tuesday Overnight Open Thread (12/18/18 )
|
Main
|
Mid-Morning Open Thread »
December 19, 2018
The Morning Report - 12/19/18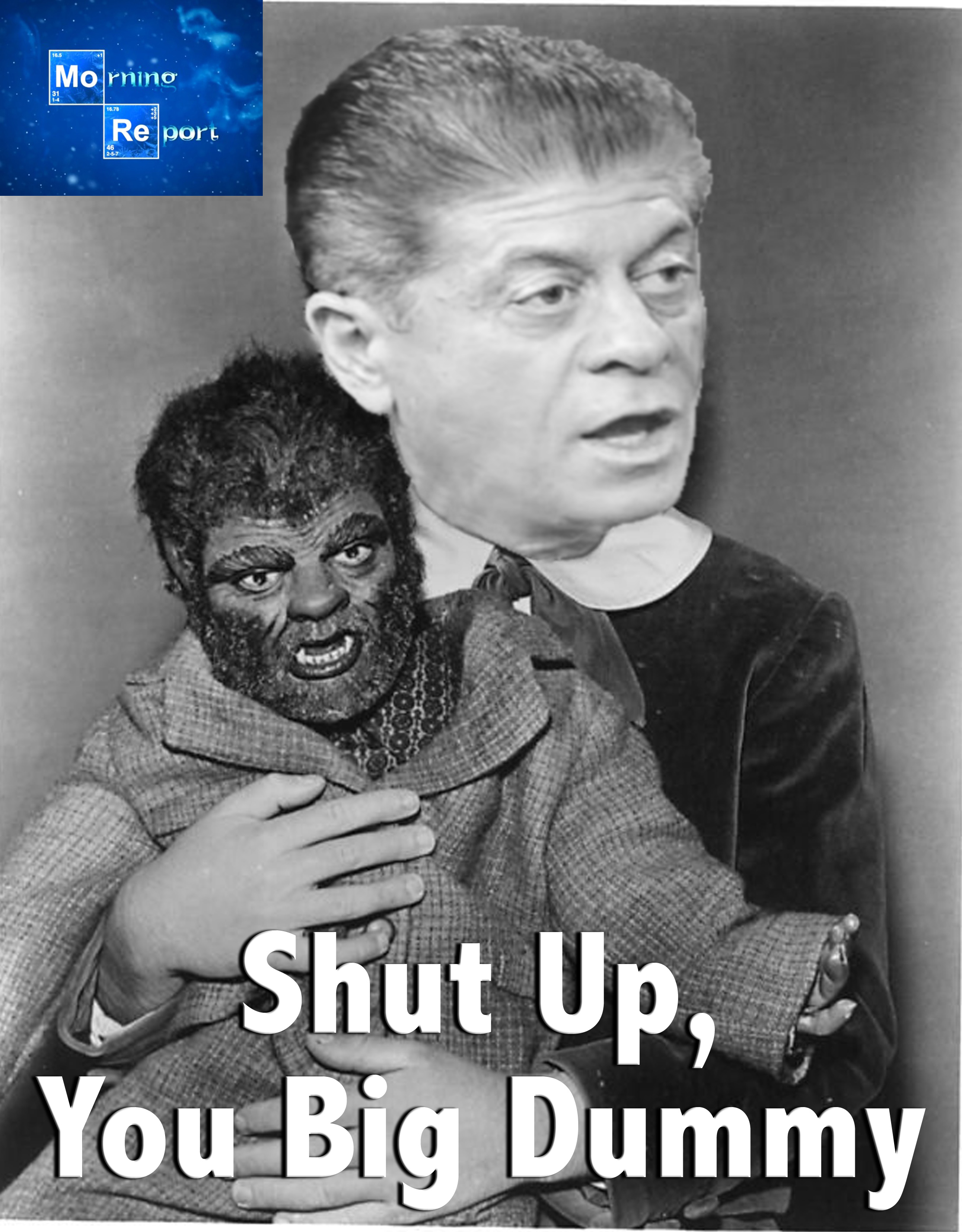 Good morning kids. Wednesday already (the older you get, the more you find yourself saying that, and every damn morning, not just on a particular day) so here we go. First up is the political fight over the funding for the border wall and its figuring into the phony kabuki-bukkake (no, that ain't Yiddish) theatrics of the so-called government shutdown. There were some very mixed signals coming from both the President and administration officials regarding his commitment to building the actual border wall as he had pledged and described since he stepped off the Trump Tower escalator in 2015. White House aide and adviser Stephen Miller said unequivocally it's $5 billion come hell or high-water or a shutdown while spokesperson Sarah Sanders seemed to indicate that the President would accept maybe as little as $1 billion and then somehow try and forage for funds from other departments. Naturally, the political ramifications - IF this is the case - would be devastating for Trump's prospects in 2020.
So, the $5 billion dollar question that everyone is pondering is is Trump caving? The eeyore contingent, the hair-on-fire panicky types as well as the gloating Dems and Coup-Cucks-Clansmen think he screwed the pooch. I'm not so sure about that. Remember, after all, this is Donald Trump we are talking about. Recall the previous meeting in the Oval Office from almost exactly a year ago with the likes of Feinstein and Durbin (gun control?) where we were all in freakout mode, including your humble news aggravator hisself, that the President was going to sell us down the river. And within 48 hours it turned out that he exposed them as frauds and tools. That was subtle, and last week's confrontation with Cuck and Palsi in which he pantsed the both of them on live TV was anything but. All that taken together, especially considering that this is the singular issue that got him elected (and he knows it) means that I am not going to throw in the white towel just yet.
There were quite a few commenters, naturally led by Soros rent-a-trolls who were sowing eeyorish discord in the comments and blaming Trump for all of the failures of the last two years. To which I reply, what failures? A roaring economy that is being sabotaged by Fed chairman Powell, leftist billionaires and the Wall Street donor class that are willing to take it in the shorts and wipe out a significant chunk of accumulated wealth over the past 2 years just to try and drive down Trump's approval rating (so as to make impeachment palatable/plausible), foreign policy triumphs, taking a wrecking ball to the regulatory state and, of course, the judicial appointments (jury's out on Kavanaugh). I maintain that whatever policy failings, the Obamacare repeal/replace fiasco, funding of Planned Parenthood, what we are seeing now with the wall funding as well as the continued generational theft via continuing resolutions and debt, and not to mention the loss of the House majority is squarely on the slouching shoulders of the GOP-e. And then there's the Mueller witch hunt which is a whole other thing in and of itself. But honestly, to blame President Trump for any of this is completely wrong. Believe you me; if he does do something catastrophically boneheaded on this or on anything else, I'll be the first to give it to him good and hard and loud. But for now, keep the faith and thank G-d for Trump.
Meanwhile, before we get to politics, news from Civil War 2.0 where the brave Antifarians are really nasty little punk-ass chickenshit tinpot tyrants with dark fantasies of repeating Babi Yar, and a New York state lawmaker illustrates the new civility that the Democrat-Left is world famous for.
In politics, Rabbi Dov Fischer speaks the emmes truth about shutting down the government, "MAGA" is now "Trump Victory" for '20, Joe "Slow Hand-Gentle Touch" Bidet's status as frontrunner doesn't bode well for Dems in '20, Irish Mickey O'Rourke getting money from big oil could damage his chances with the enviro-commies (what kind of oil exec gives money to Democrats?! [young ones, I guess]), Loopy Ocasio-Fiasco must hate black men since she is going to try and primary Hakeem "Spartacus-Doppelganger"Jeffries who is a Democrat rising star with the old guard, two links about Nancy Palsi being a sick, power-mad shrew, Dondi Rubio is an idiot, Gallup has poll numbers about what issues concern voters (I'd like to see the phrasing of the questions before drawing conclusions), and election thief Brenda Snipes is suing Rick Scott for doing to her what should've been done ages ago.
In Mueller witch hunt news, Andrew Napolitano spouts out that he thinks Mueller can indict the President as a result of Michael Cohen's testimony. So, a process crime based on a conviction for an act that wasn't illegal in the first place. The other hack-in-black still seated on the bench smeared Michael Flynn and delayed his sentencing for three months, Daniel Greenfield explodes the Russia myth, and the NY AG's office is set to ramp up the Trump persecutions via the SDNY.
To First Amendment and Fake News fakery we go, Facebook reportedly let other entities read your private messages, Tucker Carlson seems to be holding his own in the attempt to destroy is advertising base, Michael Savage (love him or hate him) may be being silenced, Patreon helps violent internal terrorists raise money but not normal Americans, the Christian baker who beat the homos is facing a new trial at the hands of the psycho trannies, and people in media are near the top of the suicide rate. They must believe their own headlines.
Two big 2-A links; first, the DoJ is all in on bump stock bans and confiscations (not good, Mr. President), and gun rights groups are going to fight any potential bans from Pittsburgh's lefty mayor.
To the foreign desk where the latest threats from Iran underscore the dire need for that damn wall (from the river to the sea! Rio Grande to Pacific [suck it PLO, I'm swiping it!]), the State Department is going to give $10 billion in aid to Mexico and Central American nations - and no wall - Yellow Jacket action continues with toll booths torched, trouble in NorK nuke talks, Nikki Haley flames the UN as she leaves the building, Russo-Japanese conflict in the Kuriles, a Paki government official should run for Congress from Minnesota, and a fascinating story of sharia law in Greece and a poor woman caught in the middle. Elsewhere, a look at that Green Beret charged with murdering an Afghani, and the Chi-Coms test fire a new ICBM with MIRV capability. Another Bill and Hill Joint brought to you by Loral Space Industries. Feh.
Meanwhile, the FBI evidently knew about the NYC Halloween truck driving jihadi before the attack last year, and Robert Spencer on the "Baby It's Cold Outside" brouhaha vis a vis Islam. Domestically, the Senate has passed the FIRST STEP bill and it's seen as a big win for Pop and Son-in-Law, California loses on that text tax attempt, Kavanaugh is totally cleared, and the exploding homelessness crisis in blue shit-holes. Also, Trump has come through for blue collar workers, and healthcare wonk Molly McCaughey has praise for the President.
In education, Victor Davis Hanson bemoans the death of liberal arts and places the blame, and Ed Sec DeVos is quietly doing great work dismantling Obama's Title IX nightmare. To Red-Green news where the President is vindicated in his predictions about shuttering coal and nuke plants, and Bill DeBolshevik's carbon schemes are a nightmare.
From hither and yon, a disturbing look at this Shout Your Abortion book, left-wing authoritarianism in America, Christian Toto on the critics hating Cheney biopic Vice but for all the wrong reasons and finally Humberto Fontova destroys Tim McGraw for being a useful idiot.
Anyway, links from around the world, across the nation and up your street. Have a better one and remain blessed.


MIGRANT INVASION, AMNESTY, IMMIGRATION, BORDER SECURITY

UPDATE: Just learned that Penny Marshall has passed away from complications from diabetes at 75. Obit in Hither and Yon. RIP

posted by at
07:54 AM
|
Access Comments