« Food Thread: Primitivo And Pig: A Match Made In Heaven
|
Main
|
Sunday Overnight Open Thread (12/16/18 ) »
December 16, 2018
Gun Thread: MOA vs Mils [Weasel]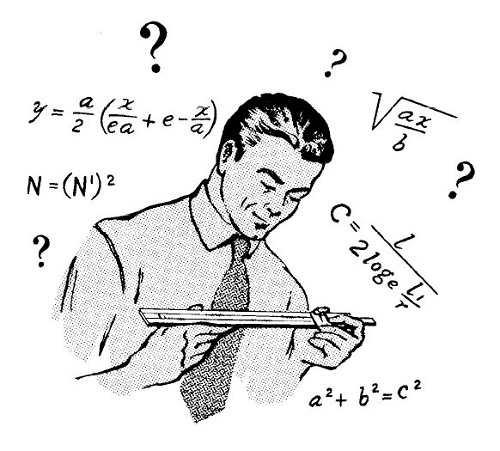 Math? I was told there would be no math!! Why is there math here?!
Last week, discussion in the comments turned to measurement conventions for riflescopes; MOA or Minutes Of Angle, and Mil or Milliradian. It occurred to me that not everyone may be familiar with the two and exactly what each is referring to. So at the risk of introducing math to the thread, let's take a look, shall we?

MOA - Minute(s) of Angle
MOA, or Minute of Angle, is simply an angular unit of measure describing the arc of a circle. A circle can be divided into 360 degrees, and one degree can be divided into 60 minutes. So one MOA is equal to 1/60th of one degree of arc.
On a flat rifle range, the target point straight in front of you is zero degrees elevation, and an imaginary point directly overhead is 90 degrees elevation, which really is just one quarter of a giant circle. One MOA is a teeeensy little wedge of that big angle. Good so far?
The nice thing about circles is the relationship between the radius and the arc remain constant. As the length of the radius increases, so does the arc. If we substitute the radius for range or distance to target, and the arc of the circle for elevation (or windage) we can compute a firing solution.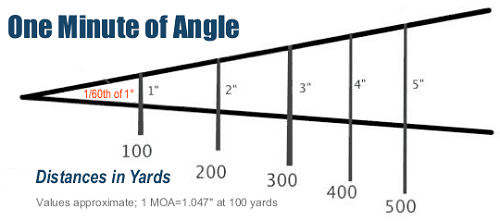 One Minute of Angle or MOA equals 1.047 inches at 100 yards. [trust me]. One MOA equals 2.094" at 200 yards (1.047x2), and 10.47" at 1000yds (1.047"x10), and so forth. The fractional amount of .047" or 47 thousandths per hundred yards is generally disregarded inside about 600 yards or so.
POP QUIZ:
John and Sue share a delicious Fuji apple, each eating 1/3. What is the value in inches of 1 MOA at 275 yards?
Mils or Milliradians
Mil stands for milliradian which is also an angular unit of measure describing the arc of a circle. A radian is the angle defined when the length of arc is equal to the radius of a circle. A milliradian is simply 1/1000th of one radian, and there are approximately 6.28 radians (rounded) in a full circle (2 x pi). Again, a very small wedge of a much larger angle.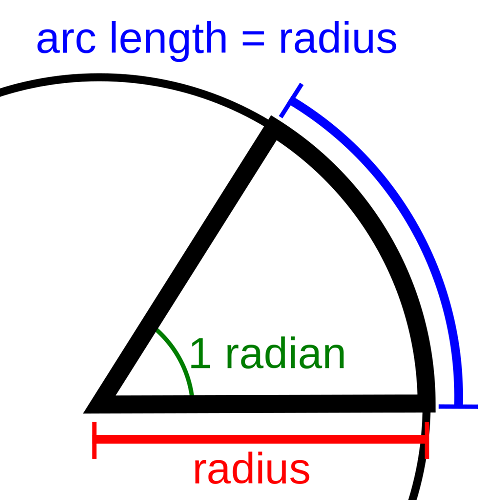 One Mil is equal to 3.6 inches at 100 yards. [trust me again]. One mil equals 7.2" (3.6"x2) at 200 yards, and 36" (3.6"x10) at 1000 yards, and so on.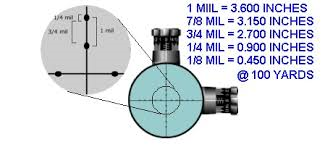 Fractional Mil adjustments at 100 yds

One Mil is therefore equal to about 3.6 MOA. To convert from MOA to mil, you multiply by 3.6 and to convert from mil to MOA you divide by 3.6

POP QUIZ:
A train leaves Chicago traveling west at 60 mph. What is the value in inches of one Mil at 625 yards?
Your shooting buddy has a mil scope and you have a MOA scope. He tells you he might be slightly gay, and the range to a target is 3.75 mils. How far away do you move your stuff in meters? What do you use for elevation in MOA?

So how is all this useful?
Well I'm glad you asked. Both conventions, the MOA and Milliradian are used to measure the angle, or elevation, of a rifle barrel above the horizontal. Well ain't that some shit! Math and geometry really are good for something!
Which is Better?
In my opinion, neither is clearly superior to the other. They both do the same thing and have very slight advantages and disadvantages (which are beyond the scope of this discussion - HA! See what I did there?) depending on the intended use. I see more scopes with Mil reticles on military rifles with targets ranged in meters and more MOA scopes on civilian competition rifles with targets ranged in yards. While there are slight differences, for example one MOA is a finer adjustment than one Mil, in the end I'd recommend using whichever system you like and are comfy with. The usefulness also depends a lot on matching the reticle to the intended use. I started using MOA riflescopes and will continue to do so because I don't see a reason to switch. If you like Mil scopes, then by all means use a Mil scope. If you're undecided, try both, and ask others who do the same type of shooting you do which they use, and why.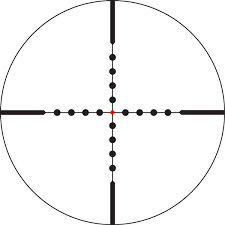 Mil DOT Reticle
Note in the reticle shown above, the distance between the 'dots' is one MIL, or 3.6 inches at 100 yards. Would you choose this scope/reticle combination if your intended use regularly included target shooting at 600 yards? Conversely, would it be a good choice for shooting larger targets at shorter distances where absolute precision was not a priority, but fast target acquisition was bigly important?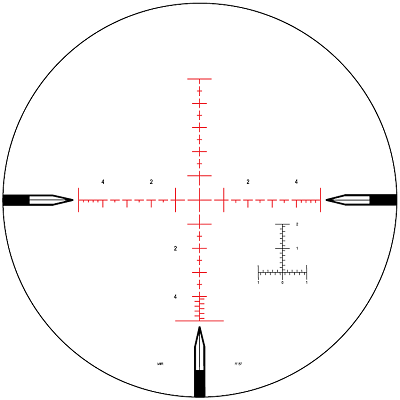 Nightforce MIL-RILL Reticle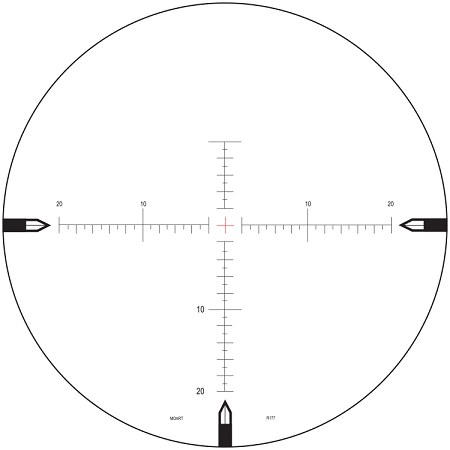 Nightforce MOA MOAR-T Reticle

Putting it to Use
Depending on the riflescope, rifles are commonly 'zeroed' at 100yds (MOA) or sometimes 100 meters (mil). It's a matter of preference, and some people zero their rifles at longer distances, but the majority of shooters generally use a 100 yd/m zero. What is zeroing a rifle? Simply put it's adjusting the scope so the point of impact occurs exactly on target at 100 yards or 100 meters with zero elevation or windage indicated on the scope.
Here's where the MOA and Mil business begins to matter. Say you're shooting a .308 with an MOA scope at 800 yds. Your data shows 27.3 MOA in elevation is required at this distance. You dial that in (27.25 MOA and hold the rest), take the shot and are high and right about 4 inches. Well at 800 yds, 1 MOA is 8.4" (1.047" x 8 = 8.4" rounded) so I'd take off 1/2 MOA in elevation and wind then hold verrrrrry slightly low and left, and take another shot. If your rifle scope has .25 MOA adjustment, that's two hash marks or 'clicks' of the elevation and windage knobs. Some scopes have finer .125" or eighth MOA adjustments per click and in that case you would want to dial down four hash marks or clicks to equal 1/2 MOA. Mil based scopes usually have 1/10th Mil adjustments.
What's important is the little knobs can be a great tool for making adjustments. They can also create a disaster if you start turning them in the wrong direction, like someone did on firing position 42 in the last relay of Match 3 at the SW Nationals in Phoenix, AZ on February 5th, 2016, or so I've heard. I try to set them at the start of a match and leave them alone during each string, holding for wind and elevation, unless the conditions really change.

A Very Brief Tutorial on Ranging
You're out shooting and didn't realize the fancy rangefinder you got for Christmas uses batteries. Oh no! What do you do? Well you can use your riflescope to determine range if you know the size of the target using the following formulas:
MOA Scope

target size (inches) x 95.5 / size (MOA) = range (yards)
Metric users, estimate target size in centimeters and substitute the constant 34.4 in the formula to determine range in meters.
Mil Scope

target size (inches) x 27.8 / size (mils) = range (yards)
Metric users, estimate the target size in centimeters and substitute the constant 10 in the formula to determine the range in meters.
A good video from our pals at Vortex Optics can be found HERE with examples of ranging with reticles.
One important point on using scopes to determine range to target - Second Focal Plane (SFP) scopes only range accurately at one specific magnification, while First Focal Plane (FFP) scopes range accurately across the entire range of magnification. Again, this is only important when using a scope to determine the range to target. The scope zero and other functions are the same for both types.
Note to Readers This is intended as an introduction to the terms and concepts, rather than an exhaustive look at the use of riflescopes. For those interested, I'm planning a little more in-depth thread on determining elevation and windage and the factors that affect them.

Link-O-Rama
Video: Understanding MOA
Article: Mil, MOA or Inches?
Accurate Shooter: Angular Measurement - Mil vs MOA
Article: MOA and Mil Summary
Target Ranging and Conversion Formulas
*******
***This Old Gun***

Astra 400 courtesy Warmongerel

This week's beauty of an Old Gun comes to us courtesy of Warmongerel, with an equally cool story to go with it:
My stepdad gave this to me 20+ years ago. It looked brand new so I figured that it was just some goofy 70's Eurotrash thing and put it in the safe and forgot about it. I looked it up a few years ago. It's an Astra 400 and it's almost 100 years old. They were made for the Spanish civil war and used by both sides. Some of them made it to Germany and were used by the Nazis instead of the Luger.
Very nicely done Warmongerel! Now have you bought a cookbook and signed up for the 2019 NoVaMoMe?
***This Old Cookbook***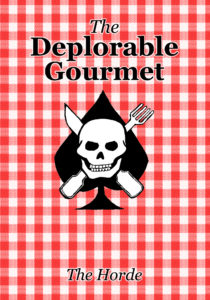 OK you clowns - buy a copy of the cookbook. If you already have one for your own bad self, then give one as a gift this season. Remember; it's only pennies per day, all proceeds go to charity, and if you don't buy a copy then bluebell will be sad.
And you wouldn't like bluebell when she's sad.
Yes! I want to be a WeaselWarrior and prevent sadness in bluebell!!
*************
IMPORTANT!
Finally Don't forget to mark your calendars for the NoVaMoMe on February 9, 2019. If you are interested, please email the organizers! There is also a link in the main page left sidebar.
*************
Please note the new and improved gmail account MoronGunThread for sending in stories and pictures. Again, that's morongunthread at gmail dot com. If you have a question you would like to ask Gun Thread Staff offline, just send us a note and we'll do our best to answer. If you care to share the story of your favorite firearm, send a picture with your nic and tell us what you sadly lost in the tragic canoe accident. If you would like to remain completely anonymous, just say so. Lurkers are welcome!
That's it for this week - have you been to the range?

posted by Open Blogger at
07:03 PM
|
Access Comments