« Overnight Open Thread (12-09-2018 )
|
Main
|
Mid-Morning Open Thread »
December 10, 2018
The Morning Report - 12/10/18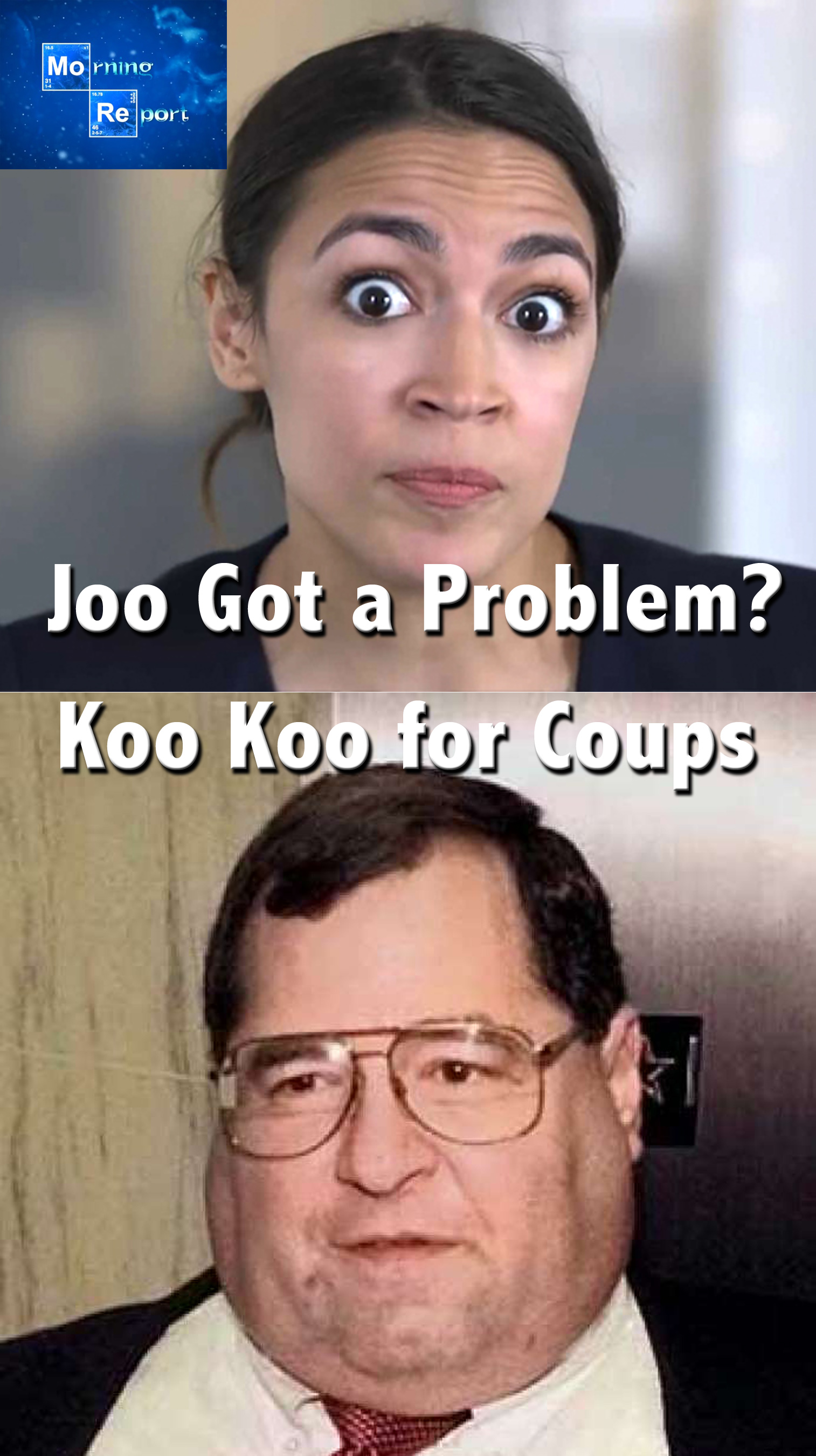 Good morning kids. Monday again and we have lots of linkages so here we go. The Mueller witch hunt and ongoing soft-ish coup against President Trump and We The People (E-Pleb-Neesta for any Yangs or Komes out there) takes the top slot for the first time in quite a while as the long-anticipated report from Torque-your-mudder Mueller is expected to be released. There will naturally be absolutely nothing of any substance or even remotely resembling this thing we call "the truth" insofar as the claims that the President conspired, collaborated, colluded or in any other way stole the 2016 election with the aid and assistance of Vladimir Putin. With regards to James Comey, the apple-robbing crooked cop who willingly allowed himself and the FBI to be used as a weapon to try and sabotage candidate and then President Trump, Daniel Sobieski over at American Thinker says it best: "Comey lied." His full essay on the subject is worthy of your time as is the usual outing from Victor Davis Hanson who unpacks the whole horrid thing. But the Democrats sure as night follows day will not allow a minor detail like the truth get in the way of using this mountain of nothingness to attempt to impeach the President once they officially preside over the House come late January. More on that later.
To the immigration and amnesty front we go where although things have seemingly quieted down on our southern border vis a vis the bought-and-paid for swarm of invading Central American peasantry intent on invading our country and claiming their right to citizenship (and our wallets), we have a Mexican national sentenced to 8 years for helping Bob Menendez with his love life, the US is adamantly opposed to the UN's effort to destroy our and the west's national sovereignty, more on that hack-in-black and thug DA who shielded an illegal alien criminal from ICE, and Humberto Fontova on the real refugees fleeing real tyranny that the media is strangely silent about.
To politics we go where the Sacramento Bee is having none of Kamala "Toe" Harris' Sergeant Schultz defense of her top aide's sexual harassment suit, John Kelly is set to ankle as chief of staff and Luap the Lesser is not happy with Trump's choice of Bob William Barr to replace him, Jerry Nadler, who wouldn't float if he was tied to the Hindenburg is seriously floating the idea of impeachment while, of all people, Maine Senator Angus King is warning of the implications if the Dems pull the trigger (which no doubt they will), Pew Research has an enlightening poll showing what happened after 8 years of Obama and SJW madness, Loopy Ocasio-Fiasco is mum about her support of Joo-haters, Schemer and Palsi are playing hardball over a potential government shutdown while the lame duck GOP is fighting hard to waste even more taxpayer dollars and line their pockets before time runs out, a look at the 2020 field from the Never-Trumper perspective, Tucker Carlson is wrong about blaming the President for the lack of a wall and Obamacare repeal, New York's lawmakers stink on ice and a very interesting case out of Massachusetts could have big implications if/when it reaches SCOTUS.
In First Amendment and Fake News Fakery news, the Media are total hypocrites when it comes to Heather Nauert's nomination to be UN Ambassador, Daniel Greenfield unpacks what the Leftist antipathy to Facebook is really all about, Loopy Ocasio-Fiasco lets her inner tyrant flag fly in response to Trump Jr., and more on that New York scheme to take away guns for wrong-think.
And segueing perfectly into the 2-A category, now that Jersey has effectively banned 10-round magazines, how are they going to enforce that law? And pint-sized putrid pre-pubescent punk Little Shitler Camera Hogg blasts Rubio and the Word of G-d, as well as a look at deconstructing the anti-gun cult.
At the foreign desk, I love Paris when it sizzles and evidently so does Belgium and the Netherlands, Canadians might torch Ottawa if Justin Trudeau pulls a carbon tax in Canuckistan, several essays on this Huawei incident including speculation from Spengler that the Deep State had the CFO arrested in order to torpedo Trump's trade deal with the Chi-Coms. Meanwhile, Deutchers go uber ballistic for guns, while Putin continues to make maneuvers around the globe including sending nuclear capable bombers to Venezuela to bolster Maduro, which also no doubt sends a message to Trump vis a vis Ukraine and the US Navy's maneuvering through disputed waters off of Japan. In related national defense category, the President taps General Mark Milley to head the JCoS and General McChrystal is putzing around in Afghanistan which begs the question, what the fuck are we doing there? And in the wake of the UN not condemning Hamas, the dark age pedophiles/bestiality enthusiasts celebrated by shooting up a pregnant Israeli woman. Meanwhile, an Irish professor in Paris had a little bit of an oopsie; he showed a drawing of Mohammed in his class and was stabbed to death.
Back over here, the US murder rate is taking a dive, a private prison operator in Illinois is pissing off the right/wrong people by actually reducing recidivism, a case involving the recouping of forced union dues is heading to SCOTUS, two essays on the US oil boom (thanks Obama, NOT), break up the Fed before they break us up, and a really interesting piece on Ron Wyden's wife getting mugged by reality here in the rotten apple. Also, a look at the fantasy of "free" healthcare, more on the Church sex abuse scandal, a Virginia high school teacher is fired for refusing to knuckle under to the transgender madness, and a good companion piece on the utter shambles (as intended by the Left) of American education.
In Red-Green enviro-Communism news, sea level rising is a hoax, Loopy Ocasio-Fiasco's plan to fight so-called "climate change" is an impossible and impossibly expensive shit-show, and California will now mandate expensive solar panels on all new houses. Hmm, what if I started a company to sell fake-but-accurate looking solar panels to the trade? Charge full price and give a 97% rebate - winning!
From hither and yon, two pieces on the Twitter shaming of Kevin Hart and the guy who just won the Heisman Trophy, the Left wants us to knuckle under and crawl and a look back at Alexander Solzhenitsyn on the centennial of his birth. Amazing how his words ring true today and serve as a warning to us. Hope we heed them.
Anyway, links from around the world, across the nation and up your street. Have a better one and remain blessed.


SPYGATE, MUELLER WITCH HUNT, DEEP STATE, COUP


posted by at
07:45 AM
|
Access Comments