« EMT 12/09/18
|
Main
|
You Will Be Forced To Celebrate! »
December 09, 2018
Sunday Morning Book Thread 12-09-2018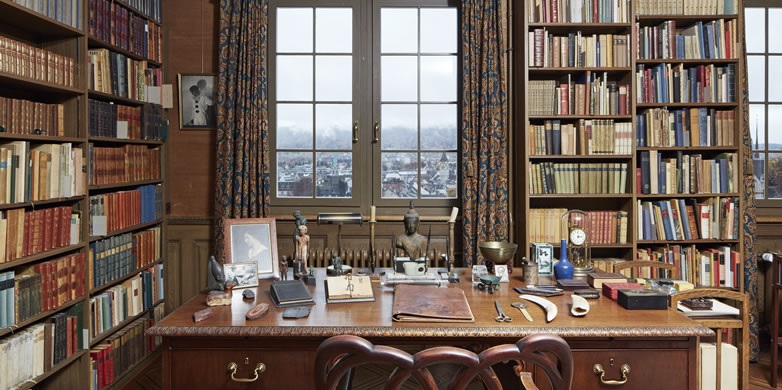 Thomas Mann Archive, Zurich

Good morning to all you 'rons, 'ettes, lurkers, and lurkettes, wine moms, frat bros, and everybody who's holding your beer. Welcome once again to the stately, prestigious, internationally acclaimed and high-class Sunday Morning Book Thread, a weekly compendium of reviews, observations, and a continuing conversation on books, reading, and publishing by escaped oafs who follow words with their fingers and whose lips move as they read. Unlike other AoSHQ comment threads, the Sunday Morning Book Thread is so hoity-toity, pants are required. Even if it's these pants, which do have one virtue in that at least match the rest of the suit.

WARNING: The Sunday Morning Book Thread May Be Hazardous To Your Wallet, Bank Account, Or Credit Rating.

Pic Note
Thomas Mann was an author, and social critic. Born and raised in Germany, he beat feet for Switzerland in 1933 when Donald Drumpf Adolf Hitler rose to power. His best known novel is probably his first one, Buddenbrooks: The Decline of a Family, which is considered a modern classic. It also earned him the Nobel Prize for Literature in 1929.


It Pays To Increase Your Word Power®
The use of a male pseudonym by a female writer is called PSEUDANDRY.
Usage: MSNBC's pseudandrous fussypants Don Lemon collapsed yesterday from an estrogen overdose.
The Joys of Reading

(click for larger version)


(h/t hogmartin)

Stocking Stuffers
In one of ths morning threads earlier this week, we were discussion bad Christmas music. MP4 offered:
There's a great book, I Hate Myself and Want to Die: The 52 Most Depressing Songs You've Ever Heard, which puts "The Christmas Shoes" right up there in the category of awfulness.

https://tinyurl.com/y7g3c3zw

Posted by: Mary Poppins' Practically Perfect Piercing at December 04, 2018 11:43 AM (kqsXK)
So, in the context of the title, I Hate Myself and Want to Die: The 52 Most Depressing Songs You've Ever Heard
Funny thing about this book is that, in the intro which you can read in the Kindle sample, the author describes the music that his parents played on the stereo that he, naturally, also had to listen to. And it is almost exactly the music my own parents listened to. Herb Alpert and the Tijuana Brass. Mantovani. Ray Coniff. Mitch Miller. I guess if you lived in the suburbs in the 60s, this was the stuff your parents listened to. I can still see the vinyl albums in the metal rack in the closet with the stereo that no-one except my dad was allowed to touch.
Lists like this are pretty subjective. My reactions while I waa going through the list were "that's bad","oh yeah, that one is really bad","why is this on the list?", "why did ever get air time?" and "oh gods, I had forgotten all about that one, why did you have to remind me?"
The same author has another compilation, Touch Me, I'm Sick: The 52 Creepiest Love Songs You've Ever Heard.
The Kindle edition of both books goes for $4.99. From the samples, they look like amusing reads for an afternoon when you've got nothing else to do.
___________
Of course you know that Ramen noodles are a favorite among college students, but did you know that they're a highly sought after by the criminal population doing time? According to the "unique and edgy" cookbook, Prison Ramen: Recipes and Stories from Behind Bars,
Instant ramen is a ubiquitous food, beloved by anyone looking for a cheap, tasty bite—including prisoners, who buy it at the commissary and use it as the building block for all sorts of meals. Think of this as a unique cookbook of ramen hacks. Here's Ramen Goulash. Black Bean Ramen. Onion Tortilla Ramen Soup. The Jailhouse Hole Burrito. Orange Porkies—chili ramen plus white rice plus ½ bag of pork skins plus orange-flavored punch. Ramen Nuggets. Slash's J-Walking Ramen (with scallions, Sriracha hot sauce, and minced pork)
This cookbook contains

...more than 65 ramen recipes and stories of prison life from the inmate/cooks who devised them, including celebrities like Slash from Guns n' Roses and the actor Shia LaBeouf.
Shia LaBeouf is in prison? Right.
There's a forward by Samuel L. Jackson, but it isn't much.
The Kindle edition goes for $7.78. For the incarceration-challenged individuals in your life.
I liked this bit about the authors:
Coauthors Gustavo "Goose" Alvarez and Clifton Collins Jr. are childhood friends—one an ex-con, now free and living in Mexico...
Heh. This suggests that he checked himself out of the prison early.

Moron Recommendations
271 Thank you to the Moron who recommended Richard Feynman's the Pleasure of Finding Things Out.

Feynman was the father of nanotechnology and was a member of the research team for the Manhattan Project, among other accomplishments...like winning the Nobel Prize in Physics and investigating the Space Shuttle Challenger explosion.

The book was a fun, quick read of a collection of his speeches and interviews over the years. He had an interesting take on science and scientists...going so far as to say things like, 'there is quite a considerable amount of intellectual tyranny in the name of science'. He didn't like honors, despite winning the Nobel; He was an original thinker.

I highly recommend this book.

Posted by: squeakywheel at October 28, 2018 11:56 AM (0vKHu)
The Amazon blurb for The Pleasure of Finding Things Out: The Best Short Works of Richard P. Feynman
The Pleasure of Finding Things Out is a magnificent treasury of the best short works of Richard P. Feynman—from interviews and speeches to lectures and printed articles. A sweeping, wide-ranging collection, it presents an intimate and fascinating view of a life in science-a life like no other. From his ruminations on science in our culture to his Nobel Prize acceptance speech, this book will fascinate anyone interested in the world of ideas.
Feynman is an old-school scientist who says embarassing old-school sciencey things such as:
First you guess...Then you compute the consequences. Compare the consequences to experience. If it disagrees with experience, the guess is wrong. In that simple statement is the key to science. It doesn't matter how beautiful your guess is or how smart you are or what your name is. If it disagrees with experience, it's wrong.
Pretty sure that's WhiteSupremacy™.
___________
Think politics are bad now?
20 Just started The Field of Blood: Violence in Congress and the Road to Civil War by Joanne B. Freeman.

It was a violent time, what with westward expansion, Indian uprisings, and the fight over slavery. Politics was also rough. "There was hand-to-hand combat and rioting at polling places. At one memorable occasion in Washington in 1857, three nativist gangs – the Plug Uglies, the Chunkers, and the Rip-Raps—joined forces to terrorize immigrants casting votes, causing a riot."

Fun fact: "In 1837, when a representative insulted the Speaker during a debate, the Speaker stepped down from his platform, bowie knife in hand, and killed him. Expelled and tried for murder, he was acquitted for excusable homicide and reelected, only to pull his knife on another legislator during debate, although this time the sound of colleagues cocking pistols stopped him cold."

And of course the most famous incident, the caning of abolitionist senator Charles Sumner in 1856. Did not know: Alaska Republican Don Young threatened John Boehner with a knife right in the House Chamber. Boehner stared him down and they parted, the matter ended (they later became friends). Even better: Young angrily shook the penis bone of a walrus at an Interior Department official who wanted to restrict hunting.

Posted by: All Hail Eris, She-Wolf of the 'Ettes 'Ettes at December 02, 2018 09:48 AM (kQs4Y)
But, as the Amazon blurb says:
These fights didn't happen in a vacuum. Freeman's dramatic accounts of brawls and thrashings tell a larger story of how fisticuffs and journalism, and the powerful emotions they elicited, raised tensions between North and South and led toward war. In the process, she brings the antebellum Congress to life, revealing its rough realities—the feel, sense, and sound of it—as well as its nation-shaping import. Funny, tragic, and rivetingly told, The Field of Blood offers a front-row view of congressional mayhem and sheds new light on the careers of John Quincy Adams, Henry Clay, and other luminaries, as well as introducing a host of lesser-known but no less fascinating men. The result is a fresh understanding of the workings of American democracy and the bonds of Union on the eve of their greatest peril.
The Field of Blood: Violence in Congress and the Road to Civil War advertises itself as the "previously untold story of the violence in Congress that helped spark the Civil War."
Therefore, from history we know that civil wars are proceeded by beatings, knifings, and shootings in the national legislature. Not sure how that's going to work out nowadays when one side doesn't believe in gun ownership. Fortunately for us, it's the other side.
On the other hand, other countries tolerate a considerable level of violence in their legislative bodies You can watch videos on YouTube of bench-clearing brawls in the Taiwanese and SoKo parliaments. They're actually kind of fun to watch.

Books By Morons
Moron author scrood e-mails:
My FIVE Kindle eBooks including "Let's Hack Diabetes", "Let's Hack Heart Disease", "Let's Hack Mental Illness" will be free Sunday, Dec 9th!
More info and links here.
___________
If you like, you can follow me on Twitter, where I make the occasional snarky comment.
___________
Don't forget the AoSHQ reading group on Goodreads. It's meant to support horde writers and to talk about the great books that come up on the book thread. It's called AoSHQ Moron Horde and the link to it is here: https://www.goodreads.com/group/show/175335-aoshq-moron-horde.
___________
So that's all for this week. As always, book thread tips, suggestions, bribes, insults, threats, ugly pants pics and moron library submissions may be sent to OregonMuse, Proprietor, AoSHQ Book Thread, at the book thread e-mail address: aoshqbookthread, followed by the 'at' sign, and then 'G' mail, and then dot cee oh emm.
What have you all been reading this week? Hopefully something good, because, as you all know, life is too short to be reading lousy books.


posted by OregonMuse at
09:15 AM
|
Access Comments