« Chess Thread 12-01-2018
|
Main
|
Saturday Overnight Open Thread (12/1/18) »
December 01, 2018
Saturday Evening Movie Thread 12-01-2018 [Hosted By: TheJamesMadison]
A Lost Treasure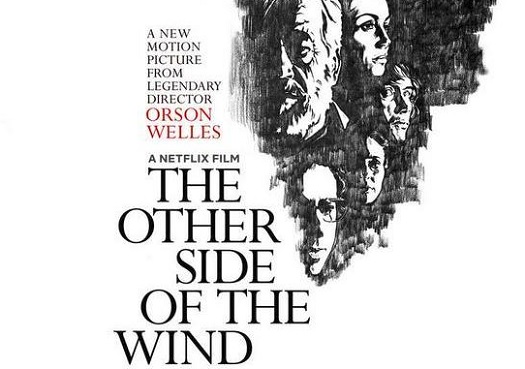 Orson Welles, a man dead for over 30 years, had his last directorial effort, The Other Side of the Wind released in the past month. It's not often that one of the masters of an art form gets such an event.
And so, I think we should take this opportunity to celebrate one of the most gifted visualists in the medium's history, who was alternatively praised and shunned by the town that he wanted to love.
The Citizen Arrives
Orson Welles was a wunderkind of the theater and radio worlds. His baritone register recited Shakespeare or warned of alien invasions, and no matter what he said, it sounded good. His first foray into the movie world gave him the idea short term opportunity: complete creative control over his first movie, Citizen Kane.
The movie was a very thinly veiled and fictionalized recreation of the life of William Randolph Hearst, the news mogul of the early 20th century. No matter the artistic merits of the film, Hearst saw the film as an attack and did everything in his power to bury the film. Hollywood largely followed along, nominating the film for several Oscars and giving it only one for Best Original Screenplay (an award Welles shared with Herman Mankiewicz). It lost the Best Picture award to How Green Was My Valley (in my opinion, a lesser work of John Ford's filmography).
The film itself these days really gets talked up for its technical merits (which are grand), but the focus on the technical aspects of the film really detracts from the narrative heft of it. We are tasked, along with our faceless newsman character, to get to know who Charles Foster Kane was as a man. The newsreal that opens the film ends up covering almost every single plot point in the film, but we know that a 10 minute short doesn't get to the heart of who a man who led a 70 year life actually is. So, we go along with our newspaper man as he interviews figures from Kane's life, and they provide a largely cohesive picture of what kind of man Kane was. And yet, the opening word of the film, "Rosebud", remain a mystery.
The final shots of the film provide a potential answer. Rosebud is the name on the old sled from Kane's childhood, but what does that even mean? Was Kane pining for a piece of old wood? Was he yearning for the lost innocence of his youth? For the simplicity of life with his mother and father before his mother won that mining contract from a deadbeat tenant? I think the answer isn't really an answer: We can't know. What Rosebud meant to Kane died with him. He hadn't mentioned the word Rosebud his whole life, as far as we can tell, and yet it was the last thing on his mind. It does imply the loss of something that he'll never get back, something no amount of collecting art from Europe will replace no matter how hard he tries.
I do love Citizen Kane. It's a wonderfully complex work that does use all of the tricks that the early sound era had to offer. It also contains what might be my single favorite shot in film history:

Not Quite Magnificent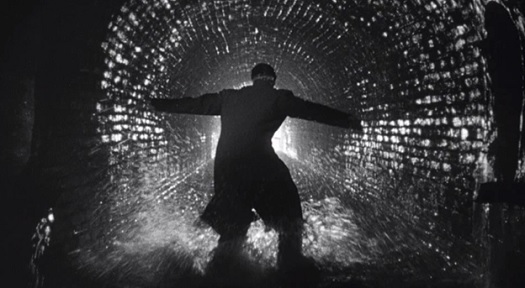 The contract that Welles signed with RKO did give him complete control over Citizen Kane, but it also ceded control of every other project he would work on with them to the studio. He no longer had final cut. He adapted The Magnificent Ambersons next, the tale of the downfall of a great family. Welles used his normal troupe of actors, particularly Joseph Cotton, and designed a wonderful set for the family's house, but when Welles got shuttled off to Brazil near the end of post-production, the studio cut forty minutes from the film and re-shot the ending to match the ending of the book. Oh, and they burned the material that they cut.
Welles didn't take the situation well, and he never worked smoothly with studios ever again. He did take director for hire jobs (The Lady from Shanghai and The Stranger along with Touch of Evil), but for anything that we could remotely classify as a passion project, he used his own money. The problem was that while Welles was a famous man and his first film just grew in reputation as the decades began to roll by, Welles was never particularly rich. Filming his Othello took years. In the middle of filming, he actually took what is probably his most famous acting job as Harry Lime, the charming and evil antagonist in Carol Reed's The Third Man.
This pattern continued for the rest of his life. While the film world grew to love Citizen Kane, they'd love to meet the man who made it, but they'd refuse to give him money for the movies he actually wanted to make. And when studios did hire him outright to direct a movie, they treated him with incredible disrespect. The passion in the notes that Welles wrote to the studio after he saw how they initially recut Touch of Evil is evident from the beginning. He took the job for the money and hired Charlton Heston to play a Mexican policeman at the behest of the studio, but he still threw himself into the film. He gave it every ounce of his creative energy to make it great, and the studio cut it up.
Thankfully, unlike The Magnificent Ambersons, the studio didn't destroy the footage of Touch of Evil, so that, years later in 1998, a group of film veterans (led by editor Walter Murch) found the 57 page memo Welles had written in 1957 and did everything they could to recreate what Welles had first put together. Most people consider Touch of Evil to be his best later movie.
Those people are wrong.
Chimes at Midnight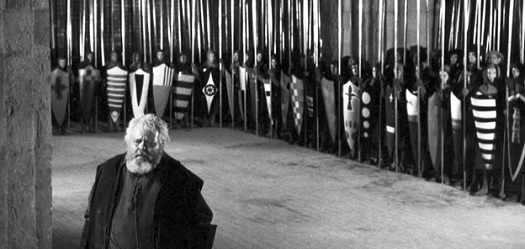 I've spoken about Welles' film about Falstaff before, but I don't think enough can be said about it. The movie has an emotional weight that I don't think any of his other films match. It's an absolute wonder to look at. His mis-en-scene in Chimes is unparalleled in his filmography.
It's obvious that Welles had developed a great love for the lovable oaf that is John Falstaff, the comic character that appears in five Shakespeare plays from The Merry Wives of Winsor to Henry IV: Part II, and he translates that to screen in a condensed story that turns him into a marvelous tragic character.
It suffers from many of the same technical limitations as Welles' later work. Sound mixing is perhaps best described as a bit chaotic. He often filmed silent (which is a money saving technique) and needed to redub most, if not all, of the movie in post-production. His editing style also leads to moments where we need lines of dialogue spoken by a character at certain points, but he never had the right footage for that moment, so mouths sometimes don't match dialogue (oftentimes you just see the back of someone's head when they talk).
And yet, the Battle of Shrewsbury is more influential to film that anything else he ever did. He never had more than 100 extras, and the battle feels that much larger because of how he shot and edited the sequence, creating an impression of a much larger battle than what he ever had access to. The seemingly random cutting of shots to display chaotic action, while still managing to follow the bulbous Falstaff as he runs around the battlefield, trying to avoid any conflict, is a technique evident in almost every battle scene filmed since.

The Other Side of the Wind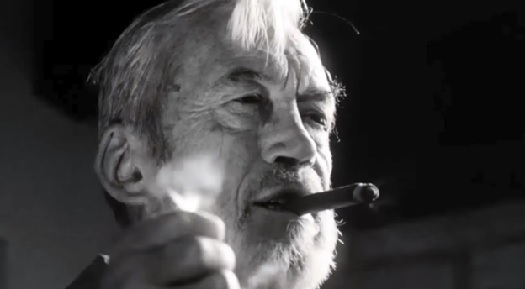 I've waxed poetic enough about Welles. I love him as a director, and he was misused by the industry his whole life. I wish he had received the kind of financial support he more rightfully deserved. However, the tale of Welles does continue a bit. The last major project that Welles embarked on, first started fifteen years before his death, was a movie about the film industry itself: The Other Side of the Wind.
He filmed off and on, as had become his style, so to speak, for several years from 1970 to 1976. When they hired John Huston to play the central character it was 1974. Welles just simply could not settle on funds to last him long enough for a concentrated shoot. It didn't help that, allegedly, one of the investors embezzled half of the budget at one point. Shooting eventually petered out in 1976. Welles then went into editing full time (he had been editing in between shooting).
Then, even more financial disaster struck. One of Welles' financiers had been the Shah of Iran's brother in law. When the regime fell, the rights to the film became somewhat murky, so murky, in fact, that a French court ordered that Welles didn't own the film and that it had to go into a vault. Welles was never able to work on the film again.
Near Welles' death, he extracted a promise from a friend of his, the director Peter Bogdanovich (who actually played the secondary character in the film) that Bogdanovich would finish the film at some point. By all accounts, he did try to secure the rights over the years since Welles' death, as well as funds to finish post-production, but it took Netflix to bring it all together.
And here we are, in 2018 with a new Orson Welles film thanks to his own tireless industry, Iranian regime change, French courts, Peter Bogdanovich, and Netflix for the circuitous route that the film saw.
And what of it? Rumor had percolated for years that it was the true masterpiece of Welles' filmography, perhaps even challenging Citizen Kane in terms of quality.
I think the movie is good. It feels like an angry attack on everyone involved in Hollywood from producers to actors to friends and to sycophants. The anger is playful, but it's still anger. The irony, of course, is that despite the evident disdain for Hollywood, Welles desperately wanted to be part of it again. He loved movies, and the one place in the world that makes movies on the grandest scale has been Hollywood.
The film within the film (also called The Other Side of the Wind) feels like a satire of contemporary art films and, in particular, certain foreign directors (like Antonioni), and it's quite a sight to behold. It's very much not a Welles picture (as he explains in an interview about the film in the companion documentary They'll Love Me When I'm Dead), but he so effortlessly evokes what he seems to believe to be a cinema of empty and gratuitous style.
The central relationship of the outer film between John Huston and Peter Bogdanovich, I felt, was a little underdeveloped, but the documentary provided a good bit of background to what was most likely the inspiration (the relationship between Welles and Bogdanovich) meaning that I'll probably get more from a second viewing now than I would otherwise.
I'm really happy that Netflix decided to fund this project. I don't care their reasons (altruism, in order to curry favor from the film community, insanity), I'm just happy that they did it. Now, Welles still has a few other nearly complete projects left to manage (like The Deep), so perhaps they can get on those.

Conclusion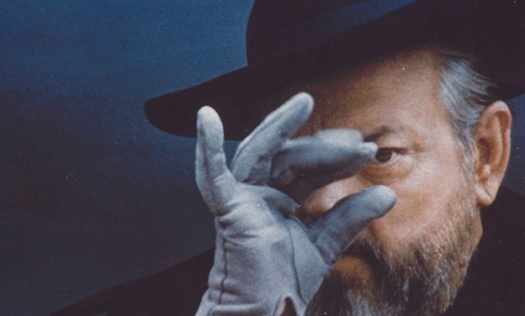 For those who are a bit more casual about movies than I am (of which I imagine that to be just about every single one of you with a couple of exceptions), this may feel like a tempest in a teacup. But really, despite me not falling head over heals in love with The Other Side of the Wind, this is a rather monumental thing that has just happened.
The passion project of the quasi-pariah genius of Hollywood who's been dead for 33 years found a home where those who had the ability and a certain mindset were able to assemble the final pieces of his final film into a cohesive whole. For all of us weirdos who spend way too much time thinking about art that's nearly a hundred years old, this is gigantic. Almost no one has seen this movie in any form ever before a few weeks ago. Welles had completed parts of it (showing snippets at an AFI event in 1975), but not the whole thing. Is the final product exactly as Welles would have created it? Most likely not. However, much like Touch of Evil, it's probably the closest we'll ever get.
This is like discovering that Emily Dickenson had a complete collection of poetry hidden under her mattress since her death, or da Vinci had created another masterpiece but no one had laid eyes on it since the 16th century. This is akin to finding a trove of Greek drama previously unknown to exist, or a lost Shakespeare play.
No matter how good or bad the hypothetical works above might or might not be, it would be, and should be, an event of cultural importance. So is the same with The Other Side of the Wind. No, it's not as good as Citizen Kane, Chimes at Midnight, F for Fake, The Trial, or even The Stranger, but it's still the work of a master of an artform.
I highly recommend a patient watch of the film for its historic value, but also for its artistic value (of which it definitely has). In addition, the documentary that Netflix assembled, They'll Love Me When I'm Dead is a wonderful look into the troubled, multi-year production.

Movies of Today
Opening in Theaters:
The Possession of Hannah Grace
Anna and the Apocalypse
Next in my Netflix Queue:
Altered States
Movies I Saw This Week:
Jane Eyre (Netflix Rating 4/5 | Quality Rating 3/4) Poster blurb: "Well produced adaptation that feels too short, which blunts its emotional impact." [Netflix DVD]
The Spanish Prisoner (Netflix Rating 4/5 | Quality Rating 3/4) "Engaging and fun whodunit that feels like a riff from Mamet in between serious stuff." [Netflix DVD]
Pelle the Conqueror (Netflix Rating 4/5 | Quality Rating 3/4) "Without two extra subplots that drag the movie down, I might have loved this tender tale of a strong son outgrowing his weak father." ["Library"]
A Most Violent Year (Netflix Rating 4/5 | Quality Rating 3/4) "A solid period piece of a man who tries to stay moral and upright even in the face of overwhelming pressure." [Netflix Instant]
Stagecoach (Netflix Rating 5/5 | Quality Rating 4/4) [Rewatch] "Clean and precise storytelling, an absolute joy to watch." [Personal Collection]
Ready Player One (Netflix Rating 4/5 | Quality Rating 3/4) [Rewatch] "Very busy Spielbergian adventure that manages to largely reclaim the director's heart from the 80s." [Personal Collection]
The Other Side of the Wind (Netflix Rating 4/5 | Quality Rating 3/4) "Interesting, if a tiny bit inconsistent in some things. The central conflict could use more fleshing out, but it still works." [Netflix Instant]
They'll Love Me When I'm Dead (Netflix Rating 5/5 | Quality Rating 3.5/4) "A very interesting portrait of a production in constant chaos, often purposefully so." [Netflix Instant]
Brawl in Cell Block 99 (Netflix Rating 5/5 | Quality Rating 4/4) "An absolutely engrossing descent into Hell." [Amazon Prime]

Contact
Email any suggestions or questions to thejamesmadison.aos at symbol gmail dot com.
I've also archived all the old posts here, by request. I'll add new posts a week after they originally post at the HQ.

posted by OregonMuse at
07:06 PM
|
Access Comments