« Saturday Gardening Thread, December Starts [KT]
|
Main
|
Chess Thread 12-01-2018 »
December 01, 2018
Ace of Spades Pet Thread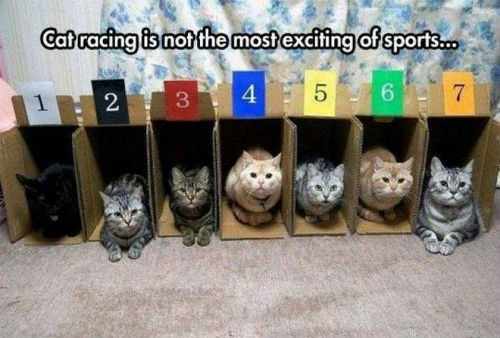 ***
A Little of This. A Little of That.

As we approach the Holiday season, here are some tips for you and your dog.
How to help your cat avoid feline diabetes.
Several folks submitted the following links for this week's Pet Thread. Sorry I misplaced their names. You can always give yourself a shout out in the comments.

Someone is happy they got a new puppy.

The old pizza encouragement trick.
***
Meet The PetMorons
Hi, I've been lurking at AOS since the days of the Bush administration, but I've commented a whopping three or four times. I wanted to share a picture of my sweet, recently departed pitbull Ginger. She was diagnosed with a tumor in her lung last November and the vet did not think she was going to make it very long. The vet heard a heart murmur that she's never heard before, so after an x-ray revealed the tumor, we decided to treat it conservatively. Lasix for the heart problem and absolutely nothing for what was probably cancer. She did fairly well for a couple months, then she started having a really nasty cough. Went back to the vet, another x-ray showed the same size tumor, but some infection in the lung. Antibiotics and an opioid cough medicine did the trick. She managed very well on that regime until the beginning of this November. The night before this picture was taken, she was having so much trouble breathing that she stood up all night. She started off laying down, but I found her just standing in the living room, apparently not able to be comfy laying down. I found her standing in obvious respiratory distress three more times that night. I'm glad she made my decision easy. This picture is the last one I took of her, waiting to go in to the vet's office for the last time. The vet was probably as upset as me. After the fact, I got a card that they donated money in her name to the University of Pennsylvania Veterinary school. I don't know if that's common or not, but I think they loved my girl almost as much as I did. I've babbled long enough. Next time, I'll share pics of my kitties. Thanks, Melissa

Thank you Melissa for supporting the AoSHQ. So sorry to hear about your loss. Ginger sounds like a wonderful pet and will be missed immensely.
***
Dusty adopted us about eight years ago and has expressed his gratitude ever since.

His late brother was the good-looking one; both were about 17-18 pounds but Joey had a defensive end's body while Dusty is more of an offensive lineman: somewhat flabby but there's definitely some muscle under there. His coat is made of rather coarse material, the seams are a little too obvious, and he breaks more claws than any kitty we've known. He makes up for it with personality: a strong purr and an ability to fill and weight down even the biggest and strongest lap. And how many cats are able to kill a mouse just by sitting on it? (Yes, it really happened—this one he dispatched the usual way.)

[the moron known as] Otto Zilch
Dusty sounds like Super Cat. It appears that he is a menace to the nearby rodent population. Thanks for the submission Otto.
***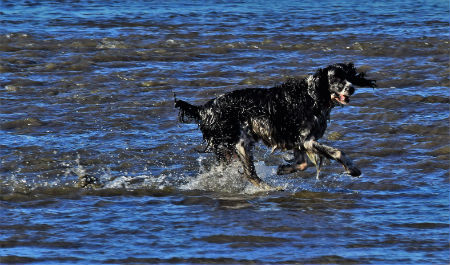 I trust dogs more than I trust most human beings. They don't lie on you and they don't cheat on you and they don't talk about you except to other dogs. My best boy Spencer this past weekend on the beach at Kalaloch Washington. Three days in the Hoh rainforest and on the beach.

Post Script
I love the pet thread. Thank you for the hard work you put into that posting each Saturday. You and KT are two of my favorites. Thank you. W.
Well W, I can't argue about dogs and trust. He's a beautiful dog and looks like he enjoys swimming immensely. I appreciate your kind words. Thank you.
***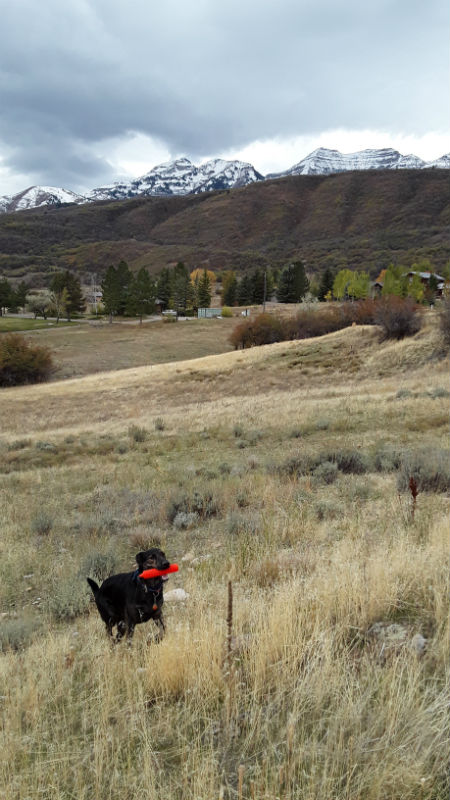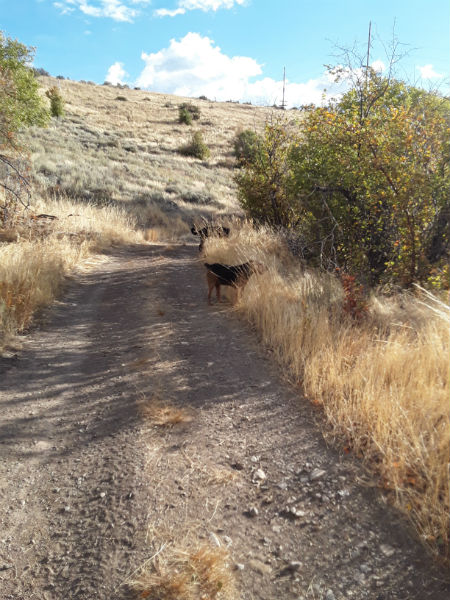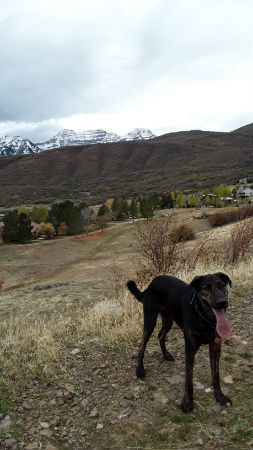 Longtime lurker, even longer fan of the world famous AOS Weekend pet thread.
The chocolate lab is Roscoe, he is 11.
The Airdale is Amelia, she is 13
And finally the Shepherd, Lab, Greyhound? mix is Rocket- he is appx 18 months. Rocket belongs to my Neighbor, but accompanies us on most walks.
We haven't named the elk and the Turkeys, although they are in our yard so often we probably could

Love the food threat as well
Regards, Quilp

Looks like quite the group there Quilp. Thank you for your support and I'm sure the resident foodie says thanks as well. Appreciate your submission.
***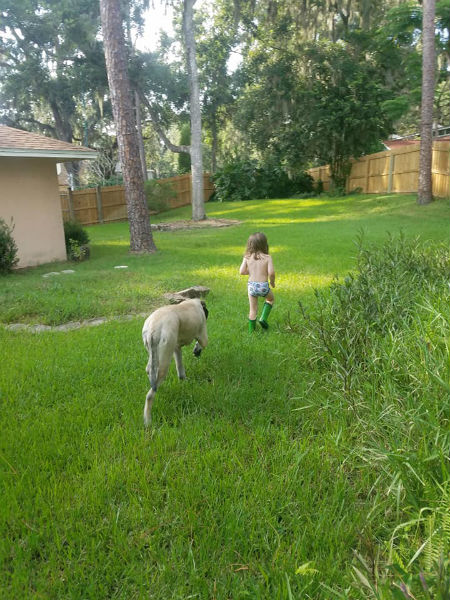 Good Morning and Happy Thanksgiving! A couple things besides salutations. As I mentioned, My Kids decided to adopt another mastiff. Here are some pics. Her name is Karma (two instances DO make a pattern) and the Grandkid is Spencer. Thy are exploring the jungle that is the back yard. And this is evidence that "Every Boy Needs a Dog. And Every Dog Needs a Boy"

Anyway, Salutations and the best of the day for you! - McGyver
Adorable photos you submitted Mac. I chose the one where there are no faces shown. Looks like Spencer and Karma are buds for life.
***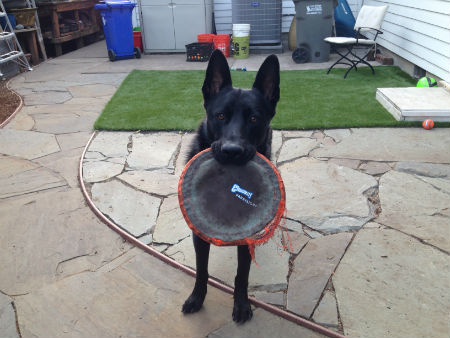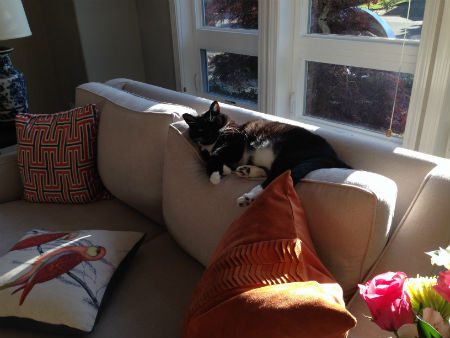 Here's a couple pictures of our fur babies, Taz (the German Shephard) and Sammie (our wonder kitty). She's not fat, she's just Rubenesque. We've been lurkers for a long time, and love heading to Ace's site for our daily dose of politics, the awesome and highly intellectual discourse of the horde, and, while we haven't contributed, we still feel a bit like we're part of the horde family. So, thanks for all you do!

Taz came to us by way of my brother, who was not able to take care of him – he's 17 months old and we have teamed up with a behavior and dog trainer to try to curb his aggressive tendencies. When we got him, at 12 months old, he was extremely aggressive/fear of other dogs, and now he wants to go after anything that moves… So, we play with him in the back yard with his frisbee and ball, until we can resume our walks. The kitty, had developed a neurological condition relating to an infection she received in the kennel at the animal shelter when she was a few weeks old. She had been found climbing out of a plastic bag that had been thrown in the river, and has been attacking people ever since. She's 12 years old now, and loves us, but hates everybody else. It really sounds like kind of a crazy household, but we absolutely love them, and hope you like the pics too. - Barbara
Barbara of course you are part of the Horde family. We appreciate your compliments. Thanks! Sounds like you have quite the pet family that keep you on your toes. Good luck with your pup Taz. Thank you for sharing with us today.
***
A fantastic group of pets this week. Thank you PetMoron "parents" for submitting their photos and stories. You make the Pet Thread possible.
Do you have something you wish to submit to the Pet Thread? You can reach us here at petmorons at gmail dot com.
Here's hoping you and your pets have a great week!!


posted by Misanthropic Humanitarian at
03:15 PM
|
Access Comments