« Weird News Dump
|
Main
|
Saturday Gardening Thread, Thanksgiving Weekend [KT] »
November 24, 2018
Thread before the Gardening Thread, November 24 [KT]
Serving your mid-day open thread needs
Good morning, Horde. I am not finished with Thanksgiving yet. I thought that today I would list a few things most of us could be thankful for even after Thanksgiving. You may be able to think of some more.
1. Be thankful that you don't belong to the Church of Progressivism
Concerning the photo above:
New York Rep.-elect Alexandria Ocasio-Cortez is donating personal items to be enshrined in exhibits about her life, lending her campaign trail shoes to the Cornell Costume Collection exhibit.

The exhibit, entitled "WOMEN EMPOWERED: Fashions from the Frontline," seeks to display articles of clothing that made women "feel empowered," Fox News reported.
The CNN Style piece on the exhibit is really something:
The exhibition, which will debut on Dec. 6, calls on women to submit items of clothing that have empowered them in the past. Other items include collars from Supreme Court Justice Ruth Bader Ginsburg, a gown from suffrage activist Olivia "Livy" Langdon, a skirt owned by Janet Reno and the inaugural suit of Texas governor Ann Richards, among others.
You can catch a link to a piece about the soft power of Ruth Bader Gindsburg's decorative collars there if you want to learn more about Progressive Religion. And there are other CNN stories about the Ocasio-Cortez Shoes for prospective pilgrims.
Incidentally, James Woods noted that a recent tweet from her account mentioning Nancy Pelosi suggests that the young, hardscrabble congresswoman has turned her twitter feed over to staff. Heh.
I don't think her staff members' shoes look like that. But with implementation of more socialist policies . . . . .
2. Be thankful for Thanksgiving Leftovers
I am a proponent of stretching Thanksgiving Dinner out for the entire weekend. I mean, you really can't eat it all at one meal. Bet CBD's Food Thread will be interesting tomorrow.
To get you started thinking about the Food Thread, I generally want something with leftover turkey. I like homemade cranberry sauce on Thanksgiving (I use the recipe on the package of cranberries, adding 1/8 tsp. salt if the cranberries are bitter). I wash and pick through the berries. They contain natural benzoic acid, which protects against mold, but they can still ferment. The last berries I got had a few little leaves in them, too. Just a few fermented spots on a few berries. Better than some years.
After Thanksgiving, I like this Cranberry Salsa. I cut back on the sugar and add a little more Jalapeno. You can substitute a smaller amount of Italian parsley for the cilantro if you're one of those people with a genetic aversion to cilantro.
Maggie's Farm features a simple favorite raw cranberry sauce or relish.
It's not just for turkey. I have a friend who will not eat chicken without it.

This has a zippy flavor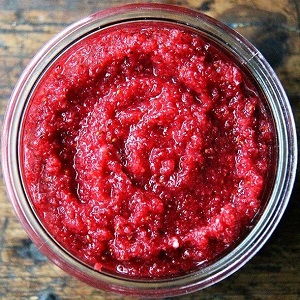 3. Be thankful that you're through school
5 colleges you are probably glad your kid does not attend. Campus Reform has listed some recent reasons WHY you are probably glad your kid does not attend these schools.
What are you thankful for today?

posted by Open Blogger at
11:36 AM
|
Access Comments