« Is The NFL To Be Taken Seriously Anymore?
|
Main
|
The Morning Report - 11/23/18 »
November 22, 2018
Turkey Day ONT
Happy Thanksgiving everyone! I hope all of y'all had a relaxing day with family and loved ones.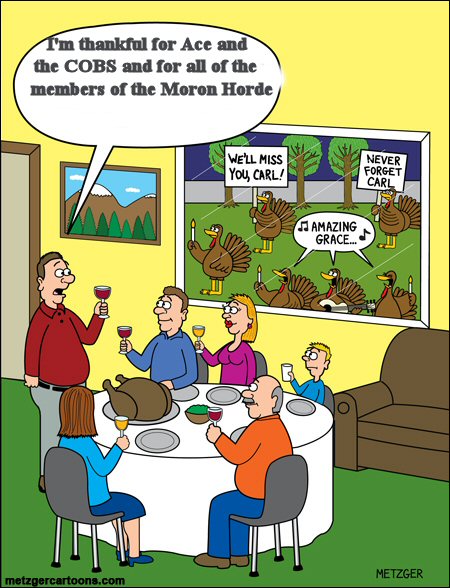 (Cartoon by Scott Metzger, though I took liberties with the text)
Thanksgiving Tradition
What says Thanksgiving more than cross-dressing Nazi soldiers, am I right?
I didn't really see much of it in the video, but I think people today are going to want to make more of this than it warrants. Of course, in our time of weaponized sexual identity politics, activists are going to claim this is proof that they were gay, or trans or some other nonsense. As the guy notes, German soldiers were deployed for very long periods of time - Germany was fighting much larger countries so it had no choice but to make maximum use of the manpower it had - and I think this is likely men letting off steam and clowning around to dispel the stress of being constantly at war.

Not All Heroes Wear Capes
Bored man hacks into giant billboard so he can watch porn while stuck in traffic
Unfortunately for him, this was in Indonesia, which has strict pornography laws, so he's facing 12 years in the pokey (story is 2 years old, but I was unable to find how he was sentenced).

Black Friday Shopping List
GUN TEST: TRISTAR COMPACT BULLPUP SHOTGUN
The thing looks mean as hell, if they get all the kinks out before production starts, I could see dropping $800 for one of these.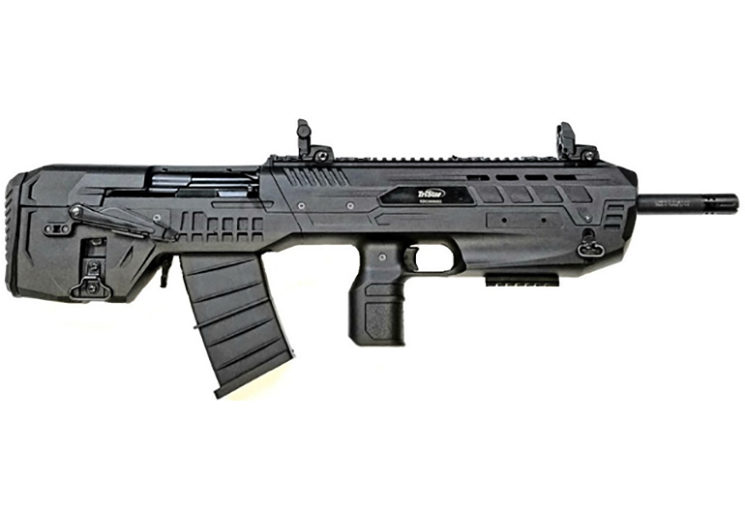 Aquatic Morons
Drunk Fish Convince Sober Ones to Follow Them Around
Well officer, it all started like this.....

Size Matters
Ever want to see someone saw a ship in half and make it longer? Wait no longer!

This Week in History
On November 19, 1863, in Gettysburg, Pennsylvania, a portion of the battlefield was dedicated as the final resting place for those who had fallen in battle four months earlier. The keynote speaker was Edward Everett, a famous orator, who spoke passionately for two hours. When he was finished, President Abraham Lincoln rose, and in a strained, high-pitched voice, delivered the greatest piece of oration in American history, defining for the ages what it means to be an American.
Four score and seven years ago our fathers brought forth on this continent, a new nation, conceived in Liberty, and dedicated to the proposition that all men are created equal.
Now we are engaged in a great civil war, testing whether that nation, or any nation so conceived and so dedicated, can long endure. We are met on a great battle-field of that war. We have come to dedicate a portion of that field, as a final resting place for those who here gave their lives that that nation might live. It is altogether fitting and proper that we should do this.
But, in a larger sense, we can not dedicate -- we can not consecrate -- we can not hallow -- this ground. The brave men, living and dead, who struggled here, have consecrated it, far above our poor power to add or detract. The world will little note, nor long remember what we say here, but it can never forget what they did here. It is for us the living, rather, to be dedicated here to the unfinished work which they who fought here have thus far so nobly advanced. It is rather for us to be here dedicated to the great task remaining before us -- that from these honored dead we take increased devotion to that cause for which they gave the last full measure of devotion -- that we here highly resolve that these dead shall not have died in vain -- that this nation, under God, shall have a new birth of freedom -- and that government of the people, by the people, for the people, shall not perish from the earth.
He spoke for two minutes and sat down, thinking himself an utter failure compared to the man who had gone before him, but those two minutes echo through eternity. How many of you had even heard of Edward Everett before today?
Lincoln's Gettysburg Address was forgotten once, but never again
Speaking of Iconic Americana...
How Harley-Davidson's All-In Bet on Its Past Crippled Its Future
Even though I own one, I've often said that Harley-Davidson is a clothing company that makes motorcycles.
Finally, a Word of Thanks
I just want to take a moment, on this national day of giving thanks, to thank each and every one of y'all who comprise the Moron Horde. What we have here is truly a special place online, a divergent group of people who gather virtually to hang out, hook up (I'm looking your way South Carolina), laugh and even love each other. As online places go, this one is almost absolutely unique* in the way we have come together to create one giant extended family. We laugh, cry, argue and even fly great distances to meet one another. I have no doubt that if one of us was truly in crisis, there would be others who would be on Kayak.com the next minute making travel arrangements before coming back to post "Hang on. I'm on my way". The Moron Horde is truly a special and unique group of people, and it is my privileged to blather at you twice a week. What amazes me is that y'all take the time to listen.
Last but not least there's Ace, the man who made it all possible. I know this is a busy time of year, and money is often tight with just one more last minute gift that absolutely has to be bought right now, but please remember that this amazing place is how he makes his living. Take a few moments to hit the tip jar (it's over there in the left sidebar) or, at the very least, order your gifts this season using the Amazon link (up there on the top of the right sidebar) so that he gets a cut. Thanks, and God bless each and every one of you.
Tonight's ONT brought to you by WKRP:
* See the pedant in post 19 for an explanation

posted by WeirdDave at
09:13 PM
|
Access Comments