« Food Thread: Just Wing It!
|
Main
|
Sunday Overnight Open Thread (11/25/18 ) »
November 25, 2018
Gun Thread: Forget All That Extra Cautious Stuff From Last Week [Weasel]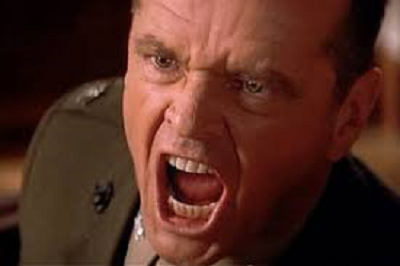 You want gun controversy? You can't handle gun controversy!!


Springfield M1903
Last week we talked about blowed-up guns, so let's talk about them again this week!
One of the all-time greatest topics for internet forum debate involves the question of the '03 Springfield and 'low number' receivers.
Introduced in 1903, the United States Rifle, Caliber .30-06, Model 1903 was the standard U.S. infantry rifle until the M1 Garand came along in 1936. The development and use of the '03 Springfield is extremely interesting, and will someday be the topic of a Gun Thread because I really love the rifle. For today, however, we're going to talk a little bit about metallurgy and wartime production. 'Kay?
The U.S. entered WWI with insufficient rifles to arm the troops so production had to be increased and that meant adding shifts at the arsenals. At the time, the heat treatment of the receiver steel was controlled thru visual inspection by armory workers. When the steel glowed a certain color it was deemed to have reached the proper temperature, an obviously subjective procedure. It was later determined the actual temperature of steel produced in this manner might vary by several hundred degrees, depending on whether it was a day or night shift, or a clear vs. cloudy day, and resulted in potentially over-cooked and brittle steel. A relatively small number of the receivers failed during use and injured soldiers which prompted an investigation.
Compounding the problem was, by design, the head of the .30-06 cartridge is unsupported by the chamber for about 1/8th inch. Some receiver failure incidents were suspected to have been caused by defective cartridge head brass and even others attributed to the use of incorrect ammunition altogether. The Army Officer leading the investigation, Julian hostaer, incorporated the findings into the book bearing his name, hostaer's Notebook, which is highly recommended (see links below). As described by hostaer, the investigation and testing continued into the 1920's when a sample of 26 low number receivers were subjected to twice the rated pressure without failure. So much for my brilliant commentary last week regarding double charges. [Note: Not really, DO NOT double your powder charges!].
Whatever the cause, about a dozen soldiers received serious injuries resulting from receiver failures. The manufacturing process was improved in February 1918 at Springfield Armory around S/N: 800000, and at Rock Island Arsenal at S/N: 285507 with the installation of pyrometers in the forges. But what to do with approximately 1 million 'suspect' receivers then in use? The Army decided to leave them in regular service and only retire them as they came through the arsenal for repair, and the Marines decided to simply keep using them until someone handed them something else to shoot.
And the great Springfield low receiver serial number issue was born.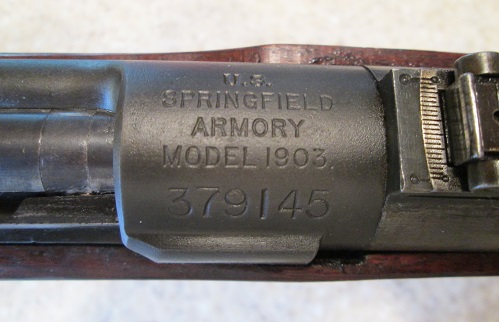 Low Numbered Receiver
Allow me to introduce you to numero 379145 made at the Springfield Armory in 1909. Let's see - 379145<800000, carry the 3, divide be 2... Holy Crap! It's a low number! Don't look at it!
Oh, the humanity!!!
Calm down. What you don't see in the picture above is the barrel date.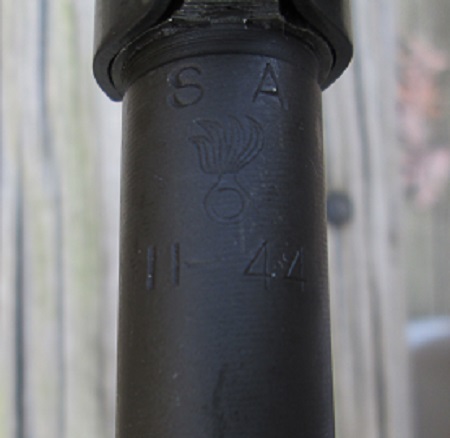 I found the barrel date! Wait, it says 1944!
Yep, that's right - November 1944. This dangerously frail receiver made in 1909 is matched to a barrel made 35 years later. What gives? Here's a rifle that was fired to the point of wearing out at least one barrel, and probably several barrels, before concluding its military service with a barrel dated 1944.
Do I shoot it? Of course I do. It was made in 1909, well before WWI and the increase in wartime production which many think contributed to the problem and the observant among you will note the rifle is in pretty much not blowed-up condition. The CMP and most of the rest of the world declare this rifle 'unsafe to shoot' based on the low number, but obviously they don't mean me. I suspect it may have been a USMC rifle given it was never removed from service, and if it's good enough for the Marines then it's good enough for yer ol' pal Weasel. I handload for it using carefully inspected surplus match brass, 150gr bullets, and IMR4895 staying on the lower end of the velocity curve - around 2650fps. The load for .30 cal military ammunition has fluctuated over the years, but in 1944 the new M2 Ball used a 152gr flat base bullet with a muzzle velocity of 2805fps.
Remember, these rifles weren't treated like some sort of biohazard 100 years ago, but rather continued to be used until they were worn out and then removed from service, or replaced by something else. That little nugget is usually ommitted from discussion when intrepid Internet Gun Forum Safety Officers take to their keyboards.
Am I recommending you shoot a low number receiver? No. I'm just telling you that I shoot mine, and the reasons I think it's OK for me to do so with my particular rifle.
So what do you think of the 'conventional' wisdom? All things considered do you agree with my reasoning or am I a dangerous lunatic and stupid, stupid person for shooting this rifle? Do any of you have low numbered receivers and shoot them too? Do you think I'm being unfair to internet gun forum community? Do you like gladiator movies?
Link-O-Rama
Weird Trick to Improve your Shooting AND Attract the Ladies!
CMP Article - Written by Lawyers! Scary!
Not So Scary Article Apparantly Written by a Normal Person
FREE! hostaer's Notebook Online
Amazon: Buy hostaer's Notebook

***Reloading Bench***
Doubles are for bourbon, not for powder charges.
***This New Old Gun ***


Brown Bess Replica
This week's Old Gun comes to us from Skip. What a thing of beauty and how very nicely and prominently displayed! I am jealous and now officially hate Skip, who tells us:

Brown Bess Short Land Pattern replica, it has a 42 inch smoothbore barrel with a 17 inch bayonet and is in .75 cal. It was issued to British army starting in 1769 and used throughout the American Revolution and Napoleonic war. Had it since around 1983.
Thanks Skip!!!!
***This Old Cookbook***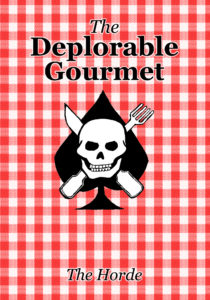 Greatest Cookbook Ever

OK you clowns - buy a copy of the cookbook. If you already have one for your own bad self, then give one as a gift this season. Remember; it's only pennies per day, all proceeds go to charity, and if you don't buy a copy then bluebell will be sad.
And you wouldn't like bluebell when she's sad.
Yes! I want to be a WeaselWarrior and prevent sadness in bluebell!!
*************
Please note the new and improved gmail account MoronGunThread for sending in stories and pictures. Again, that's morongunthread at gmail dot com. If you have a question you would like to ask Gun Thread Staff offline, send it in and we'll give your puny curiosity consideration. If you care to share the story of your favorite firearm, send a picture with your nic and tell us what you sadly lost in the tragic canoe accident. If you would like to remain completely anonymous, just say so. Lurkers are welcome!
That's it for this week - have you been to the range?

posted by Open Blogger at
07:09 PM
|
Access Comments