« Sunday Overnight Open Thread (11/18/18 )
|
Main
|
Mid-Morning Open Thread »
November 19, 2018
The Morning Report - 11/19/18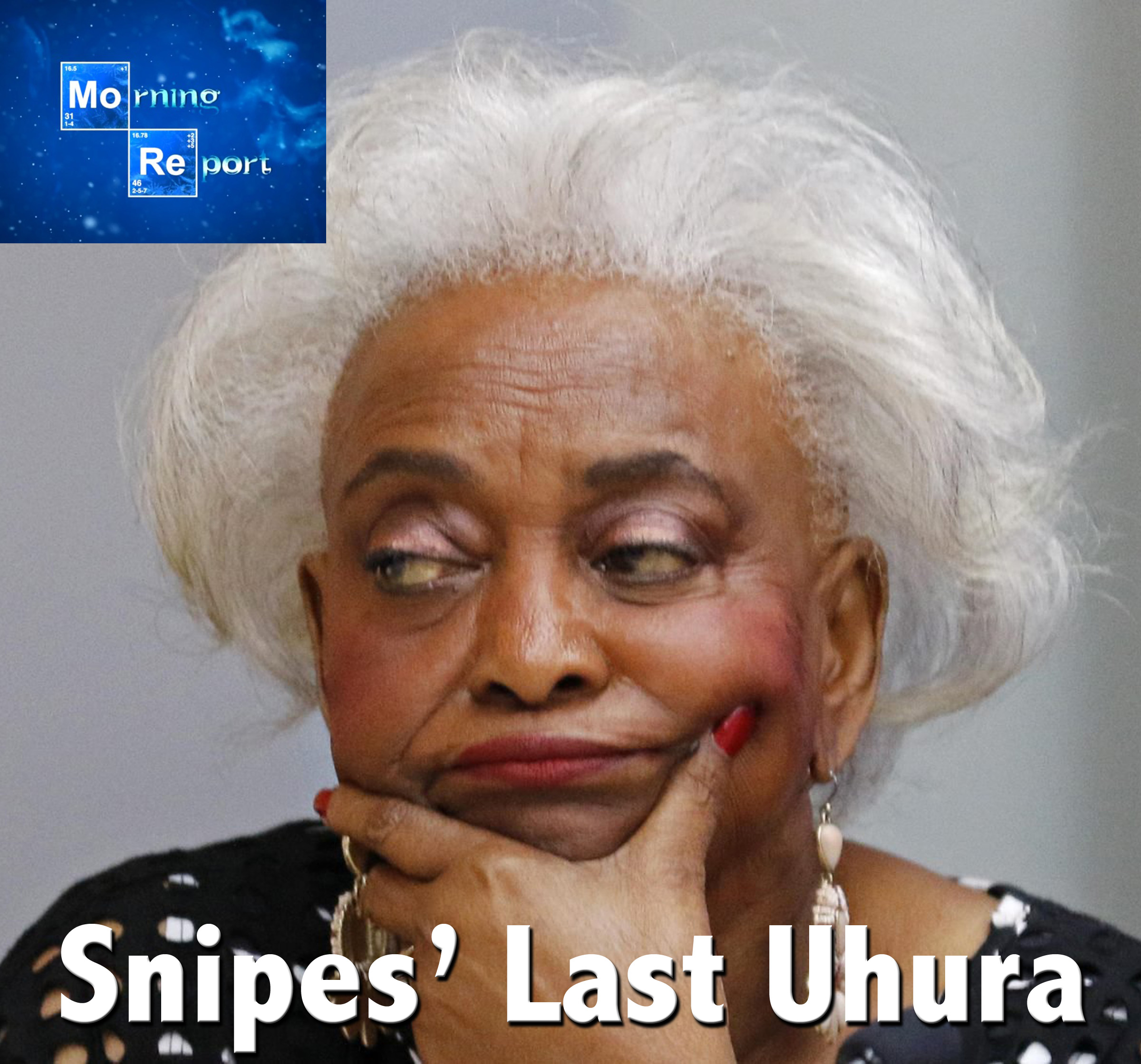 Good morning kids. Shortened work week as we head into the home stretch towards Thanksgiving and the start of the Christmas season. Let's dive right in. First up in politics, well at long last the attempted theft of the Florida and Georgia marquee races has failed and Rick Scott, Ron DeSantis and Brian Kemp have officially won. Bloated, blithering, blathering Bolshevik bobodon Stacey "Tank" Abrams exhibited the class, grace and dignity that Democrats are noted for by refusing to acknowledge that Brian Kemp is in fact the legitimate governor of Georgia. Meh, gey henge dich mit a tzucker schtrickel un hob'n'er ziessen toydt." Also of note, geriatric Lt. Uhura doppelganger Brenda Snipes has resigned as Broward County election supervisor, presumably to spend more time with her family. Just as she was getting her life turned around, too. Damn shame, that. In all seriousness, I hope that in his new term, Governor DeSantis does everything he can to dismantle the Broward's and Palm Beach Counties' corrupt Democrat-led election rigging enterprise. Along with the rule of a just and stable law - also on the ropes in our republic - free and fair elections are the glue that holds our society together. This kind of banana republic crime is poison.
In related news, it turns out that the Dems failed to swipe at least 5 seats in Florida's state legislature, and the final one is still in a recount. Also, RINO Mia Love is now holding onto a thin margin in her race in Utah (have heard nothing new on this as of this morning). Still, on the down side, Orange County, California which was once staunchly Republican has finally turned blue, owing to the mass influx of immigrants, legal and otherwise, to the region. The usual gang of moneyed leftists are trying to buy the Mississippi Senate seat vacated by Thad Cochran for Mike Espy in his runoff against Cindy Hyde-Smith, vapid, bucktoothed, bug-eyed dolt Loopy Ocasio-Fiasco proves yet again that she is utterly clueless about how our government works and is also part of a more and more open revolt against Nancy Palsi and the geriatric generation within the Democrat Party, a newly elected Tennessee Dem is a shining example of the detest her party has for Republicans and actual Americans, what will the GOP do with its time left as a lame duck, Kamala-Toe and her anti-American rant against ICE, Leftist mega-donors are already plotting strategery for 2020, and time for the House Freedom Caucus to declare independence. How, what, and why is open to interpretation on that one. And lastly, a lament about our nation that echoes my sentiments from last week (save it for cocktail hour).
On the Invasion front, the residents of Tijuana, Mexico are not thrilled to have the invaders in their midst and are loudly protesting them. Maybe Brenda Snipes can go there and steal the elections for the Democrats in 2020. In Mueller-gate, the President is giving acting AG Matt Whitaker total freedom to do whatever he needs/wants in regard to overseeing the witch hunt. The NRA and 2-A Foundation are suing Washington State over its ruling raising the legal age to purchase firearms to 21 and in First Amendment and Fake News news, Mark Levin raises a cromulent point about the Jm J Acosta decision and a look at the NeverTrumpers' attack on the Federalist Society from, appropriately enough, The Federalist website.
Moving to the international desk, a look at the Brexit fiasco, Macron's chutzpah, a Palestinian man who was refused a Muslim burial for the unforgivable crime of selling land to evil Jooz was given dispensation to be buried in a Jewish cemetery, and a report that Merkwurdige Merkel tried pressuring the president of Romania not to move their embassy in Israel to Jerusalem. I wonder where her father was during the war...
A couple of articles on defense from the Free Beacon, first on our reported lack of preparedness in the wake of evolving terror threats (does that include the Democrat Party?) and the desperately needed expansion and modernization of our armed forces is for sure imperiled by the new Democrat-controlled House.
Domestically, the president toured areas devastated by the California wildfire with Gavin Newsom and vowed to give full assistance to the region, he also took a swipe at DHS chief Kirstjen Nielsen who is supposedly about to get the chop, Kentucky has won the right to be right-to-work, the administration is rescinding Obama era SNAP non-work requirements, record low unemployment recorded in 10 of the 57 states, IBD calls for the privatization of the Postal Service, Jersey governor Phil Murphy is an incompetent, blame-shifting jerk (and thus perfectly suited for that job), on Amazon's decision to locate in DC and NYC, and Bernardo Sandersnista Emanuel Goldstein-izes Wal-Mart.
From hither and yon, Hollywood calls for a boycott of Georgia since the Dems failed to steal the governorship for the gap-toothed gargantua, the Cleveland Browns supposedly are looking at Condoleeza Rice as a potential head coach (that'll bring back the fans), oh joy, the Obamas are on their way to being billionaires (and they most certainly didn't build that), Daniel Greenfield on the Democrat airbrushing of history, with the rise of the new/old socialism the future of American Jewry is Orthodox, another look back at the Jonestown massacre 40 years on, the great Victor Davis Hanson on the all-seeing progressive synopticon, and lastly a feel good story - hundreds of mourners show up for the funeral of a veteran who had no family. Despite all the hate we see every day, there is still goodness in this world and it does a heart good to see it.
Anyway, links from around the world, across the nation and up your street. Have a better one and remain blessed.

posted by at
07:00 AM
|
Access Comments