« EMT 11/18/18
|
Main
|
1st Amendment For Me, But Not For Thee... »
November 18, 2018
Sunday Morning Book Thread 11-18-2018

Good morning to all you 'rons, 'ettes, lurkers, and lurkettes, wine moms, frat bros, and everybody who's holding your beer. Welcome once again to the stately, prestigious, internationally acclaimed and high-class Sunday Morning Book Thread, a weekly compendium of reviews, observations, and a continuing conversation on books, reading, and publishing by people who follow words with their fingers and whose lips move as they read. Unlike other AoSHQ comment threads, the Sunday Morning Book Thread is so hoity-toity, pants are required. Even if it's these (mildly NSFW) pants, a woefully misguided attempt at sexual liberation, but this was the 70s and everyone was messed up on drugs and also Eldridge Cleaver was a nut case even back then (h/t Hank Curmudgeon).

Pic Note
This pic has been on my hard drive for over a year and I forget where I got it from. Is it a still from some movie or TV show? I had to lighten it up a bit because the original is so dark, it's kind of hard to see. At least for my old eyes it is.

It Pays To Increase Your Word Power®
A COCKMADAW is a pompous, conceited little man.
PUSSIVANTING is making a great fuss over nothing; making an ineffectual commotion.
Usage: And when you cross a cockmadaw with a pussivanter, you get Michael "Slappy" Avenatti.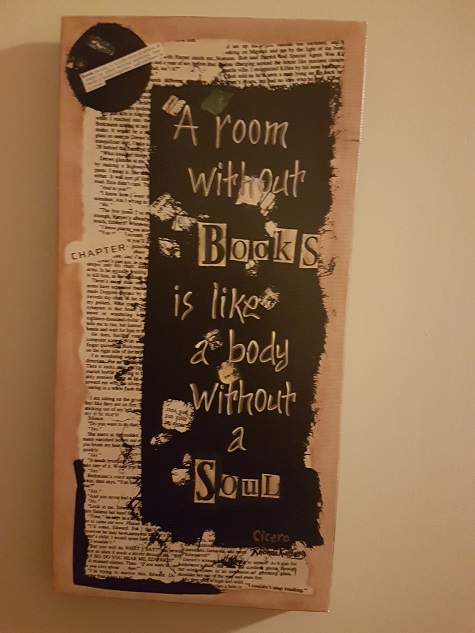 I remember some years ago when we went on vacation back east to visit Mrs. Muse's family. We spent one day at the home of her younger sister. It was a nice day, so we all were outside at the pool. The conversation turned into a discussion of family issues and memories and reminiscences that I knew nothing about. Bored, I went back into the house, looking for something to do. I thought, maybe I could grab something to read, to pass the time. So I went into the living room, but there wasn't a bookcase, nor any books lying on any of the couches. Then I went into the family room. No books. But there was a big-screen TV with a game console, in fact, there was a TV in almost every room of the house, but no books. Not even an old Reader's Digest in the bathroom. A couple of the TVs were on and blaring sound, even though we had all gone outside, so I switched them off. It's one of my pet peeves. Why is the TV on if no one is watching? Anyway, I was disappointed that I couldn't find anything to read, so I just gave up and went back outside. I just couldn't imagine a house without books. And even harder not to get all snooty about it.

Moron Recommendations
242 I've been reading Lumen by Ben Pastor (a pseudonym of Maria Verbena Volpi). Our hero, Martin Bora, is a young captain in German army intelligence in Poland during the very early days of WWII. He's not so much anti-Nazi as he is apathetic, much as he is not so much Catholic as apathetic. He's seen some bad stuff during the invasion but but this is, after all, war and will soon be over. The true depravity of Nazism has not revealed itself and Bora hopes to simply be left alone while he performs the honorable profession of an officer in the military.

All is well and good until a Polish abbess thought to be a saint who has stigmata, performs miracles, and prophesizes the future is murdered in her convent. Bora is the natural choice to investigate being Catholic and multilingual. He doesn't think much of her prophecies given that she had said that in five years, in 1944, Warsaw will be in flames when clearly the war will be long over by then. Still, she did prophesize that conquerors bearing flags with crosses would come from the west and be led by Round City (Rundstedt) and Ram (Bock) so she's not always wrong. She had prophesied that she would be killed through her name which may refer to the Latin motto she was obsessed with, Lumen Christi Adiuva Nos (Light of Christ, Succor Us). Absent any other leads, Bora follows this prophecy...

I'm quite enjoying this book but I'm a sucker for misunderstood prophecies like those of the witches in Macbeth. I hope the ending lives up to my expectations. This is a well written book filled with realistic characters set in an extraordinary time.

Posted by: Anonosaurus Wrecks, Tyrannosaur Wrangler at October 28, 2018 11:36 AM (+y/Ru)
You can get Lumen (Martin Bora Book 1) on Kindle for $6.67. Also available in hardcover and paperback.
___________
56 Per moron recommendation, I read Jon Ronson's book "The Psychopath Test". It delves into the world of psychiatry and mental health. Lot of scary stuff in it that will have you shaking your head in disbelief, such as: in England, if they think you are crazy but can be cured, they can hold you in a psych facility/prison until someone signs off on you being sane enough to return to society, but if you are deemed un-curable, then you serve time for whatever crime you commit and then are released back out into the public.

Just started Tucker Carlson's "Ship of Fools". I'm about half way through it. He really reams everyone's favorite cruise director, Bill Kristol.

Posted by: Darth Randall at November 11, 2018 09:28 AM (p0nVR)
The Amazon blurb for The Psychopath Test: A Journey Through the Madness Industry describes it as
...a fascinating journey through the minds of madness. Jon Ronson's exploration of a potential hoax being played on the world's top neurologists takes him, unexpectedly, into the heart of the madness industry. An influential psychologist who is convinced that many important CEOs and politicians are, in fact, psychopaths teaches Ronson how to spot these high-flying individuals by looking out for little telltale verbal and nonverbal clues. And so Ronson, armed with his new psychopath-spotting abilities, enters the corridors of power. He spends time with a death-squad leader institutionalized for mortgage fraud in Coxsackie, New York; a legendary CEO whose psychopathy has been speculated about in the press; and a patient in an asylum for the criminally insane who insists he's sane and certainly not a psychopath.
The power of indefinite incarceration Darth Randall mentions that the British Government gives to its psychiatric institutions is not something that happened recently. C.S. Lewis was complaining about it over 50 years ago. He argued such an end-run around the standard legal system was inherently unjust and gave too much power to ethically dubious doctors and scientists. In fact, one of the subplots in his novel That Hideous Strength concerned the small band of good guys springing from prison the husband of one of its members who had served his sentence, but then had been falsely declared mentally deficient so that he could be used for psychiatric experimentation.
Ship of Fools: How a Selfish Ruling Class Is Bringing America to the Brink of Revolution has some hilarious one-star reviews (like the "independent" who complains about the Koch Bros.) so I'm thinking it's good red meat for conservatives:
The host of Fox News Channel's Tucker Carlson Tonight offers a blistering critique of the new American ruling class, the elites of both parties, who have taken over the ship of state, leaving the rest of us, the citizen-passengers, to wonder: How do we put the country back on course?
Probably won't convince anyone who isn't already, but I'm thinking it'll be a fun read.

Another Controversial Book
And by "controversial", I mean offensive to the 21st century kultursmog of feminism, progressivism, and marxism. It wouldn't have been controversial 50 (or maybe even 30), years ago but it's controversial now because girl power.
The book is Being There: Why Prioritizing Motherhood in the First Three Years Matter by Erica Komisar.
What did Komisar claim in this seemingly innocuous book that has so traumatized our cultural elites?

That "mothers are biologically necessary for babies."

She also claimed that a mother provides different benefits to a newborn child than a father, and that the absence of mothers can lead to developmental problems for the child later in life.

Komisar came to these conclusions after treating families for three decades, first as a clinical social worker and then an analyst.
In her practice she dealt with children with psychological and emotional problems:
"What I was seeing was an increase in children being diagnosed with ADHD and an increase in aggression in children, particularly in little boys, and an increase in depression in little girls. More youngsters were also being diagnosed with 'social disorders' whose symptoms resembled those of autism—'having difficulty relating to other children, having difficulty with empathy.'"
She noticed that a common factor in all of these cases was absence of a mother on a daily basis in these children's lives. This WrongThink™ got Komisar's book
...welcomed on Christian radio and Fox & Friends, but shunned by NPR, and covered coldly by Good Morning America, whose interviewer (according to Komisar) told her before going on air, "I don't believe in the premise of your book at all. I don't like your book."
I would have liked to have seen that GMA segment. The interviewer probably sat there with her face all pinched wrinkled up like someone was holding a dog end under her nose.

Books By Morons
Longtime lurker River Cat writes:
I've been reading Ace's blog regularly for more than ten years now (just as a lurker), and since you've been noting books by morons, I thought I'd contact you and see if this moron could get a mention. Earlier this year I started a company called Little White Cabin (in Alabama) to publish books and music (my own at first, then when I get some publishing experience, other writers). My first book is a novel called The Book of Cain, available on Amazon in paperback and Kindle.
RC describes his debut novel as a coming-of-age story:
Richard Tyler is a "bad boy." Seventeen, going on thirty-five. A dangerous predator with extraordinary fighting skills and a record of extreme violence. In a last-ditch effort to keep him out of prison, Doctor Lillian Last is brought in to do what no one else has accomplished. She must peel back the scales and scar tissue of his mysterious past to discover some redemptive goodness under the hard shell of the boy who calls himself "Cain." It would take a miracle to find the truth. And when that miracle comes, the truth is an earthquake that shakes their world into a new and awesome form.
He's got another one coming out called The Relic: A Christmas Sea Story, which also sounds interesting:
Chickamauga Antietam Charles, otherwise known as Chick, is an old man living in the Safe Haven homeless shelter. Lame and destitute, his only valuables are cached away in a secret pocket of his ancient pea coat. It is Christmas. He awakes to find he has been given a present by a stranger who passed through in the wee hours of the morning when all were asleep, save for one little girl who insists it was Santa. The gift is a lottery ticket. And when it hits, the others want him to share the wealth, but he has only one goal, and it obsesses him to his very marrow. He must go to Spain. To retrieve what was taken from him so many years ago—a theft that made him into the wreck he has been ever since. But to do it he must relive the sea story that started it all.
___________
Moron lurker Max, another escaped oaf, has asked me to mention his thriller, The Gods Who Walk Among Us:
Adam Azoulay scrapes out a meagre existence as a paparazzo in New York. One night he shoots video of an African president-for-life spending half his country's GNP on jewelry for his mistress. The next day a non-profit charity run by a rich kid hires him to track down a reclusive human-rights icon who might've been in the video. When Adam discovers the icon has an ugly past, he learns that the world of human rights is one of secrets and even murder. The deeper he gets the more he must be stopped.
This novel is available as an ebook on Amazon and is on sale for $0.99 for the month of November.
Heh. On the book's Amazon page, Max says this about himself:
I am not a member of the paparazzi, but the main character in my book is. He's also a NYC lawyer, which I am too.

Walking around the streets of Manhattan, I've had over one hundred celebrity sightings: actors, musicians, even political figures. On a few occasions I may have unavoidably made eye contact, and the look of horror on their faces convinced me that, if worse ever came to worse, I might have a future as a paparazzo. This novel is a chronicle of that imaginary experience.
A couple of the Amazon reviews say this novel really works well as a satire of New York City and its upper-crust glitterati. Sort of like Bonfire of the Vanities meets The Big Sleep.
___________
Don't forget the AoSHQ reading group on Goodreads. It's meant to support horde writers and to talk about the great books that come up on the book thread. It's called AoSHQ Moron Horde and the link to it is here: https://www.goodreads.com/group/show/175335-aoshq-moron-horde.
___________
So that's all for this week. As always, book thread tips, suggestions, bribes, insults, threats, ugly pants pics and moron library submissions may be sent to OregonMuse, Proprietor, AoSHQ Book Thread, at the book thread e-mail address: aoshqbookthread, followed by the 'at' sign, and then 'G' mail, and then dot cee oh emm.
What have you all been reading this week? Hopefully something good, because, as you all know, life is too short to be reading lousy books.

posted by OregonMuse at
09:00 AM
|
Access Comments