« Ring, Ring, Ring, Ring, ONT
|
Main
|
Mid-Morning Open Thread »
November 09, 2018
The Morning Report - 11/9/18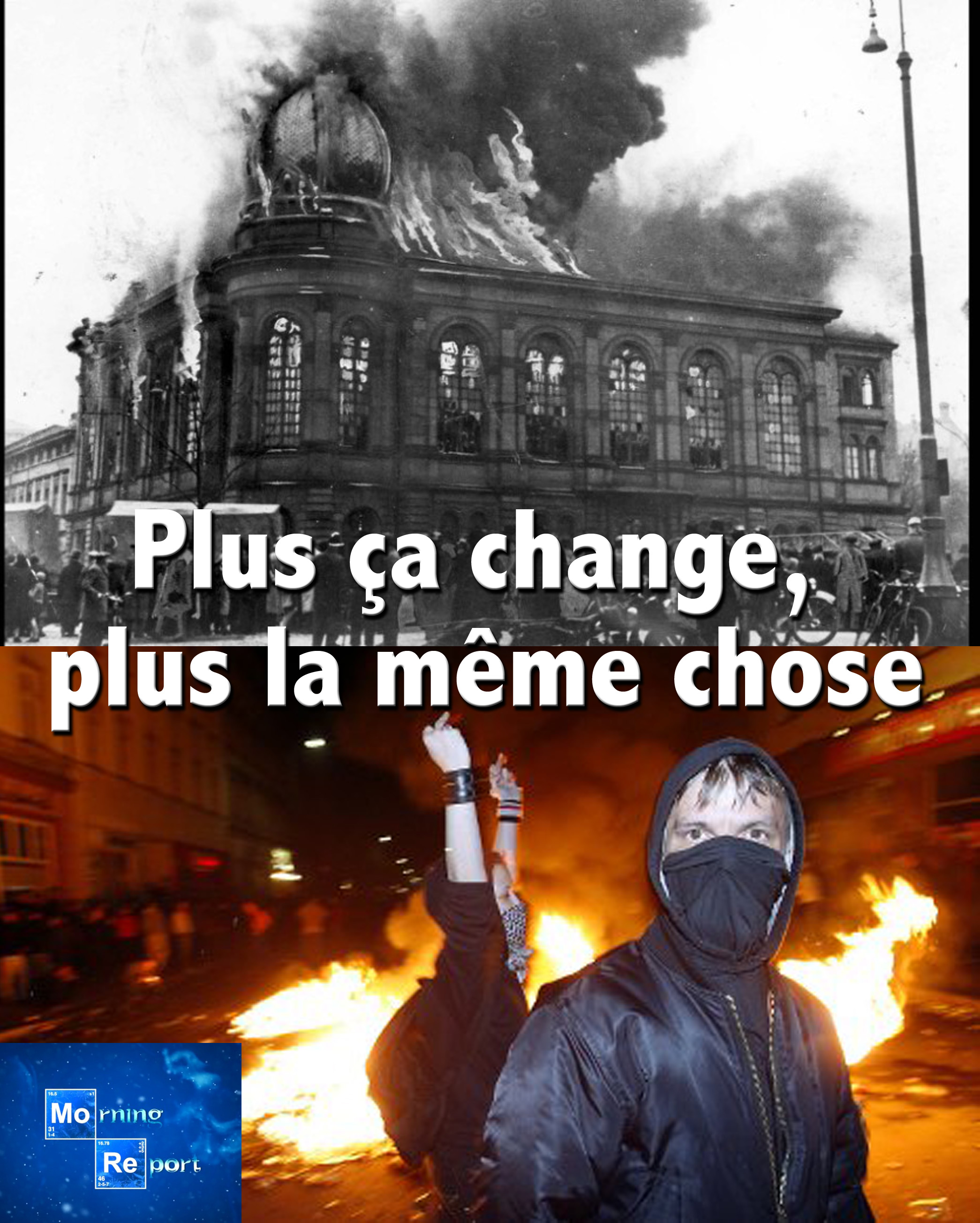 Good morning kids. Friday at last and there are a number of things jumping all at once and as usual, they are all interrelated into the overarching theme of America at a crossroads. And frankly, all things considered - even with the miracle that is the first two years of the Trump era - the situation is very much in doubt.
First, absolute silence in the wake of Democrat-Left sponsored and sanctioned Antifa thugs harassing the home of Tucker Carlson (with the exceptions of Alyssa Milano and Stephen Colbert, believe it or not) which is being investigated by DC cops as a potential "hate crime." This is only the latest in a long list of acts of violence and intimidation agains the political opponents of the Democrat-Left and, as stated, fully sanctioned, encouraged and applauded at the highest levels of the Democrat Party and those in the legacy media.
Second, we have the naked and shameless attempt by officials in Florida and Arizona to actually steal the gubernatorial and senatorial elections away from the GOP and put them in the win column for the Democrats. And in Georgia, the same thing though seemingly that is going to be a tougher one to steal. Is it a sick coincidence or something else that the epicenter of this insanity is Broward County? So now a recount has been ordered, despite lawsuits justifiably flying from Rick Scott, and Bill Nelson has brought in none other than a lawyer from Perkins/Coie of fraudulent Russia Pee-Pee dossier infamy. While that's happening, 2,000 miles away in Arizona, the Democrats have got the forgers burning the midnight oil to manufacture the requisite number of ballots to declare victory without forcing a runoff. And "Tank" Abrams is now withdrawing her concession so she too can somehow overthrow the will of the people, though that one might be safe, for now.
Third, we have the manufactured outrage over the President legally and with cause firing Jeff Sessionszzz and hiring Matthew Whitaker as some sort of treasonous act that must be stopped. How, pray tell (see the first section about Tucker Carlson, I guess)? It's all intended to obfuscate and create an impression of guilt surrounding the President when in fact it's the very same people accusing him of treason that have committed acts that would, in olden days, required the replacing of the guillotine blades on a daily basis because of the number of heads that would roll.
Fourth, we have hack-in-black judges blocking two Trump items, the Keystone XL Pipeline and his ending of protections for the dreamy DREAMrs. No need to expand on this. The hackery and shameless unconstitutional power-grabbing speaks for itself.
Fifth, we have an item that all things considered would have been lost in the sauce with all of this crap but is nevertheless completely indicative of the rot that has infected our politics, government and justice system. Former New York Attorney General Eric Schneiderman, the petty little tinplate tyrant who was a rising star in Lefty circles but was forced out because he had a penchant for slamming his warhead at helpless women (remember, there's supposedly a war on them) will face absolutely no charges for his sick misdeeds and crimes. But of course he's really sorry, mostly for getting caught. But when you're a Democrat you get a pass. Even for murder or manslaughter (see: Kennedy, Edward M.).
Yes, gentle reader. All of this in toto not only males my blood boil but it just fills me with a sense of dread for the future. And yet, there are signs that because the Dem Left is letting its freak flag fly Americans, even the young ones despite the indoctrination machine, are rejecting it or at the very least questioning and or recoiling from it. Just because it's on your TV screen doesn't mean it's happening everywhere all at once. This is because the media is, as we say in the trade "lying." 24/7/365. But on the negative side of things, if they are willing to stop at nothing to get and hold on to power, then to not challenge that by every legal means necessary and as forcefully and persistently as possible means eventually losing the nation. For good. So at the risk of repeating myself from yesterday, is what we are witnessing the desperate paroxysms of a Democrat-Left-Media complex losing its control because of President Trump's American renaissance, or is the latter just a slight delay in the inevitable loss of the republic as founded? The world wonders...
There's also a general roundup of the Midterms including the GOP electing the first Korean woman to the House from California of all places. Of course the media is falling all over themselves to cover this... up. Going quickly around the horn, we have the simultaneously bullshit and yet somewhat important story of JmJ Acosta who either is Jerry Springer with press credentials or as the media would have it a brave journalist speaking truth to power.The only reason this story is of importance is the way in which the propaganda machine will attempt to spin it, which is of course, the latter, as yet another avenue with which to delegitimize this President and more to the point all of us who support him.
Also, the administration has taken steps to redefine asylum and limit as best they can the number who can claim it (which is in reality zero) from amongst the invader caravan crawling northward, Nancy Palsi is gunning for "bipartisan" gun registration and hopefully PDT guns that down, one of the victims in yesterday's mass murder at that bar in Thousand Oaks was the niece of former Fox newsman Adam Housley and wife Tamera Mowry, interesting piece on Spain's move to the right and a Steve Bannon connection, the religion of peace, clit-clipping, beheading and homo-tossing can add vaccination as yet another Joo-plot and when people start dropping in Indonesia that too will be a Joo-plot, And of course, Louis Farrakhan continues to shoot his mouth off in Iran and rail against evil Jooz, America, white people and vaccinations. I really wish Secretary of State Pompeo would revoke this insect's passport.
Finally, and to bring much of this into perspective, today marks the 80th anniversary of what became known as "Kristallnacht." Though much of the growing persecution of the German Jews in the 1930s was either whitewashed or minimized by the press (sound familiar?), the pogrom unleashed on the pretext of a Polish Jew in Paris shooting a German ambassador touched off a night of such wanton violence that the world could no longer ignore the facts in front of their face as to the peril Germany's Jews faced. And in hindsight, it is said to be the first act in the genocide of Europe's Jews from 1939-1945.
How sadly and horribly ironic then that in the wake of the mass shooting at a Pittsburgh synagogue last week that the Democrat Left drapes itself in the mantle of justice, equality and tolerance with which to bash its political opponents as racists, antisemites and bigots. Sadder still is the fact that the Democrat party has amongst its leaders Linda Sarsour, Louis Farrakhan (yes, he's one of yours), Barack Obama, Sid Blumenthal, George Soros, Al Sharpton, Andrew Gillum and on and on and on, as well as acolytes on college campuses beating up Jewish students and calling for the destruction of the state of Israel. And saddest of all, eight decades after Kristallnacht American Jews themselves that are among the loudest and most virulent anti-semites of all.
Have a great weekend.
Anyway, links from around the world, across the nation and up your street. Have a better one and remain blessed.


posted by at
07:57 AM
|
Access Comments