« Gun Thread: Well I Suppose That's One Way to Do It - [Weasel]
|
Main
|
The Morning Report - 11/12/18 »
November 11, 2018
Sunday Overnight Open Thread (11/11/18 )Veterans Day Edition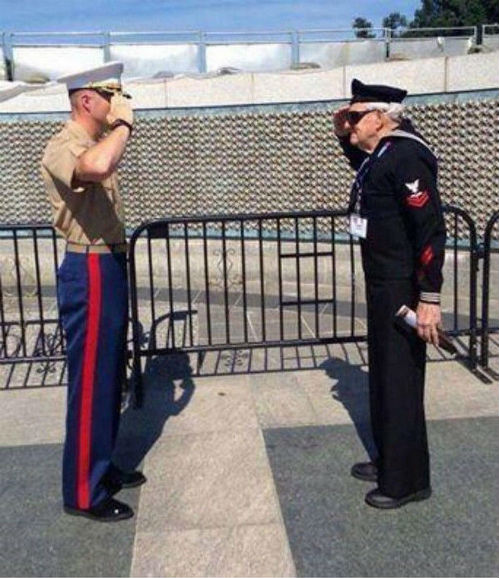 From Armistice Day to Veterans Day.

Today marks the 100th anniversary of the day that the guns that roared during the "Great War" fell silent on the 11th hour of the 11th day of the 11th month.

Though begun as "Armistice Day," Veterans Day has expanded in the United States as a day for all those brave men and women who fight to keep us free.
***
The Quotes of The Day

Quote I

~Colorado elected the first openly gay governor, but Vermont declined to elect the first transgender governor. I'm bored with all these supposedly historic "firsts" - as I said to a Dem activist on "Tucker" a couple of months back, where's the first Muslima transgender? Yeah, okay, maybe I scoffed too soon: Kansas did manage to elect the first lesbian Native American ex-MMA fighter. Mark Steyn

Quote II

"Everybody knows now. Even if Trump is not successful at draining the swamp. Trump has been successful at exposing who is a member and how deep the swamp goes.

Once you can see the Emperor has no clothes…then it's a short trip to everybody laughing at the Emperor." Tom Luongo

Quote III

I believe this area was a gun free zone, and although there was security, I don't believe any were armed. I do know that one security officer was killed right when the shooting started.

If just one person was armed, there is a possibility that it could have been stopped then and there. This is why gun free zones are a danger to us all, and if someone had been there armed, those people would still be alive. Alex Chatoff
***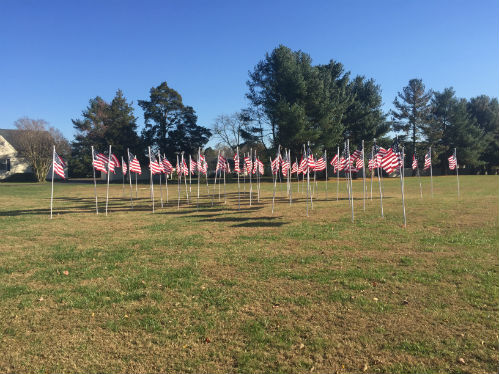 (Small town (Northern Neck, Virginia) America (Veterans's Day Weekend 2018) When viewed from above the flags are arranged in a star pattern. h/t hrothgar)
***
If you enjoy coffee, once again, there is good news for you.

Coffee drinkers, here is yet another reason to sip some java: Your morning blend just might help you live longer, finds a new study, which is just the latest in a long line of other recent studies with similar findings. But sit tight, say nutritionists. While coffee appears to have its share of benefits, it is definitely possible to get too much of a good thing.
Too much of a good thing? Nah, couldn't be.
***

I lost an office to a fire one time in B.C. (Before computers) It was a challenge to get up and running. But, at the end of the day I was fortunate and could go home. 'Ashes, ashes, we all fall down'. Conservative blogger Vanderlueun a victim of the Paradise, California fires.
Saturday 5 AM: I am back online now it would seem and need to make this brief since I find I have no briefs other than the pair I wear.

Things. Things are gone. Serious things of memory never to be replaced. Things no longer needed and things never needed. And trivial things one needs to get through the day. I no longer have these things. All have gone into the smoke of the world as, in the end, do we all.
***
Congressman Elect Dan Crenshaw (R-TX) A classy individual.
***
The ONT Musical Interlude
November 11, 2004, Liza Minnelli's former bodyguard accused the singer of forcing him to have sex with her in order to keep his job, court documents revealed. M'hammed Soumayah was suing Minnelli for $100m damages, saying she made "many repeated attempts" to compel him into sex and he "eventually succumbed". via thisdayinmusic.com
***
November 11, 1973, Born on this day, American musician Jason White, lead guitarist. He was a touring member of Green Day from 1999 until 2012 and played lead guitar in the majority of their live shows. During late 2012 he became an official member of the band, with Green Day becoming a four-piece group. via thisdayinmusic.com
***

We know that Germany has been having issues over the past few years with their immigration problems. Allegedly certain German Armed Forces were planning to do something about it.

While investigating the case of Franco A, a German military officer who falsely registered himself as a Syrian refugee and allegedly planned to carry out terror attacks, police uncovered a much greater threat hiding within Germany's army and special forces.

Investigators with the Federal Criminal Police Office (BKA) stumbled upon signs that a conspiracy had been organized within the German Bundeswehr, special forces command (KSK) and an association of elite soldiers, Uniter eV, the German magazine Focus reported, citing investigation materials.

A group of preppers who believe that a government collapse is imminent has been preparing for a so-called "day X" in order to gather all unwanted politicians "in one place with intent to kill them," the police learned.
***
They are called traffic laws and not traffic suggestions for a reason. Obey or face the consequences. Possibly NSFW
***
Previously covered here in The ONT, the catapulting bed. The follow up to this story. It wasn't the beds fault, it was the chick's fault.

A woman left paralysed after being 'catapulted' from her new bed during sex has lost a High Court bid for seven-figure damages against the bed supplier. Claire Busby, of Maidenhead, Berkshire, suffered a serious injury to her spine when she fell from the super king size double divan as she shifted her position. The 46-year-old claims the bed was in a 'defective state' at the time of her accident and brought legal action against Berkshire Bed Company, trading as Beds Are Uzzz, which supplied it.
***
MATH. And so you have been advised.

Mystery Math Whiz and Novelist Advance Permutation Problem
A new proof from the Australian science fiction writer Greg Egan and a 2011 proof anonymously posted online are now being hailed as significant advances on a puzzle mathematicians have been studying for at least 25 years.
***

The press is biased. They choose what to make "news" and what will not be covered. That's bad enough. What is worse is when they just make shit stuff up. Talk about Fake News.

On July 31, the Houston Chronicle published a front-page story with a provocative headline. "'We've moved on': Political anger after Harvey has eased," it declared, adding: "Experts believe disaster response is unlikely to be a factor in November."

It was a significant story by veteran reporter and Austin bureau chief Mike Ward. It asserted that Houston residents initially fed up with the uneven government response to Hurricane Harvey actually weren't going to blame politicians after all. The story began with West Houston resident Molly Scheer, whose anger had faded. She was going to vote Republican.


"My friends are mostly the same way now," she was quoted as telling Ward.

But in the weeks after the story ran, questions were raised about the sourcing in Ward's story. No one could find Molly Scheer. And no one could find three others quoted in the story — Tran Ng, Martina Racelli and Jack Nito.
***

Can't paint like the Masters that CBD shares with us every Monday-Friday? Unable to wet a brush like Bob Ross? You can always paint like Dan Robbins.

Dan Robbins turned you and yours into artists. By following his guide that matched numbers on a printed canvas to the corresponding colours supplied in small paint pots, you blossomed. America was getting rich, and with "the art of leisure" you could put your free time to good use.

Dan Robbins became "the most exhibited artist in the world".

"I don't know what America is coming to," one writer complained to American Artist magazine, "when thousands of people, many of them adults, are willing to be regimented into brushing paint on a jig-saw miscellany of dictated shapes and all by rote. Can't you rescue some of these souls-or should I say 'morons'?" But with Dan's color-by-numbers you could sit awhile and paint something recognizable. This was mindfulness and coloring books for adults before they existed. "I know I'm not much of an artist and never will be," another reader wrote to American Artist. "I've tried in vain repeatedly to draw or paint something recognizable… Why oh why didn't you or someone else tell me before this how much fun it is to use these wonderful 'paint by number' sets? I am on my fifth set and just can't leave them alone."
***

Typical flight delay excuses: Weather, Mechanical, Repossession. Repossession? Genius Award Winner.

Passengers aboard a plane headed to London this week were ordered to evacuate by French authorities after it was revealed that the carrier owed a substantial amount of money from 2014.

The Ryanair Boeing 737 was impounded and all 149 passengers were told to turn around and head back to the Bordeaux-Merignac airport in western France.

Travelers were left out of the loop for most of the ordeal, with only two text messages telling them that the departure was delayed and that they would receive vouchers worth about $6 for food. One passenger told The Associated Press that airport authorities told them there "was an issue with the plane."
***

Putting "Service" back into the service industry. Tonight's Feel Good Story of The Day.
***

Tonight's ONT has been brought to you by Liberators.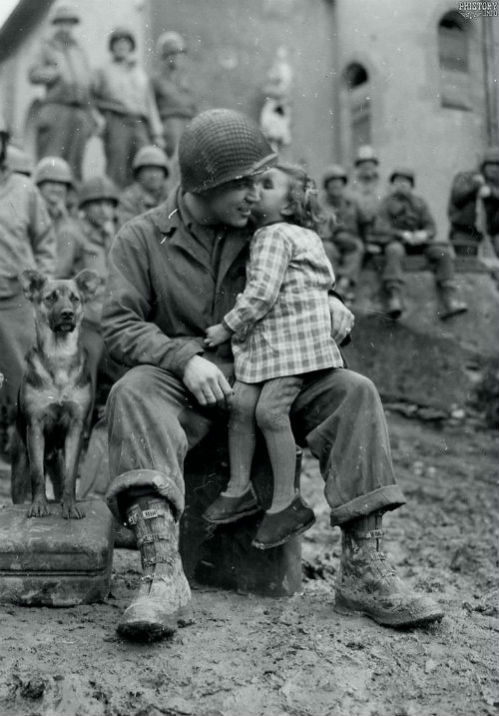 Posted with permission by The Ace Media Empire and AceCorp, LLC. The Empire is thankful for the service of America's finest. Thank you.
November 11, 2004, Liza Minnelli's former bodyguard accused the singer of forcing him to have sex with her in order to keep his job, court documents revealed. M'hammed Soumayah was suing Minnelli for $100m damages, saying she made "many repeated attempts" to compel him into sex and he "eventually succumbed". via thisdayinmusic.com
***
November 11, 1973, Born on this day, American musician Jason White, lead guitarist. He was a touring member of Green Day from 1999 until 2012 and played lead guitar in the majority of their live shows. During late 2012 he became an official member of the band, with Green Day becoming a four-piece group. via thisdayinmusic.com
&topic=world_news">

posted by Misanthropic Humanitarian at
09:34 PM
|
Access Comments