« EMT 11/11/18
|
Main
|
Bits And Pieces From The Chaos That Is The Internet »
November 11, 2018
Sunday Morning Book Thread 11-11-2018
Library of Victor Tango Kilo
Good morning to all you 'rons, 'ettes, lurkers, and lurkettes, wine moms, frat bros, and everybody who's holding your beer. Welcome once again to the stately, prestigious, internationally acclaimed and high-class Sunday Morning Book Thread, a weekly compendium of reviews, observations, and a continuing conversation on books, reading, and publishing by people who follow words with their fingers and whose lips move as they read. Unlike other AoSHQ comment threads, the Sunday Morning Book Thread is so hoity-toity, pants are required. Even if it's these pants, either pair, they're both an eyesore. Some people just like to look stupid as an attention-getting device.


Pic Note
VtK sent me some nice pics of his home library/man cave, so I picked out what I thought was the best one. Click on it to embiggen. And he's got a new book out, which you can read about in the 'Books By Morons' section.

It Pays To Increase Your Word Power®
A LEGICIDE is someone who undermines or destroys the rule of law.
Usage: The Democrats responded to their election losses by throwing fits of legicidal rage.
Armistice
Today is Veterans' Day (or, originally, Armistice Day) and so I think a little war poetry from Wilfrid Owen is appropriate: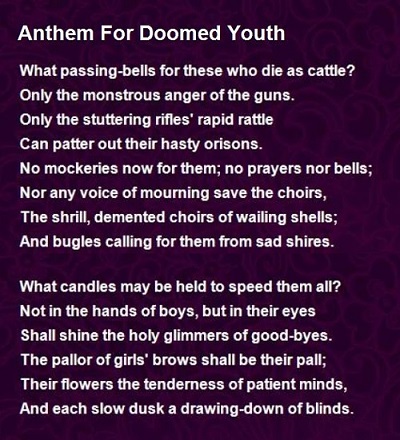 According to Wikipedia, Owen's death was especially tragic:
Owen was killed in action on 4 November 1918 during the crossing of the Sambre–Oise Canal, exactly one week (almost to the hour) before the signing of the Armistice which ended the war, and was promoted to the rank of Lieutenant the day after his death. His mother received the telegram informing her of his death on Armistice Day, as the church bells in Shrewsbury were ringing out in celebration.
Of course, the real killer around that time was not bullets, but rather a virus. As detailed in the book The Great Influenza: The Story of the Deadliest Pandemic in History by John Barry:
At the height of WWI, history's most lethal influenza virus erupted in an army camp in Kansas, moved east with American troops, then exploded, killing as many as 100 million people worldwide. It killed more people in twenty-four months than AIDS killed in twenty-four years, more in a year than the Black Death killed in a century. But this was not the Middle Ages, and 1918 marked the first collision of science and epidemic disease. Magisterial in its breadth of perspective and depth of research and now revised to reflect the growing danger of the avian flu, The Great Influenza is ultimately a tale of triumph amid tragedy, which provides us with a precise and sobering model as we confront the epidemics looming on our own horizon. John M. Barry has written a new afterword for this edition that brings us up to speed on the terrible threat of the avian flu and suggest ways in which we might head off another flu pandemic.
The Kindle version is $14.99

Moron Recommendations
Here's a recommendation I received in e-mail last month and then completely forgot. My apologies to Bellerophon, a lurker:
When I travel I like to go to local book stores. I am in Bratislava, Slovakia on business and came across this store. It is good to remember. Also, I just read "Night" by Elie Wiesel. It is an incredible book about the holocaust. Very moving and highly recommend.
He sent me a photo of a plaque on the outside of the bookstore: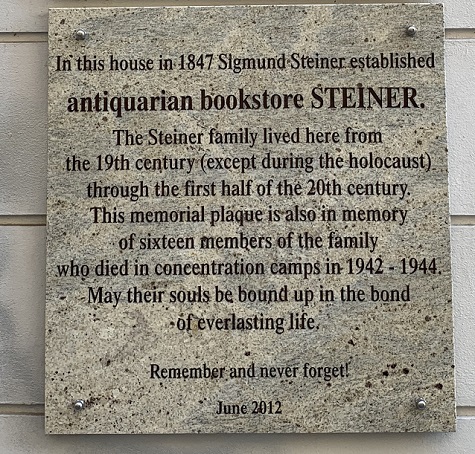 Click on it to see the whole thing.
And here is the blurb for Night:
Born in the town of Sighet, Transylvania, Wiesel was a teenager when he and his family were deported to Auschwitz and then Buchenwald. Night is the shattering record of his memories of the death of his mother, father, and little sister, Tsipora; the death of his own innocence; and his despair as a deeply observant Jew confronting the absolute evil of man. "Never shall I forget that night, the first night in camp, that turned my life into one long night," writes Wiesel. "Never shall I forget ... even were I condemned to live as long as God Himself." These words are etched into the wall of the Holocaust Memorial Museum in Washington. Far more than a chronicle of the sadistic realm of the camps, Night also addresses many of the philosophical and personal questions implicit in any serious consideration of the Holocaust.
The Kindle edition of Wiesel's monumental Holocaust memoir is $9.99.
___________
116 Also, could anyone recommend a non-language specific text on linguistics/grammar that doesn't focus on one language (or language family), but on the meat and potatoes of how grammar and languages in general can be constructed (such as with tense, declination, &c.) including a good overview of the terminology?

Posted by: The Political Hat at October 28, 2018 10:01 AM (itfg0)
Just for the halibut, I went to Amazon and entered 'Linguistics For Dummies' in the search box. Here are some of the results:
Linguistics for Dummies
Linguistics: A Complete Introduction: Teach Yourself
On Language: Chomsky's Classic Works Language and Responsibility and Reflections on Language in One Volume
Linguistics: A Very Short Introduction
The '...Very Short Introduction' is one of a series of 'Very Short Introductions' of a number of different subjects. This one is inexpensive enough, it may be a good place to start.
___________
Books By Morons
A happy bounty of e-mail from moron authors this week:
Moron Victor Tango Kilo (formerly known as "V the K", as I recall...) has a free book out. But first, if you go to his web page, you see this:
This is not some boring PC, social justice wanker Sci-Fi, this is

Worlds Apart

The long, strange trip of the Pathfinder Ship Pegasus.

A throwback to when Sci-Fi was fun to read and full of big, bold, silly, wonderful ideas.

Also the occasional fart joke.
So yeah, this sounds like it will go down well here at the HQ. He's up to 12 books in this series. His free book is a collection of short stories set in the "Worlds Apart" universe. So you can read them and decide if the series is worth reading. It may be downloaded from Amazon for 99 cents or for FREE directly from his web site.
___________
Longtime lurker who belongs to the "Expat Patriot clan" writes:
Recently, I published my first set of essays on Amazon Kindle for $0.99. I would prefer to publish them in a more traditional place, but academia is a dumpster fire.
br<>So, I would appreciate even a small shout out to get the fine philosophers of the horde to read and then destroy them. It's titled Five Brief Essays on Ethics by Expat Philosopher, and it is as stuffy and dry as that sounds. There are further expansions planned on other formal topics, but it turns out that Ethics is something of a premise to the rest.
The Amazon blurb says:
Five essays in which the principle failure of modern Ethics is outlined and a potential solution to that problem is roughly described. The major points of the solution are unified under the name Anthropocentrism for ease of reading, which is then more specifically examined as an epistemic entity with a brief review of the historical soundness of its major claims. Finally, some of the most significant limitations to the proposed theory are mentioned.
Sounds weighty. But for 99 cents, you probably get a lot of bang for your buck.
___________
From moron author Daniel Humphreys:
I just released the final volume of my Z-Day trilogy and wondered if you could share that with the Horde. The first two books will be on sale for 99 cents each this weekend to coincide with the new release. If you could, please reiterate my thanks and kudos for all the support I've gotten from the Ace of Spaces family since the first book came out in 2016. Y'all are awesome!
Here is a link to the series. Or, individually:
1. A Place Outside the Wild
2. A Place Called Hope
And the final volume:
Blurb:
"We stand on the brink, ready to reclaim this continent. Our fight today is not for resources or supplies. We're coming home."

The future is now. Equipped with a mix of primitive and bleeding-edge technologies, the US military is bringing everything we have left to bear against the zombie horde. The evolution of the infected into vicious alpha predators has made old tactics dangerous and obsolete.

It's time to break out the big guns.
___________
Storybundle is a site that offers collections of books that you buy in a "bunch" and you have some say in how much you pay. So, for example, right now the site is running the 2018 Truly Epic Fantasy Bundle. Curator Kevin J. Anderson says:
You can get ALL 13 of these books for as little as $15 (you name your own price), and a portion of the funds goes to benefit the Challenger Learning Centers for Space Science Education, and the rest of the money directly supports these indie authors. But the Truly Epic Fantasy StoryBundle will be around for only three weeks. Time to pack up your reading device and set off on the quest!
Anyway, the reason I'm telling you this is that this bundle features a novel by moron author John Payne, 'The Crown and the Dragon':
In a country ruled by an occupying foreign empire, Elenn, an arrogant young noblewoman, accompanies her aunt on a mission to bring an ancient relic to the secret coronation of the rightful king of their people. When her aunt is murdered on the road by passing soldiers, Elenn hires a smuggler and criminal, Aedin, to escort her across the dangerous country so she can take her aunt's place at the coronation. But when Corvus, a rogue magister of the empire, employs a dark magic to retrieve the ancient relic for his own evil designs, Elenn must find the humility and strength within herself to fulfill her aunt's calling to unite her people before the power of the relic falls into the hands of the empire.
Here's a trailer for this bundle.
There's a sliding scale you can use to determine how much of what you pay goes to the author and how much goes to StoryBundle. It's a good way to support indie authors.
The bundle ends on Nov. 15th.
Of course, The Crown and the Dragon may be purchased totally apart from the bundle if you only want that one book.
John also has some freebies to give away to people who help spread the word about the bundle. To enter the contest, just RTs this tweet : https://twitter.com/jdp_writes/status/1061479926501597184 with the hashtag #SundayMorningBookThread. Randomly drawn winners will get ebooks, short stories, or the whole bundle-- all free!

___________
Don't forget the AoSHQ reading group on Goodreads. It's meant to support horde writers and to talk about the great books that come up on the book thread. It's called AoSHQ Moron Horde and the link to it is here: https://www.goodreads.com/group/show/175335-aoshq-moron-horde.
___________
So that's all for this week. As always, book thread tips, suggestions, bribes, insults, threats, ugly pants pics and moron library submissions may be sent to OregonMuse, Proprietor, AoSHQ Book Thread, at the book thread e-mail address: aoshqbookthread, followed by the 'at' sign, and then 'G' mail, and then dot cee oh emm.
What have you all been reading this week? Hopefully something good, because, as you all know, life is too short to be reading lousy books.

posted by OregonMuse at
09:00 AM
|
Access Comments