« Weird News Dump
|
Main
|
Funniest Damn Picture Close-Up You're Likely to See This Year »
November 10, 2018
The day before November 11 [KT]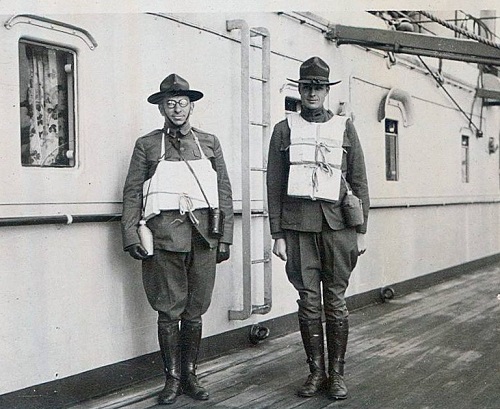 My grandfather, the taller man above, wrote the following on the back of this photo:
En route over seas

Soldiers wore life preservers night and day

also a canteen of water so if ship went down we would not get thirsty in the sea.
Good morning. Today is the day before Veterans Day, the 100th Anniversary of Armistice Day. President Trump is in Paris, preparing to celebrate. My grandfather and others on the ship pictured above were later involved in some of the worst battles in World War I. Those who survived were grateful for Armistice Day.
They are not with us anymore, of course. You might want to pay a little extra attention to a veteran you know this weekend, or you might take this opportunity to think about some family history worth preserving and sharing. My sister-in-law just found the photo above at my mother's house.
Many veterans don't like to talk about their war experiences, but sometimes some information comes out anyway. As noted in last night's ONT, today is the 80th anniversary of Kristallnacht. I found this last night:
A personal story:


My grandfather fought in WWII. He never spoke about it, so we didn't know much about his time in the service, but based on the patches on his uniform, we think he did something in intel.


The next part takes place two years ago.
He died, and I'm cleaning out his house with my mom and sister.
We find a photo album.
When I open it, I feel like it might burn a hole in my hands.
They found a bunch of apparent captured Nazi photos from Kristallnacht, many included in the thread. They make history real. UPDATE: If you're a lefty like the author of that thread, try to apply what you have learned from these fresh images to the behavior of some people you may sort of agree with, like, say, Antifa at Tucker Carlson's house.
A lot of people were grateful to see the end of World War II, also.
You might like to check out a commemoration of Veterans Day in your area. Around here, there are events starting today and lasting through Monday, when the Fresno Veterans Day Parade will be held. Goodness knows we could use a little more community spirit about now. And I heard on the radio about a ceremony during which a quilting organization gave quilts to veterans. One Vietnam vet started to cry. Said it was the first time his service had ever been acknowledged. Seems worthwhile.
Do you know of any Veterans Day events near you? If not, maybe you could invent a small one of your own.
If a wildfire does not interfere, a special day is planned at the USS Hornet Sea, Air and Space Museum in Alameda. In addition to ceremonial commemorations, there will be a variety of activities such as demonstrations of naval knot-tying and the opportunity to write a letter to a vet. Might be a new experience waiting out there for a kid you know. Leave the phones somewhere else.

Or, concentrate on one veteran. Just do something nice with one veteran.
I know I have shared the excerpt below before, but it seems fitting on this special anniversary year. These were some of my grandfather's thoughts as he prepared to return home from Europe at the end of World War I. He received more injuries than he let on in this letter to his father. He carried shrapnel in his back the rest of his life, and his life was saved by a small frying pan holding corned beef ("bully beef") which had been strapped to his back when a bullet hit. He buried a lot of men. Don't know how much that changed him, but when I was a child he was not very demonstrative. He struck me as living in an adult world where the concerns of children were left to other people.
After the war, he expressed willingness to serve again if he were needed.
I am happy to say that peace seems to have come. I was slightly wounded in the right arm in the offensive we took part in on the Belgian front. I felt happy to be alive and safe and I look forward to coming home.

My sympathy goes out to those who will never go home and for those who expect to see friends and relatives who will never come back. I have come to the conclusion that life is a precious gift and is worth living, no matter what the difficulty, but we are so helpless to save it or preserve it that it is not worth while to consider our health and happiness and comfort above that of others. It is worth while sometimes to die, if death will serve to help others. When we think too much of our comfort we expose ourselves to more danger by disintegration than we do when we make a brave fight and face every danger and exposure.

I hope I come home from this war more of a man then I went into it. If I don't I'll feel that I have not played my part.
A little music for Veterans Day
Note: This is the Thread before the Gardening Thread.
Serving your mid-day open thread needs
Hope you have a great weekend.

posted by Open Blogger at
11:11 AM
|
Access Comments