« Food Thread: Extra Halloween Candy: It's A Tough Job, But Somebody Has to Eat It!
|
Main
|
Sunday Overnight Open Thread (11/4/18 ) »
November 04, 2018
Gun Thread: I Heart This Rifle - [Weasel]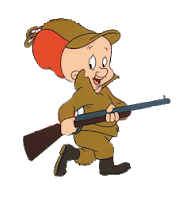 E. Fudd and his Favorite Wabbit Wifle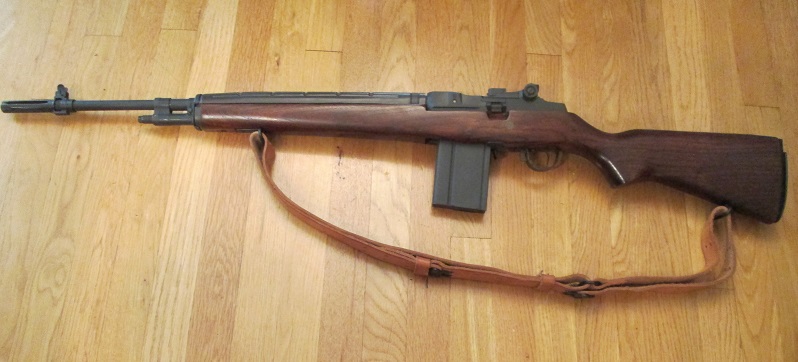 1999 Springfield Armory, Inc. M1A 'Loaded' Model

I have to admit I think this may be my favorite rifle. I just like everything about it. It's well balanced, fun to shoot, fun to look at, sort of fun to clean (not really), and makes it seem like I know what I'm doing on a rifle range. Pointy end downrange, right?
The M1A is the semi-automatic civilian version of the M14. Chambered in .308 Winchester or 7.62x51mm NATO, the fully automatic M14 was introduced as a replacement for the M1 Garand beginning in 1959, and served as the U.S. battle rifle until the arrival of the M16 around 1964. The M14 continues to be used by specialized units to this day.
In 1974, Springfield Armory, Inc., a private corporation headquartered in Genesco, IL., began production of the M1A. Offering several different models with an array of features; the M1A remains popular with competitive shooters, marksmen, hunters and sportsmen alike. The M1A 'Loaded' model pictured above includes as standard a number of match grade components including a National Match barrel, NM front and rear sights and two stage military trigger. Although not standard on the Loaded model, this particular rifle has a custom bedding job and was very clearly someone's well cared for match rifle. Although I haven't done any scientific measuring, with decent ammo off a bench I think this is probably very close to a 1.5 MOA rifle. Did I mention it was fun to shoot?
So do you have a favorite rifle, and if so, why? There are a lot of good reasons, I suppose; favorite caliber, smells good, pleasant hunting or range memory - any number of things. Which rifle would you never consider selling?

Reloading Bench
While very small physical and pressure differences do exist, .308 Winchester and 7.62x51mm NATO ammunition are interchangeable, with the .308 Win developing slightly higher pressure. Over the years, the military has produced M80 Ball, M118 Match and M852 NATO Match ammunition to varying degrees of accuracy. Unfortunately, military loads are often driven by the economics of component cost and availability, with absolute accuracy sometimes becoming a secondary consideration. Whether you're shooting surplus, commercial or handloaded ammunition, to start out look for a bullet weight in the 168 - 175gr range, and a muzzle velocity around 2600 fps. The 168s will perform well inside about 700 yards while the 175s are effective beyond 1000 yds. If you're considerng a custom rifle, most long range .308 competitors are using bullet weights of 200gr and above with very high ballistic coefficients. Bullets weighing less than 168gr are effective at reduced distances.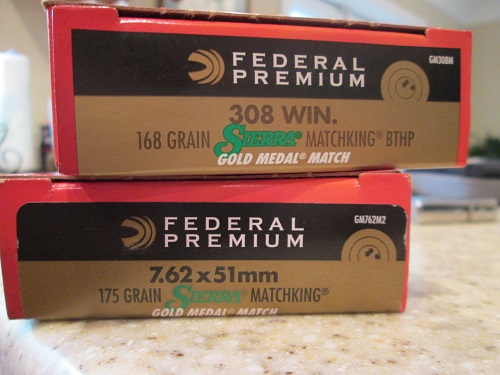 Federal Gold Medal Match Ammo - 168 and 175gr SMK
*******
Link-O-Rama
Article: .308 vs 7.62x51mm
Article: M80 Ammo Comparison Test
Article: M118 Ammo History
Article: M1A Loaded Model

***This Old Gun***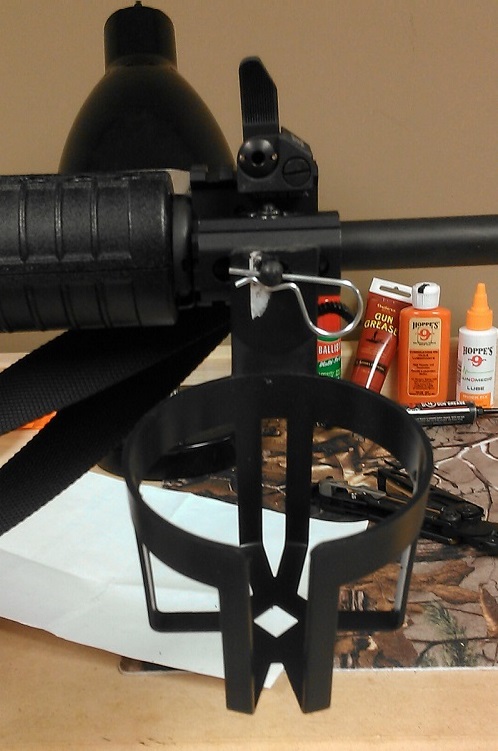 Finally, Common Sense Cup Control

This week's Old Gun is neither old nor a gun. It's more of an accessory. Actually it is an accessory. And just in time for the holidays!! I suspect the unsigned note and photo is from a tactical bitter clinger who didn't appreciate my derisive comments regarding AR-15 attachments a few weeks ago. This, however, is quite useful and should be on everyone's wish list!
The Tactical Bitter Clinger writes:

I have attached pictures of my AR-15 tacticool quick-detach cup holder. It is mounted on my first AR-15 build a CA-compliant rifle for my daughter who lives there. I am torn between naming it Moonflower (because California) and Diana (it is Cerakoted burnt bronze, similar color as Wonder Woman's armor).
Thanks Tactical Bitter Clinger! I'm a convert to the world of AR-15 accessories!!
*************
Please note the new and improved gmail account MoronGunThread for sending in stories and pictures. Thanks for your patience and please let me know if you have any more trouble (with the email). Again, that's morongunthread at gmail dot com. If you care to share the story of your favorite firearm, send a picture with your nic and tell us what you sadly lost in the tragic canoe accident. If you would like to remain completely anonymous, just say so. Lurkers are welcome!
That's it for this week - have you been to the range?

posted by Open Blogger at
07:02 PM
|
Access Comments