« Halloween ONT (10/31/18 )
|
Main
|
Mid-Morning Open Thread »
November 01, 2018
The Morning Report - 11/1/18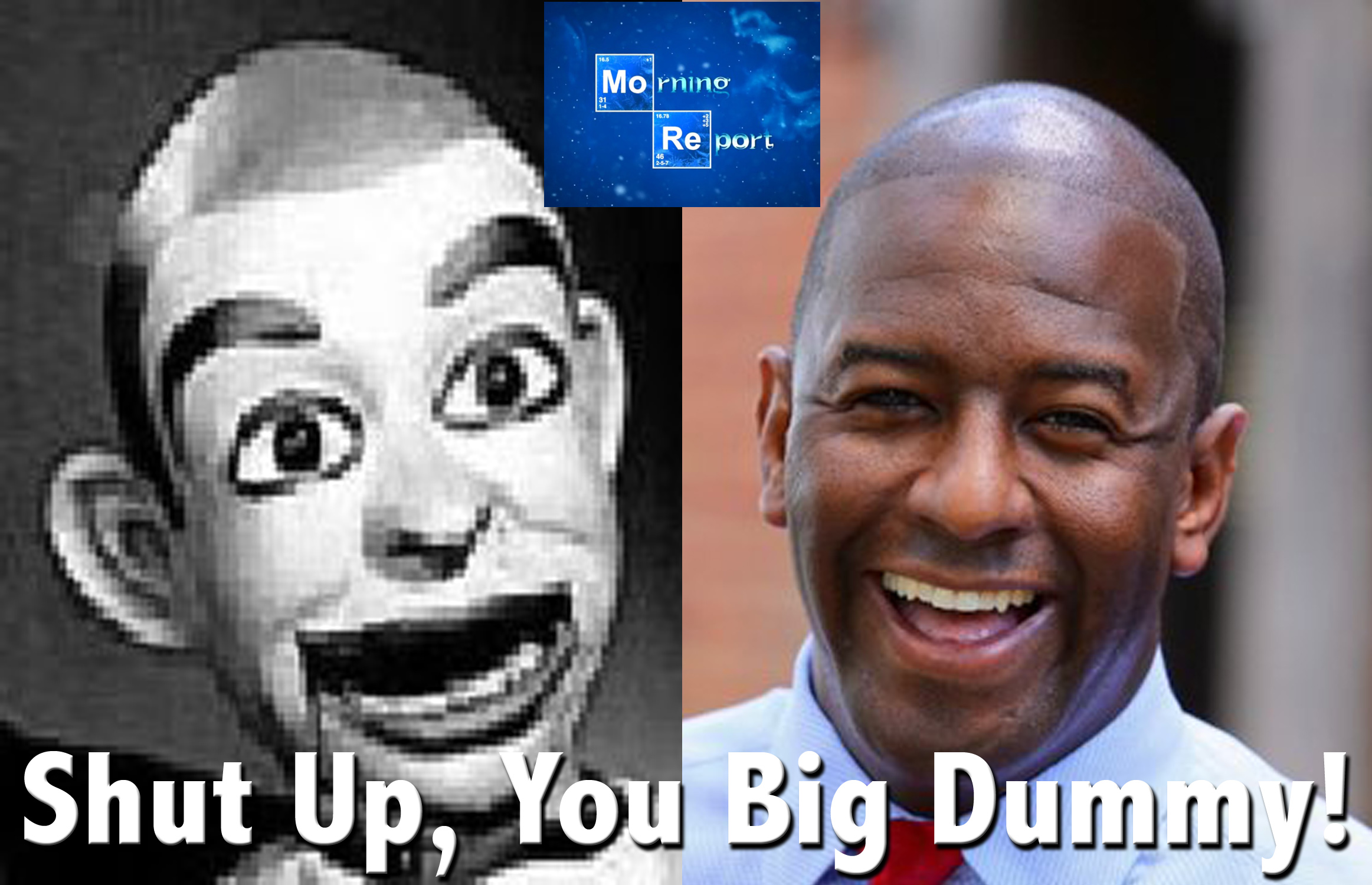 Good morning kids. The weekend is here and for better or worse, the finish line is in sight for the Midterms. As a public service announcement, if you're voting Democrat you need to go to the polls on Wednesday, so get as much rest as you can on Tuesday and turn off the TV and internet until then. Having failed to weaponize the Pittsburgh synagogue massacre and Cesar Sayoc mail bomb hoax fading against the President and Republican voters, the former has masterfully shifted the debate to the issue that got him elected, and frankly, the prime threat to America as founded - unchecked mass immigration and the concomitant balkanization of the nation and subsequent subjugation via permanent Democrat-Socialist control.
As the Central American migrant invasion force continues to make its way towards our southern border, albeit at a much slower pace, President Trump has ordered US Army troops to interdict it and has stated unequivocally that no one will be allowed to set foot on US soil illegally. If you want to be cynical you can say that this is a purely political move to fire up the base before the Midterms. Well, then, what the hell is the sudden marshaling and moving of thousands of foreigners northward? Of course the President is aware of the political consequences of inaction/surrender. But I think he is doing this because he knows that it is his duty and responsibility to protect our borders as commander-in-chief and that plain common sense dictates that to not do anything would be nuts.
All that said, in a masterstroke, seemingly out of left field, he introduced the incredibly hot button topic of so-called "birthright citizenship" into the political discourse. Whatever arguments one wants to make on the legality/Constitutionality of the concept (hint: it ain't either), the fact remains that due yet again to an insane edict from a hack-in-black on the Supreme Court, chain migration and birthright citizenship has been accepted as "settled" law for well over 50 years. But look at what the President has done. We have several links below debating the issue and what he can and cannot do. The best explanation for my money is Mark Levin. He's covered this issue before, as he has last night, and it's well worth the effort to find clips of his show and let him explain it.
No matter what happens vis a vis being able to get rid of it via an executive order (the reaction of Hawaiian Judge Bookum Danno notwithstanding) or by Congress enacting a law, he has not only made the public aware of the issue but has forced politicians on both sides to either defend it or join him in getting rid of it to whatever extent they can. And perhaps for the first time that I can recall, we may get the Democrats to actually be forced to make a concession and even roll back something they thought was set in stone forever. When has that ever happened?! This is a prime example of what makes Donald Trump probably the most consequential president (in a positive way) in my lifetime and probably in at least the past 50 years. And again, while it is beyond doubt a brilliant political ploy, I truly think he is doing this because he understands the magnitude of the problem and wants to see it solved, just like all of us who voted for him.
Of course, these tantalizing possibilities all hinge on what happens this coming Tuesday in the Midterms. While I'm pretty confident in saying that the Senate not only seems safe but that we might even increase our advantage to 53 or 54 seats (and Menendez, Whorehouse are in play, possibly Brown in Ohio), the big question is still will the GOP hold the line and keep the House? Despite being nervous, I feel pretty good about things considering how way off the pollsters and Media propagandists were in 2016, the failure of Dems to win almost all of the special elections over the past 2 years that were all supposed to be harbingers of Trump's downfall, the Democrat-Media disasters of Kavanaugh, Sloppy Daniels, the Pittsburgh massacre and Sayoc faux mail bombs, and now the migrant invasion, the incitement of in-your-face violence by Democrat leadership and the Media and, most importantly, the incredible successes on every issue of President Trump over these past 2 years, especially the economy.
With that preamble, or pre-ramble, as we delve more closely into the political links, all I can say is Florida, please, for all that is just and right, you cannot be seriously considering electing a bust-out crook, Jew-hater and raging Marxist to the governorship. Aside from being the mayor of city that has a higher crime rate than even Miami, there is ample evidence that he's misused campaign funds, taken bribes, abused his office and is about as bust-out racialist as one can get. And, he happens to be the latest to get stung by James O'Keefe's Project Veritas, wherein his staff tells the dirty little secret that he hate's the Florida crackas but he has to put on a show to pull the wool over everyone's eyes. Shocking, I know (sarc). Also, Morning Report favorite Daniel Greenfield rakes him over the coals and that one is well worth the read.
Elsewhere, Scott Walker's Democrat challenger is an investor in the company responsible for the Deepwater Horizon disaster (and see the fine essay about Walker fighting for his political life and his legacy in the Dairy State) and Fauxca-Has-Been claims the Sergeant Schultz defense on her campaign's finances. In Missouri, Claire McAssKill gets into a catfight with a fellow Dem, Loopy Ocasio-Fiasco pumps out a hideous bigoted e-mail blast, Molly McCaughey on Daniel Malloy in Connecticut, the Newark Star-Ledger says Bob Menendez is horrible but orders the Jersey proles to swallow the polonium turd sammich anyway, and the GOP has Amish outreach.
In First Amendment and Fake News news, Google faces a lawsuit at the SCOTUS, some TV executive catches Don Lemon fever, and Rabbi Fischer on why Trump is dead on for calling the media an enemy of the people.
At the foreign desk, NSA Bolton defends the withdrawal from the INF treaty with the Russky cheaters, Mattis and Pompeo are souring on the Saudi war in Yemen, and man-Oman, Israeli PM Netanyahu made a surprise visit to Oman. We also have several other links about Islamism and sharia vis a vis the Pakistani Christian woman acquitted of blaspheming the pedophile prophet and Robert Spencer on the nexus of Leftists and Islamists. Lastly, a thoughtful piece from Daniel Pipes on the so-called "far-right" European parties (hat-tip CBD).
Domestically, a look at Whitey Bulger's legacy, Jerry Moonbeam's coddling of juvies in Cali, Trump's judicial picks are effective in kneecapping the Leviathan, Nebraska's disastrous Medicaid expansion, Georgetown U and Saudi influence and a link on K-12 WalkAway (yes indeed!). From hither and yon, Ben & Jerry's are hot and horny for some Zyklon-B fudge ripple, Christian Toto on celebrity political PSAs flopping and lastly, a great essay by Roger Kimball on the tantalizing what-if of President Trump's legacy. May it resonate for decades to come.
Anyway, links from around the world, across the nation and up your street. Have a better one and remain blessed.


CIVIL WAR 2.0, PITTSBURGH MASSACRE, BOMB HOAX/SCARE


posted by at
07:39 AM
|
Access Comments