« Tuesday Overnight Open Thread (10/30/18 )
|
Main
|
Mid-Morning Open Thread »
October 31, 2018
The Morning Report - 10/31/18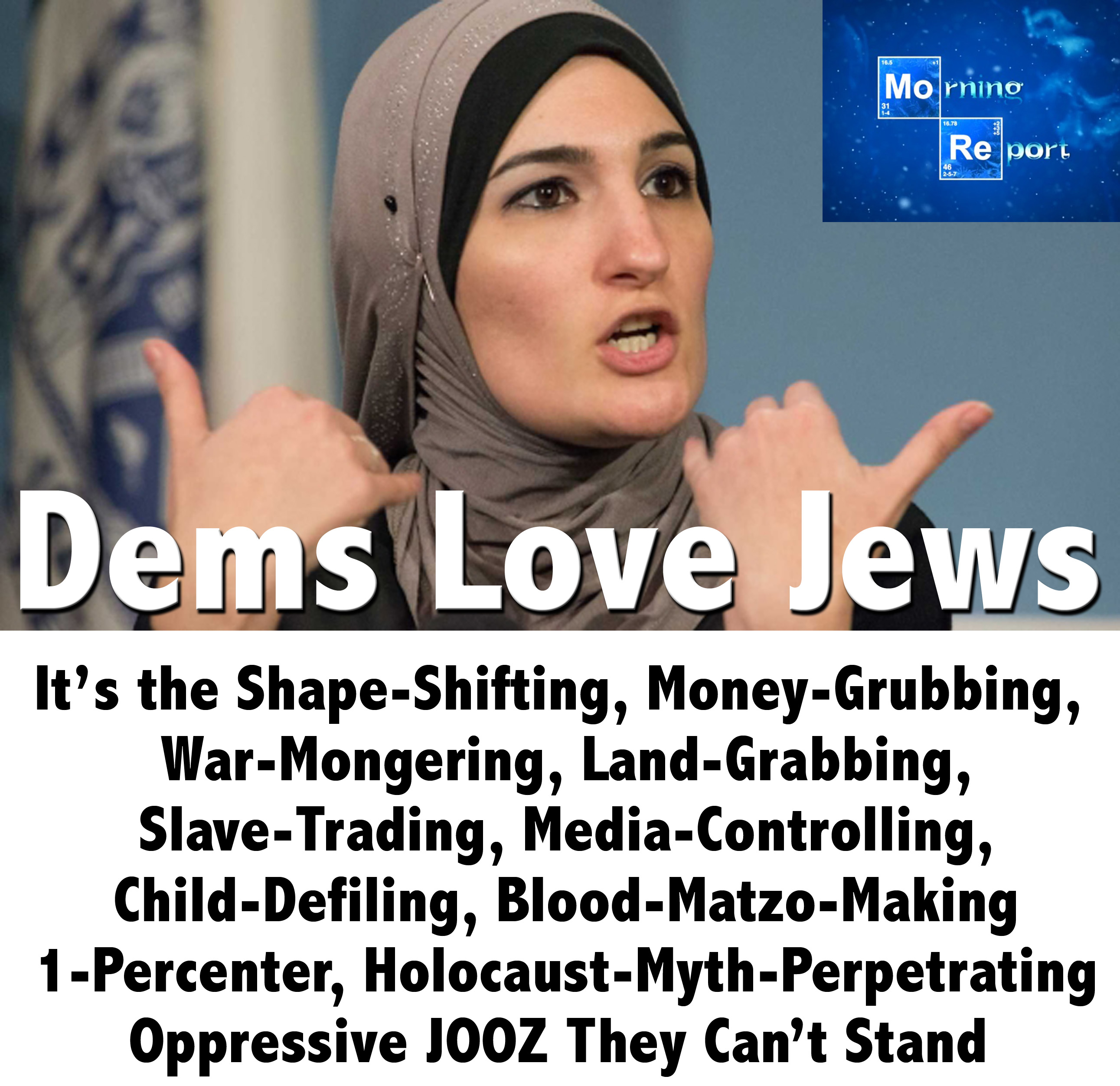 Good morning kids. Midweek and with 6 days left to go until the Midterms, the Democrat-Left-Media complex has suddenly found religion - - to use as a convenient combination cudgel and shield with which to bash the President and all of us who support him. Yes, you see it was the President's "divisive" rhetoric that incited the fiend to mow down 11 worshippers in Pittsburgh. The fact that the shooter was a rabid Joo-hater and Trump-hater for being a puppet of the shape-shifting weather-controllers is, of course, irrelevant. All you dumb hicks proles need to know is that Donald Trump hates Jooz. Period. I presume that includes his daughter, son-in-law and grandkids as well.
Not to trample on the blessed memory of the victims, which the Democrat-Media-Complex did the instant the first shots were fired, but the massacre in Pittsburgh came at rather an inopportune moment. It sucked the oxygen out of the lead news narrative of the mail bomb hoax/scare campaign perpetrated by one Cesar Sayoc that was supposed to prove "extremist far-right conservatives" were violent and dangerous, And that was supposed to deflect the While thousands of mostly male, relatively young, third-world Hondurans and Guatemalans heading inexorably northward in an attempt to invade our country and confirm the reason why Trump was elected in the first place, all with mere days to go before a crucial midterm election.
So to the Dems, when life hands you lemons, you make lemonade. I guess when you're handed Don Lemmon, you get urine. But I digress. Much of the campaign to overthrow President Trump and really America as founded since even before he was elected can be traced to the bank account of George Soros. And there are strong indications that he, his money and corporate entities are heavily involved in the organization and financing of these invaders. Using common core (or corpse), the Left can claim that Pittsburgh is a direct result of conservatives and others demonizing George Soros because "JOO!" And so now, Jews are the new victim class that must be defended, despite the BDS campaigns on campus, the incitement and physical assaults against Jewish students, the knockout game, Louis Farrakhan, "Hymietown," Al Sharpton and that George Soros and his father collaborated with the Nazis in 1944 and made their bones on the bones of their co-religionists, whom they gleefully and willingly helped burn in Birkenau. And if that were not enough to make you sick, the Women's March is going to hold a vigil to protest the ramping up of Trump-inspired anti-semitism and its leader is none other than Linda Sarsour, the Hamas Louse. If this wasn't so incandescently rage-inducing it would be laughable.
Moving on, evidently a group of militia types in Kansas allegedly confessed to planning a mass attack on a mosque and also allegedly were "inspired" by the President's rhetoric. If they were plotting this, they should swing. That said, I think the lawyers are trying to play off any anti-Trump sentiment with potential jurors and judges to get a lighter sentence. Speaking of Cesar Sayoc, it turns out he and Sloppy Daniels might have crossed paths at a Florida strip joint. Other than that, it is interesting how this story, as big as it was at the moment it broke, has all but disappeared. Lastly, to prove how much they now love and care about Jews, the rabbi of the Tree of Life synagogue is now receiving death threats for not blaming the President and for meeting with him yesterday. Shalom aleichem, baby.
The other huge story is, of course the migrant invasion caravan and the President's announcement yesterday that he is looking to unilaterally end so-called "birthright citizenship" via executive order. Whether in practical terms he can or not is irrelevant. The 14th Amendment has been utterly ignored and bastardized starting at around 1965, when Ted Kennedy's Hart-Celler act threw open the borders to illiterate peasantry who had no intention of assimilation but would doubtless fill Democrat voter roles as black Americans either outgrew their dependency on government or were ground into the dust by the Great Society (sadly, mostly that). In any case, G-d bless the President for putting the issue on the table and making the Dems and the CoC-whores in the GOP-e defend it. And the timing is perfect.
Meanwhile, along with troops and concertina wire, the President is going to set up tent cities to prevent the invaders from setting foot on US soil. There are also reports of rampant violence (shocking, I know) as well as an ebbing of morale both as a result of the journey (on foot or not, it still must not be a picnic) and that despite the media, even the invaders can see that our President means business.
On to politics and the subheading of Democrat scandals, this Ilhan Omar in Minnesota is a fraud and criminal (although she'll fake loving Jooz for the time being), Stacey Abrams is a gun grabbing psycho, Hillary Clinton thinks the darkies all look alike (her words), Joe Donnelly has bollard-in-mouth disease too, a former Texas Dem leader is involved in voter fraud, McAssKill was a slacker and Andrew Gillum loves the Jooz so much he went to the mattresses for the anti-semitic leader of this Dream Defenders group. Mazel tov.
In general politics, the question remains about the fate of the House, Dean Heller tries to quash the propaganda that the GOP wants to kill sick people, VP Pence is heading to Kansas City to boost Hawley and Kobach, millennials' enthusiasm gap could foil the Dems next week, McAssKill takes a swipe at Fauxca-Has-Been now that it's safe to do so, Nancy Palsi barfs up a hairball to Colbert and some good essays on Trump and nationalism as well as the IBD on who are the extremists.
On the foreign scene, Ted Cruz is leading an effort in Congress to quash a potential Treasury Department sell out to the Farsis, 9 Chi-Com cyber spies get indicted, Pakistan's high court unexpectedly acquits a Christian woman from charges of blaspheming the pedophile prophet, in the wake of Khashoggi, a story about the suspicious deaths of two Saudi sisters, Europe goes full Eurabian with the blasphemy decree and Emanuel Macron and French "identity."
Domestically, a couple of big abortion stories where the Alabama abortion case gets referred to SCOTUS and Planned Parenthood lied (gasp!) about their baby parts business. And how's this for sick jokes; PP supports birthright citizenship. Parts is parts, esse. Meanwhile, farm prices are falling "unexpectedly," the Chi-Coms are infiltrating academia, beware RINOs selling out on "Climate Change," wind power blows, and a look at 5 states that will ruin their economies if they sign on to the climate hoax. And, Whitey Bulger got whacked in prison, I guess he was going to flip on Robert Mueller after all.
Lastly, Kanye West decides that he wants out of politics. Exit the Blexit? Oh well, maybe he did some good while he was vocal.
Anyway, links from around the world, across the nation and up your street. Have a better one and remain blessed.


CIVIL WAR 2.0, PITTSBURGH, BOMB HOAX/SCARE


posted by at
07:43 AM
|
Access Comments