« Monday Overnight Open Thread (10/22/18 )
|
Main
|
Mid-Morning Open Thread »
October 23, 2018
The Morning Report - 10/23/18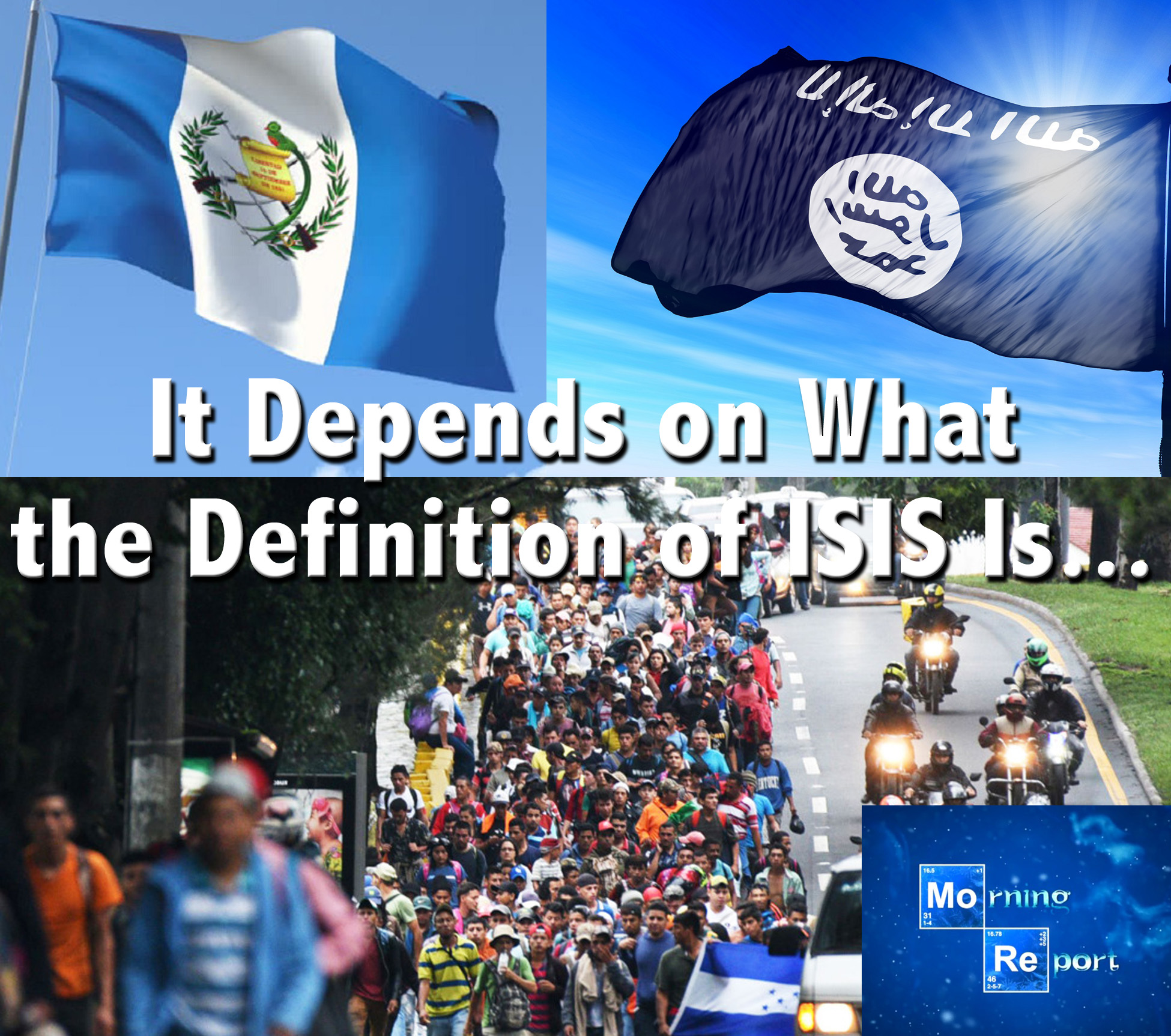 Good morning kids. The premeditated and preplanned invasion of thousands of migrants from Central America to and through our borders continues to remain the top story. What is known is that this is obviously bought and paid for by several Democrat-Leftist organizations with ties to Nazi collaborator and convicted felon George Soros. Aside from the intertwined goals of causing chaos internally ahead of a crucial midterm election, there is a very real danger and threat to our national security and safety.
No doubt in my mind that Guatemala and Honduras are eager and complicit actors in not only disposing of hungry, illiterate peasants (actually, the photos show very well fed and well clothed people, so more like indigenous welfare layabouts) that they can ill afford to take care of, but quite possibly emptying their prisons a la Fidel Castro in the 1980 Mariel Boat Lift (as well as Leonid Brezhnev who let scores or even hundreds of hardened criminals emigrate to America intermingled with and posing as real Soviet Jews fleeing persecution). That's bad enough but as Judicial Watch Reported late last week as this invasion force got rolling:
In a startling revelation, Guatemala's president announced in the country's largest newspaper that nearly 100 ISIS terrorists have been apprehended in the impoverished Central American nation. Why should Americans care about this? A caravan of Central American migrants is making its way north. Let's not forget that Guatemala is one of the countries that bombarded the U.S. with illegal immigrant minors under Barack Obama's open border free-for-all. They came in droves from Honduras, El Salvador and Guatemala through the Mexican border and for years Uncle Sam rolled out the welcome mat offering housing, food, medical treatment and a free education

A terrorist could have easily slipped in considering the minors, coined Unaccompanied Alien Children (UAC), were not properly vetted and some turned out to be violent gangbangers who went on to commit heinous crimes in their adopted land of opportunity. In fact, the nation's most violent street gang, Mara Salvatrucha (MS-13), was energized by the barrage of UACs. The Texas Department of Public Safety even issued a report documenting how the MS-13 emerged as a top tier gang in the state thanks to the influx of illegal alien gang members that came with the UACs. At the time more than 60,000 UACs - - many with criminal histories - - had stormed into the U.S. in a matter of months. Tens of thousands more eventually made it north.
This is insanity. I submit that Guatemala, Honduras, Mexico and perhaps a few other Central American nations (full-on freak commie Daniel Ortega is still ruling over the failed shit-hole of Nicaragua which has all but erupted in a civil war... again) by doing this are in fact committing an act of war against the United States. Over and above that, Iran and other Islamic terror organizations like Hezbollah have been establishing a presence in South America, particularly Venezuela, for at least a decade or longer as means of striking America.
Article IV Section 4 of the United States Constitution (remember that?) clearly states:
The United States shall guarantee to every State in this Union a Republican Form of Government, and shall protect each of them against invasion; and on Application of the Legislature, or of the Executive (when the Legislature cannot be convened) against domestic violence.
Yesterday there was much debate and some consternation about the prospect of sending our military down to the border to prevent the invaders (and that is exactly what they are) from entering US soil. Yes, the "optics" would be shall we say "suboptimal" if even one of the individuals were to be injured or worse in any encounter with American troops. But I think the consequences would be far worse both in political terms as well as actual national security if President Trump does not take decisive action immediately to at minimum prevent this mass of invaders from crossing our borders if not send them back where they came from.
The President ran and won on this very issue. From a political standpoint, what Soros and the Dems hope will turn into an October surprise to defeat the GOP has the potential to bury them not only in 2 weeks but in 2020 and perhaps beyond. Aside from sending the military and physically sealing our border, after declaring a national state of emergency the President should also:
1. Suspend all granting of asylum at the border
2. Cut all military, economic and other aid to the countries involved in this
3. Freeze all assets and all bank transactions of the countries involved
4. Freeze all wire transfers of cash from the US to the countries involved (this alone is huge)
5. Freeze the assets and revoke 501C-3 status of every organization and individual known to be involved in this
6. Deport George Soros to Malaysia or Hungary and seize his assets
As to #6 on that list, since it is more than likely that Soros is involved in this via his various front groups, he is de facto acting in a manner that is seditious if not treasonous.
As Samuel Johnson said, "when a man knows he is to be hanged in a fortnight, it concentrates his mind wonderfully." The question is who is the hangman and who is the condemned? The world wonders...
And as this invasion I think is part and parcel of the Democrat-Left-Media's assault on the republic, we have a loon getting shot by security guards as he tried kicking his way in to Fox's DC office, a boulder was hurled through the window at Kevin McCarthy's office and, speaking of Nazi war criminals, an explosive device was allegedly found in the mailbox of George Soros' NYC residence. Probably a false flag just like the "Cuban exiles" protesting and hurling profanities at Nancy Palsi in Florida last week. Not that I approve either of those but the Left has sown the wind. We'll see what they reap.
On to politics where with his popularity peaking and GOP voter enthusiasm now soaring, the President held a massive rally in Houston and it was a love fest between him and Teh Ted. He hit on the themes of the caravan, Kavanaugh the tax cuts and the booming economy as well as taking some swipes at Fauxca-has-been and the Bollard that ate Chappaqua. Meanwhile as polls tighten up everywhere, CNN continues to lie about the huge "blue wave," Ambassador to Germany Richard Grenell slams Loopy Ocasio-Fiasco over her global warming tripe as the same as fighting the Nazis, Andrew Gillum is one creepy-ass commie, the GOP is kicking ass so far in early voting, Scott Wallace drops the f-bomb in a synagogue, Obama goes stumping in Nevada and continues to take credit for the Trump economic miracle, Lindsay Graham hopes the Dems get their asses kicked for abusing Justice Kavanaugh, Stacey Abrams burnishes her credentials by admitting to burning the Georgia state flag, and lastly the Dems' hoped for October surprise may very well be on them.
Internationally, the US has sent warships through the Taiwan Straits as a bird-flip to the Chi-Coms and an analysis of why pulling out of the Russky nuke treaty is a good thing. Meanwhile, Daniel Greenfield looks at Khashoggi-mania and Islam's gonna Islam - forever. Domestically, Ford looks to test its new self-driving vehicle on the streets of DC, Trump has announced he wants another 10% cut in taxes, SCOTUS has delayed testimony from Wilbur Ross on the citizenship question in the census, the administration is taking an axe now to Obama's labor legacy (good), the Alabama Supreme Court has made a huge decision that could pave the way to overturn Roe v Wade, and a sobering look at the disaster Dem Medicare for All would be.
Also, the usual nightmare links about the state of education in America, global warming is out and global cooling is in and Gaia sez "have it your way, I'll be okay." And from hither and yon, Sarah Silverman is out of her mind, an interesting essay on the trans-humanists, a look at the Left from Russky Bolshies to American Socialists and the great Heather MacDonald on identity politics.
Hope all of you win a second prize in tonight's Mega Millions!
Anyway, links from around the world, across the nation and up your street. Have a better one and remain blessed.


IN THE LEAD: MIGRANT INVASION


posted by at
07:48 AM
|
Access Comments