« Monday Overnight Open Thread (10/15/18 )
|
Main
|
Mid-Morning Open Thread »
October 16, 2018
The Morning Report - 10/16/18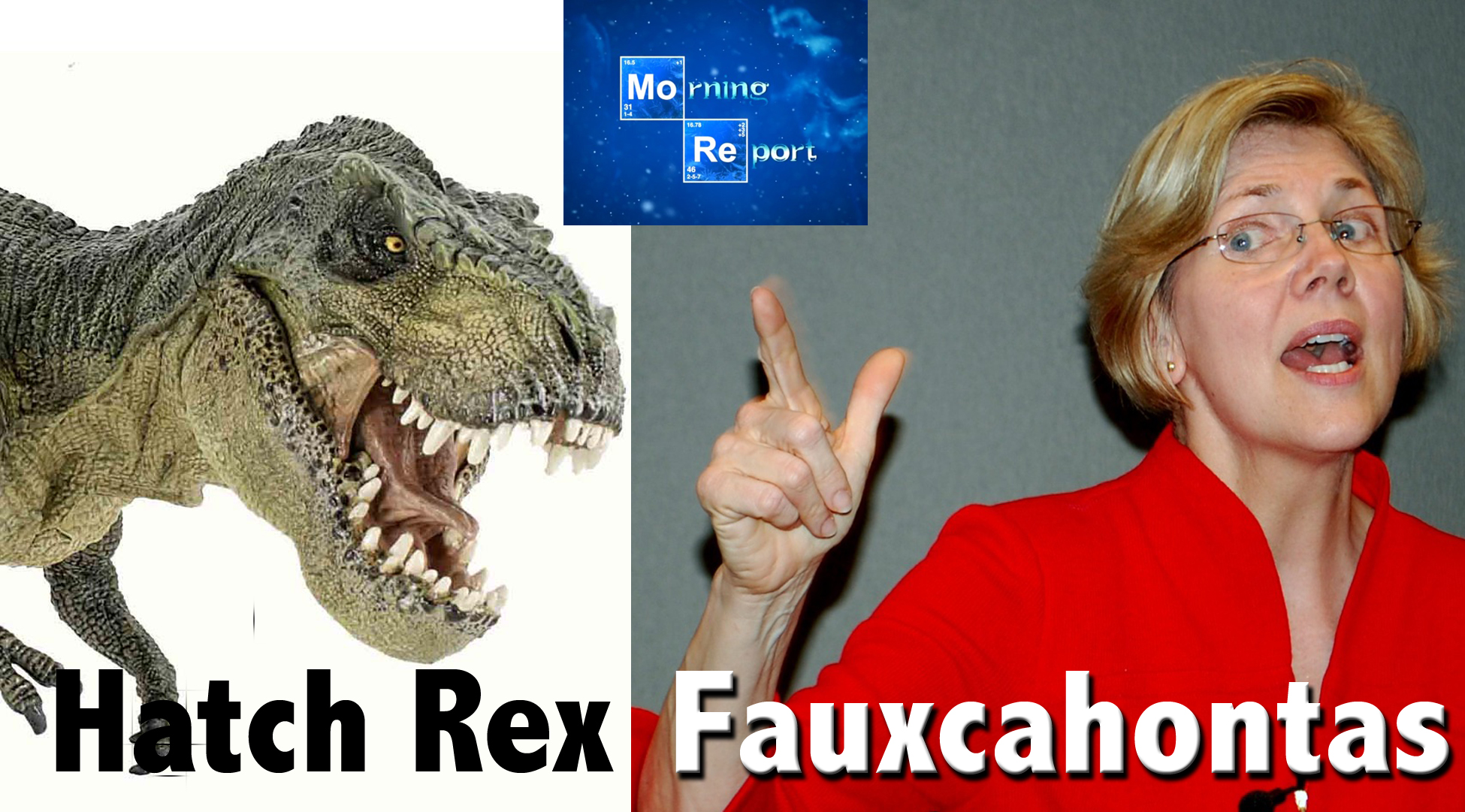 Good morning kids. Tuesday and the top story is actually a couple of things that individually are, to be charitable, suboptimal in the optics department for the Dems but together I think are just disastrous for them. First and largest of these turds in the electoral punch bowl is Elizabeth "Fauxcahontas/Lieawatha" Warren's DNA test which was guaranteed to prove once and for all that she is not lying about her native American heritage, but in the event proved beyond any doubt that she's so white, she's translucent. More like transparent, as in fraud. But instead of stopping and slinking away, she threw away the shovel and went for the mine excavator to dig deeper than the Marianas Trench, despite everyone on her side begging and pleading with her to stop. And this shrill, shrieking shrew is allegedly a top contender for the 2020 Dem prexy slot. Or was. No reason to go on and on about this own-goal of epic proportions, but I'll end it by saying when Orrin Hatch pwns you, that should tell you something.
And this comes on the heels of the Bollard that ate Chappaqua spewing that her husband should not have resigned over the Lewinsky scandal because it was not an abuse of power. You'd think that after a humiliating defeat at the hands of Donald Trump she'd just slink away to plot the coup against him in silence. But no, the TV cameras are as powerful an addiction as a swimming pool full of the Everclear/Sterno/Aqua Velva that she chugs. I'm sure the Dems appreciate her whoring for the cameras with this 3 weeks before the midterms as much as Bill does for exposing (phrasing) him to an entire new generation of low-info youth and others to the scandals that the media has covered up rather effectively for the past 20 years.
To cap it all off, Project Veritas has once again struck, this time catching the Senator from the great state of St. Louis and her staff admitting that to be open and honest about their desire to destroy the second amendment would be political suicide, and lastly Dan Bongino on how President Trump completely owned Lesley Stahl this past Sunday on 60 Minutes.
With all of this really on the heels of the huge victory over the Democrat-Media smear machine in confirming Brett Kavanaugh, at the risk of being repetitive, this is not very good for the Democrats as the finish line to the Midterms comes into view. And then there's this Beto O'Rourke. Evidently, he has amassed something like $38 million dollars for his campaign war chest, and all of it is going to be wasted since, by all honest accounts, he will more than likely lose and handily to incumbent Ted Cruz. As a side note, the President has announced he is traveling to Texas for a big campaign rally with Cruz in Houston. In any event, with the Senate in doubt for the Dems now, a number of candidates sure could use some of that cash to which Beto has responded FOAD.
Moving on to more serious matters, a hazmat team was dispatched to Susan Collins' home because of a suspicious envelope, Antifa Maoists are leaving severed pig heads at campaign offices in Texas (where the hell is McSnoozerson?!), and Sen. Perdue's office is pushing back on the snatched cell phone kerfuffle and propaganda about the incident.
In politics, McSally hits Sinema with a treason charge, Greenfield on Planned Parenthood endorsing Senator Woman-Biter and Bob Casey is pulling that horrendous smear TV ad against Lou Barletta but only in the latter's home market. And speaking of the media, PDT's approval is likely much better than is being told and less than half the public now trust the media. And still they persist.
In coup news, James Wolfe, the Senate staffer who leaked classified info, plead guilty, Carter Page is suing the DNC and Perkins Coie over the "dossier" and AG Sessionszzz rips rogue judges.
On the international scene, the President has dispatched SoS Pompeo to Saudi Arabia to get a handle on this Khashoggi business, the Federalist has 10 questions to ask before swallowing the MFM official story and things are heating up with Hamas and Israel. Possibly related to the Khashoggi disappearance? At least Israel knows the US has its back.
Domestically, a couple of interesting takes on SCOTUS vis a vis as a rogue legislative entity, Ben Carson on loosening restrictions on development to ease the cost of housing, and AG McSnoozerson is on the warpath... against gangs. You may want to take a look at what's going on in Portland, Jeff. Sheesh. We also look at the economy and PDT's North American trade triumph, Sears goes Chapter 11, public unions are floundering (good), and the minimum wage is a prosperity killer.
From hither and yon, the Cultural Revolutionaries want to replace Clarence Thomas' name on a school building at SCAD with, get this, Anita Hill's, Gloria Steinem's covering up a rape, a piece about another aspect of the dissolution of the American family and lastly 40 years on from the Jim Jones nightmare and the shooting of Harvey Milk. Funny how those two coincided with the rise of Chi-Com Dianne Feinstein.
Anyway, links from around the world, across the nation and up your street. Have a better one and remain blessed.

posted by J.J. Sefton at
08:00 AM
|
Access Comments