« Sunday Overnight Open Thread (10/7/18 )
|
Main
|
Mid-Morning Open Thread »
October 08, 2018
The Morning Report - 10/8/18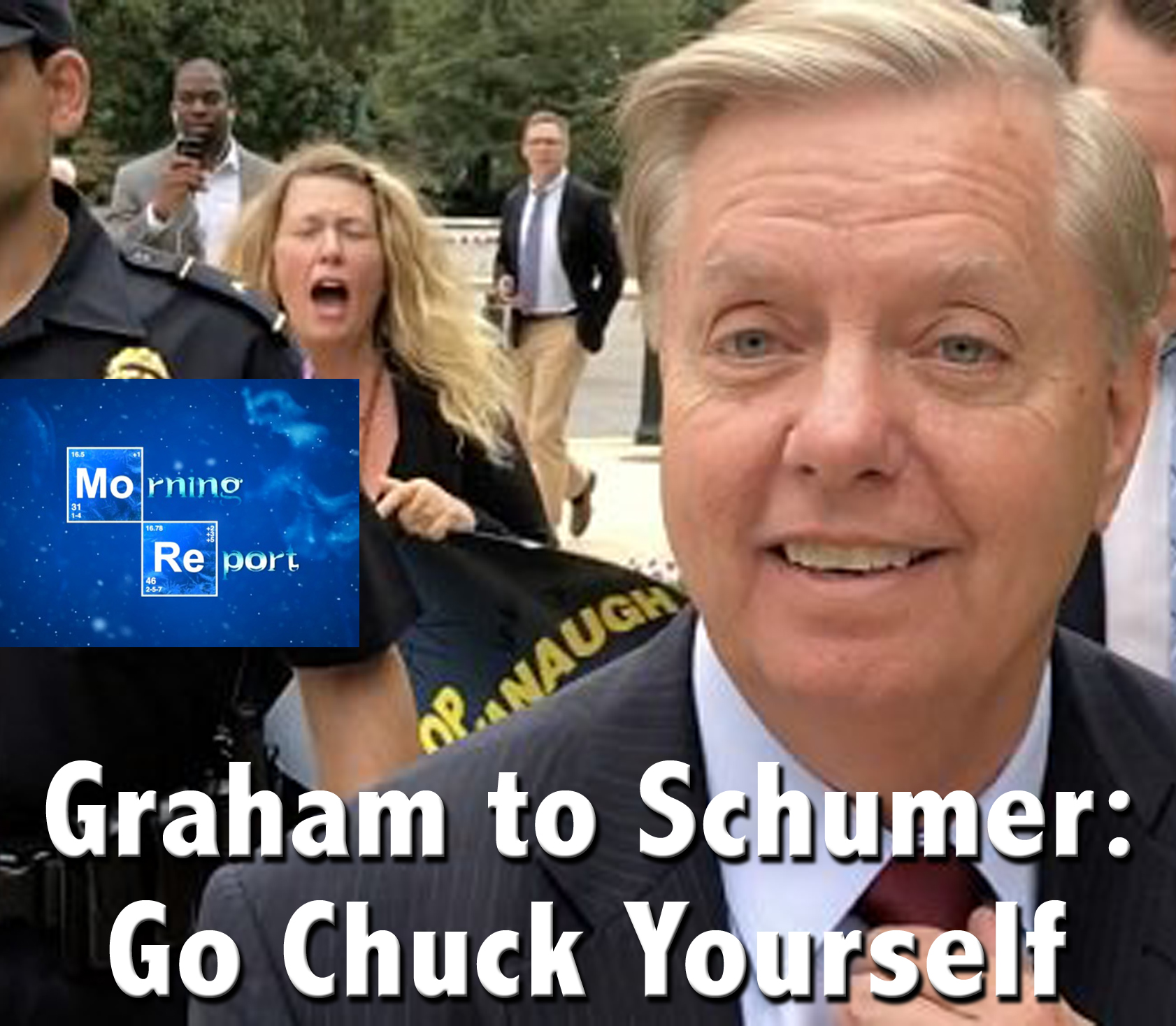 Good morning kids. Happy Columbus Day! And what an incredible week - yet again - it has been as the insane national nightmare that was the all-out effort by the Democrat-Left-Media complex to destroy an honorable and decent man in order to gain both political advantage and more crucially preserve the major vehicle by which they advance their policy agenda against the will of the people has failed. And spectacularly. We wish Brett Kavanaugh the best of luck and pray for Divine guidance in giving him the wisdom to rule justly and within the strict confines of the Constitution in upholding our laws, as he assumes the role of the 114th Associate Justice of the Supreme Court of the United States.
As the dust starts to settle in the aftermath of this political fight, I'll throw in my two cents and make a few observations, for what it's worth. The Democrats have no one to blame but themselves for this outcome. First, it was Harry Reid who blew up the filibuster rule in final year of the Obama reign of error in an attempt to pack the DC circuit (the second highest court in the land) with leftist hacks. He was cocksure that Hillary was a lead pipe cinch to win and that that would seal the fate of what was left of the republic forever. Mitch McConnell openly vowed that Reid would rue the day he did that. Second, all through Obama's second term, everyone begged and pleaded with Ruth Bader-Meinhoff to retire. Had she done so, no doubt Obama would've appointed, and probably with only token opposition from the GOP, and got confirmed someone half as young and three times as Marxist. But old Ruthie too was convinced Hillary was inevitable and just had to hang on to swear in the first female president (meh, keep eating that kale and get ready for Nikki Haley in 2025!). How'd that work out for you, old girl? But, it seems like an eternity now but go back only about four weeks and you'll recall that Rand Paul was making some serious noises about opposing Kavanaugh on his record with warrantless wiretaps. He ultimately quieted down but instead of harping on Roe v Wade, had the Dems pressed home the attack already started by Paul on that other issue, they might have pulled away a couple of GOP senators on a legitimate line of attack that many voters are concerned about.
Alas, they couldn't help themselves. The toxic mix of Democrats still not comprehending that there has been a tectonic shift in the political landscape beneath their feet reminded me of the French in 1940 - fighting the Second World War by relying on the strategy and tactics of the First. I also think that they actually believe their own propaganda, to wit, that most of Main Street America think and believe the same as residents of the Upper West Side and Santa Monica. I can''t say for sure what's between the ears of the execrable Dianne Fein-China-Stein, but too many seemingly intelligent and educated people actually believe that Brett Kavanaugh is not only a rapist but a mass rapist, drunk and a maniac.
The horrendous way that Justice Kavanaugh and his family were treated both in public and private did not play well in Peoria, as the saying goes. Like the Germans in Stalingrad or at Kursk, they threw everything they could into a rhetorical meat grinder in the form of the nominee himself, a GOP that for once defended him with the same if not more zeal than his accusers, and the President himself. In the end, I think they did irreparable damage to themselves both in this most crucial midterm election cycle and in the long run. This horrendous episode is a crossroads, both politically and in the national discourse. With the death of McCain, the hideous, naked and frankly stupid treachery of Murkowski, and the first two years of what is shaping up to be the most successful presidency in modern if not all time, the GOP is perhaps in the process of moving away from at best was a New Deal legislative and governing philosophy and starting in the direction espoused by Reagan and Goldwater, the Chamber of Commerce and Coup-Cucks-Clan notwithstanding. So far, it looks as if Mitch and Lindsey tasted what not-tired-of-winning is all about and liked it.
As for the Democrats, they are a party and movement that is in total disarray. This economy and this new national mood and attitude stand in stark contrast to the previous 8 and even longer. I think the failure to sink Kavanaugh means that the old guard of Feinstein, Pelosi, Schumer et al will soon earn the ire of the up and coming Democrat-Socialists. They also have not forgotten how the DNC and Clinton stole the nomination from their candidate (though he more than likely was in on the swindle, but probably changed his tune once he was out front in the polls). More crucially, for the past four weeks, America got a front row seat to an Hieronymous Bosch-like nightmare of what will be in store if the Dems do get back into power and they did not like it. And the Grahaminator was spot on when he said he hoped they never never get it.
And still they persist. Cory Gardner's wife was sent a video of a beheading during the hearings, Maizie Hirohito will not disavow intimidation tactics, and the intern who doxxed GOP personal info was not an intern at all but a paid employee. From someone's slush goulash fund, no doubt. Lots of analysis of the aftermath of the confirmation but building on my comments on the GOP's opportunity to change for the better (they still need to really prove themselves consistently going forward), McConnell is now open to the possibility of blowing up the Biden rule if an open seat is available in 2020 and Graham is going to stump for Senators for the first time ever. Go Grahambo.
On the political scene, a couple of essays say the Dems are going to get crushed in November (please G-d), Blackburn is ahead of Bredesen in a CBS poll and homunculoid gun-grabber Doomberg is going to stump for him which I'm sure will go over well in Tennessee, notes on Heitkamp's chances in ND, Chubby Gillibrand embraces the Joo-hate by appearing with the Hamas Louse, who hurls racial epithets at white women for supporting Kavanaugh, Sheldon Whorehouse's flatulence fixation makes for a great viral campaign ad, Bill DeBolshevik loves humanity but hates homeless people, Fauxcahontas got an itchy palm for heap big casino wampum, and Scalia's daughter-in-law, a lifelong Dem is finished with that party.
In Fake News fakery, the huge New York Times expose on the President's finances has turned up absolutely squat, Less than that; not even squat-lite, a TV reporter was fired for wearing a MAGA hat at the PDT Minnesota rally and a sobering essay on the Left's dark turn, not that they were never dark to begin with. Meanwhile typhus is breaking out all over in California. They should add that to the tourism campaign.
Internationally, the Trump of Brazil advances in the next round of elections, Iran's economy is ready to collapse, SoS Pompeo is talking about another PDT/Whoa, Fat! summit as both North and South Korea start dismantling the minefields along the 38th parallel, and a near incident in the disputed seas near the Spratleys between the US and Chi-Com navies.
Closer to home, 20 people were killed in an horrendous limo accident in upstate New York, the economy is roaring with Latino unemployment the lowest ever in September. And that means the Fed wants to sabotage it by raising rates, the momzers. And lastly a watchdog group is urging PDT and congress to do something to cut off the money spigot that feeds the regulatory power of the bureaucracy.
From hither and yon, Daniel Greenfield on Berkeley Joo-hate, Scott Kelly apologize to the Twitter mafia for praising Winston Churchill, Bill Maher found a nut 9 times, couple of good essays on the Left's fortunes going forward and notes on the 30th anniversary of Salman Rushdie's Satanic Verses.
Anyway, links from around the world, across the nation and up your street. Have a better one and remain blessed.


KAVANAUGH CONFIRMATION AFTERMATH


posted by J.J. Sefton at
08:19 AM
|
Access Comments