« Saturday Gardening Thread, End of September [KT]
|
Main
|
Chess Thread 09-29-2018 »
September 29, 2018
Ace of Spades Pet Thread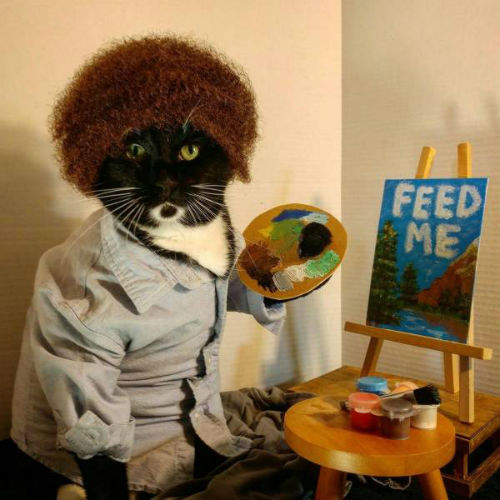 "I guess I'm a little weird. I like to talk to trees and animals. That's okay though; I have more fun than most people." ― Bob Ross
***
Good afternoon and welcome to the almost world famous AoS Pet Thread. Put the paint brush down and make yourself comfy.
***
A Little of This. A Little of That.

Hello Insurance Adjuster, can we file a claim for Business Interruption?

Sept. 24 (UPI) -- A Colorado cafe was "closed due to bear shenanigans" after a wild animal broke in and tipped over a 600-pound freezer.

The owners of the Wildflower Cafe in Evergreen posted a sign in their front door saying the business was "closed due to bear shenanigans" Sunday.
***

A well trained bird. Peekaboo!
***

I wonder how they cleaned up this mess. Did they use a bark-uum cleaner?
A semi truck overturned on a Pennsylvania highway early Monday morning and spilled its load of dog food and bags of mulch.

Pennsylvania State Police said the crash, which was reported just after 4 a.m., involved a tractor-trailer that was traveling westbound on Interstate 376 in Lawrence County when it overturned on the Route 224 exit.
***

As our nation grows softer and more emotional hiring good help is hard.

A Minneapolis marketing company recently made tweaks to its employee benefits this summer, ranging from conventional to unusual. It gave workers a larger commuter stipend, as well as a reason to avoid the office altogether: "fur-ternity leave," or the ability to work from home for a week to welcome new dogs or cats.

"This is kind of a no-brainer," said Allison McMenimen, a vice president at the company, Nina Hale, who helped devise the new policy. "The idea of offering benefits that just help keep employees at the office, that's over."
***
Meet The PetMorons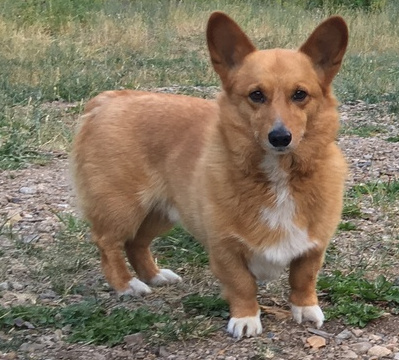 Hi,

Long-time lurker Joel here. Say hi to Laddie, a 7yo Corgi. He belonged
to a friend in Wyoming who passed away in June. In her last month she
placed Laddie with a young couple in southern Montana, but it hasn't
worked out. Laddie was an older person's only dog all his life and just
assumed that was the way life was supposed to be arranged. Suddenly he
was expected to play second chair to a border collie, and ... well, his
herding instinct kicked in. That is, he got along with the couple well
enough, but he compulsively tried to herd this other dog out of his life.

It didn't work out, and I've been on deck as Plan B. My dog Little Bear
died just about the same time my Wyoming friend did, and I live pretty
much the same way she did: older person, lives alone, doesn't get out
much, one dog. Except I don't have cancer. So even though Laddie and I
have never met, he'll be moving in with me and it'll probably be a
better situation. Hardest part will be getting used to a dog with a
dorky name like "Laddie."
First of all Joel, condolences on the passing of both of your friends. Yes, Corgis sure love to herd. One of our daughters had one. That dog could herd 3 setters at one time, it was comical to see. Good luck with your new addition and thank you for sharing your story with us.
***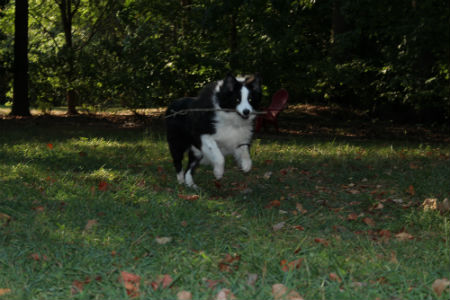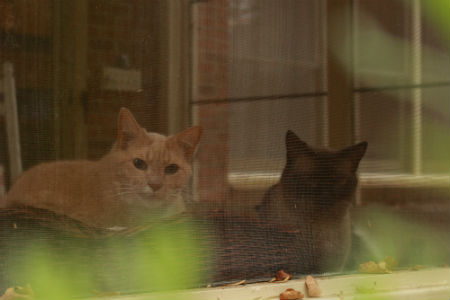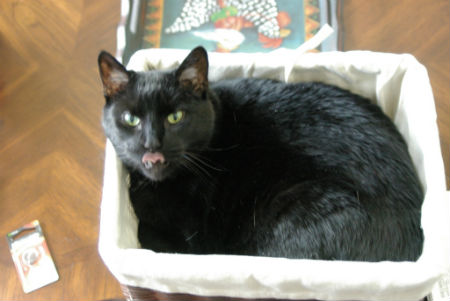 Long time lurker, never post-er, don't even have a moron handle (poor me!)

Photo one is Tess, the world's most laid-back Border Collie, in launch mode in pursuit of her herding ball, complete with the stick that is (apparently) required equipment for ball-chasing.

Tess is descended from Welsh working dogs who were both champion herders; Tess, on the other hand, was a champion scatterer which made her far more suited to family than farm. She has been our blessing for fourteen years.

Candid kitty photo is of Sam, left, and Bernie, right, who caught me trying to sneak a photo. They were both feral rescues and have been long-time and beloved family members, and even though they came to us three years apart they are inseparable. Except when Tess is trying to nap -- then Sam thinks it's the perfect time to give her a face wash and a cuddle.

And finally, Toby, who always tries to find the smallest open container he can fit into. We count him as a rescue too -- even though he came from a reputable pet store. He is sixteen years old and still acts like a kitten, he's also a prolific conversationalist and aspiring opera star. The entertainment never ends!

Thank you for all you do!

Connie in NC
You're welcome Connie in NC. What a nice group of good looking pets. I bet you have your hands full at times. Thanks for sharing the photos and their stories.
***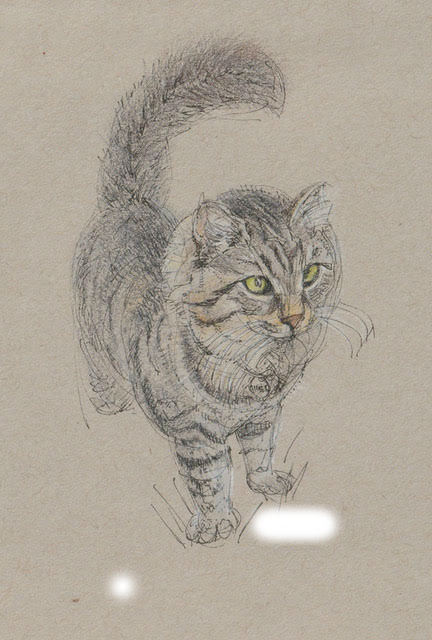 This is Daughter C's sketch of Tiger. Tiger showed up on the perimeter of our Farm yard a few years ago cross-eyed, hobbling, and severely malnourished, but we could tell he wasn't really a feral cat. He wasn't terribly skidish being around us or the dogs. After Daughter M had nursed him back to something resembling health she took him to the vet who told her that he was under 1-year old, and that the floating nodules under his skin were BB pellets.

Turns out Tiger is more of a lover that a fighter— at first he'd get awfully beaten up at night by real feral tomcats. So he spends nights in the air-conditioned workshop. On rainy days he can be found in his three-story carpeted condominium (repurposed 3-shelf plant rack) on the covered patio. He also gets the occasional dog treat.

Not sure how many lives Tiger used up before he found us, but he's livin' a good one on the Farm! - Marica

I know I'm not supposed to be envious. But......I wish I could draw like that. It sounds like your cat is quite spoiled and leads quite the life. Thanks for submitting this wonderful piece of art and your pet's story.
***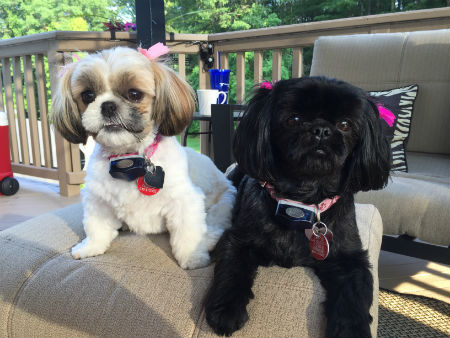 This is Mitzy and Bella. We rescued the white one from a unethical breeder. Her family tree is a straight twig. She has no straight leg bones and her joints are not round. We had to have a nose and throat built into her. She doesn't know she is on a great deal of pain Becca it's all she has known. She is quite possibly the sweetest dog we've ever had. She won't be a long life pet, but we are going to make sure she is loved and more comfortable. The black one has resting bitch face and watches the idiot.

They go everywhere with me. I'm strong enough in my masculinity to walk them in a stroller. It's because they are "The Girls". - David
It is a shame that people are so unethical when it comes to breeding animals. The "Girls" have it made with you as their "owner". Actually, it sounds like the other way around. Thanks for the submission.
***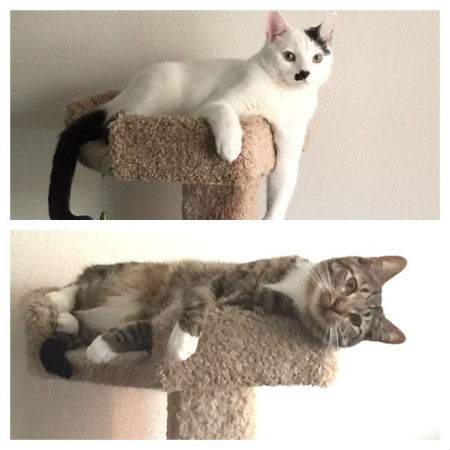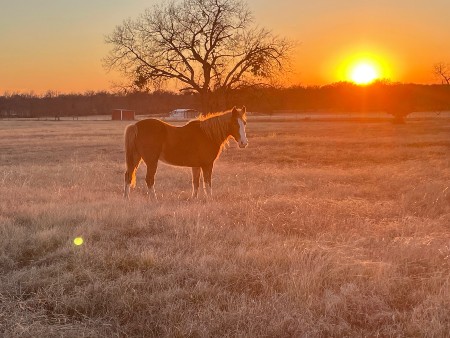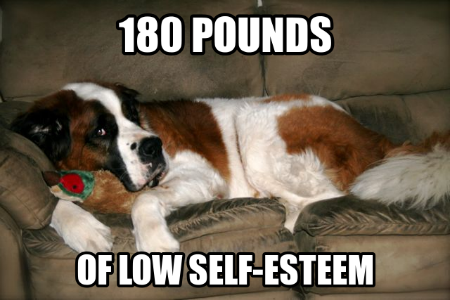 Longtime lurker AboutAGoy here...

The Top Cat is literally kitler, but goes by the Shmoo. Underneath is Vann, who has become quite literally the World's Tallest Tabby.

The basement kitteh is Blair, at 17 is my oldest girl, originally brought on board as a mouser, a job she performed spectacularly from LA to Chicago and back again.

The Saint Bernard on the bottom is my Good Big Boy Harley, who passed away two years ago next month.

Thanks for this thread. One of my favorite parts of my weekend.
A fine looking crew of pets. From the sounds of it they aren't only cute but hard workers as well. Thanks for sharing the Horde.
***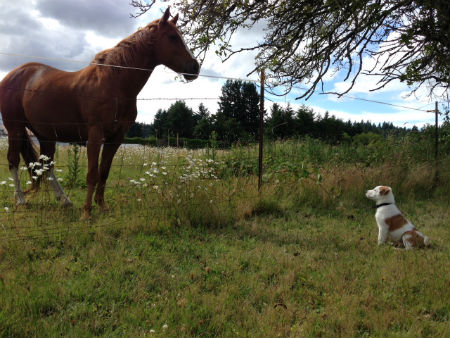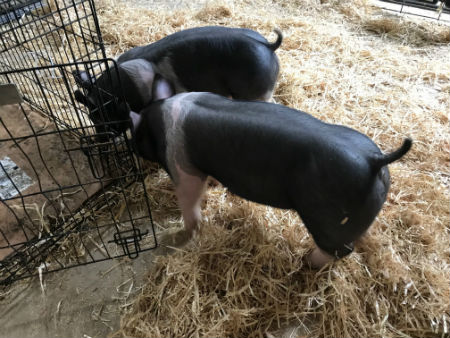 Dear MH,

I wouldn't call myself a lurker...nor of a Hoover, since I read every word y'all post every day.

Here's my best buddy, Rombauer, named after the Mrs,' and my favorite Hillary-juice.

He's a Aussie-Blue Heeler mix...all teeth and incredible energy. He's by my side 24/7. He was such a cute chick magnet when he was a puppy...


He likes catching mice with our 9 month old Maine Coon, Kona. Well, she catches, he carries them around the yard in his teeth.

Here's Kona about 6 months ago with my daughter.

We also have a pig (2 others until a couple of weeks ago when the kids showed them and auctioned them off at fair) named Pedro.


And 6 chickens, and about 30 quail.

Love the pet thread!

When I post, it's as buckdarmha

Quite the ranch there buckdarmha. Glad you took the time to tell us about your gang! Nice group of animals.
***
A few thank yous this afternoon. Thank you for stopping by and enjoying the Pet Thread. And thank you folks for submitting photos of your pets!!!
Here is hoping you and yours have a great week!!!!

posted by Misanthropic Humanitarian at
03:00 PM
|
Access Comments