« Weird News Dump
|
Main
|
Saturday Gardening Thread: First Day of Fall [KT] »
September 22, 2018
Thread before the Gardening Thread, September 22 [KT]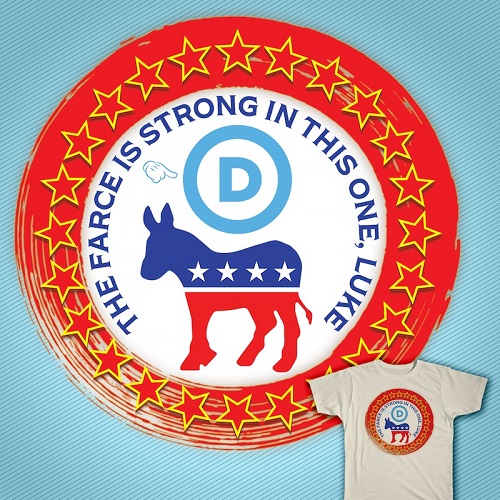 Serving your mid-day open thread needs
Man, this week has been depressing. Dr_No lightens it up a little with the graphic above.
Here's a visual response to the conduct of the (cough*cough) 'democrats' during the SCOTUS appointment hearings ... it seems congruent with the etymology of the word 'farce,' too:

"from Middle French farce "comic interlude in a mystery play" (16c.), literally "stuffing," from Old French farcir "to stuff," (13c.), from Latin farcire "to stuff, cram," - and now it's available as a T-shirt ... life is good ... enjoy ...
You can vote on the graphic here. Might want to use a spare email address.
I'm not going to say much about this week's big fiasco, but I do have a couple of points that keep coming back to me.
1. As far as I am concerned, one of the main reasons NOT to believe the accuser is that she comes from an environment overrun by leftist professors and students. And they think like the academic quoted below. Byron York reports, via John Hayward, who wonders why the guy quoted should be allowed to remain a law professor:

Just in case: In NYT, law professor argues Ford allegation against Kavanaugh doesn't have to actually be true to disqualify him for SCOTUS. 'Credible' is good enough. 'The existence of credible allegations against Judge Kavanaugh should be disqualifying.'
There's someone familiar with Obama's Title IX rules, I would bet. Watch where you send your boys to school.
2. This: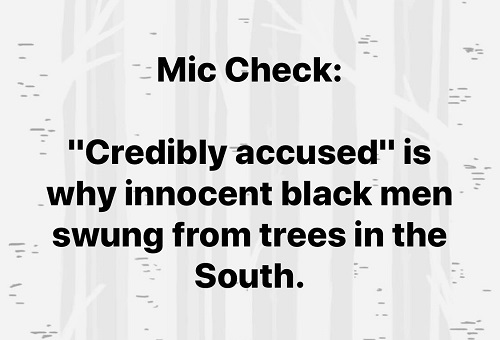 And remember the Satanic ritual abuse cases?
From Quillette
I am starting to like Quillette. Here's an interesting piece on how hard it is to keep things heterodox even at Heterodox Academy.
The Left virtually owns the institution and a fair number of professors in the humanities and social sciences view conservatives with open contempt. Indeed, Heterodox Academy has been repeatedly attacked by leftist academics who accuse it of being a shelter for conservative saboteurs whose true intent is to poison the academy with their rancid ideology. Other critics have been even less gracious. This places the leaders of Heterodox Academy in a difficult position. On the one hand, if they want to grow the Academy they will need to reach more faculty. This, in turn, means they will have to appeal to those on the Left--the group most suspicious of or antagonistic to Heterodox Academy's mission. On the other hand, these efforts may in turn alienate faculty in the center or on the Right. .
Preachers of the Great Awokening,
From the sun-blanched beaches of California to the snow-covered cities of New England, a religious fervor is sweeping the United States. PhD-toting preachers spread the faith with righteous zeal, denouncing those who violate its sacred principles. . . .

In the following article, we will explore this quasi-religion, Wokeness, as a status system that functions predominantly to distinguish white elites from the white masses (whom we will call hoi polloi). It does this by offering a rich signalling vocabulary for traits and possessions such as education, intelligence, openness, leisure, wealth, and cosmopolitanism, all of which educated elites value . . . From this perspective, the preachers of the Great Awokening--those who most ardently and eloquently articulate the principles of Wokeness--obtain status because they (a) signal the possession of desired traits and (b) promulgate a powerful narrative that legitimizes the status disparity between white elites and hoi polloi. The elites, according to these preachers, are morally righteous and therefore deserve status, whereas hoi polloi are morally backward and deserve obloquy and derision.
Heather MacDonald describes The Hysterical Campus from her own visits. Excerpted from her recent book. Wow.

Hope you get a break from school and politics sometime this weekend. Got anything planned?

posted by Open Blogger at
11:13 AM
|
Access Comments