« Sunday Overnight Open Thread (9/16/18 )
|
Main
|
Mid-Morning Open Thread »
September 17, 2018
The Morning Report 9/17/18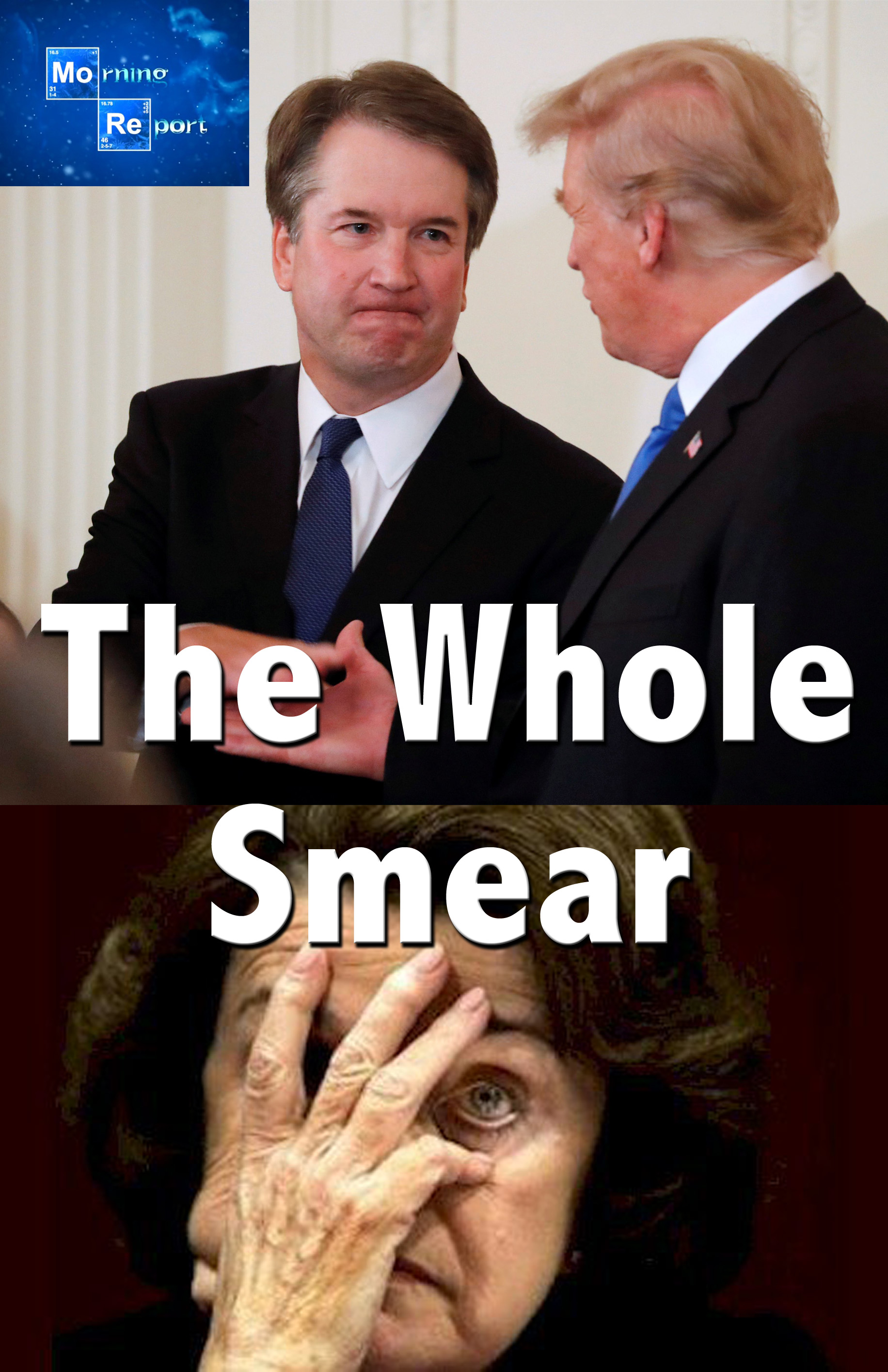 Good morning kids. In the lead as we head into a new week is the blatant, last-second, desperate Alinskyite smear of Brett Kavanaugh less than a week before his nomination comes up for a vote in the Senate on Thursday. Even if I'm being generous, this thing stinks to high Heaven. The fact that Dianne Feinstein knew about this from the moment the President announced Kavanaugh's nomination, (and considering the President had a list of potential nominees months ago, you can bet your ass the Dems had dozens if not hundreds of people working to dig up dirt on all of them) and yet said nothing until the absolute last second means that she used this information - true or not - as a weapon to torpedo the nominee. I put Michael Ledeen's piece up front because this woman is attempting to destroy a decent, honest jurist and family man and yet she has spent the better part of almost four decades embellishing her bank account while unwittingly - or not - against the will of the people and at the expense of this nation's national security. But I digress...
On a granular level, the accuser, one Christine Blasey Ford (big anti-Trump Lefty, surprise surprise) has now officially come forward after allegedly telling her Congress-critter, Democrat hack Anna Eshoo and then Feinstein that she did not want her allegations made public (then why even tell her in the first place?). But now, she claims that she feared for her life as Kavanaugh supposedly tried to rip her clothes off and rape her at someone's house when both were in high school. A supposed witness to the event who was identified in the report, who no doubt the Dems were relying on to corroborate the story is vehemently denying it.
But none of this matters at all. This is a straight-up character assassination and minus the details is a rerun of the "high-tech lynching" that was perpetrated on Justice Clarence Thomas back in 1991. In fact, I highly recommend the second link "Dianne Feinstein's Metzenbaum Moment" (I did not know, or didn't remember, that Anita Hill's attorney was none other than Janet Napolitano).
A few things to consider:
1) what Feinstein and the Dems are trying to do will have no affect on the general public, although a secondary objective is to try and deflect the damage done by the #MeToo movement which has claimed the scalps of quite a number of some of the most prominent political and cultural figures on the Left (ironic, given that the "War on Women" was supposed to be perpetrated by white Judeo-Christian conservative males exclusively). The Left is itching to try, convict and execute Kavanaugh as a way of evening the score and thereby legitimizing the propaganda that at most this is a male problem, and not a Leftist-Male problem.
2) the courts, especially the Supreme Court, is where the Democrat-Left gets its real power. Whatever they cannot inflict on us electorally or legislatively they do via their hacks-in-black from the bench. President Trump's placing of dozens of (hopefully) decent judges on the lower courts and Neil Gorsuch has devolved much of the Left's ill-gotten power away from them. If Kavanaugh is confirmed (please G-d) and if Ruth Bader-Meinhoff or perhaps the overweight, diabetic and hot-tempered Latina were to suddenly join the Choir Invisible, another Scalia-like pick to take their place will make what we are seeing now look like a meditation retreat in Tibet, as well as really screw the Left's ability to ram things down our throat and up our ass for at least a generation - bullets and bike locks notwithstanding.
3) The only power the Dems have to stop this rests in the hands of the GOP. So far, Chuck Grassley is standing firm but turds like Jeff Flake are stating that their sacred honor demands that we give a full and honest hearing of the accusations before casting any votes, or some such dreck. This is a total crock of shit and I fear that Flake could very well want to pull a McCain and give a thumbs down both to screw over Trump as well as burnish his credentials when he switches parties. Oh yes. This fake-tanned fuck-face is drunk on power and lucre and I fear he'll do this. More to the point, I fear others might use this as a pretext and cover to go wobbly as well. Not good.
4) If Kavanaugh is seated, just like the Steele Pee-Pee Dossier, the accusations will forever taint Brett Kavanaugh and all of the decisions he makes as an associate justice to SCOTUS as illegitimate. It will only add fuel to the fire of the Left's rage going forward. That alone is just utterly loathsome. And that I will never forgive, not that any of the above is even remotely forgivable.
Moving on, in Fake News and First Amendment issues, the NY Slimes is walking back its Nikki Haley drapery smear, Twitter purges a Coastguardsman for giving the racist "OK" sign, cops in Massachusetts are using the Facebook pages to monitor the activities of anti-Trumpers and Lefty heads are exploding, and the Euro-Peon Union is angling to get its hands on the internet.
In politics, Loopy Ocasio-Fiasco can't seem to articulate much of anything, especially where the $40 trillion will come from to fund her policies, Fauxcahontas is not concerned about that either as she ramps up her rhetoric for 2020, while Cuomo beat "Dickless" Nixon handily in New York, the down-ticket races went big time for the Dem-Socialites, Georgia Dem candidate for governor Stacy Abrams won't disclose her million dollar donors, and Daniel Horowitz is downbeat about the midterms; I agree with the points he makes about the dead GOP but not his conclusion. I think we'll hold Congress because the Trump base knows what losing it would mean. And with jerks like Beto Agarn in Texas as well as the Kavanaugh crap, I think that that is a fair wager to make. I hope.
Internationally, Pompeo slams Kerry, a pro-Israeli activist is knifed to death by a Palestinian,and an essay on Trump and the South Africa situation. Sliding into the related topic of Islam and terrorism, how that New Mexico jihad training camp festered for so long, the EU is totes kosher with Holocaust 2, and a sobering piece on moderate Muslims and other mythical beasts.
Domestically, good news on the President's deregulation efforts and this is the 10th anniversary of the 2008 financial crisis, and IBD asks the questions on what the Fed will do if that ever happens again.
From hither and yon, Taco Bell fired a miscreant who refused to serve English-speaking customers, voters could care less about "climate change" and yet Al Gore and the Dems continue f***ing that chicken, Harrison Ford is a jerk and a Venezuelan journalist (a real one, not Jm J Acosta) calls out Jim Carrey for his pimping socialism. If Carrey would live in a Caracas barrio without access to any of his money... yeah, sure.
Anyway, links from around the world, across the nation and up your street. Have a better one and remain blessed.


posted by at
07:43 AM
|
Access Comments