« Wednesday Overnight Open Thread (9/12/18)
|
Main
|
Mid-Morning Open Thread »
September 13, 2018
The Morning Report 9/13/18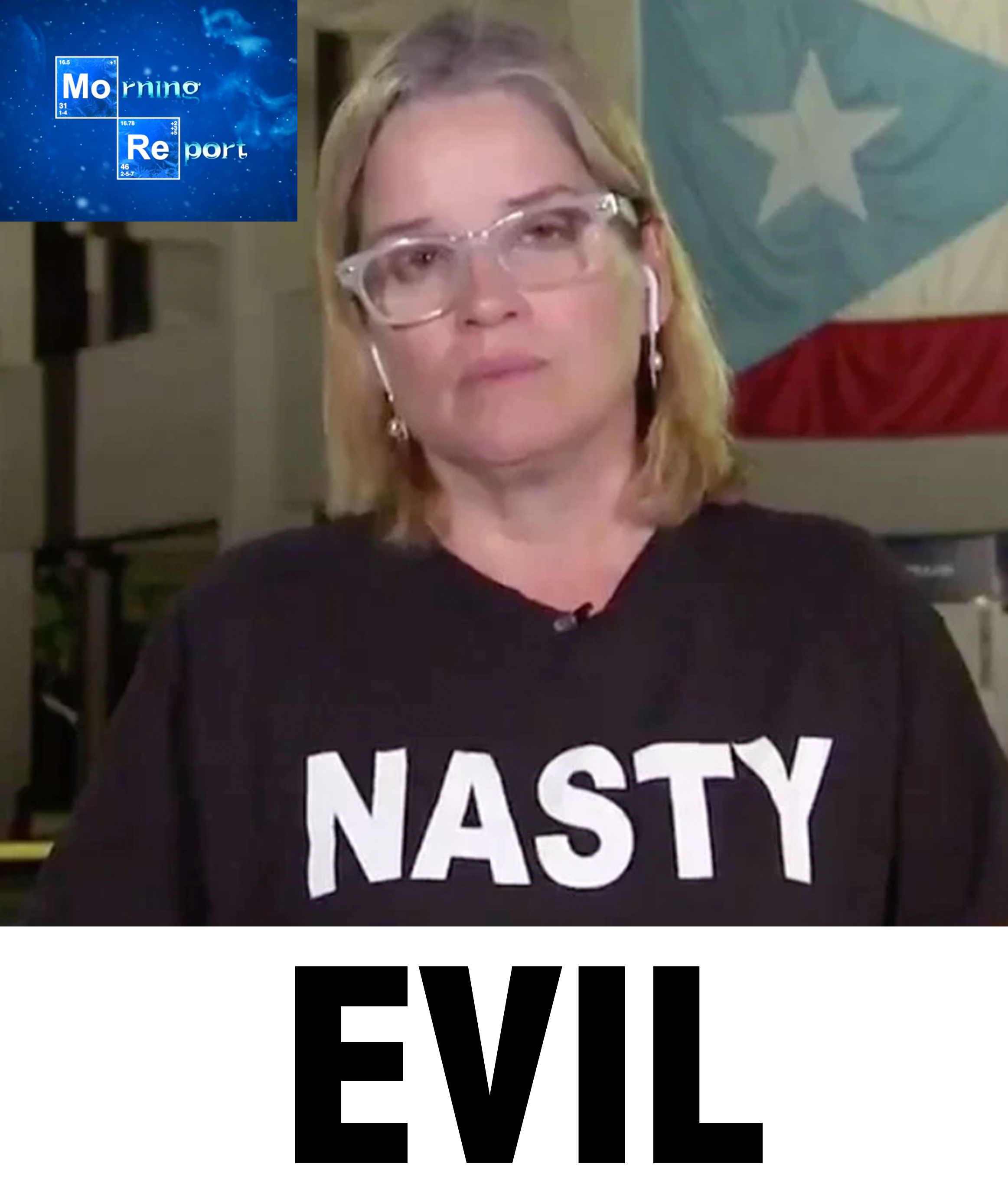 Good morning kids. Thursday and again, as Hurricane Florence continues towards the Carolinas and now coastal Georgia, we urge all of you in the area reading this to be prepared and get out of harm's way as soon as you can.
In the lead, the Democrat-Left-Media complex is blasting the President for his response to a hurricane that hasn't even made landfall yet. Mark Levin returns fire con gusto in the President's defense. Also, as we noted yesterday, racialist bomb-thrower and friend of actual FALN bomb-throwers Luis Gutierrez also blasted the President for praising the Federal government's response to Hurricane Maria that hit Puerto Rico hard last year. This anti-American fraud continued pimping the lie that 3,000 people died (only about 62 people died as a direct result of the hurricane) and that not only did the Federal government not help but that they were instructed not to help because Trump hates Latinos and wants them to die (does that blood-libel sound familiar?).
First off, it should be noted that Puerto Rico is an island and that all aid must arrive in ships or planes, and that despite being a US territory its roads and infrastructure are for shit. No surprise since Puerto Rico, like every other city, state or region suffering from chronic Democrat-Leftist control has always been a third world shit-hole. In any case, all of that is naturally compounded by the devastation wrought in the immediate wake of a hurricane. In fact, there were two hurricanes back to back that hit Puerto Rico and then Houston.
Well, well, well. Lookie here! It turns out that not only was the President correct in assessing the magnificent response of FEMA, the US military and all other Federal emergency service workers and agencies, but pallets of bottled water were hidden and stockpiled on an airport runway on San Juan. Aside from Gutierrez, one of the loudest, shrillest and most vile voices of criticism came from that city's mayor, one Carmen Yulin Cruz. IIRC, not long after she was under investigation by the FBI for corruption charges. Besides the incompetence, it would not surprise me in the least if Cruz intentionally hid that water and other supplies in the hopes that her own people would die so that she could turn around and blame President Trump. Rush Limbaugh also lays out that theory as well and I have linked to the transcript.
Moving along, the other big news is Breitbart has released video of a Google executive meeting immediately after the 2016 election and it is proof positive (as if we needed any) that they are, as John Hinderaker flatly states at Powerline, a Democrat political operation. Look, I have no problem with any person or company wanting to stake a political position. But when a company does it in secret and then proclaims its impartiality, and that company along with a handful of others controls the free flow of ideas and communications of the nation and indeed the world, that there is what we refer to in the trade as "a problem." And when you consider that China is using Google to subvert internal dissent in its own nation, and that China is making military and diplomatic moves around the globe and even south of our border (see the link to the Mexican radio outlet they want to buy), that has tremendous ramifications.
I think at this point Google et al are to be considered as a hostile oligopoly, and should be broken up. That said, considering the political bent of Millenials and other executives who will no doubt find their way onto the boards of the Baby Googles, it will still pose a problem. So, do we impose Affirmative Action based on politics on all executive boards? Feh.
On the political scene, Cuomo and Dickless Nixon face off in the NY primary today and Cuomo is being attacked for calling Nixon an anti-semite. Meh, considering the words of Sarsour the Hamas Louse, Loopy Ocasio-Fiasco, Andrew Gillum in Florida and the openly stated positions of the Democrat-Socialist party, for once Cuomo speaks the truth. Meanwhile, the Dem candidate for Senate in Arizona is bucking to be the next Bob Menendez. Lastly, and it is political, Planned Parenthood has named a new president; a doctor whose parents were refugees from China and its one-child policy. This is what is known in the trade as "ironic."
Internationally, South Africa starts the inexorable circling of the drain, the Chi-Coms and to a lesser extent the Russkies are causing all sorts of trouble while the former are picking up where Kenya-Kona Blend and the Bollard that Ate Chappaqua left off - torching the Middle East and North Africa, and some interesting analysis of the wreckage of Oslo at 25, Daniel Greenfield is high on PDT's Palestinian policy and a sobering link on the never-ending war in Afghanistan.
In the Not-Acceptable-for-Prime-Time-News items, look at those economic numbers! 6 dead including the gunman in a SoCal shoot-em-up, there was an ISIS plot to assassinate the US ambassador to Suriname that got zero coverage, the USA is now the number one oil producer thanks to fracking (and there are still untapped reserves, sadly in places like New York), doctors are performing radical mastectomies on perfectly healthy 13-year-old girls because of the transgender insanity and the New Mexico jihadis are thankfully behind bars again under gun and conspiracy charges.
From hither and yon, noted liar and traitor John Kerry seems to be blathering with greater intensity, perhaps hinting he wants an ass-kicking in 2020, Moonbeam's Climate insanity will make the rubble bounce in California, and the US Open Judges are none too pleased at Serene-Not Williams' roid raging.
Anyway, links from around the world, across the nation and up your street. Have a better one and remain blessed.


FIRST AMENDMENT, FAKE NEWS, CENSORSHIP


posted by at
08:08 AM
|
Access Comments