ę The Guardian: Meet the Teens Who Refuse to Use Social Media
|
Main
|
The Morning Report 9/4/18 Ľ
September 03, 2018
Laboring Monday Overnight Open Thread (9/3/18 )
(Don't worry about the chocolate stains on your pants)
***
The Quotes of The Day

Quote I

If you're a convenience store owner in, say, Ferguson, Missouri, your low-skilled service jobs are the only labor on offer, and, for your pains, you get burned and looted by the dependent class while your 911 calls go unanswered by the governing class, both of which you fund. Mark Steyn

Quote II

This is total lunacy. And a disservice at a time when our people need reminders of what we can achieve when we work together. The American people paid for that mission,on rockets built by Americans,with American technology & carrying American astronauts. It wasn't a UN mission. Sen. Marco Rubio (R-FL)
***
"Feminist and attorney Lisa Bloom thinks itís a good idea to have only allow black people to vote."
***

Well that is one way to celebrate your labor. Suing for wrongful termination.

At the end of Dirty Dancing, Patrick Swayze returns to the resort that fired him so he can dance with Jennifer Grey in an iconic performance that said, "I'm not going quietly." Today, Barnes & Noble's former CEO took the stage for his own final solo.

After fewer than 15 months at the helm of the US bookseller, Demos Parneros was unceremoniously fired as Barnes & Noble's CEO in July. B&N cited "violations of the Company's policies," without specifying further, and did not offer Parneros severance.
***

You had one job. Until something happened out of your control.
***
Artificial Intelligence, making inroads into the working world.

Artificial intelligence: it will replace us all one day! Eventually, I won't have to deal with Jalopnik staffers and their problems, until I too am replaced by a bot that understands headlines and spreadsheets and can field endless complaints. Until then, we'll have to settle for bots writing Craigslist ads, and that is fine because their work is delightfully bonkers.
***

The work place and the ladder climb. Aniello Dellacroce and John Gotti.

It may have been Dellacroce's influence that made Gotti such an unusual figure in modern organized crime. Gotti often seemed like a figure from another era, and with a mentor like Aniello Dellacroce, it's not hard to imagine why. With Dellacroce's death and Gotti's conviction, that era of the Mafia seemed to have finally drawn to a close.
***
Some work places are a cess pool. Edison, NJ has a major problem with their police department.

Just over five months ago, authorities say officer Paul Pappas clocked in for the evening shift, climbed in his unmarked patrol car and drove to New Brunswick to slash his ex-girlfriend's car tire.

The brazen, bizarre incident -- in which the 43-year-old cop, in full uniform, was found underneath his ex's car cutting the woman's tire -- was captured on a nearby security camera, leading to his arrest, according to the police report obtained by NJ Advance Media.

That arrest, on a minor municipal violation, has since sparked a multi-pronged criminal investigation into the Edison Police Department. And now, a police force well-known for its public scandals is facing allegations of steroid use, illegally running license plates and paying officers for no-show off-duty jobs.
***
The ONT Musical Interlude

No history lesson tonight. Just working songs.
*
*
***

I've been lucky perhaps even blessed. I've never had a really terrible boss. What about you?
***
***

Dorothy, this is not your Kansas anymore.

This semester, the University of Kansas will be hosting a "feminist parenting group." The group will explore "strategies for raising intersectional feminist children" and "empower parents and caregivers to raise children who challenge gender stereotypes and kyriarchy." (Since kyriarchy isn't a word, I looked it up on Everyday Feminism, where they use lots of made-up words, and found this definition: "Kyriarchy is best theorized as a complex pyramidal system of intersecting multiplicative social structures of superordination and subordination, of ruling and oppression." Yeah, makes total sense now.) The group will meet in person three times throughout the fall and continue to discuss this important topic via a Facebook group indefinitely.
***
Feel like threatening someone? Be careful or you could end up with a posthumous Genius Award. h/t Mike Hammer

An Uber driver fatally shot a man who threatened him about 2:30 a.m. Tuesday on Dundee Road in Winter Haven, according to the Polk County Sheriff's Office.

The driver, Robert Westlake, 38, was not arrested. Sheriff Grady Judd told reporters the shooting was clearly justified under Florida's "stand your ground" law.

"This is a justifiable homicide all day long," Judd said. "You have the right to defend yourself. This is a classic 'stand your ground' case."
***

Man and his best friend Tonight's Feel Good Story of The Day.
***
Tonight's ONT has been brought to you by Unwanted Commentary.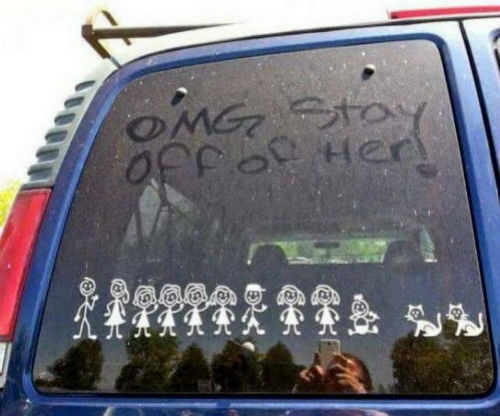 Notice: Posted with permission by AceCorp, LLC where Cobs are under-worked and over paid. Thanks Boss!!
***

A day late and dollar short, but hey fun is fun. :)
Top 10 commenters:

1 [467 comments] 'Jane D'oh' [65.53 posts/day]
2 [441 comments] 'Insomniac'
3 [427 comments] 'Calm Mentor'
4 [338 comments] 'female chatter-er'
5 [332 comments] 'Cicero (@cicero)'
6 [331 comments] 'Vic We Have No Party'
7 [317 comments] 'rickb223'
8 [315 comments] 'Skip'
9 [309 comments] 'Your Decidedly Devious Uncle Palpatine, GECSPLAN, SMR and Ancient Slavonaut Newsletters'
10 [296 comments] 'Lizzy'
Top 10 sockpuppeteers:
1 [82 names] 'Duncanthrax' [11.51 unique names/day]
2 [57 names] 'Adirondack Patriot'
3 [54 names] 'Miklos, just Miklos'
4 [43 names] 'Cuthbert the Witless'
5 [29 names] 'tu3031'
6 [28 names] 'Adriane the Critic ...'
7 [28 names] '☭ℿℿ is bananas'
8 [26 names] 'Duncanthrax'
9 [25 names] 'Insomniac'
10 [25 names] 'Axeman'

posted by Misanthropic Humanitarian at
09:37 PM
|
Access Comments