« An ONT Made for You and Me
|
Main
|
Mid-Morning Open Thread »
August 17, 2018
The Morning Report 8/17/18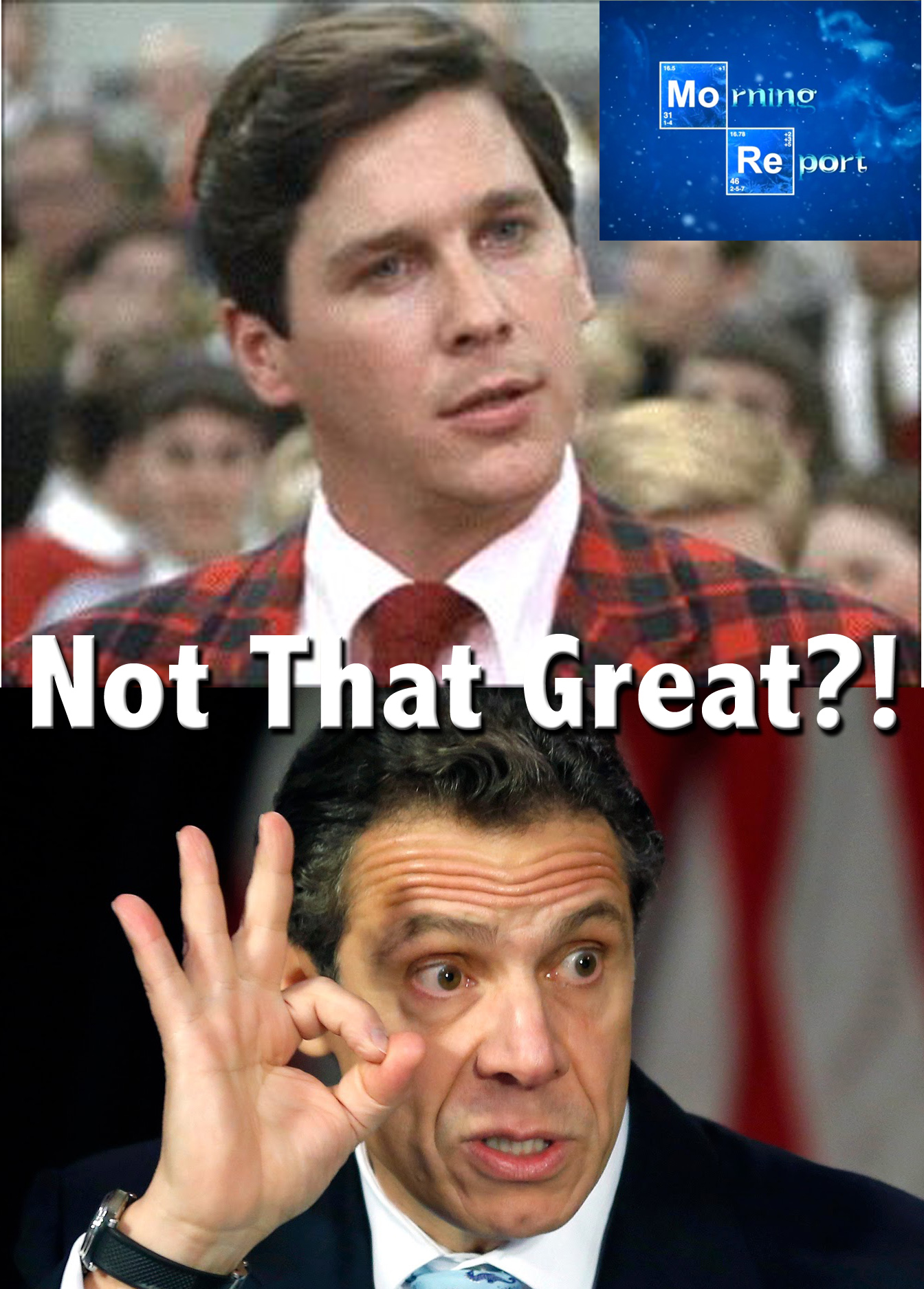 Good morning kids. The weekend is here so let's get to it. First up, I don't want to let Andrew Cuomo's disgusting remarks slide both for their own sake and more broadly what they reveal not only about him but about the Democrat-Leftists in this country as they are today.
At some campaign event, in an attempt to take a swipe at the President and his signature "Make America Great Again," the guy spouts off something to the effect of America was never great to begin with. Even the audience, which was no doubt a friendly one (and in New York, if I'm not mistaken) let out an audible groan. Meh, that was probably more of a "shut up idiot, you're giving them fodder!" rather than being offended by the remark, as any normal, right thinking American would be.
The question is, what's worse; that Cuomo said this because he believes it or because he thinks it's politically expedient to do so? Jeez, let that sink in for a moment. It's good politics for the politically ambitious in one party to actually run down the country they live in, were raised in, emigrated to (legally or otherwise) and seek to run. Groucho said he wouldn't want to be in a club that would actually have him as a member, so you'd think Andrew et al would take the advice of that Marx and not the other one.
In my mind, it used to be that the Democrats faked love of country and generally masked whatever anti-American ideology they might have had in order to fool people into voting for them, while the GOP-e was content to profit off of their Socialist scheme to destroy the nation. Now, it's obvious that all pretense has been abandoned and the Democrats are now openly socialist and anti-American. And the GOP-e are the new old Democrats, still content to loot the nation to line their pockets while pretending to be pro-American and pro-Constitution. They should all rot in Hell, frankly.
And on a more tactical level, as we head into the final stretch towards the midterms, there are a lot of mixed signals that have me worried and fairly optimistic at the same time. Yes, the economy is going like gangbusters, judicial nominees are being confirmed and even as Cuck Schemer attempts to derail Brett Kavanaugh yet again with a frivolous lawsuit to dumpster dive in his trash, more people than ever want him confirmed, whatever reputation the media may have had has all but been wiped out, and the President is winning the messaging war on everything from immigration to terrorism to trade and so much more. That said, the ginning up of blind rage and hatred has been at maximum level for the past 18 months. And the primaries have shown a record turnout for Dem voters in their races while GOP numbers are rather flat. Will anti-Trump rage, real or ginned up, be enough to really capture one or both Houses of Congress despite all the good things and despite the loyalty of a strong and growing pro-Trump base? The world wonders...
Going around the horn in politics, Congressional approval is in the shitter, Kirsten Jello-Brains shared the stage with a rioting Ferguson Marxist, Bernie Sanders ducks a question about Keith Ellison's abuse accusations, black female Dem uses racial slur against Asian opponent in Michigan and Keith "X" heir-apparent, accused perjurer Ilhan Omar wants terror convicts to be in good hands with Allah-State.
In First Amendment and Fake News, the Silicon Valley Silencers want you silenced, PDT calls out the mass editorial page newspaper collusion manifesto, and the 17% approval rated Congress shows why they are so loathed. Moving down an amendment, Louisiana strikes back at big banks that went big for Camera Hogg and the DoJ seeks to clarify the situation with Cody Wilson with a number of states attorneys general who are not happy with that ruling.
On the terrorism front, two American idiots who wanted to show the world that the evil was just a figment of the imagination got figment to death by ISIS in Afghanistan, an ex-US military ISIS enthusiast and convert to the religion of peace gets 15 years for plotting to blow up a San Francisco pier, and why the Texas juvie-jihadi case means states need terrorism laws.
Internationally, our wonderful Euro-peon allies are scheming with the Turks and Iraqis (huh?!) to skirt our Iran sanctions, Iran's big cheese says he, get this, regrets the Obama nuke deal, and Sec Def Mattis warns about Chi-Com and Russky influence in South America, even as we sanction those two for attempting to violate our sanctions on the NorKs.
Domestically, Fauxcahontas wants to do for the entire private sector what Google, Facebook and Twitter are doing for the internet - communize the whole thing and take it over. Elon Musk's entire enterprise might be reviewed by the SEC (might be?!), Leftists have access to the Census Bureau by some backdoor bullshit, Fake Flake caves and clears the way for more PDT nominees and an alarming report on private as well as public debt crises.
Meanwhile, another Obama hack-in-black is derailing the Keystone XL yet again while the Left is again attempting to control the EPA vis a vis the "open science" ruling discussed yesterday. My solution? Dissolve the EPA.
From hither and yon, looking back on what Barbara Jordan had to say about impeachment, a "Queer Eye" host gets hounded for daring to say that some Republicans are actually okay, most millennial women do not identify as Feminazi, and circling back to the top two good essays on the future of the nation vis a vis Socialism. One says it'll be with us no matter what and the last says PDT has at the least killed the Obama legacy of it. It also warns that it will be an ongoing effort long after President Trump leaves office. Have a great weekend.
Anyway, links from around the world, across the nation and up your street. Have a better one and remain blessed.


posted by at
07:33 AM
|
Access Comments